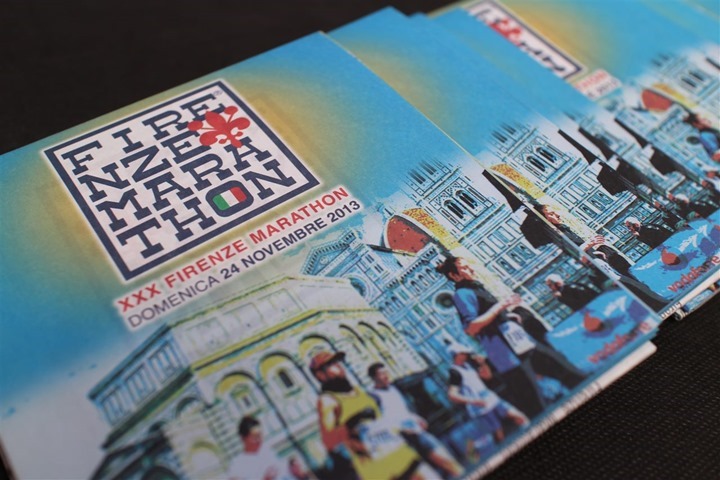 Our aircraft landed at the Florence airport last night with the same grace and thrust of Miley Cyrus and a giant foam finger. The weather…not so hot. So windy and rainy in fact that the airport's power/electricity immediately shut off as soon as I stepped foot into the terminal.
But, I'm not terribly concerned. Today, the weather has been nice thus far (sunny in fact!), though, it's scheduled to rain again shortly. For me, I actually would take rain over a hot and sunny day anytime, so at the moment all is good, even if it gets a bit wet on Sunday.
After sleeping in until the sound of half a dozen horse drawn carriages trotting by on cobblestones woke me up, we headed over to packet pickup, which had just started.
Inside, a gigantic wall where you could write your name: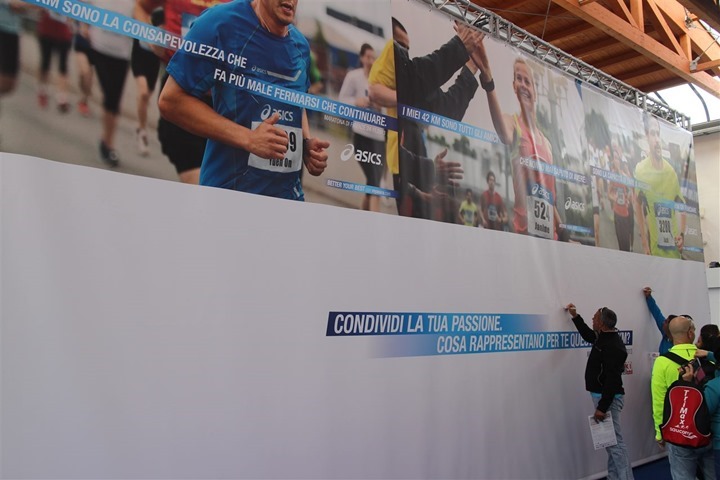 First up was getting my initial bib packet portion. Below was just a small sliver of the entire packet pickup table area.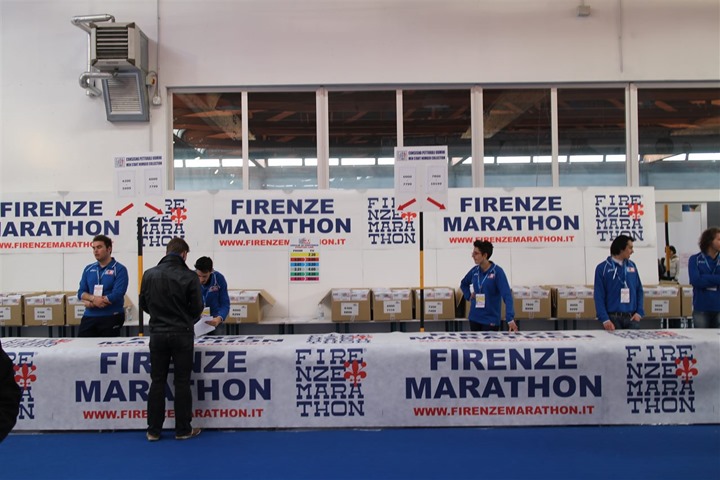 Thankfully being early lunch time things were pretty much empty. With the race not until Sunday, the expo is open for two days for pickup and browsing.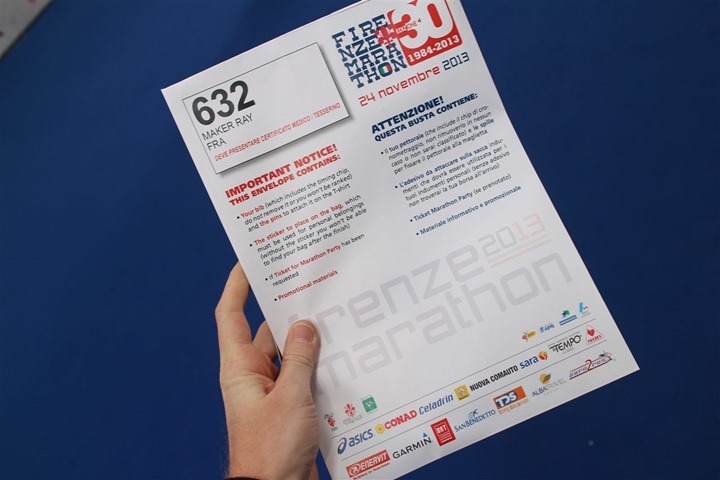 Right behind the packet pickup was a bar with catered food. As you can see, the prices are quite reasonable. In fact, last night at dinner we were in a bit of sticker shock at just how cheap everything is here compared to Paris.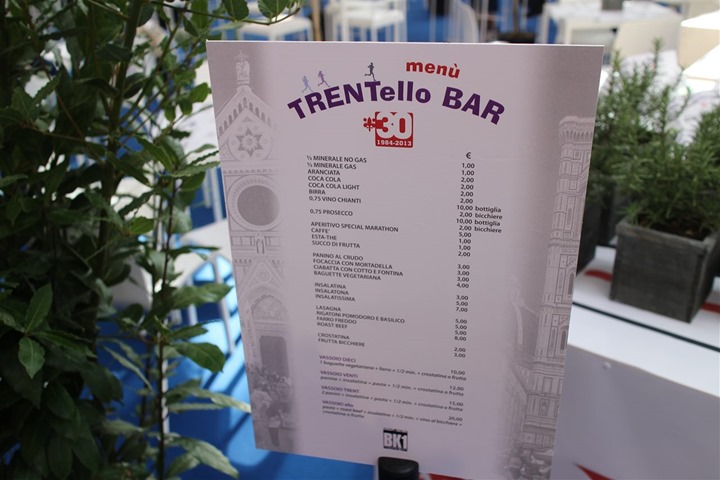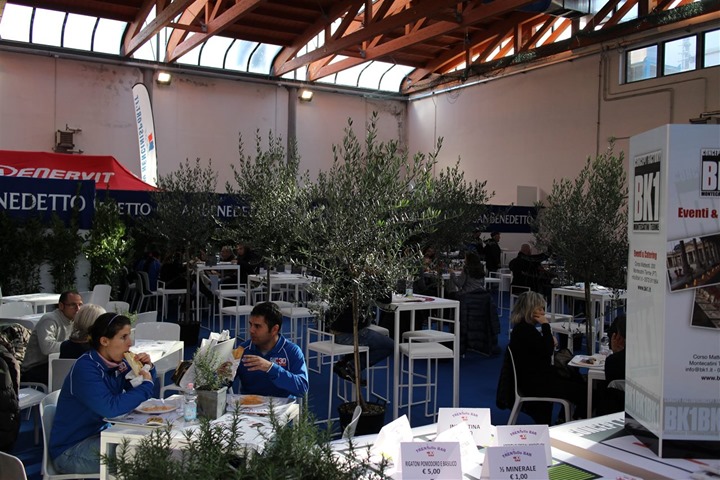 In order to pickup your t-shirt, you had to navigate a bit of a maze of booths. It was sorta like shopping at Ikea…but without the shortcuts.
As we've found is commonplace with European race expos, the vast majority of the booths are for other races. I'd guess close to 90% of the booths being there to promote another race, or a host of races.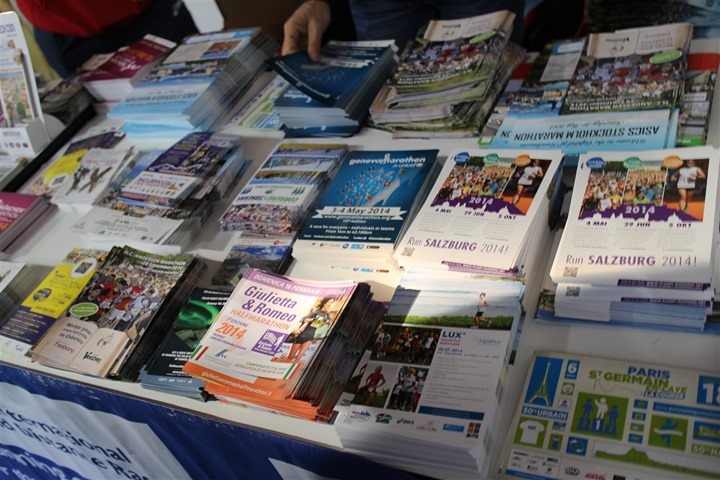 I'm happy to report that numerous booths had free food along with their race brochures.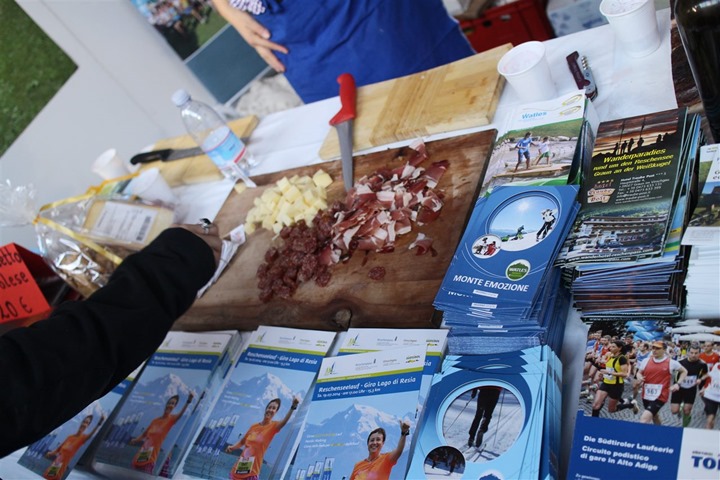 At one of the turns in the booth maze there was chip reader. Good to see my chip works!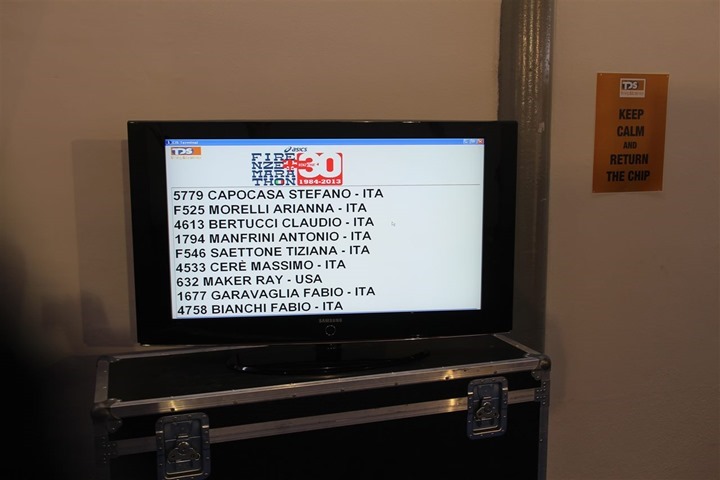 In addition to all the race booths, there was both Garmin and Timex there. Or, rather, one of their local distributors.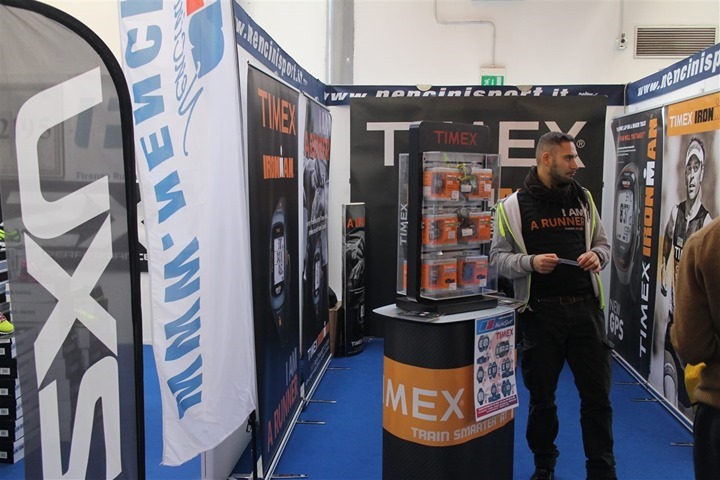 For those curious, they did indeed have stock of both the FR220 and FR620 on hand, at the discounted prices seen below (click to expand).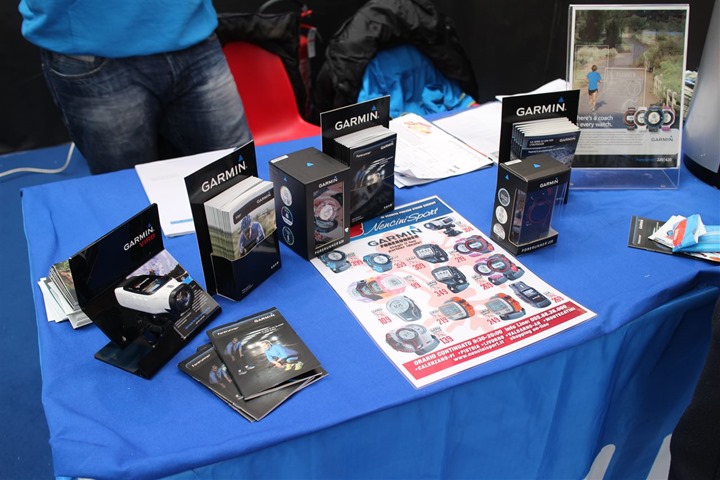 Upon reaching the end of the maze you were rewarded with being able to pick up your t-shirt. Or, actually, vest. It's pretty nice.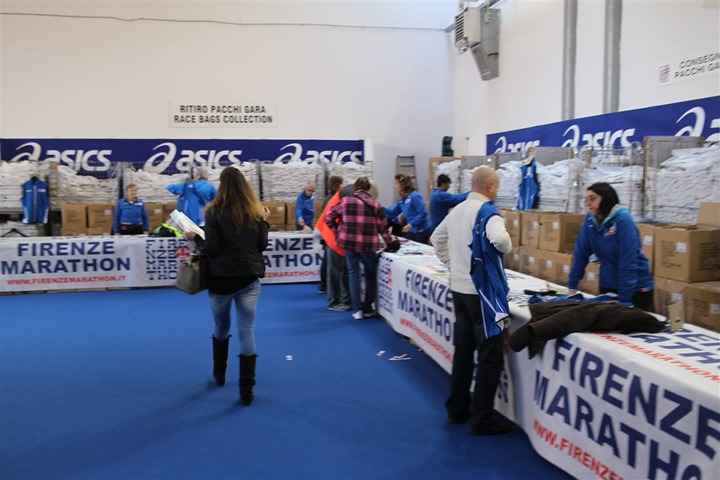 Right next to it they can go ahead and imprint your name (or anything else for that matter), on it: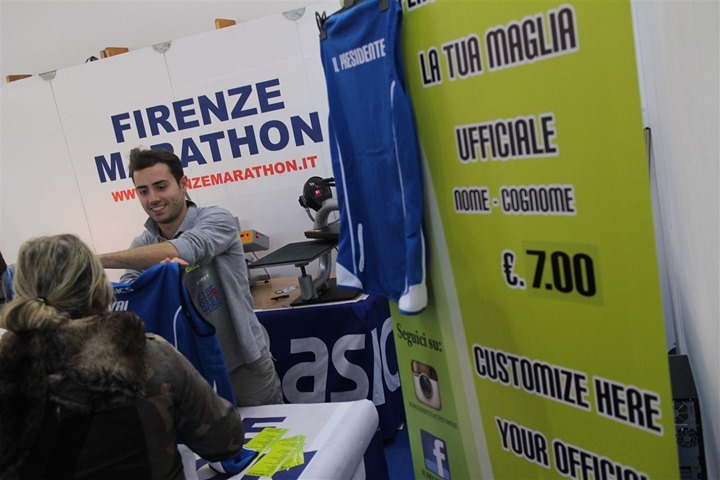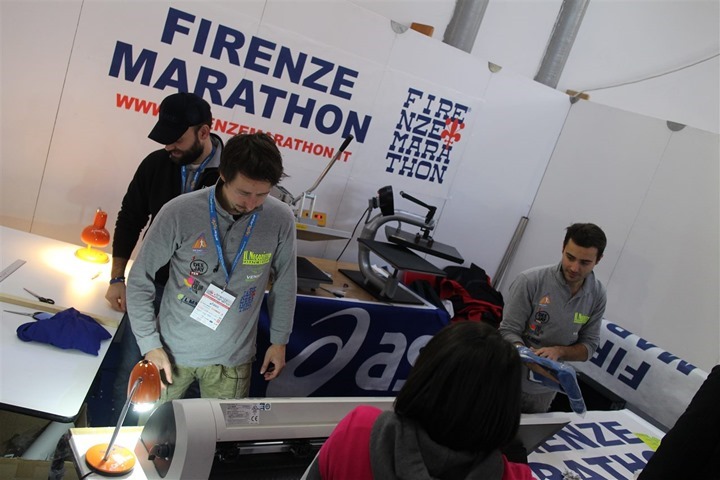 At this point, you'll do the entire maze in reverse to get back out again. The vendors definitely got their money's worth for booth spots.
Along the way I dipped outside because that's where the bathrooms were. In doing so, I found a running track. The pickup was held on the stadium grounds with a number of tracks. As you can see in a bit, we'll run through the area (though, it doesn't look like we'll be on the track itself).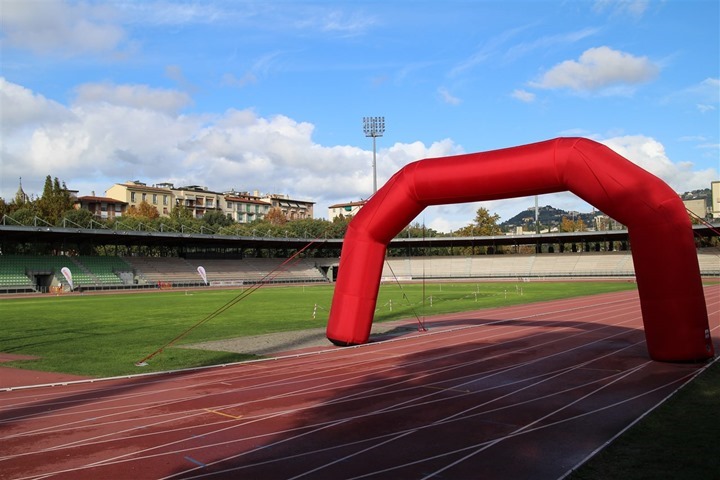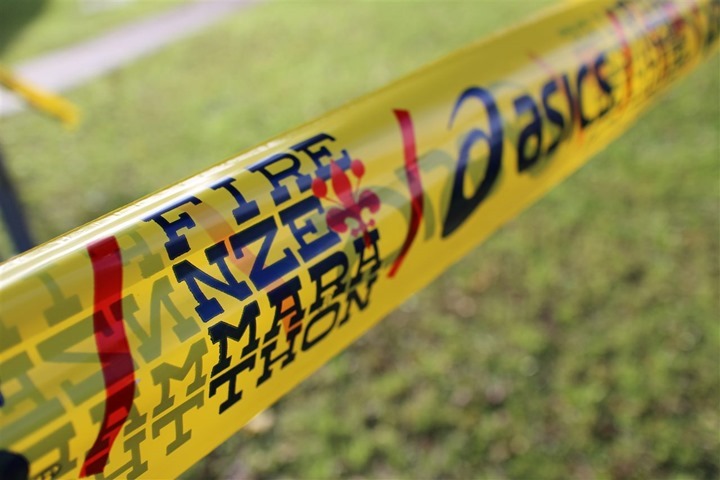 Finally, I'm almost back out to the beginning. I found a big map of the course. As you can see below, it's definitely a bit of a complex course. Sorta reminds me of what happens if you gave a 2 year old a crayon and a sheet of paper.
However, I love it. There's no major straightaways that go on for miles, or any huge out and backs. I'll be constantly busy with changing scenery.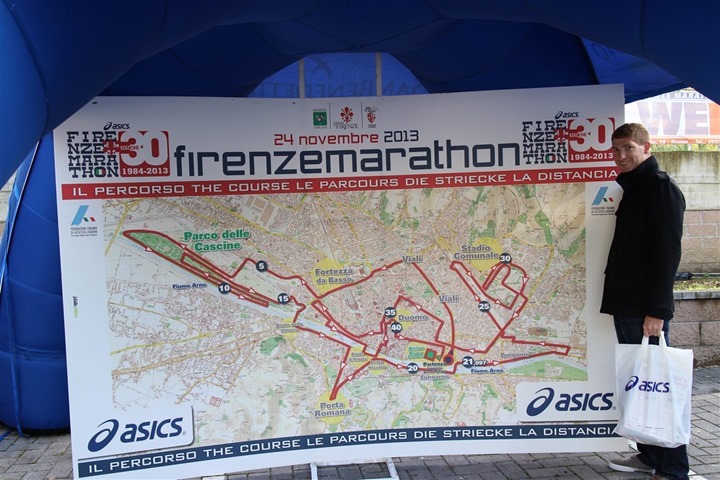 Right next to this you could lookup your name as well and find your bib number. Or someone else's bib number that you were stalking.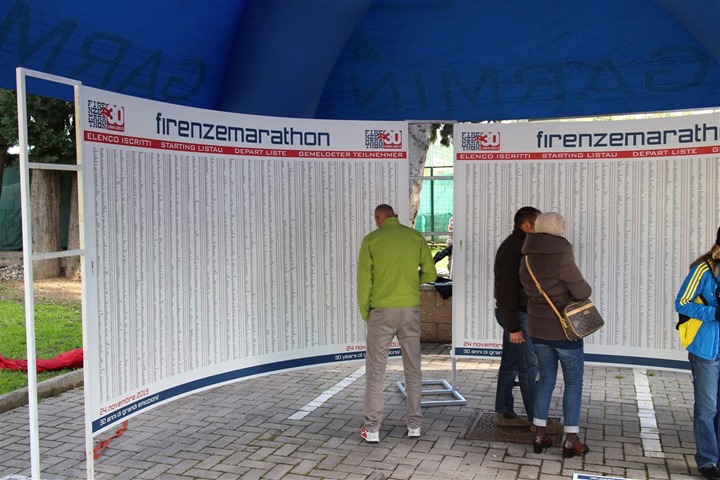 With that, my job was done and it was time to eat again. In thinking about it, this whole food being inexpensive and really good probably isn't ideal for Sunday. According to the standard 2-seconds per pound per mile rule, every pound I gain eating fresh gnocchi and gelato is a minute slower on my marathon time. Eek.
Speaking of which, you can follow along Sunday using live tracking paired to my watch. It'll automatically tweet out a link to Twitter a few minutes ahead of time and then that page will update every 30 seconds. The race starts at 9:00AM local time (CET), which is 3:00AM Eastern US time.
With that, thanks for reading, and look forward to a race report early next week (as well the 2013 DCR Gadget Buying Guide)!