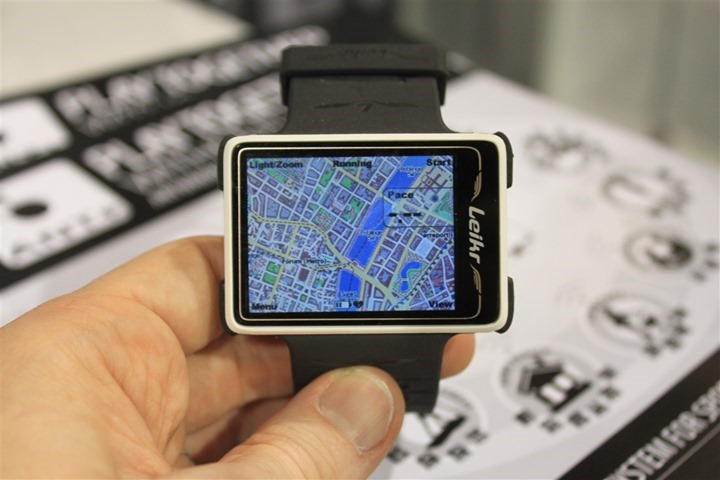 It's been a touch bit over a week since the Leikr watch launched on Kickstarter. The Leikr GPS sports watch has become instantly recognizable due to it's larger full color screen – one that essentially looks like a Motoactv on steroids. The unit comes to us from a group of former Nokia engineers that are a blend of triathletes, runners, and cyclists.
For those unfamiliar with Kickstarter (see my old post for additional thoughts), it offers an avenue to 'back' or support a project. Normally, at specific backing levels you get various 'rewards', which is typically the product itself. In this case, the levels started at $150, but are now up at $300 for the unit, which will be available in late spring. Of course, buying into a project on Kickstarter doesn't guarantee you anything – think of it like investing in mutual funds (usually safe). Generally Kickstarter projects work out, but in my experience – virtually every single Kickstarter project (especially watches) to date has failed in both delivery dates, as well as implied functionality. I say 'implied functionality' because as I've seen, many watches very creatively imply functionality but don't deliver it. They skip over things that are assumed as being there and basic, or, in some cases, skip over other features that were initially promised. So with that introduction, let's get on with it. Oh, for those curious about all the projects I've paid into on Kickstarter, here's my profile.
The goal behind their efforts is to make a competitive unit – both in terms of functionality as well as price.
At this point, they had a prototype that they were doing private meet-ups with. They didn't have a booth at the show. So, my thoughts are based on said prototype, which is obviously still 4-5 months away from being a final unit in peoples hands. That said, they have promised to get me a test unit as soon as they are able – very early in the cycle. We've been talking for months, so my expectation is that will probably happen in the next month or so.
Note that they've got a ton more information on their page, so I'm going to focus on the things that aren't really covered there. And of course, as always, my opinion.
Size and form factor:
Looking at all of the photos online, I wasn't quite sure what I'd think when it came to size. It seemed a wee bit larger in photos. So, I slapped it on my wrist to get a better understanding:
As you can see, it's definitely a bit wider than most day watches out there, and, most triathlon watches too. I personally wouldn't wear it as a day to day watch (non-sport), but invariably, some will.
Below is the side profile. Without question – this is a really darn slim unit. What it lacks (or rather, does in excess) from a width standpoint, it makes up in how super sleek it is: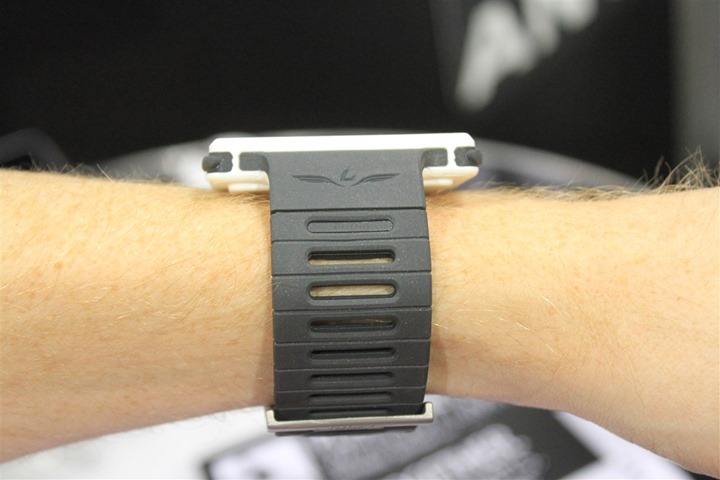 I decided to hijack a nearby Garmin FR310XT and see how that compared, since that's the unit that many triathletes may be coming from if they're looking for an upgrade or change of scenery: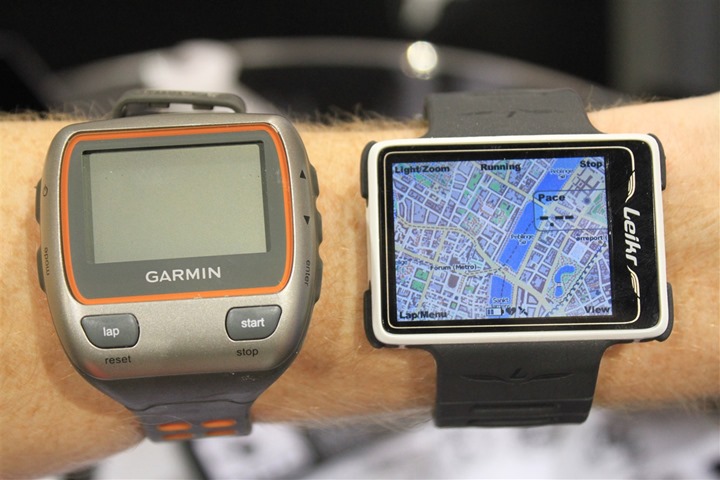 The FR310XT is definitely a bit slimmer in width, but, higher up in depth (height). Here's the side profile: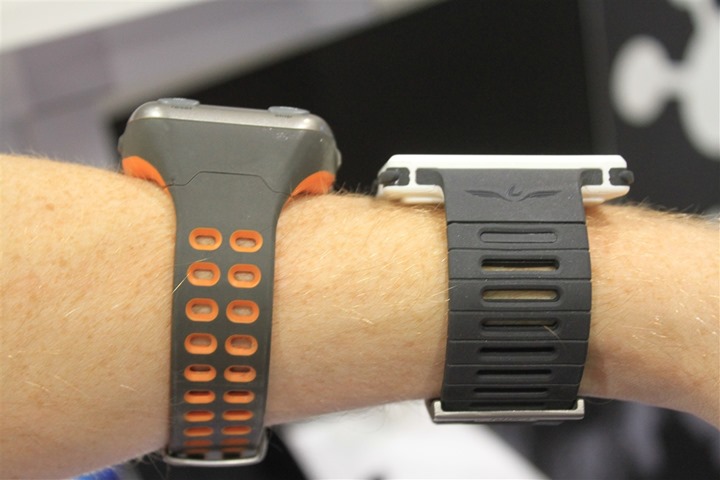 And, here's a few other random shots I put together while I was at it: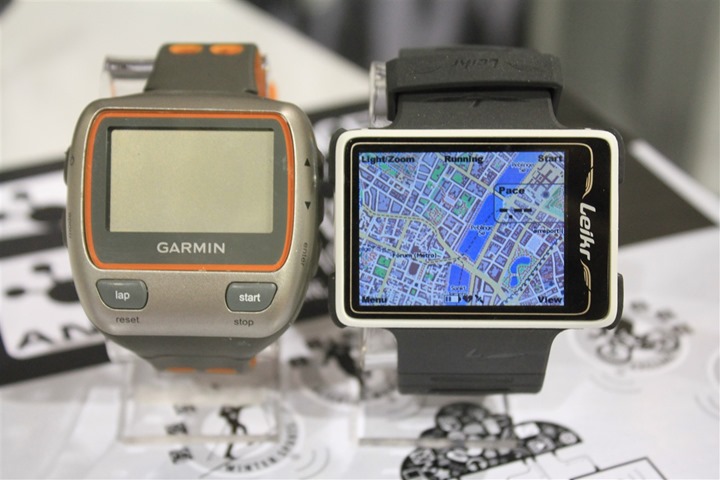 Below, the Garmin FR610 – which is a running focused unit that also serves as a day to day watch.
So from a size standpoint, the unit is obviously a bit wider, but, it wasn't awkward. Which surprised me. I think because it was so thin, that it sorta worked out. If it got any thicker, then it would feel brickish again. I wouldn't have been opposed to it being perhaps 1/3rd of an inch less wide however.
The strap is made from a rubber material that they've told me shouldn't stick or get gunked up, nor will it have any discoloration issues like some of the metal-backed units out on the market today.
A look at the menus and maps:
The unit contains Openstreet maps, which are free open source maps that are community developed. These maps are what were used for the Motoactv, and can actually be loaded on some Garmin sport units (Edge 800/Edge 810/Fenix)
You can zoom into the map by holding the zoom button down – which is the upper left corner.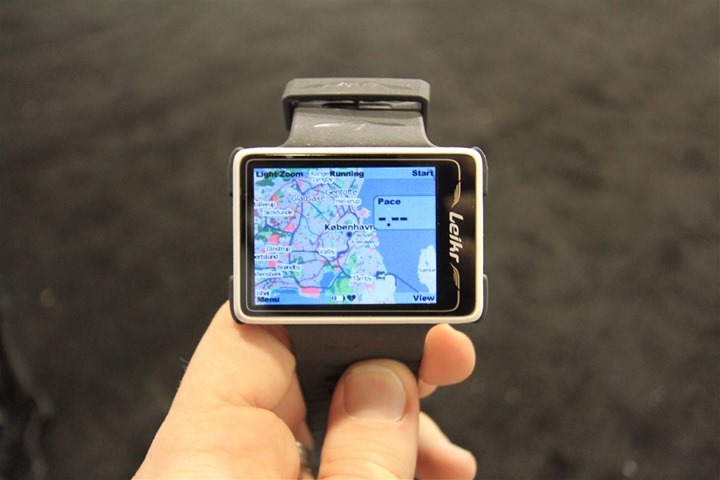 Zooming in a bit further: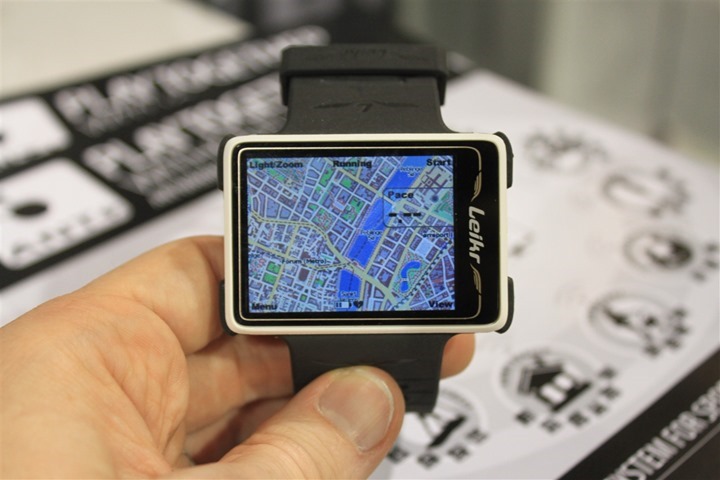 At this time, routes are supported – so you can go ahead and have directional support. But routable street by street directions aren't on the plate today. Which is probably fine initially since that's really only offered on the Edge 800/810 these days.
They will also support the ability for you to load your own Openstreet maps on there, and the unit has 8GB of storage space – which is plenty of storage for quite a bit of Openstreet maps. Tons of room there.
The user interface is navigated using Up/Down buttons, and a Select/Back combo button in the lower left. In many places in the menu, pressing and holding down the button carries with it a different function than a quick tap. In about 75% of those cases it's fine, but there were some cases where I found the press and hold to be annoying. I'd prefer something like that Light button just be a back button, and then select be only select. The light could be press and hold. In general though, I'm not a big fan of press and hold in sport watches as there's plenty of cases (such as hard intervals) where I think a tap is all I want to deal with.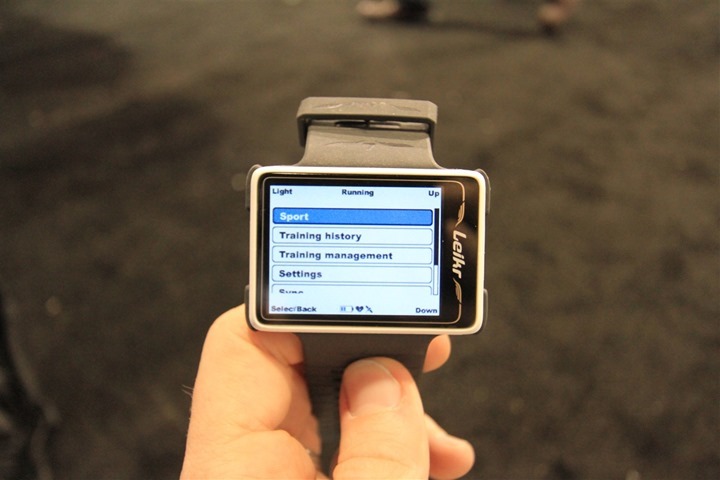 The unit supports basic GPS sport watch features like Auto Lap and Auto Pause, as well as workouts, targets, and alerts. They are also looking into letting users customize the display layout (and to what extend) – which I'd consider an absolute must. If not, that's a deal breaker.
It does support workouts, but it isn't yet clear as to what format the workout generator will be in, and/or how transportable those will be from other platforms.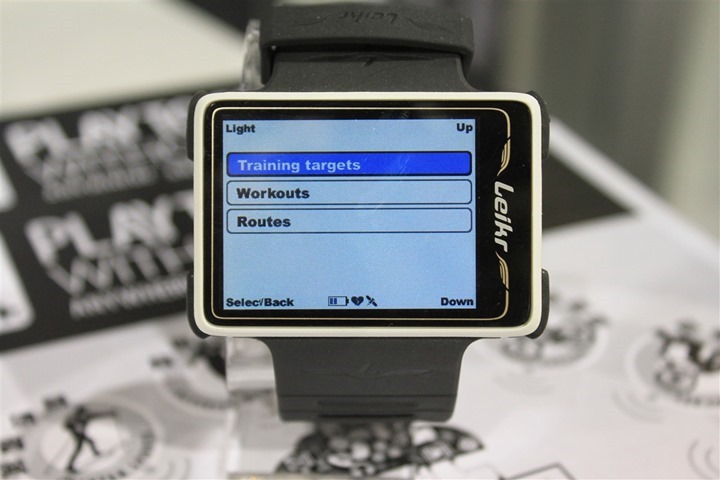 In general, the user interface (UI) is 'functional', but not really optimal. I feel that this is the one area of the watch that really needs an overhaul from a graphics standpoint. It just seems a bit dated. I'd love to see a talented graphics designer take a crack at a functional (read: easy to use while running) as well as polished UI. In many ways, the new Edge 510/Edge 810 UI is really very clean and well done (even if the unit on the whole is a bit of a flop). Same goes for the new and upcoming updated Wahoo Fitness app interface (not yet released), and the Motoactv. Designed for sports, yet still pretty.
Finally, it should be noted that the screen does have a backlight, and when outside in bright sun (without light on) the contrast of the screen actually increases. Unfortunately, we were inside – so I couldn't get any solid shots of that.
Battery life, waterproofing, and the sort:
If you look back at a similar watch – the Motorola Motoactv – it made two critical errors upfront that I believe ultimately doomed it (despite being an incredible unit). First, they went to market at launch with what ended up being about 2 hours of battery life. While that was fixed in later firmware updates about 45 days later – it was too late (up to about 8 hours of GPS time). People the world around had already written about it and the lackluster battery. Second, the waterproofing was questionable at best. And ultimately that lack of waterproofing would be a core 'talking point' for anyone who had used or was using the watch.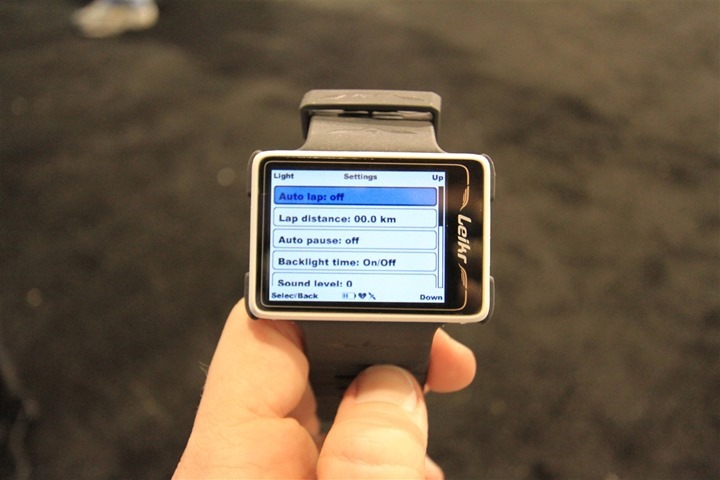 So last week when the Leikr watch came out, many talked about those two focus points once again. Initially, it was set to achieve 6 hours of battery. However, last night they increased that to 24 hours of GPS run time. Like what was done with the Motorola Motaoactv, the Suunto Ambit, and the Garmin Fenix – they'll be achieving that battery time through reduced satellite refresh, display and recording rates. Which at this point I think is fair for folks that need 24 continuous hours of GPS time.
On the waterproofing front, they were initially aiming for IPX6 – which is simply water resistance. That's actually worse that watches like the Garmin FR610 and others – which I've long since complained about (the whole 'Walmart sells true waterproof watches for $15, so can a $300 watch' argument). But, they heard the feedback from the Kickstarter and triathlete community loud and clear since that initial announcement.
Late last week they announced that they're going to offer IPX8 instead – which should be enough to cover swimming. Now, I will point out though – that technically IPX8 is defined as "Protected against water submersion – The equipment is suitable for continual submersion in water under conditions which are identified by the manufacturer." Translated: Anything they want. That could be a useful IPX8 (such as fine for swimming), or it could technically be just two minutes longer than IPX7 for 30 minute submersion at 3 feet. We simply don't know. I'd really like to see them come out and state with an absolute "We will certify our product for active swimming up to 2 hours, with a maximum depth of X meters" (or similar). Simply because I believe too many Kickstarter companies have skirted things later on by being vague.
Nonetheless, I love that they're listening and reacting accordingly.
Connectivity, Internal Components, and 3rd Party Integration: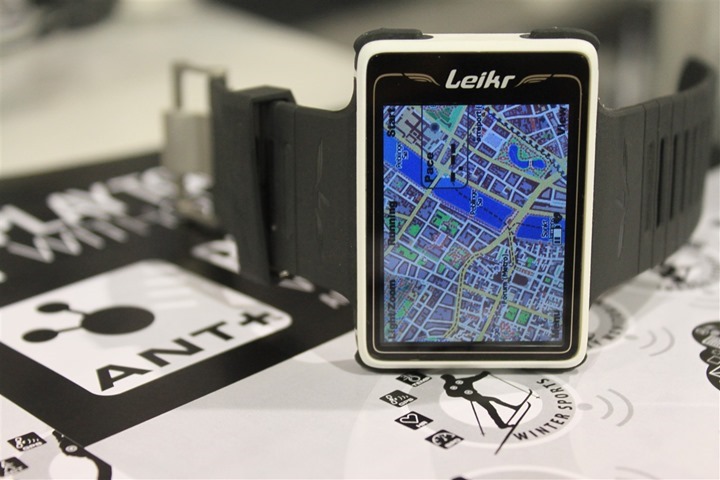 Inside, the unit contains both ANT+ and Bluetooth 4.0 functionality. This means it'll be able to connect to any ANT+ or Bluetooth Smart sensor device on the market – in theory anyway. It will still take them implementing device profiles for different sensor classes and types (i.e. heart rate strap, footpod, etc…). With a full BT4.0 chip, they could also actually even support legacy Bluetooth Heart Rate straps (not Smart/4.0 straps).
In fact, in their specifications, they list the types they'll connect to today. But they don't yet define which type of those they'll support – Bluetooth Smart or ANT+. Interestingly, in the chart they define Foot Pod support, but in the comments later on, they say they are looking at adding Foot Pod support.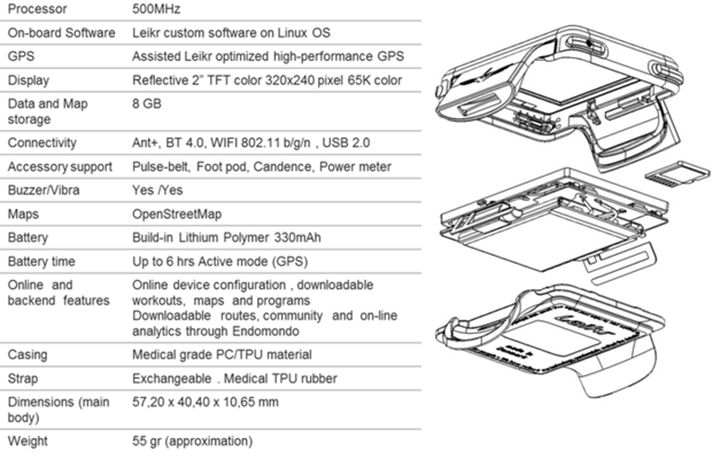 I'd like to see a clear-cut listing, something like:
DCR Suggested Supported Devices: ANT+ Running Footpod, ANT+ Cycling Speed/Cadence Sensor, ANT+ Cycling Speed-Only Sensor, ANT+ Cycling Cadence-Only Sensor, ANT+ Heart Rate Strap, ANT+ Power Meter (including Cadence/Speed attributes as applicable), Bluetooth Smart (BLE) Heart Rate Strap, BLE Speed/Cadence Sensor*, BLE Power Meter*, BLE Footpod*
*Pending final ratification of Bluetooth Smart (BLE) device profile standards
And, I'd really like to see them branch out and support stuff like the ANT+ Temperature sensor (the Tempe). I think in doing so, they'd make inroads into the whole army of folks who ask daily for Tempe support on the FR910XT (really, I see daily comments asking for this). Especially given the map support, that would definitely appeal to hikers and non-endurance outdoors folk.
The unit also includes WiFi – which could potentially enable WiFi uploads to a training platform. Today they are targeting Endomondo, but they will also offer .TCX format exports – which is a widely accepted file format, and the same that the Garmin legacy units use. Which in turn means everyone supports it.
Along the same lines of flexibility – it includes a 3D accelerometer, meaning that down the road they could add in swimming stroke recognition.
Finally, 3rd party integration is still pretty undefined. While we were talking through everything, Chip Hawkins (founder of Wahoo Fitness) came by and joined the fray. In my mind, the Leikr GPS watch is a perfect example of potential integration with something like the Wahoo KICKR. It would be awesome if I could have the Leikr control workouts (resistance) on the KICKR (via Bluetooth Smart or ANT+). Or leverage the existing Wahoo App phone app (iPhone or Android shortly) to provide uploading to 3rd party services like Strava, Daily Mile and others (which they do today).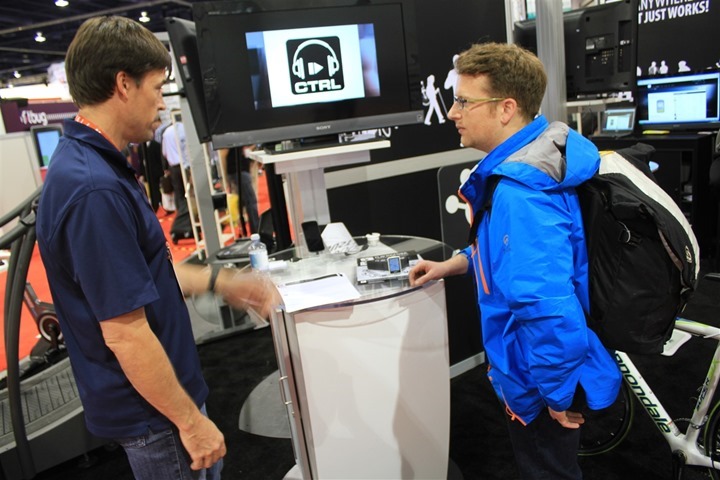 The two went off and found a room as I wrapped up, so perhaps in 9 months (or four mounts) we'll find the fruits of their discussion.
Summary
Ultimately, I'm excited about what the Leikr watch can bring to the market. It's forward thinking in terms of underlying hardware connectivity, and it's from a team that actually knows what they are doing when it comes to building hardware. Which means it stands of chance of being on time (again, a Kickstarter rarity). Additionally, the usage of Openmaps means solid (and free) maps for everywhere in the world, and the ability to download customized maps for those that create those is sweet.
I also think that because it's made by a smaller company – it's got a good chance that we'll see it 'grow up' and not just be a one-off experiment in sports, like we saw with the Motoactv when Google bought Motorola Mobility. Which ultimately has left those users long term without any real advancement in what was at the time (and really still is) the most innovative and advanced platform in sports technology on a wrist (in terms of sensors, displays and connectivity).
As noted, I do think the Leikr lacks UI (user interface) polish and needs a good UI designer to make it really sing. Additionally,I'm not convinced about the menu button system of holding for some functions and light taps for others. In general, I find that if I'm working hard, the last thing I want to do is hold down a menu. Like I've said about other units, there's a reason why the simple button standards on watches have been the same for 35+ years…they work when you're working hard.
Hopefully I'll be able to bring you another update towards the end of February with how things have progressed. That's about a month after their funding period will have wrapped up (21 days left).
Thanks for reading!