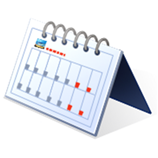 The Week in Review is a collection of both all the goodness I've written during the past week around the internet, as well as a small pile of links I found interesting – generally endurance sports related. I've often wondered what to do with all of the coolness that people write, and while I share a lot of it on Twitter, Facebook, and Google Plus, this is a better forum for sending it on to y'all. Most times these different streams don't overlap, so be on the lookout at all these places for good stuff!
So with that, let's get into the action!
DCRainmaker.com posts this past week:
Here's all the goodness that ended up on the main page of DCRainmaker.com this week:
Sunday: Week in Review- April 29th, 2012
Monday: A Weekend of Trail Running and Mountain Riding
Wednesday: The MySwimIt Safety Device- Good or bad for triathlon races-
Thursday: Photo of the day- A swimming pool on the highway 
Friday: Timex Marathon Trainer GPS Giveaway Results
Stuff that I found interesting around the interwebs:
Here's a not-so-small smattering of all the random things that I stumbled on while doing my civic duty to find the end of the Internet:
1) Paying it forward – the end selection: You may remember last week I made note of Pro Triathlete Jordan Rapp's plan to give away his high end triathlon bike.  Here's the conclusion to that storyline.
2) Blind Ultrarunner uses iPhone to see: This is an awesome use of technology and merging it with sport.  Love this kind of thinking.
3) Trisports is adding a Tempe location: I've always thought that if I could open a tri shop, it would be like Trisports.  Cool to see they are expanding.  Though, I'm not sure that the new building is as cool as their other one.
4) A look at the skewing of numbers related to bicycle helmets: An interesting post from the WashCycle related to some recently released data on (lack of) helmet use by Capital Bikeshare.  Some of the comments are 'funny'.  I'm always amazed that some folks get really upset about wearing helmets.
5) Motoactv watch gets another update: I wish Garmin would pay attention to how Motorola handles software updates.  Name a date, hit the date.  Promise features, deliver features.  Simple, really.  Now only if Motorola would have properly waterproofed the darn thing (Motoactv) initially…
6) A sad story about a crew's last Spot Tracker message: A look at the technology side of the last words from a sailboat crew that was using the Spot Tracker device to track their last voyager before being lost at sea.
7) USAT Announces Splash and Dash Series: It'll be interesting to see how over the next few years they can take what appears to be a barely strung together of sponsored local races, and turn it into a more cohesive USAT offering.
8) The intricacies of Olympic qualification: With San Diego next weekend (a major qualifier for US folks), here's a good dive into how Olympic qualification is supposed to work.
9) DC Friend and Pro Triathlete Lindsey Jerdonek makes San Diego start line: We'll definitely be cheering for her next weekend as she tries to nail a 2012 London spot.  Cool to see she made the list.
10) Seattleite Ben Collins also aiming for London 2012 start.  I know Ben through some mutual friends, and he sent this out to folks ahead of next weekend.  If you're in town, hit him up for a free t-shirt in exchange for some cheering support:
"May 12th is the Olympic qualifier for USA in triathlon. There have been a few hiccups along the way to qualification but I'm 5th on the wait list to start the race (I should roll on within the next week) and ill be the 8th American on the start line. I'm not exactly a favorite for making the team, according to the press, but hopefully I can get posse of people at on the sidelines who disagree.

SO, if there's any way you can make it to San Diego, please let me know. My family will be there in force and if you let me know you're coming ill make sure you have an "I<3BC" shirt. Saturday night I'm planning to have dinner with everyone that comes. Let's make it a BIG celebration! I've been working for this for a long time!

If you can't come, it'll be broadcast on Universal Sports. But that doesn't help me.

Let me know if you're interested in or able to make it. Hope to see a bunch of you there.

More info on the race is at triathlon.org click on the World Triathlon Series then San Diego.

BC"
11) Lance Armstrong in a kickboard race for charity: I heard about this while down in Texas a month ago, cool to see the results.
12) Awesome list of ideas for updating the Garmin Edge 800: Many of these are ones I've previously talked about, especially in my session at the ANT+ Symposium, and at CES.  But, it's a great cohesive list of things that would make the next version of the Edge 800 rock. (Thanks Carlos for sending in)
13) Vibrating suit gives athletes form feedback: Somehow, I can see this one just spiraling out of control.  Next thing I know I'll get buzzed when I'm out of zone…
Sports Technology Software/Firmware Updates This Week:
I've been trying something new where I quickly highlight some of the new firmware, app, software and website updates that I see go out, each week. If you're a sports technology company and release an update – shoot me a quick note (just one liners) and I'll make mention of it here. Sound good?
5/5/2012: I actually saw virtually nothing go out this week new in the sports technology update world.  But, I know there's some good stuff on tap next week…
With that – hope everyone is having a great weekend! Thanks for reading!