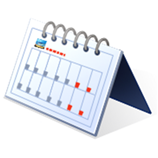 The Week in Review is a collection of both all the goodness I've written during the past week around the internet, as well as a small pile of links I found interesting – generally endurance sports related. I've often wondered what to do with all of the coolness that people write, and while I share a lot of it on Twitter, Facebook, and Google Plus, this is a better forum for sending it on to y'all. Most times these different streams don't overlap, so be on the lookout at all these places for good stuff!
So with that, let's get into the action!
DCRainmaker.com posts this past week:
Here's all the goodness that ended up on the main page of DCRainmaker.com this week:
Saturday: Week in Review–April 21st, 2012
Monday: A weekend with dueling power meters, activity monitors and more!
Tuesday: My favorite workouts in each sport
Wednesday: Timex Marathon GPS Giveaway!
Friday: The Bridge Running Path Magical Sound Wall
Stuff that I found interesting around the interwebs:
Here's a not-so-small smattering of all the random things that I stumbled on while doing my civic duty to find the end of the Internet:
1) How to wear a cycling cap: Yes, I know, if it's not a dri-fit hat from a race, us triathletes don't really know what to do with it.  But cycling caps have a long and storied history.  Good stuff.
2) Receiving Jordan Rapp's Specialized Shiv: A pretty cool story behind Pro Triathlete Jordan Rapp announcing he's going to sell his Shiv for the price of a good story (i.e. give him a reason why you deserve it).  Pretty interesting.
3) Don't text and bike: Well, so says this sign posted on a cycling trail here in the Northern Virginia area.  Kinda funny.  I didn't realize it was that substantial of an issue.
4) Ironman St. George becomes 70.3 next year: I don't think this was a big surprise to anyone.  The area is pretty cool, but for a full-distance race, it can be brutal.  All Ironman races are tough, but the weather has consistently made this race particularly cruel.
5) Do Pro Cyclists need rules for social media: After a team announced rules for their riders this week (including specific bans on Twitter usage), an interesting look at how this could/should develop.  Maybe it's just me, but as a marketer, I'm not sure I'd ever want to restrict good team members from publicizing the brand…
6) Hanging out in a Armstrong & Whitfield Argument: In case you missed it earlier this past week, Lance Armstrong and Simon Whitfield got into a bit of a tit-for-tat on Twitter over some words Lance said around ITU triathlon.  This Open Letter attempts to smooth that over a bit.  Well written.
7) Man accidentally mistakes his girlfriend for a hog, shoots her: What does this have to do with endurance sports you ask?  Well, this man is going to be running honey-do errands for his girlfriend for the rest of his life.  Not only did he shoot her, but he effectively implied she was a pig.  Eek!
8) A portrait of bicycles in Africa: A cool gallery of bike and owner portrait shots across South Africa.  As always, astounding to see such vast differences in the folks that ride within South Africa.  If you've never been to South Africa, the gallery might surprise you a bit.
9) A creative solution to HR spikes: One reader tweeted me this photo where he sliced a small bit of plastic from around the button/snaps on the HR strap – I've heard from others this can reduce HR spiking issues.  He's using the Polar strap with the Timex ANT+ adapter (essentially this solution).  Thanks Mike!
10) The best headphones for running: A pretty good and detailed analysis of headphones designed for running.  I personally don't usually run with music, but for those that do – worth a read.
Sports Technology Software/Firmware Updates This Week:
I've been trying something new where I quickly highlight some of the new firmware, app, software and website updates that I see go out, each week. If you're a sports technology company and release an update – shoot me a quick note (just one liners) and I'll make mention of it here. Sound good?
Tanita WiFi Lite Version 1.3 Available on iTunes This is software that enables you to use WiFi with your Tanita ANT+ scale (via a hardware bridge they sell).

Runmeter Update: The second update in as many weeks, but this one primarily addresses bug fixes and performance tweaks.

TargetWeightPro ANT+: This updates adds a boatloads of new features.  I use this particular app for the ANT+ blood pressure monitor, and ANT+ scale.

iBike Dash Update Released – Another update this week from iBike to fix some small issues
With that – hope everyone had a great weekend! Thanks for reading!