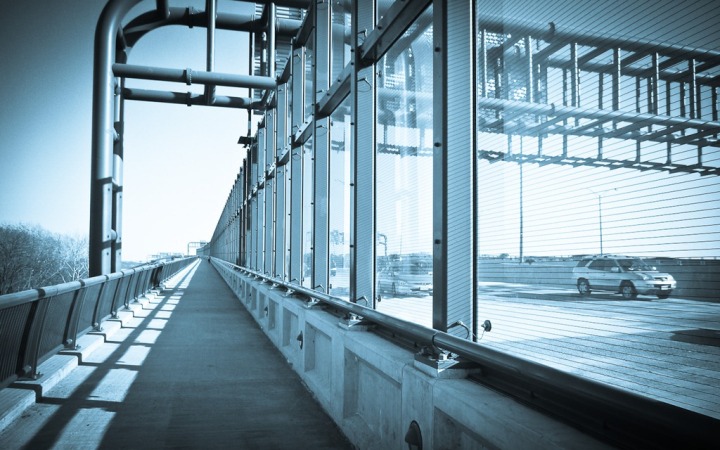 As a runner, you tend to seek out any running route that offers something unique or special.  In my case, I often do long runs that intertwine Virginia, Maryland and DC.  The ability to include all three states (and non-state entities) is definitely something fairly unique to the DC area.
One of my more common 13-mile routes takes me from my house to National Harbor, which is located across the Potomac River in Maryland.  The route crosses over the newly rebuilt Woodrow Wilson Bridge, which is the main link between Virginia and Maryland via I-95.  For those not in the states, I-95 runs from Maine to almost the end of the Florida keys at 1,925 miles and is primary east coast highway running north/south in the US.  This particular bridge carries over 250,000 cars per day (plus about six runners, four cyclists, two oddly dressed dogs and one National Park Service ranger).
With that out of the way, it actually makes for a great running route.  About a year after the bridge opened for vehicle traffic they opened up the running/bike path (seen above).  It connects Old Town Alexandria (Virginia) with National Harbor (Maryland).  You may remember National Harbor from that Hot Chocolate 10K race I did (yes, the one that was a disaster).
Because this is a Friday post and I try and keep these short, there's one particular item I'd like to draw your attention to – and that's the totally awesome sound wall that runs the first 1/4th of the bridge length.  The first thing that's unusual about this wall is that it's clear and fully see-through.  Not a concrete slab that tries to block out sound as well as views.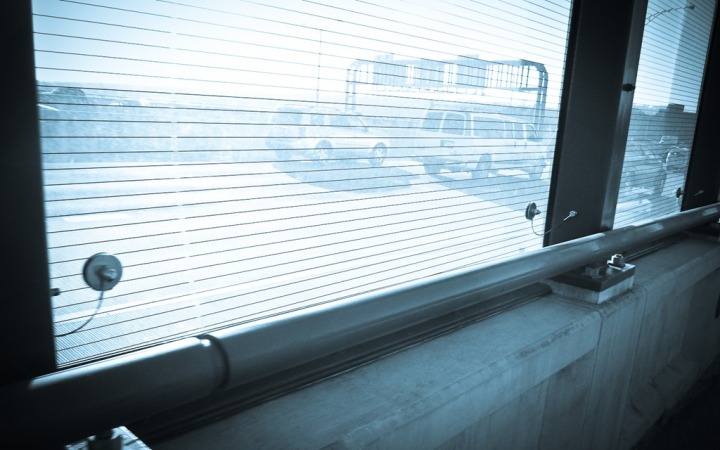 But even more important than the clearness aspect is just how deadly silent it is behind the wall – merely 2-3 feet from trucks and cars moving at about 70-80MPH (we drive quicker around these parts).  To illustrate that, I took this video while running one day across the bridge.  It starts off in the non-walled section, and then I cross into the walled section.  It's mind boggling how silent it gets, with you really just barely hearing a whisper of traffic (plus some wind and my breathing).
Woodrow Wilson Bridge Wall
In reality, I need to find out how to source this material for other purposes.  You know, eventually walling off kids rooms down the road, perhaps the walls on my cube at work, or even just walls around a garden.  Which I would then call Sound Garden. 🙂
With that, have a great weekend all!  And even if your weekend run or two doesn't have the awesome magical sound wall, I hope it goes well!  Thanks for reading!