This evening I got an interesting comment posted to an old post of mine from last summer.  My original post was about the NYC Triathlon swim deaths that occurred during the 2011 Nautica NYC Triathlon.  That post touched off a wide range of opinions on ways to reduce swim deaths in triathlon races (which is statistically by far the most deadly leg).
The comment that was posted was somewhat spam/marketing-eqsue (actually, not somewhat, it was blatant spam) – but it was interesting enough to lure me over to check it out.  It was touting a new product called the SwimIt, which is an CO2-driven inflatable life jacket that straps to your leg and can be deployed upon emergency – simply by pulling a red handle.  Sorta like an ejection seat, except without the fighter jet.
First, let's get some quick reference items out of the way before my thoughts on it.  The unit is both USA Triathlon & Ironman (WTC) approved, which means you can use them in any race sanctioned by them.  Further, it uses the same CO2 cartridges that you use to inflate your tires in a pinch (which means they can be found everywhere).  The unit is re-usable as it can be repacked with a new CO2 cartridge and used again.  Finally, it includes a snazzy whistle, and costs $120.
Here's a base informational video they have on it:
MySwimIt Safety Device
Ok, with that baseline out of the way – I'm pretty interested in your thoughts on this.
From a openwater training standpoint, I think this is an awesome product.  Many of us swim long-distance training swims, oftentimes out of reach of others (simply due to ability gaps with our swimming partners, or other logistical challenges).  This is especially true of ultra-swimming folks, who can frequently be out there on long swims for hours at a time, often alone, and occasionally in less than ideal conditions.  This offers at least a basic life saving flotation device in case something unexpected happens (excluding getting run over by a ferry boat).  Also, let's not forget the attached whistle as a better method for attracting help.  In some municipalities, swimmers are not permitted by law to go further from a certain distance from shore without a flotation device and/or assisting boat – so this may also address those legalities.
But, I am concerned there are some issues with it in a triathlon race scenario.  First up are some of the logistical issues.  Due to the position of the "red handle" on the back of the swimmers thigh, and knowing all too well the typical "rough" triathlon start, it seems pretty easy or even likely that there would be accidental pulls of handle.  The number of times my ass and thigh have been grabbed, swam over, or even hung onto in  a triathlon is far too significant to discount, making this handle position prime territory for another swimmer to catch their hand on it and deploy the unit right at the start of a race.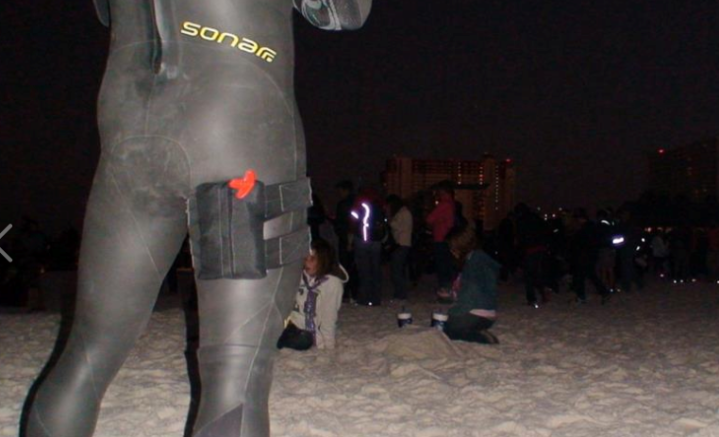 Of course, if it were to deploy mid-race accidentally, it wouldn't realistically harm anyone other than the swimmer wearing it.   And in that case, it's sorta a side effect of wearing the device.  It might inconvenience others in that it would effectively add a new swim buoy to the course, but that's not too big of an issue in the grand scheme of things.  Logistically you'd have to drag it around the course with you (hopefully not an Ironman course) since you can't leave trash or equipment along the race course, but again, 'it is what it is'.  And finally, I'm wondering how easy it is for the entire package to be pulled off the swimmers leg (as it appears Velcro; it will depend on the strength/type).
That last point brings me to my primary concern with race scenarios. I wonder whether or not  the SwimIt introduces a false sense of security for the swimmer (again, specifically just for a race).  You've seen the NYC triathlon this year go to a system that aims to require you to 'certify'/'validate' that you're prepared for the distance.  There are of course many reasons why someone might have trouble in the water during a race – not all of which have anything to do with skill level.  Some of the best swimmers in the world have died from other medical reasons during openwater races.
But does this device encourage a triathlete who might not yet be ready for an openwater triathlon to enter a race that might be over their head (no pun intended)?  And what happens if the unit fails to deploy, but was expected to provide that safety barrier?
Again, I think there's some real promise here – and I think for training scenarios as well as non-triathlon openwater races this is a great safety device.  Similar in a number of ways to a helmet for a bike.
But, I'm rather curious what you think.  I'd love to hear your opinions – especially on races, and in particular, should there be any limitations and/or rules around its use?
As always – thanks for reading!