It's easy to look at the tragic deaths of two triathletes during the NYC Triathlon this past weekend and dismiss it merely as an unfortunate case of 'chance'.  It's easy to say that it's simply a fact of life that we participate in a 'dangerous' sport and it's an inherent risk. And it's even easier to say that we shouldn't do anything about it.
That's because it's harder to look critically at how fast triathlon has grown, as well as the trends within the race industry, to ask whether or not changes need to be made.  It's harder to propose changes that will undoubtedly have a monetary impact to some, if not all, race directors.  And it's even harder to convince athletes that it might actually be for their own safety.
Swimming: Statistically the most deadly of the three sports
When you initially stop to think about the most dangerous aspect of triathlon, most would think of cycling.  After all, that's where we have the most vivid images of crashes and injuries.  It's the one leg of the sport that we normally have a crystal clear mental image of what could lead to critical injuries or death.  But in reality, the bike leg is actually significantly safer than the swim leg.  A study of triathlon deaths from 2006 to 2008 found that out of the 14 total triathlon deaths during that timeframe, only 1 of them occurred on the bike.  None occurred on the run.

I suspect the lower bike fatality rate is due to a number of reasons, but namely that it's easier to stay within  ones comfort zone on the bike – and thus, limit instances of panic from occurring.  Further, despite triathletes notorious lack of bike handling skills, you'll find that in general triathletes are more cautious on the bicycle than their non-triathlete cycling friends.  Merely go to any 90* sharp cornered turn at a triathlon and contrast that with the tactics encountered during a cycling road race.
By increasing an athletes ability to stay within their comfort zone, you dramatically reduce cases where an athlete can get into an uncontrollable panicked state, which in turn reduces the likelihood of either triggering a heart attack or cardiac arrest.  Deaths during the swim portion do not typically result from someone simply being unable to swim at all. Instead, death is almost always the result of a heart related condition that prohibits the swimmer from being able to keep their face above the water.
Triathlon Races: Contributing factors to panic during the swim
When you talk to triathletes before their first triathlon, virtually all will convey concerns around the swim.  Some concerns center around the mere ability to complete the full length of the swim, while others focus on the mass starts that are common in almost every triathlon.
Looking at the first scenario, it's far less common. Most athletes will find that if they can swim the first 100-200 yards, they can swim the remainder of the distance.  It may not be fast, it may not be pretty, but it will occur.
The second issue, that of the swim start, is where most folks center their fears.  There are a number of factors that contribute to athletes being nervous about the swim start, they include:
– Being swum over/under/through by hundreds to thousands of other athletes
– The effects of cold water shock
– The concern of being knocked in the head/face, ultimately losing goggles or swim cap
– And then simply the enormity of completing an event for the first time
All of those items are being mentally rehashed  – increasing ones anxiety even before one enters the water.
As your body comes in contact with the colder water (especially your face), your heart rate will dramatically spike and take about 60-90 seconds to recover (if just sitting still, let alone swimming).  I talked about this and the research behind it previously. This is a key reason why you should always try and get in a warm-up swim in the 3-4 minutes normally allotted between waves.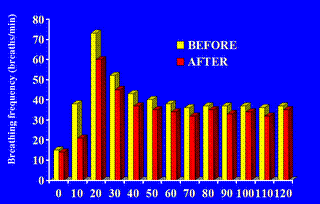 So now you've got an elevated heart rate from simple race anxiety, then you layer in the further elevated heart rate from the cold water, and then you finally add in the actual start of the swim when athletes do indeed swim over & through each other (as well as the mere act requiring you to swim).  In virtually every bit of triathlon guidance for new triathletes it'll say something to the effect of: "Simply stay off the back for a few seconds to let people go ahead, or swim to the sides for 'clear' water."  Which is great and normally easy to follow advice. 
Except, one couldn't have done this at the NYC Triathlon.  See, it's not permitted. Why you ask? Let's get into that.
A look at the NYC Triathlon Swim Course
The NYC Triathlon swim course is legendary for producing the fast swim times in the sport, due to the river current and tidal flow.  So fast that sub-10 minute Olympic Distance (1,500m) times have been recorded by pro's, nearly half a common pro triathlete time on a correctly measured course.  The course itself is a simple point to point affair. Which means that it starts in once place, and ends down river.  Athletes are up against a seawall which makes it extremely simple to sight, since you just keep the distance equal to the wall and eventually you find the finish.
This all means that from a course completion standpoint, due to the current, you could literally just sit and float your way to the finish line.  And by the looks of the now infamous video, a number of people did just that.  As you watch the video, note just how many folks are simply drifting along at nearly the same pace as folks actively swimming.
What makes the NYC triathlon swim course even more interesting though is that the tide fluctuates over the course of the morning, resulting in some swim start waves having very fast swim times, and others potentially having rather slow swim times.  The reason for this is spacing in the waves.
Except this year, there were no waves.
Instead, they went with a time trial system.  A time trial start is an interesting concept that's slowly been catching on within the triathlon world, primarily in larger events.  In larger events it's implemented such that groups of 8-10 athletes go off every 10 seconds, sometimes it's also just a constant stream of people jumping into the water. I recently did this as part of the DC triathlon back in June.
There are a number of benefits behind the time trial start, but one of the biggest is to spread out participants on the bike course, thus reducing draft packs (and potentially increasing safety as well). And there's no doubt that a time trial start does this. In fact, it does it very well.
However, what it also does it eliminate ones ability to acclimate to the water, as well as to 'stay' back and let the wave go ahead.  That's because the waves never stop coming from behind.  So in essence you're instantly thrusted into a situation out of your control – without warm-up either.  You've got swimmers quickly piling up at a rate of 1 per second behind you, and at the same time you're being rushed down river by the current – all while your body attempts to reconcile it's natural reactions to adrenaline, the cold water and your increasing anxiety.  The study came to a similar observation:
"Furthermore, deaths were more common in triathlons involving greater numbers of competitors. Because triathlons begin with chaotic, highly dense mass starts, involving up to 2000 largely novice competitors entering the water simultaneously, there is opportunity for bodily contact and exposure to cold turbulent water."
In general, I would say that if an event requires a time trial start to make it work in a given venue, then one should be stopping to ask whether or not the event is too big for that venue. And, when you stop and look at all of the events that have implemented, they've done so because the venue simply wouldn't accommodate the number of athletes otherwise (ether due to time or distance constraints).  The DC Triathlon, Nation's Triathlon, Ironman Louisville, and now this year, the NYC Triathlon.  These are all events looking to push not only the field size larger within their environment, but in some cases – looking to take the crown on the largest triathlons out there. And interestingly, with the exception of Ironman Louisville, are all events that market heavily to new triathletes through various outreach programs.
Again, the key difference here is the ability for an athlete to control his or her swim.  It's not necessarily about mass starts such as those in an Ironman race (which, for the record, I am in favor of).
Qualification and Screening: Is it the answer?
There are two concepts that have been raised over the past few days around the issue of triathlon safety and solutions.  Neither of which should be considered a panacea to keep deaths from ever happening again, because no matter what's done – they will happen.  But one or both of these concepts would likely reduce the death rates. 
The first is around health screening.  Much of this stems from one key observation the study made about past triathlon deaths during the swim portion, which noted:
"Drowning was the declared cause of each swimming death, but 7 of 9 athletes with autopsy had cardiovascular abnormalities identified."
While I don't think we should go as far as to prohibit competitors from competing without a note from a doctor (though the Paris Marathon does), I do think that USAT and Race Directors could do significantly more in the realm of awareness here.  When was the last time that you registered for your USAT card and were reminded to consider getting a screening for cardiovascular related abnormalities?
How much would it take to step up a PR campaign around that?  After all, most peoples health insurance companies will happily cover such tests.  And in fact, both myself and my wife have taken the tests.  They don't take very long and give you a bit of piece of mind that you can really push yourself.  Despite the abnormalities though, the study did note the following:
"Although the contribution of cardiovascular abnormalities cannot be definitively excluded in some cases, logistical factors and adverse environmental conditions may have been responsible for these events…"
Once again, going back to how races are run from a swim logistics standpoint.
Also keep in mind that it's not just someone hurting themselves if they are drowning. This is because one in the midst of drowning will almost always cling violently onto anyone around them, potentially drowning both individuals.  It is well ingrained into every single lifeguards training to ensure the victim doesn't take them down too. What if you were the defacto lifeguard?
The second idea proposed is around qualifiers. In effect, requiring one to qualify to race a different levels of events.  The logic here being that you must be able to prove your swim abilities to some degree.  It was noted that during the NYC Triathlon some 26 people were pulled from the water.  This is not inclusive of athletes who received kayaker assistance during the race.  Nor is it inclusive of those swimmers that received 'swim noodles' during the race.
For those not familiar, swim noodles were given to swimmers by kayakers who needed additional flotation to be able to finish the swim portion (and then presumably not finish the race).  The video I've linked to clearly shows one such swimmer (though there were many more sightings noted).  In my mind, this is a sign if a kayaker would have been logistically unable to attend to the sheer numbers of swimmers requiring assistance exiting the course.  Thus, a crutch was given to simply send them on their way.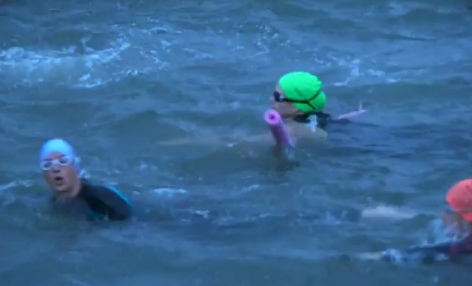 (Side Note: It was noted in the video's written comments that the swimmer with the noodle was a paratriathlete and thus was allowed to have the noodle.  This is not correct.  Per USAT rules, neither triathletes or paratriathletes are permitted to utilize flotation devices.  A race director may however allow flotation devices for athletes in a challenged athlete category – which is very different than the official USAT paratriathlete category.  However, a noodle is certainly not within the scope of that. Further, the NYC Race Organizers have vehemently denied that anyone started the swim course Sunday with a swim noodle.)
A qualifier would serve to ensure that a swimmer could complete the swim distance in an open water setting in a reasonable amount of time without outside assistance.  There's been discussion around at what level this would occur, but I realistically think it would need to occur at even the shortest distance and go up from there.  Statistics show that the sprint triathlon is actually more deadly than the Olympic distance triathlons from a 1 per 100,000 participants standpoint (1.4 to 1.0):

While this would require additional administrative overhead, I suspect that this is an area where triathlon clubs, open water swimming clubs, and USAT could partner to offer either test weekends, or clinics (common already).  One could then simply test out that you could swim a given distance unassisted, prior to entering a competition with thousands of others.  It would also build confidence and lower anxiety.  For those who already compete, this could easily be waived with a past swim result.
It should be noted that one of the two athletes this weekend that died was a fairly good indoor swimmer, though this was only her second triathlon.  The first was a SheROX event in June, which are well known for being a very safe environment to get into the sport.  The other individual had no previous triathlon results that I can find (though did have plenty of running experience).  It's certainly possible (and probably likely) that both of these athletes may have competed elsewhere that I didn't find. Again, potentially showing the importance of health screening since one died of cardiac arrest and the other a heart attack.
Finally, qualifiers are nothing new to the triathlon or endurance sport scene.  At the faster end, events like Kona require that the lottery winners complete an event prior to going to Kona.  And many half and full marathons also require qualifying times (even if slow), merely to prove readiness and the ability to complete an event on time.
Conclusion
As I started off with at the beginning, it's easy to simply forgot about this event in the day to day hustle and training.  After all, it's likely that once this upcoming weekend rolls around they'll be nothing more than another weekend of fun and exciting triathlons held all around the world – likely none with any triathlete deaths.
But eventually it will happen again, and the question simply becomes: Does it need to? Are there ways that as a sport we can reduce the chance of deaths during the swim in the same manner that we've reduced the chance of deaths during the bike segment via helmets and other safety measures (checking bar plugs at entrance to events, checking that brakes function, etc…). 
This may be accomplished through screening, or qualification.  Perhaps it's looked at from a race design and limits standpoint.  Or perhaps we simply try and raise awareness about being prepared for the event ones signed up in, and to try and ensure realism is injected when one signs up for an event that may be out of their comfort zone. 
Regardless of the ultimate solution implemented, I think we should strive to bring the number of deaths that occur during the swim down to as close to the number of deaths that occur during the run. Zero.