A couple weeks ago while riding the Seattle Century with my Dad, I decided to try out some FRS nutrition that was in plentiful supply around the start area and aide stations.  I did this mostly because it was free, and secondarily because it was…well…free.
At first glance they seemed like a fairly straight forward way to get in calories.  Little baggie of sorts that had some untold amount of caloric goodness contained within.  Actually, it probably was a told amount, I just didn't bother to read it.  As you may remember from my ride though, I was more interested in having a good time and ingesting everything the aide stations had to offer…since it was all free (especially the fresh pie!).  Utilizing the free nutrition bettered both this goal, as well as a similar goal to get my money's worth. Simple, right?
So anyway, these little packages had various flavors and around the 20ish mile marker I figured I'd try whichever one I pulled from my back jersey pocket first.
Turned out to be flavor 'yellow'.
Now, keep in mind that I'm bumbling along riding at a good clip on at this point a meandering bike path.  Dodging all the usual suspects: Bikes, runners, potholes, squirrels, randomly placed poles and the odd camel. Ok, maybe not the camel. But there were occasional cows.
After I managed (following a fair bit of frustration) to open the package, I'm happy to be close to the goodness contained within.
Except, what to my wondering eyes should appear?  No, not eight tiny reindeer.  But rather instead a pile of tiny signed, sealed and damn-near impossible to get open bits. Yet another barrier awaits!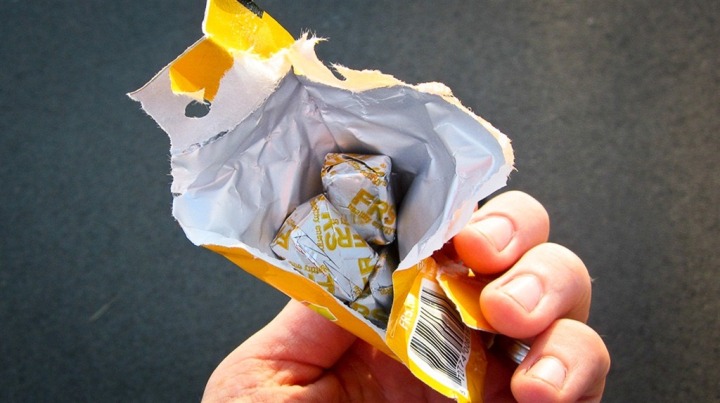 Each little piece of whatever it was, was individually wrapped in a virtually impenetrable cloak of highly reinforced tinfoilesqe sealant.  A wrapper that could probably be used to shield one from radiation poisoning it was so tightly vacuum sealed to whatever it enclosed inside.
It took me another 1-2 minutes to get just one of these darn things open while I sped along trying to avoid all the aforementioned obstacles.  And that was just getting one of the little Starburst wannabe things opened. This all for a net nutritional value of less calories than it took me to actually open the thing. In scientific journals across the endurance nation this is called 'negative nutrition', whereby the act of obtaining the nutrition exceeds that offered by it. This is a failure.
Thus, I offer the following bit of advice (no, not wrapped in tinfoil with gold semi-engraved printing) to nutrition vendors: Please, for the love of all things yellow – make your nutrition packages penetrable in scenarios other than your hip board room conference tables by a qualified surgeon with an scalpel. Consider taking your product to a water park. If you can't open the packaging before you reach the end of the waterslide, you've probably failed. Just some food for thought. (Well, assuming you can get it open).
Thanks for reading all, and enjoy your weekend!