Every year about this time about 2,000 Cherry Trees around DC explode with little flowers.  Not only does it seem to usher in the start of spring, but also the start of the main tourist season.  I generally try to make it down to the basin (the Tidal Basin is where the majority of the cherry trees are) to get a few pictures each year.  This year, I timed my trip to also go down and check out the Cherry Blossom 10-Miler – one of the major running races in DC.  (I'd classify the majors as: Marine Corps Marathon (30K), Army 10-Miler (20K), Cherry Blossom 10-Miler (12K) and the GW Parkway 10-Miler (8K)).

I had packed everything in the car the night before for a fairly long day.  I had my mountain bike, my tri bike and my cycling clothes.  My plan was to park across the river from DC and ride my mountain bike into the city for a few hours, then bail back out to my car to drive south a ways and go for a 50 mile bike ride (on my road bike).  So I was out the door by 7:30AM or so and headed down town to catch the action.  Here's some pics I took.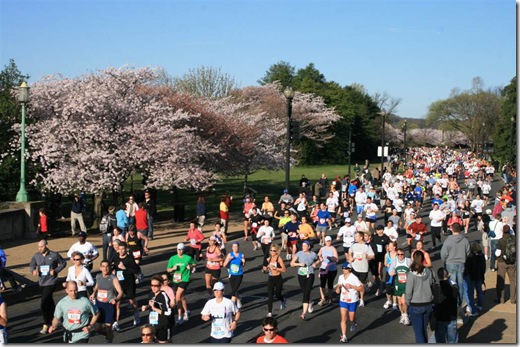 (A touch before the five mile marker)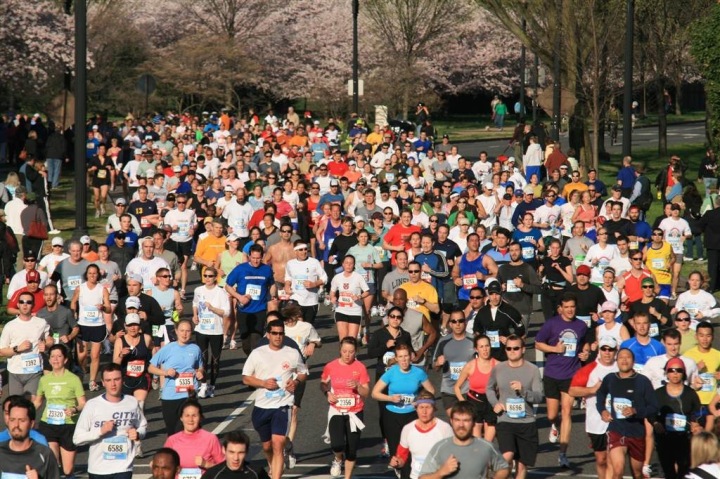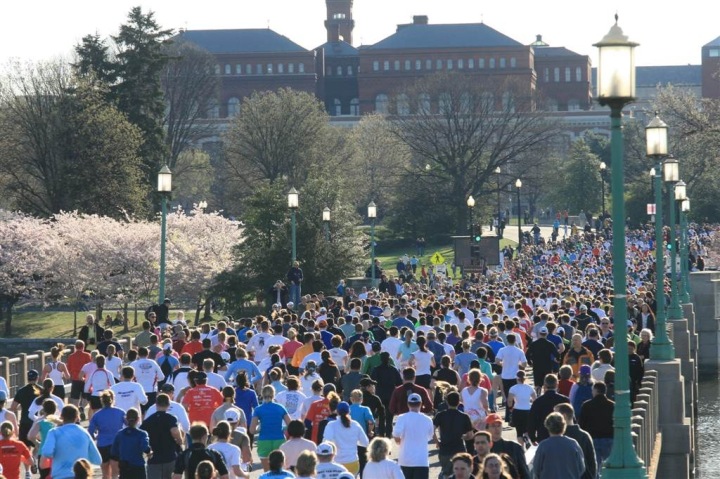 I think this sign summed it all up.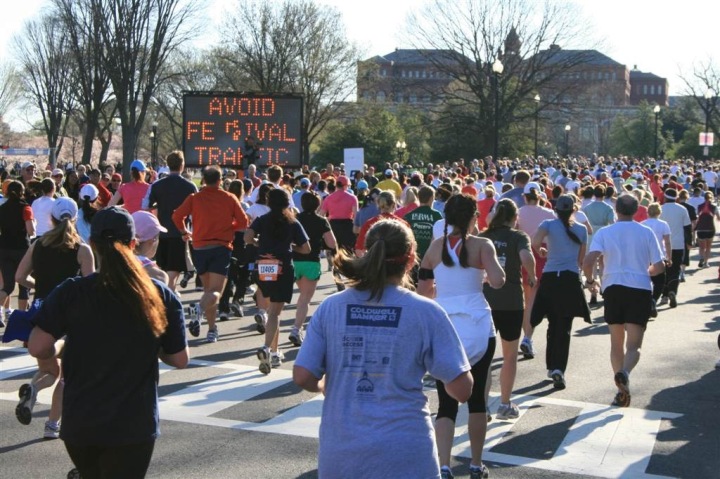 After my first hour of watching folks, I decided to move locations towards the 9 mile marker.  Along the way I walked a portion of the Tidal Basin path, and got a few rather nice pics.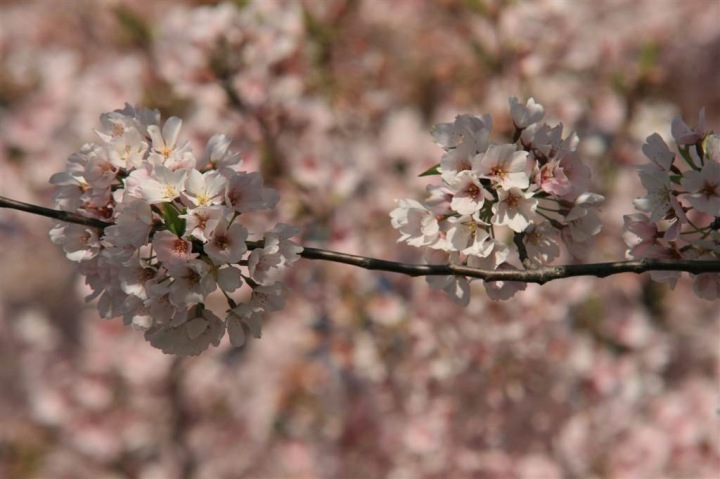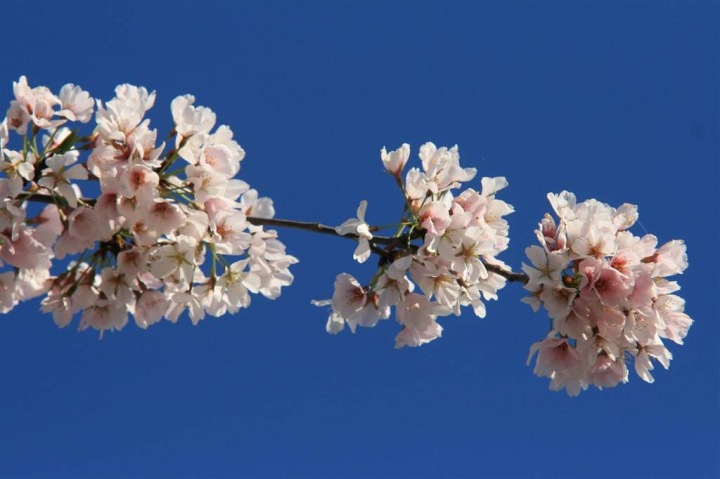 Eventually I ended up at the 9.5ish mile marker, on a bridge over the race route.   I guess I never realized how many people 12,000 people are in a race.  Despite the fact that I've run in races with 20,000 (Army 10-Miler) and 30,000 people (Marine Corps Marathon) – this was enormous at 'only' 12,000.  Literally people streaming by taking up 2-4 lanes of traffic for two solid hours.  Incredible.  Really something you have to see to believe.  I wonder if this is what the Marine Corps Marathon looks like, or NYC?  Or Boston?  Hmm…Boston…  Anyway… Here's some pics from that spot.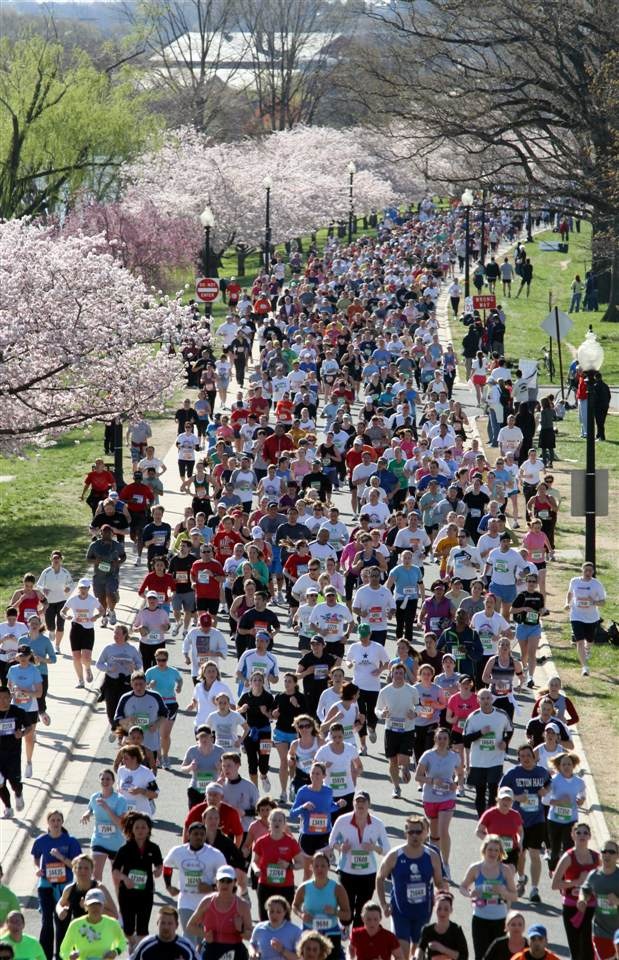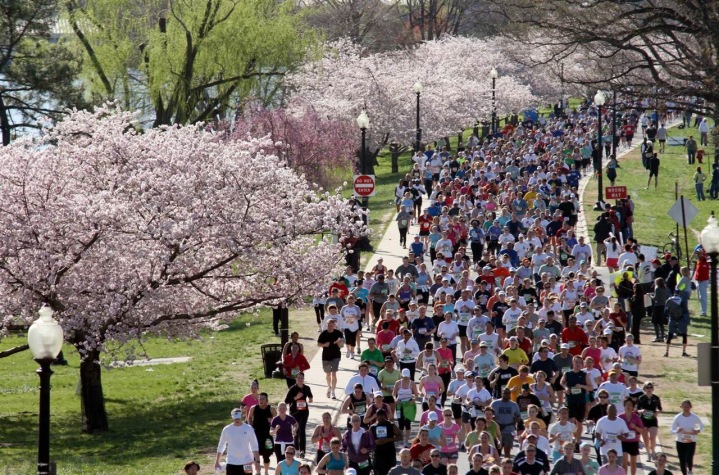 After a bit it was time for me to head on out (a total of 2.5 hours of watching people continuously going by), and I headed back around the rest of the tidal basin to find my bike, which was hopefully still stashed in the bush I stuck it in at 7:45AM.  Along the way I took one last picture, and I think it's one of my favorites of the day (out of 418 photos taken).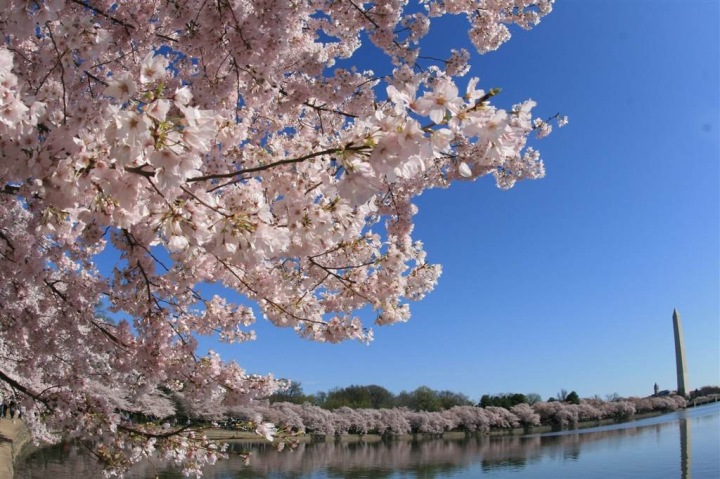 The National Park was also handing out these nifty little buttons.  Of course, I had to have any button with a beaver on it.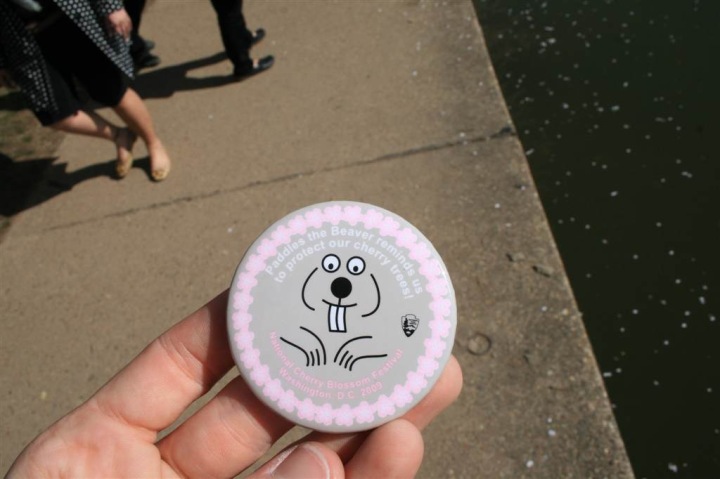 And here's one more quick pic of me on my bike headed back across the bridge to my car…yup, still Cherry Trees in the background.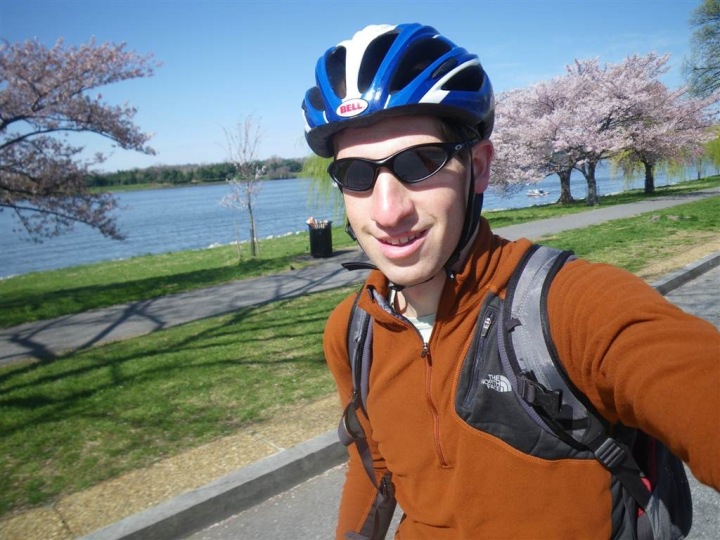 After my first bike of the day, I still had my second bike to do.  Except, the second bike was a wee bit further and harder.  A solid 50 nonstop miles at an even Z2 pace.  Which brings me to point point about bike training…local trails just don't work.  I know we all like going out for a ride on your local bike path – but realistically most of them aren't good venues for getting in good quality training.  You just stop too often, giving you lots of little breaks you otherwise wouldn't get in a race.  Trust me…I love them too because they are easy to get to.  But there's such an incredible difference between 2.5 hours nonstop and 2.5 hours of stopping at little intersections, weaving around riders and walkers, etc…
I was quite happy with my cadence today, averaged 90.1RPM over the course of the ride, and that includes any 'down' time such as down hills where I'll usually 'rest' if above 32-34MPH.

I had met some friends to ride with (or rather start with).  As a result I also got back my road bike (Fuji Roubaix RC).  I had let them borrow it last summer after I got my tri bike and haven't had a reason to need it back.  Either way..it's back now!  Although, I think I might sell it given I haven't used it in a year (and neither did they).  But, it did provide for a funny picture, as then I had my entire cycling career with me and my car.  My mountain bike from my days delivering the local paper in Seattle, my road bike that I got when I first started triathlons two years ago and then my tri-bike I got last May.  Oh, I was on the race wheels getting used to them in the wind in preparation for this weekends first tri race.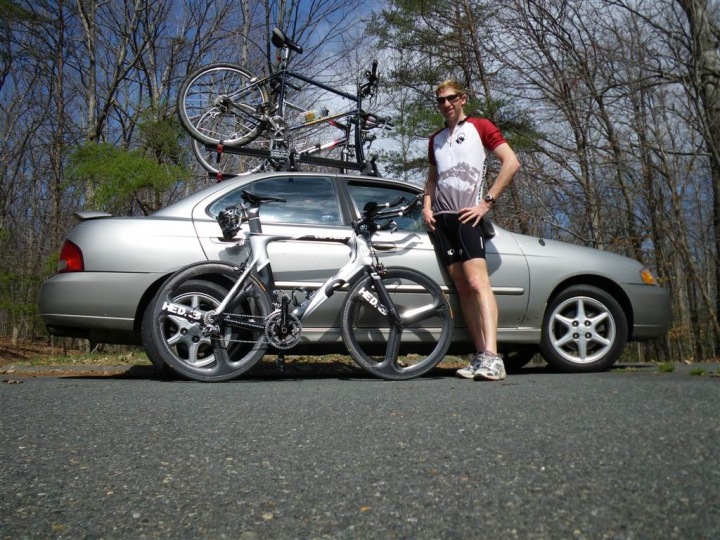 Finally, afterwards I planted the first section of my little deck garden.  This part is the herb garden.  I use tons of fresh herbs all summer and in particular – basil.  I make huge batches of pesto, so this is a mainstay.  Mr. Owl is there to scare off the pigeons.  But mostly they just mock him.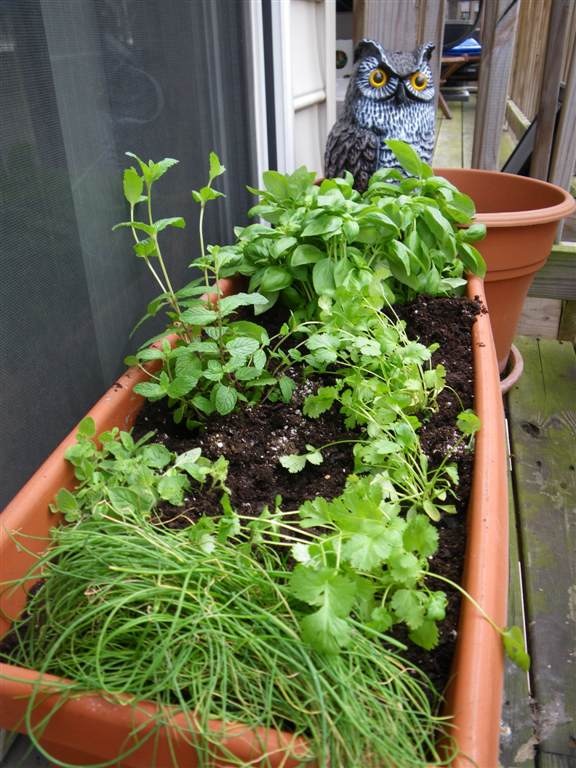 I leave you with this shot I took on the way home from cycling.  It's the back of some random mulching truck.  Check out the lower right corner of the load though (click to enlarge).  Seriously…antlers attached to a scull…WTF?!?