I've heard about this for months and even had some e-mails with the ITU folks about it – and as of today, it's FINALLY announced – The US Dextro Energy Triathlon.  As many of you already know, there's an ITU (Pro) World Cup race that's scheduled for WashDC on Sunday, June 21st.  It's part of a series of races with a total money pot in excess of $3 Millllioooooonn (Dr. Evil style) dollars (huge for triathlon).
Anyway, it's been rumored there'd be an AG race to go along with it – but the details had been super-sketchy and hard to come by.  The race is being run by the same folks that do the Nation's Tri – so it should be pretty world class.  Last year's Nation's Tri race had much the same 'branding/marketing' feel as an Ironman branded race – high levels of organization.  So I'm hoping this will as well.
There will be an Oly and Sprint distance for age groupers (with an elite option offered within the Oly distance).  They are different courses, with the primary difference being in the ITU race the men and women do 4-8 laps of the bike/run course instead of wandering all over the city.  This is to provide spectators with a much better view of those racers.  The schedule for the day is:
6:00AM: Oly Race Starts (Holy crap-pie that's gonna hurt on the early-morning-factor!)
6:30AM: Sprint Race Starts (Lucky ducks)
11:00AM: Men's Pro ITU Race Starts (Nice and warm)
1:00 PM: Women's Pro ITU Race Starts (Wow it's gonna suck for them)
Here's a quick look at the course maps: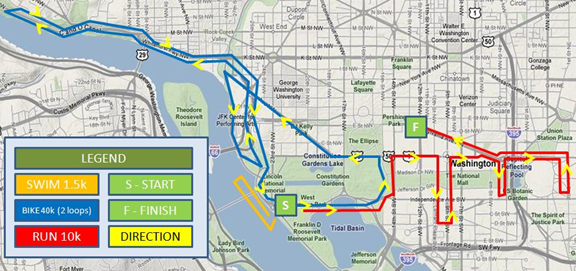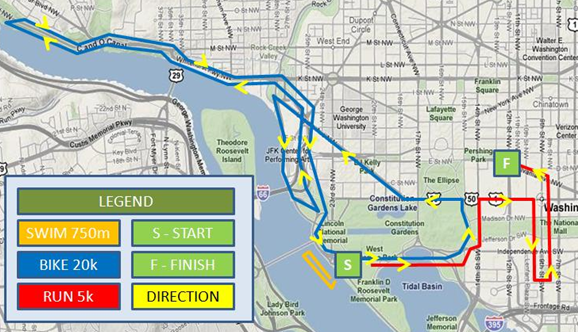 So basically, same area as Nation's Tri for the swim, and the bike for the AG race is very similar to taking the 2007 and 2008 courses and melding them together with some slight changes.  It's a two-loop course on the bike instead of the one-loop from the Nation's Tri (which = more spectators).  The run is similar to the second half of the 2007 course with a few extra out and backs across the mall added to build mileage.  The one good piece of news with the 6AM start is you'll beat some of the summer heat.  That time of year here it could be 80*F or 100*F, hard to tell.  But a 6AM start means most Oly folks will be running by 8-9AM or so, and so it won't be too bad.  I'm working on suckering in some running friends to do their first Sprint tri that weekend as well.
As for registration – it opens Friday at 8:00AM*!  All the information can be found on their website.  I'm super-excited about this race since it's both in DC, but will also allow folks to hang out post-race and enjoy watching the pro's do laps around the US Capitol Building up to the Whitehouse and back.  Plus, given it's basically a rehash of the Nation's Tri course – and by the same folks, there really shouldn't be any of the usual 'first race' issues – just sorta like Nation's Tri Part II.  So if ya needed an excuse to go to DC…now you've gone one.
*Update: I just got the early registration link for any USAT members.  You can register NOW!
In other news…