It's that time of year again – a recap of last year.  While most folks took care of this prerequisite post earlier this month…I meanwhile…was a slacker.
I've finally gotten my training records all sorted out.  As you may recall, I have a number of different logs that I use to track.  Well, after weeks of procrastination I got my master one all updated and have what I think are fairly accurate numbers.  They would be low if anything (if I missed something). 
From the pretty charts, you can see where a knee injury in late 2007 carried over to February of 2008, thus limiting my ability to train. 
Also keep in mind that cycling miles are sorta a non-valid number because 2/3rds of my bike workouts are on trainers, where the mileage is a variable function.  Hours are more valid.
Similar to last year, I'll run through a recap of the year in as quick as manner possible.
So let's start with the training numbers:
Cycling: 241.75 hours, 4,036.46 miles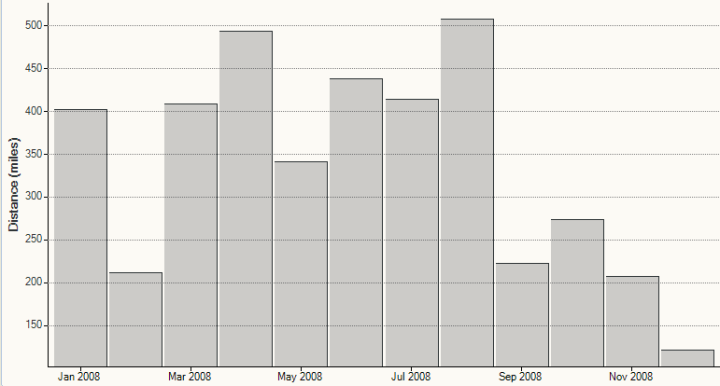 You'll note a significant cycling drop-off starting in September post Ironman Canada.  That's where I shifted to running being the major focus for the fall running season.  Of course, I was still cycling three times a week.  Well, except in December – travelling so much in then threw my cycling out the window.
Running: 170.66 hours, 1,380.09 miles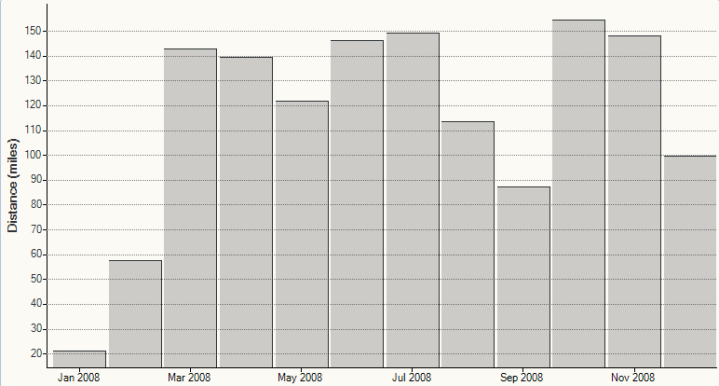 Running was impacted the most by my injury early last year.  But by March I was back in full gear.  I was able to dramatically increase my running endurance, but also increase some speed as well.  A typical  week for me is generally three runs:
Tuesday Track (8-15 miles)

Thursday ~10 miler ascending tempo run

Saturday Long run (20 miler)
These get mixed up a bit once my really long rides kick in (because then the long run shifts to Tuesday to avoid back to back long sessions), but generally I only have three runs a week.
Swimming: 128.25 hours, 226.25 miles (398,200 yards)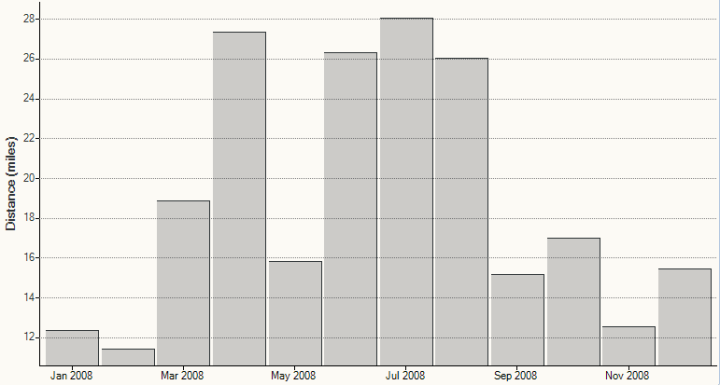 I swam a bit more this year than last (about four times as much).  You see above the big jumps during the summer months, that's that result of Saturday long swims (7,000 yards a pop).  And that drop in May is the new coach taking time to work on technique.  Like the cycling, everything drops off in September to focus on running.
Quick Recap:
Overall training numbers were way up this year in many areas:
Bike: 4,306m (2008), 1,942 (2007)

Swim: 398,200yds (2008), 166,165yds (2007)

Run: 1,380m (2008), 1,293m (2007)
Of course, if I had an extra few months of running allowed (no Jan/Feb), we'd be talking a different game there.  But all in all, a solid training year.  So how about the races?
2008 Racing Overview:
I can solidly state that my 2008 racing season went pretty well.  I completed two Oly's, three half-Irons, one full-iron, one marathon, and a slew of shorter distance running races.  A few random highlights:
Oh, and I'm happy to report that I really didn't have any race lowlights.  Sure, I had a few issues during a race like most, but overall there weren't any DNF's or complete blow-outs.  I am proud to say that I've managed to continue my streak through of throwing up in at least one out of every two tri's I complete.  It's pretty awesome.
So all in all I'd say the season went pretty well.  My cycling improved tremendously, as did my running, and my swimming endurance moved up quite a bit – although swimming is still my sore sport. 
Of course, 95% of this is due to the extreme dedication of my coach.  I just simply do what he says day in and day out.  Run slower he says…ok I say.  Swim correctly he says…ok I say.  Bike more he says…ok I say.  He's taught me it's not just about volume – but also about specifity and recovery.  It's not about running as fast as you can day in an day out – or riding as long as you can.  It's about making every single workout have a specific reason…and count.
So what does next year bring?  Well…you'll have to wait for Tuesday. 🙂