Despite both DHL and USPS's best attempts to keep me from getting my box of stuff, I have succeeded in taking ownership of it.
(Side Note: If I pay for DHL shipping, I don't want DHL to hand it over to the Post Office (who then delivers it at their leisure) after the first failed delivery attempt – that DEFEATS the purpose of paying for DHL.  Seriously DHL: HTFU and try again – that's your job! Ok…tiny rant over)
The best part about getting a box of swim stuff – is that for relatively cheap you can get a lot of stuff.  It's like getting a bag of Skittles, instead of one piece of candy – you get 54 pieces of candy.  Whereas you order a bike part and you get one lousy chunk of metal for a gazillion dollars.
Last week I had the realization that I had no true swim shorts.  They were all tri shorts.  And then I realized that after last years little tri shorts incident, I really only had one pair of functional tri shorts.  So it was off to the Internets to order some new toys…err..gear.
Of course the true irony here is that I really don't enjoy lap-swimming.  I do enjoy open water swimming, but I find lap-swimming painfully boring.  Well, more so before I start my workout.  Once I start it's not too bad.  So perhaps this is part of my hidden agenda to find a way to enjoy swimming.
So anyway, here's the loot!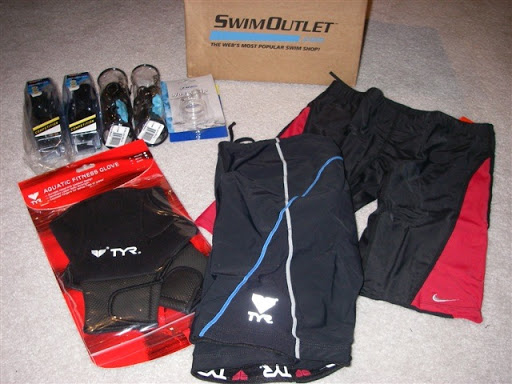 Two pairs of goggle #1

Two pairs of goggle #2

In general I have issues with losing goggles, so I buy a pile at a time and then just lose them along the way.  I buy semi-cheap ones (about $7-10 on sale).  This should keep me for at least a few months.

Swim glove thingy

TYR Tri shorts (another pair of exactly what I got down in Texas from

UntPawGal02

, cause I like those)

A pair of Nike Swim jammer's

A nose clip for when I get into a

flip-turn practice mood

, I can only do so many flip turns before I just get fed up with water
Speaking of swimming…. If you're semi-new to swimming (like me) and you read through workout plans with your head spinning in acronyms, check out these two sites I found this afternoon.  They help explain all the more common ones.  Useful for when you have no idea what the swim sheet is trying to tell you to do.
I'm looking forward to going to see the Spirit of the Marathon Movie later tonight (Thursday) – one day only.  If you haven't got tickets yet…get a move on!