Things are just bigger in Texas. It's as simple as that. Sometimes it's good, sometimes it's bad. Since flying in Sunday night for a week's worth of work stuffs, I've been experiencing all that the four mile radius around my hotel near DFW has to offer!
The Pool:
I choose this hotel primarily because of the indoor lap pool. It was also a steal on the corporate hotel plan, so no extra costs. Having an indoor lap pool has given me incentive to go to the pool daily, which I've been enjoying thus far.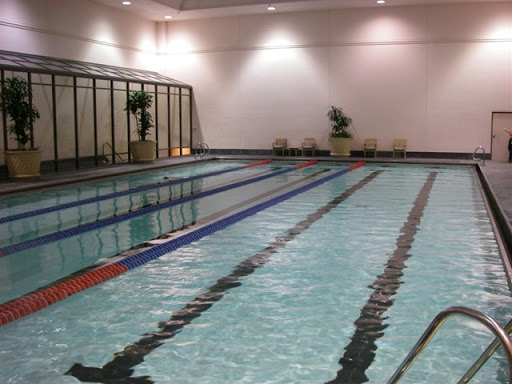 I've got this little waterproof camera that I always have handy. Tonight I decided to toss it in the pool and take some short video clips of myself swimming to analyze my swim stroke a bit. For whatever reason I never thought of doing that before. It's not professional or anything, but it helps. Check it out:
I never realized I twist that much while swimming. I don't look that smooth in the water either. Very jolty. The pace above is roughly a 1:45ish/100yard pace, just sorta my normal cruising pace. I'm looking forward to getting a coach to explain to me the 437 things I'm doing wrong.
The Spa:
After Da' Pool, it was a short walk around the corner to the hotel's spa. Holy cow! All I was looking for was a simple locker room. This thing had nice hot tub, a 'chill tub', a sauna, a steam room, individual shower rooms, a waiting lounge and a Vichy Room. I'm not sure what goes on in a Vichy room, but it looks really scary.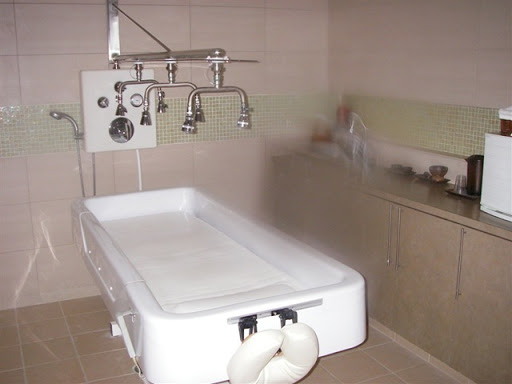 The spa areas were duplicated – one for men, one for women. I thought it was clever/funny that in the Men's Spa area near the hot tub there were two stone balls.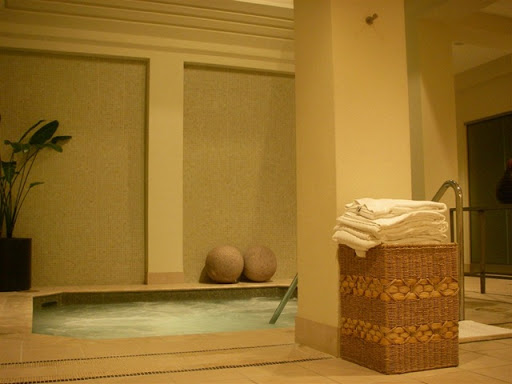 So it was pretty much just me. Actually, one really weird, old & overweight dude (remember, things are bigger in Texas) was there. It was funny, I was laying/sitting there tonight in a lounge chair after coming out of the hot tub, just reading a magazine by myself. And then the as I'm relaxing there in my tri-shorts on this chair, the weird [naked, old, overweight] dude says:
"Ya might wanna toss a towel on the chair…ya never know who's sat there before".
Hmmm…weird moment inserted there.
Your visualization now complete.
My grossness now enjoyed by you.
And moving on…
The Tornado Stickers:
As I was going to the bathroom at work, I noticed this tiny little sticker on the "Men's" placard near the door – letting me know that if a Tornado appears outside my window – I should run for the bathroom. Fairly logical location, given I'll probably need to clean my pants there anyway after seeing a Tornado out my window.
Roads & Stores:
Ok, I don't get it. The peoples down here have an obsession with building MASSIVE roadway structures (and supporting structures) to get places. Huge sprawling sky-high freeway interchanges and all of these weird access roads. Getting places is a nightmare. Sometimes bigger is not better.
But one place I did get to was a nearby swim shop. I needed a new pair of tri shorts due to repeated problems with my previous pairs going invisible. I found about the only store in Dallas that actually sells tri stuff, which is a swim stuff. I managed to find a good pair of TYR Tri shorts, and my friend got a good pair of goggles. I should have got a pair of goggles as well, since I somehow managed to lose mine between yesterday and today (luckily pool peoples at the hotel had spares). But the BEST PART of the trek was running into UntPawGal02 who helped us at the store pick out the good stuffs. We had a good chat about upcoming tri's as well, kinda funny to run into people in the 'real world'. But she is perfectly normal (despite her posts about joyfully swimming 4,000+ yards), and knows her swim stuff. Nice to meet ya!
The Scale:
One thing I haven't experienced yet is my bathroom scale. After last weekend's Turkey Day festivities, I was planning on taking a scale hiatus until my return to DC late Thursday night. But then – evil struck! My hotel room included a bathroom scale! Normally I would be thrilled, since I keep daily records – but not this week. So I have shunned Mr. Scale and refuse to give him the pleasure of my feet.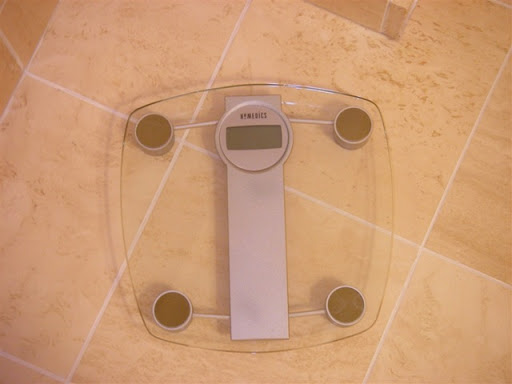 Flute Dude:
There was a flutist in the hotel balcony this evening. He was weird. Ponytail, dressed in black and all. And then I came back a short while later and he was playing the sax. Anyway, just had to mention it. No photo of him, sorry.