I'm super-anal about keeping track of my workouts.  I log every swim, bike & run.  Along with it log stuff like time, splits and distances and occasionally HR.  Meanwhile Sport Tracks will fill in stuff like temperature, humidity, course, elevations, etc…  Technically I have two logs – the one in Sport Tracks, and then the one I keep in Excel.  The one in Excel is the mother of all workout log books.  When someone asks "Who's your Daddy!?!", the Excel one responds "I'm your Daddy!".  I've appended sheets to it with various purposes (like pace over the course of months), and added other stuff like my record paces for various standard distances (5K, 10K, etc), and then my goal paces for various distances in both training and race.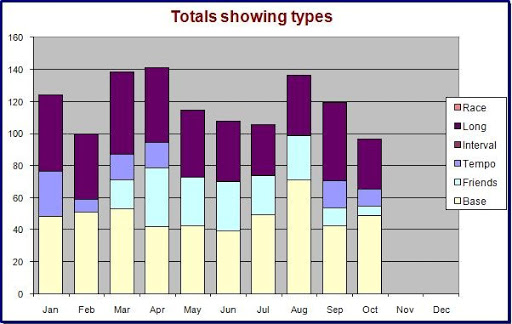 My planned workouts are in the log book by the Monday before the week ahead.  And once they are in there, I don't change them.  I'm committed – like jumping off a cliff.  If I don't do it, the log book colorfully reminds me.  See below for an example, each column in white is schedule, and blue is actual.  Totals are at the end of the week, and the week starts on Monday.

But… I find that often times I train against the log too much.  Meaning – I'm so set on ensuring that my pace or mileage numbers meet whatever I entered in the log book – that sometimes I focus too much on them.  I think swimming is a perfect example of my worst habits.  I strive to hit my day's total yardage number, but don't do any drills 90% of the time.  Meaning for me it's just a race against the clock to get my yardage done.  This doesn't really help me any though.  I'm just horrible at following swim workouts.  Bike's aren't much better.  My run's are actually pretty specific though – I've got interval days, tempo days, long run days and just base days.  So I do understand the run portion.
And to be fair – I do always get my workouts in.  I'm even more anal about that.  That February 19th 4-miler up there is after I got off a series of trains and flights lasting 18 hours and crossing 6 time zones and 4,000 miles.  Oddly the run was really refreshing.  And I do know when not to workout, such as if I'm truly sick or injured.
I think this is one area where a coach would probably be helpful.  Someone to virtually (or physically) tap/whack me on the shoulder and say "Uhh Rainmaker – you do have to do the set of 150 kick in that swim workout" and "Yes, 60 minutes of bike hill repeats are required".  Because I know that it's THOSE kind of workouts that really help me out, not just mileage.  So while I think the log book is an invaluable tool in ensuring that I complete the workouts – because I'd feel guilty if it shows blanks – I think I need to sometimes focus less on pace numbers and quantity; and more on quality.  And in addition to quality, focus on specifity within a given working/training session.