It's generally an awesome day when I can solve a computer issue with a hacksaw.  It's a super-awesome day when the device still actually works after the utilization of aforementioned cutting paraphernalia.
I had to use a hacksaw because some dumbass brilliant engineer decided to put a female screw adapter on the end of a serial device where that connection side should have had either nothing – or a male screw. A few minutes of hack saw work later and the issue was resolved. And the device is still functioning.  Yes…I'm easily amused.  And handy.
In the same way that large corporations perform 'recaps' of computers on a multiyear cycle, I do the same thing at home.  So I spent all three days of my weekend (when not training) configuring the new computers and moving all of the stuff from the old computers over. 
Generally a simple task, however when one of those computers controls all of the automation in the house (yes, my house is controlled by a computer), there is a lot of time spent ensuring that all of the little devices still work.  Otherwise the heating won't work and the lights get all ticked off, among other things.  This particular device takes RF and…wait, nevermind – it just monitors motion and makes the lights go on.  That's the simple version.  Anyway…
I've still got to tackle the last holdout – the Computrainer computer.  I thought about doing it tonight after my trainer ride…but I made taco's instead.  I did have a totally rockin' ride though – did the Wildflower Oly course in 1h 18m.  I started off too easy though, I can shave a few more mins off of that.  For those not familiar with the Computrainer, it is a trainer that has resistance controlled by a computer and you can load just about any course into it and it will feel like your riding the real thing.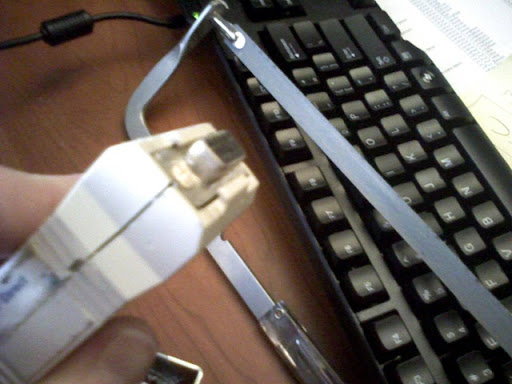 (Obligatory fuzzy cell phone photo of completed hacksaw work attached)
Oh…one last thing.  If you have a United Airlines flight between now and 11:59PM on January 31st, and want a free upgrade to First or Biz class – e-mail me.  I have an upgrade that expires that I can't use and I nobody I know is traveling in the next 7 days.  It's good for domestic or international flights, heck you could go from London to San Fran to Sydney on it if that's how your flight is ticketed.  I'll take requests till the end of Wednesday.  I'll give it away based on some random to be determined formula.  Otherwise…it will just go to waste.