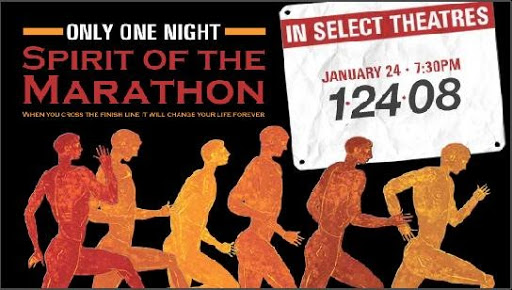 In case you haven't heard yet – there's a movie about the Chicago Marathon that will be playing nationwide for just 1 night (Thursday, January 24th, 2008).  You have to register via Active.com, but it's at a ton of major theatres all across the US.   I'll probably be going to the Alexandria , VA showing – since the theatre is about a 60 second drive from home.  Here's the listings of all the showings nationwide.
http://www.fathomevents.com/news/default.aspx?newsid=90
And here's more info about it (stolen from their site):
NCM Fathom, in partnership with Active.com and Wasserman Media Group, is proud to present "Spirit of the Marathon" on the big screen in high-definition with Cinema Surround Sound on Thursday, January 24th at 7:30PM (local). Don't miss your chance to see the Chicago International Film Festival's "Audience Choice Award" winner!

"Spirit of the Marathon" is the first ever non-fiction feature film to capture the drama and essence of the famed 26.2 mile running event. Filmed on four continents, the production brings together a diverse cast of amateur athletes and marathon luminaries. As six unique stories unfold, each runner prepares for and ultimately faces the challenge of the Chicago Marathon. More than a sports program, "Spirit of the Marathon" is an inspirational journey of perseverance and personal triumph; a spectacle that will be embraced by runners and non-runners alike.

Four years in the making, "Spirit of the Marathon" is the collaborative effort of three-time Academy Award winner Mark Jonathon Harris, Telly Award winner and marathon runner Jon Dunham and producer/marathoner Gwendolen Twist.

A "Behind-the-Scenes" featurette produced specifically for and shown only at this one-night event includes interviews with the director and producers as well as marathon veterans reminiscing about their first marathon experiences. The featurette highlights deleted scenes, dramatic race footage and previews the upcoming 2008 Olympics with a Q&A session with Olympians Deena Kastor and Ryan Hall.

Tickets are limited – buy yours today! Just enter your zip code above to find nearby theatre locations. Please note: this event is at participating US locations only.

After purchasing your tickets here, visit Active.com to enter an EXCLUSIVE "Spirit of the Marathon" sweepstakes for one of 35 event posters signed by Deena Kastor and for more information about the film.