Per Jeanne's request, I present you with photograph 'proof' of the iWon race.  Well, proof as far as someone taking a few photos of me.  I also have a pre-race group shot, but I don't feel comfy publishing other people's faces without their permissions (exceptions of course being if I find a photo of some random person in public doing something stupid).
The below photo is on the first lap right after the first long hill upwards, about to head back down hill again.  At this stage I'm just hanging about 10 yards back on the first place guy's – waiting for my moment.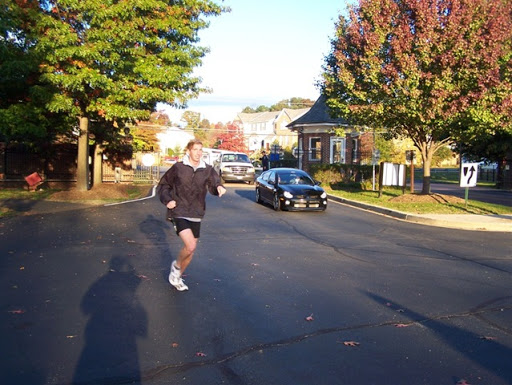 The next photo is about 20 yards out from the 'finish line' (5K race).  I think the dude relegated to 'camera duty' was caught a bit off guard as my photo was kinda fuzzy and everyone else's was super-sharp and pretty.  You can see 2nd place dude in the back corner of the photo.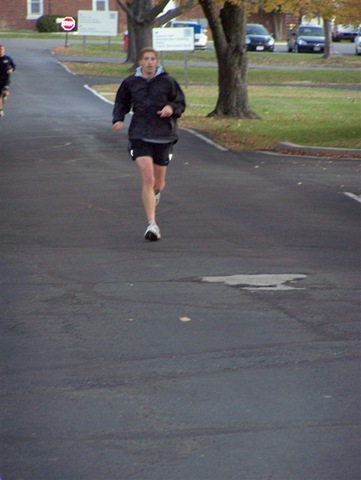 Neither picture is particularly flattering, but that's alright.  Keep in mind it was as cold as frozen crap out there that morning, hence the coat.  And my lack of proper running primping didn't help either.
In other musings…
Tonight was interval night again, the last one before Sunday I think.  I used my wheely thing to measure out the distance (I've still gotta get the OK to mark the path permanently, which shouldn't be hard given the individual that would give the OK is an avid runner – woot!).  I'm too lazy to look up the splits at the moment, but they were all sub-80 seconds (most 78/79s) for 400 meters.  The only bummer was that it was dark out, and I couldn't see anything in the dark woods; face plant opportunities abound.  Luckily I made it out unscathed but next time I'll have to figure something out.
Following intervals I beelined it to the pool and did around 1600-1700 yards, I'm not sure exactly – I got distracted halfway through my set by a gaggle of random people/kids entering the lane next to me,and lost count.  I didn't set out to do a long workout, just something to get me through till after the running race – more supplemental/base than build this week.  Not a bad day overall actually.  Although one bad thing did happen – my only remaining pair of tri shorts went invisible on me tonight in the pool – that's now two pair gone bad…actually – that might be three pairs.  Thankfully, this time they went invisible slightly off center, so it wasn't a huge deal.  Not ideal though.  Gotta get the move on for ordering new shorts (a different brand this time).