Watching the Tour de France on TV…in France…in French.
July 21, 2012 •
By DC Rainmaker
Over the past week a lot of things got installed/hooked up/working in our little Paris apartment.  Potentially one of the most important being our TV.  Well, sorta.  One of our TV's works 100%, and the other one works about every other day.  Not sure what happened on the boat over, it's a bit cranky now.
At any rate, the Tour has been on in the background all week.  Unlike watching it in the US, it's not an early morning affair here, but rather, an afternoon event.  Most stages start around lunch time, depending on the length of the stage, and tend to finish around 5PM local time.
Unlike the US, the Tour here is broadcast on the non-cable channels.  Meaning it's the equivalent of having it broadcast every day on your local NBC or CBS station, versus some cable-only station as in the US (like Versus/OLN, NBC Sports, or Universal NBC).  I typically find it on France 2 or France 3.  All I need to look for is 'Cyclisme', and I'm golden.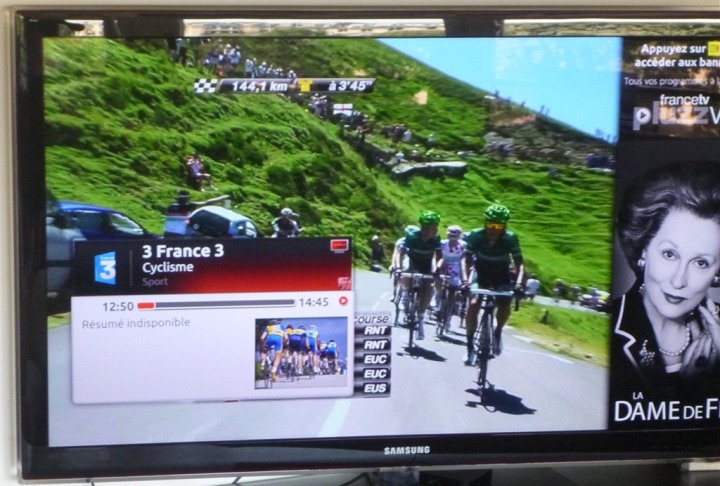 (Sorry for the glare, taking photos of a glossy TV is tough!)
But just because I'm golden, it doesn't mean I stay golden.  See, it moves around.  While theyalways broadcast the whole stage from start to finish, it doesn't actually stay on the same channel (note above how this particular segment only lasts two hours).  In order to avoid preempting all manner of shows, the TdF will actually change channels numerous times during the course of a given stage.  There may well be warning of this audibly in French, but since I lack the language skills to pick up on that (yet), I just find out when my TV turns to a show on the Auroras Borealis upon returning from commercial break: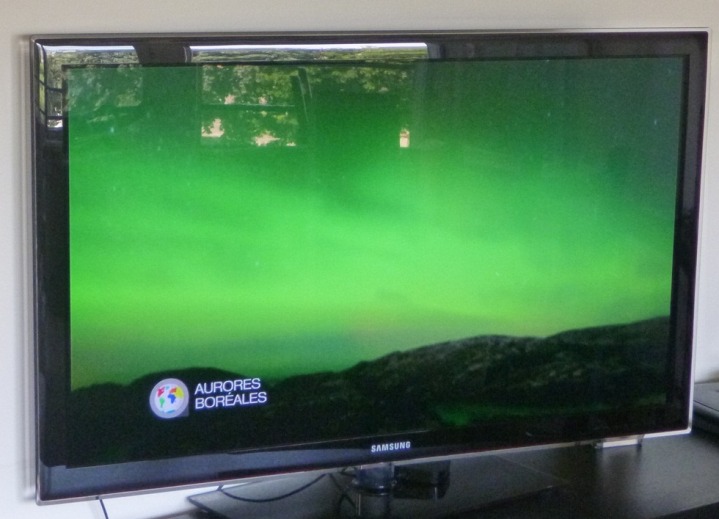 Because of the language barrier, I've turned to streaming either the US broadcast online or the Eurosport broadcast audio in the background via computer.  What's interesting about this is that you get to see how each channel chooses to utilize the TdF provided video feeds (it's a common video source pool, and the various broadcasters get to decide how to format their shows).  For example, while in the US you'll get lots of audio information about various local sights as the helicopters pan to them during the course of the race – here in France we get an entire diversion for some of these.  For example, at one point last week there was a 1-2 minute focus on a local men's choir singing.  During this, there was no cycling audio, only the men's choice, sometimes the video was split screen.
Or, the below, which was a soaring bird – which for the better part of 60 seconds included a solo piano piece, with no other audio: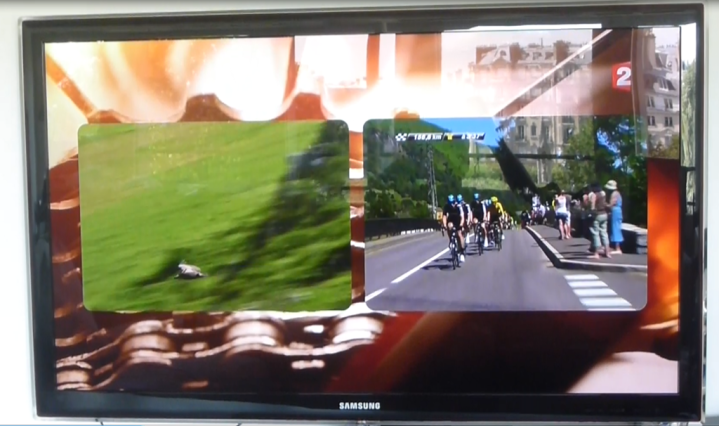 Often times there were local music performances where the cycling was completely silenced, and only the local performance was heard.  Interesting approach.
Finally, the post-race coverage blows away anything in the US.  It can go on for literally an hour or more afterwards.  It also tends to cover historical aspects of the race, sorta like some of the human interest pieces you might see during the Kona Ironman broadcast, or the Olympics.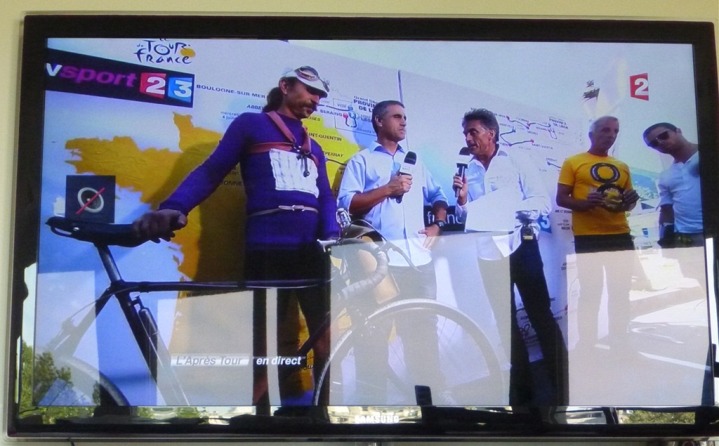 With that, I'm back in the US for work and will be (for better or worse) watching the US coverage for Saturday and Sunday.  I'm super-bummed that I'll be missing the finale in Paris on Sunday just a short distance from our apartment.  But hopefully The Girl will get some good photos and can put together a post for y'all.
Thanks for reading all! Have a great weekend!