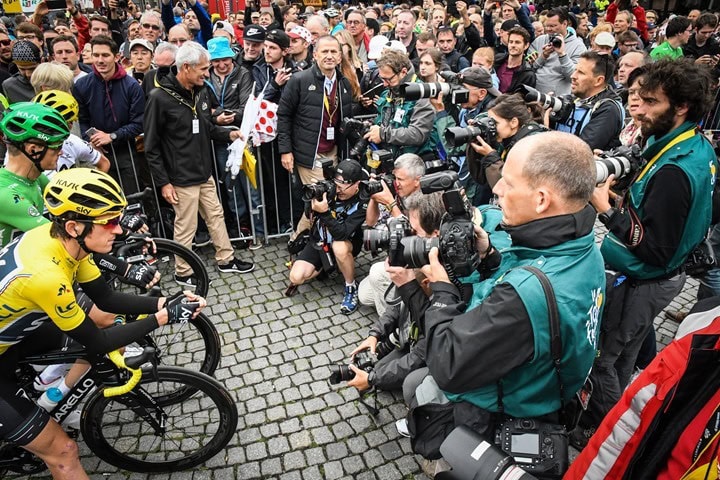 We left off yesterday with the first of my two weekend days at the Tour de France.  Don't worry (or maybe you will), I'm not going to all the stages.  I'm going to pop in and out where it seems interesting and/or close by.
While the first day was a short 14KM individual time trial done one by one on TT bikes, the second day was a group start for the 200KM+ long stage.  So the atmosphere was significantly different than Stage 1.  With the TT stages it's basically like a full day at the beach: You stake your spot as a team, and then you wander to and from that spot all day long.
Whereas for Stage 2, it's kinda like dropping off the kids at school.  The team buses arrive about 2hrs prior to the start, and then after dropping off the riders and getting them on their way, the team buses head out on the road to the stage finish/hotels.
Like yesterday I'm going to recap the boatload of behind the scenes tweets I did, with a bit more detail to boot.  Plus, I'll stash in a bit of a photo gallery at the end of some interesting tidbits from the previous two days that I didn't share on Twitter.
Let's get started!
I began my morning leaving the team hotel.  I had the massive race book with me as I tried to figure out how to get to the start.  As you can see from the illustrated route – it was a bit complex, as they were trying to funnel race traffic around various closures, ultimately right into the paddock.  As I left the parking garage, I immediately ditched the plan to follow the book, and instead just followed the team buses.
When in doubt on trying to decode the map to the start, simply just follow the Team buses and cars. pic.twitter.com/nKEhkYYrly

— Ray Maker (@dcrainmakerblog) July 2, 2017
That plan worked out great. I managed to find a parking spot about 100m from the entrance to the paddock and called that done.
For what I do, The Paddock is where it's at. It's the usually/mostly secured area where all the team buses and riders setup each day. pic.twitter.com/KhVc4jNVCY — Ray Maker (@dcrainmakerblog) July 2, 2017
The differences between the time trial days and the normal road racing days are massive.  For this second stage (a non-TT stage), the entire race flotilla is about being more agile.  Everything was very precisely lined up to be able to quickly exit the moment the riders went out.
For today's stage the team mechanical trucks aren't at the start. Instead, bikes were shuttled over on team cars with single bus. pic.twitter.com/6nMdhuZwyb

— Ray Maker (@dcrainmakerblog) July 2, 2017
I think these next two tweets pretty much cover themselves:
Most teams have 2 team in-race cars, with 8 spare bikes atop them each. There's also a third team car sans-bikes. pic.twitter.com/qmgl8CdIHO — Ray Maker (@dcrainmakerblog) July 2, 2017
Most times, the spare bikes on the team cars don't have power meters. Re-pairing mid-race (undoubtedly after a crash), is too messy. pic.twitter.com/LPB8lVKxaj

— Ray Maker (@dcrainmakerblog) July 2, 2017
While riders and teams have race radios and all assortment of gadgetry to help them through the stage, the reality is that sometimes a little piece of paper is the easiest. It only takes a second to glance at and gives you a sense for what pain is still to come.
Almost all riders have small guides tapes to their stems that list key stage points. They are often far more complex for time trial stages. pic.twitter.com/1NHnysRPxm — Ray Maker (@dcrainmakerblog) July 2, 2017
Sometimes though, you just march to your own drum:
Though, Roy Curvers of Team Sunweb decided to make his own course guide. pic.twitter.com/qtzD8V5m3m

— Ray Maker (@dcrainmakerblog) July 2, 2017
Don't worry folks, I haven't forgotten about the Team Quick-Step fruit basket situation.  Today the fruit was apparently in very high demand.
Team Quick-Step fruit basket update: No custom floors today, but fruit basket is in full force (and being consumed). pic.twitter.com/N2IXGGZHgk — Ray Maker (@dcrainmakerblog) July 2, 2017
The entire starting area was sprawled over about a mile long length along the river.  First the paddock, then a long empty area too skinny for team busses to stage, and then finally the starting area.  This is as I made my way through that long empty area.
Riders making their way to the start to officially sign-in. Each rider must do so every day at the start of every stage. pic.twitter.com/KtbOBPfXEo

— Ray Maker (@dcrainmakerblog) July 2, 2017
As always, UCI is constantly scanning bikes for motors.  It was interesting watching them count and record bikes, as well as validating they've captured all rider bikes for that day.
Bike scanning continued as normal today. They counted all bikes and then waited/tracks down missing bikes. pic.twitter.com/9Kskj4G1OY — Ray Maker (@dcrainmakerblog) July 2, 2017
The riders head to the start, and the jersey wearers are always at the front.  In this photo though you might mistake Froome on the right as wearing the white jersey, but in reality that's just Team Sky's new kit.  Because this is the start of Stage 2, there wasn't yet a king of the mountain (red polka dot) jersey handed out yet.
At the start line on Stage 2 of the Tour. The jersey riders lead peloton over the line. They also have to sit through 15 mins of photos. pic.twitter.com/1bWO7ocEWj

— Ray Maker (@dcrainmakerblog) July 2, 2017
Until you've been to a Tour and watched all the team vehicles go by, it's hard to explain just how many there are.  Aside from the caravan, it's one of the most impressive things about the tour.  And just remember, that's only a fraction of the entire team vehicles present.  The remainder have to take the non-race route to the finish.
Following the peloton is the long procession of team vehicles and other support cars. It goes on for 5-7 minutes. pic.twitter.com/kKOLS7fdMP — Ray Maker (@dcrainmakerblog) July 2, 2017
As all the press was waiting for the team cars to go through so we could escape, behind us nobody noticed a single Cofidis rider that had some sort of mechanical issue a mere 50 meters from the start line.  The poor guy was just standing there next to the fencing waiting for his car to come by.  No race officials noticed either, due to the slight bend in the curve and the trees.  He was sorta in a hidden gap.  It was only about the time that traffic broke that everyone looked to see why.  Officials came running to sort it out, but by then it was already being resolved by the team car.
Remember that massive procession of team cars? One Cofidis rider had mechanical less than 50m after start. Had long wait for replacement. pic.twitter.com/QsHwLgH8v9

— Ray Maker (@dcrainmakerblog) July 2, 2017
Moving backwards a little bit in time, there was the signing in process, which every rider must complete.  As part of that today, the current winning team got a care package of sorts.
At the start today, Team Sky riders were given a gift bag (as leading team), which among other things contained stuffed animal cows. pic.twitter.com/z8gyV6uwpu — Ray Maker (@dcrainmakerblog) July 2, 2017
Like yesterday, it's this mans job to collect, maintain, and transport the cow herd from the riders. pic.twitter.com/H2415rTNVo

— Ray Maker (@dcrainmakerblog) July 2, 2017
Meanwhile, I took the chance to pull up some random bike tech notes that I had seen that morning.
As noted, Cav is indeed going against the grain of his teams power meter sponsor ROTOR, and his is only bike equipped with SRM. pic.twitter.com/kUBHzBFrsW — Ray Maker (@dcrainmakerblog) July 2, 2017
While Team UAE was on Power2Max Type-S power meters yesterday on TT bikes, today their on newer NG units for road bikes. pic.twitter.com/xWuE0SuGkP

— Ray Maker (@dcrainmakerblog) July 2, 2017
Five riders from are Team Sunweb rolling with Shimano power meters today. Rest of team on Pioneer still. Yesterday, all Pioneer. pic.twitter.com/Gpztpc1zp8 — Ray Maker (@dcrainmakerblog) July 2, 2017
Team Sky has a custom iPad/iPhone app from Stages to manage all team power meters and do zero offsets for dual units. Every bike was done. pic.twitter.com/dAatjPMmry

— Ray Maker (@dcrainmakerblog) July 2, 2017
It's just amazing how quickly things clear out after the riders depart.
Less than 20 mins after the start, what was once a bustling team area is desolate. The speed in which setup/tear-down occurs is astounding. pic.twitter.com/IoUrp3ec0S — Ray Maker (@dcrainmakerblog) July 2, 2017
Speaking of gear, the back of all those team cars are stuffed with bags.  Lots and lots of bags.
Counting and loading of very well labeled bags into team cars for today's stage. Riders often also have dedicated named bags in car too. pic.twitter.com/tzXEbAXld6

— Ray Maker (@dcrainmakerblog) July 2, 2017
Almost all riders do stop, however briefly, to sign an autograph or two.  About the only exception I saw might be Froome, but I'm sure he does from time to time as well.
Many riders will actually do signatures on way to/from the start signin. Key is being a very vocal and excited kid. And knowing riders name. pic.twitter.com/utzjQQSMZp — Ray Maker (@dcrainmakerblog) July 2, 2017
There were so many groups/peoples/etc out doing 360* camera stuff, including Le Tour themselves.  This is actually a really damn expensive setup for what it is.  I'm kinda curious why they selected it over some other options.  I might try and find out in one of the next stages.  I'm sure there's a reason for it.
On the rear of one of the official Tour cars was a pretty custom 360* rig. GoPro cameras underlying, but custom lens attachments. pic.twitter.com/sIKdxq5H9U

— Ray Maker (@dcrainmakerblog) July 2, 2017
There were actually a fair number of 360 rigs out and about. Some more expensive than others. Lots of groups appear to be experimenting. pic.twitter.com/qYQmDDiF5t — Ray Maker (@dcrainmakerblog) July 2, 2017
Turns out that Cycling Tips was actually filming a Facebook Live session.  Close enough though.
Crew from @CyclingTips cooking away on their entertaining TdF behind the scenes vlog. pic.twitter.com/v7LvKDvcqc

— Ray Maker (@dcrainmakerblog) July 2, 2017
The GoPro/Velon camera guys were everywhere.  Constantly moving around to place small Hero session cameras on various bikes (and having to change direction when a team declined the previously agreed plans), as well as chasing folks down.  They were most often using the clamp mounts to place cameras onto fences and such, as well as the Karma gimbal for stabilization.  I talked to them a bit more about the 360 Fusion cam and whether they planned to use it.  They said they thought about it, but at present it's not in the cards.  They did note that maybe in the last few stages they would, but that was still TBD. They noted that the local team (the one that travels with The Tour) does all the editing each night themselves. It's a small team of about 5 people, and the ones that do the editing are different from the ones running around getting footage.
The GoPro/Velon guys display impressive amount of hustle. Constantly running to place cams. Team of 5: 3 camera guys, 2 editors/logistics. pic.twitter.com/EkeVGugjGy — Ray Maker (@dcrainmakerblog) July 2, 2017
Boom!
With that, all the tweets from behind the scenes on Stage 2.  For fun though, here's a small gallery of some pics I took on both Stages 1 and Stage 2 that didn't make it to Twitter.  After all, I took over 1,500 photos between the two days.  So most things didn't make it anywhere.
I am working though to add in some gear pics into the previous TdF 2017 Gear post, as some things were different on Stage 2 than Stage 1 (as expected).  I'll update somewhere once that's finished.
With that – thanks for reading!  I may try and make it out on Thursday to that stage, since it's pretty close by to Paris (about an hour away).  We'll see though.
Don't forget my other two TdF 2017 posts though:
Tour de France 2017 Behind the Scenes: Stage 1
Tour de France 2017–The Trainers, Power Meters and Gadgets of the Pro Peloton
And of course, all past Tour de France posts can be found here.
Enjoy!