Hello!
Thanks for stopping by (or re-stopping by)!  I just wanted to give you a little background on who I am, and what this blog's all about.  I'm just a triathlete and runner like you:  I run, I bike, and I do something resembling swimming.  And at the end of the day…I blog about it. But other than that last detail – I'm just like you.
I grew up in Seattle and ski raced pretty competitively as a kid, and training for that somehow led to running cross-country my freshman year of high school.  After my freshman year I decided that running was a miserable way to spend my time, and proceeded to not run for another 10 years or so (really, no running!).
During those ten years I used to my spare time to get pretty into technology and travel.  I'd eventually end up graduating high school straight into the world of technology consulting for large enterprise organizations (and travelling up to 52 weeks a year).  To this day, that remains what I do – I design computer networks and systems…and still travel a lot.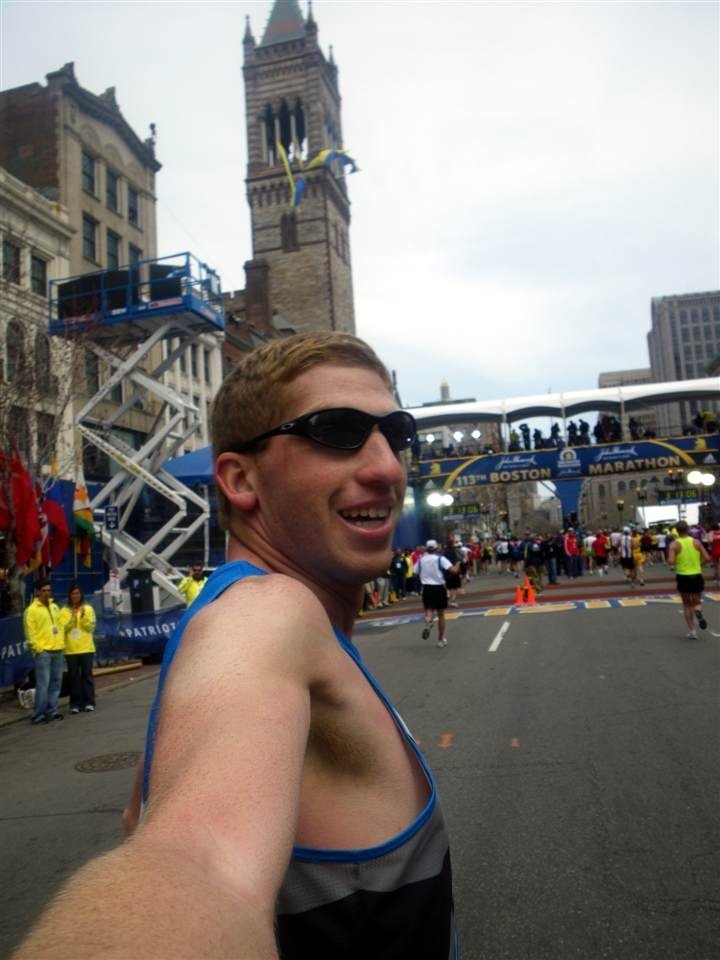 2006:
Before we get to today – let's jump back a bit athletically, in the spring of 2006, I started running again.  By 'started running', I mean I ran one mile and nearly collapsed.  Ok…I may not have made it that first mile…but that's besides the point.  About 4-5 months later I went onto finish my first marathon – the Marine Corps Marathon (MCM), in 4 hours and 23 minutes.  Oh…and along the way I lost about 60 pounds…
2007:
I ran through the winter following MCM and when spring sprung I got the bright idea to try and finish a triathlon.  Not thinking it through entirely (who really does anyway?), I simply signed up for a half-ironman triathlon later that summer.  I may or may not have ever gotten into the pool at all at that point.  Doh.
So…into the pool I went, and then I dusted off my old mountain bike and got to work.  A few weeks later I realized that perhaps a mountain bike wasn't ideal for a half-ironman – and upgraded to a basic Fuji Road bike.  About two months later I finished my first triathlon – a sprint, before going on to finishing my second triathlon (an Oly) and finally a few weeks later – The Big Kahuna – my first Half-Ironman (all without aerobars I'd point out!).  Oh, and around that time I started blogging.
After that I was hooked!
2008/2009:
The next year (2008) with the help of Coach Alan I went onto complete my first Ironman – Ironman Canada, and then later that fall I shattered my first marathon time with a finishers time of 2:54 (yes, 90 minutes off of my first marathon just two years earlier).  This past year (2009) with my coaches help I completed two more Ironman's (Canada and Florida), along with a slew of other races – the Olympic distance being the ones I'm most excited about.
Now (2010):
This blog is simply a journal of my triathlon and running life…along with everything else in my non-triathlon life.  Whether that be food, travel, or just random stuff – that's the package I am.
Along the way I write up some pretty detailed product reviews.  Some times it's products I've bought myself, sometimes it's stuff I've asked companies to check out, and sometimes it's stuff sent to me to review.  In all cases I clearly identify which way it was, and in virtually all cases (except the POM juice), it goes back to the company that sent it to me.
So with that, that's me.  Thanks for reading!  And as always, if you have any questions, feel free to shoot me an e-mail (or just post a comment on the applicable post).  Thanks!
-Me