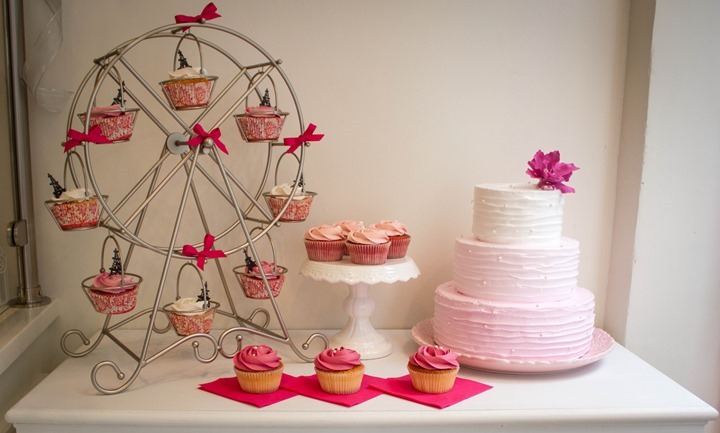 (Written by The Girl, here's a link to her last update!)
Hi everyone! It's that time again for an update from Bertie's CupCakery. I meant to give another update before now, but things at the shop have been super busy and, well, better late than never!
Thank-You!
First and foremost I do want to extend a huge thank you again to all DC Rainmaker readers who have stopped by the shop! You guys are the best! It is always so great to put faces to commenters on the blog. Believe it or not I do read all of Ray's posts (well I kinda skim the "in-depth reviews") and I always enjoy reading the comments, so a lot of the time I do "know" who you are! It's also amazing how many of you who have not traveled to Paris but steered friends, family, and co-workers to my shop instead! I really do appreciate all of you, for such a small business every cupcake really counts! So thanks again, and I hope to see you in the shop again soon!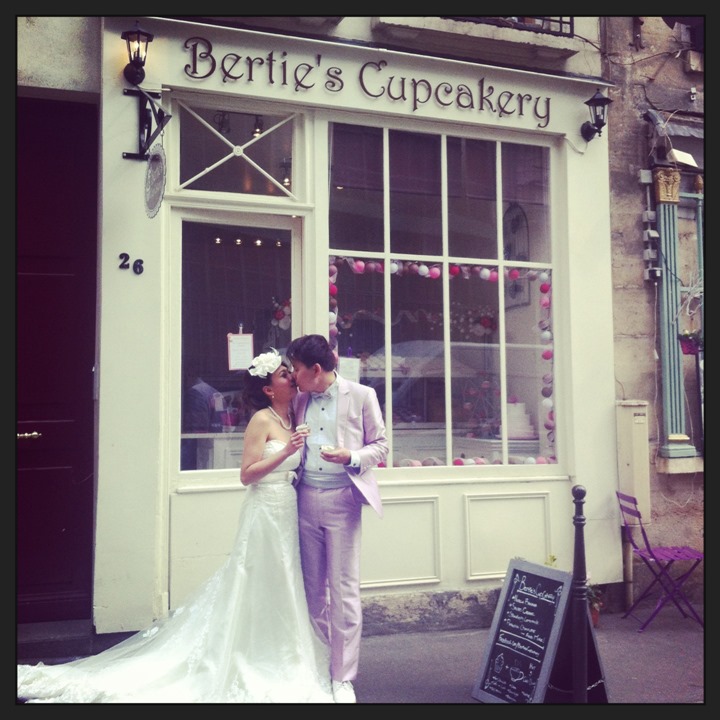 What's New
The shop is growing in popularity and visibility! We have recently been accepted onto Trip Advisor and our reviewers have been very excited about our cupcakes!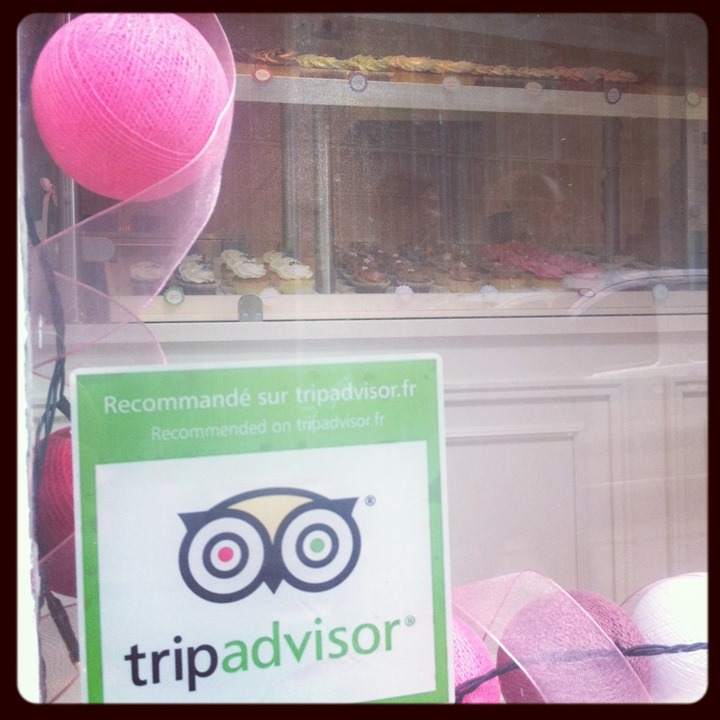 It is very humbling to have so many customers take the time to go to Trip Advisor to leave positive feedback. Often we think of people only leaving comments when they have a beef with a location, so we must be doing something right!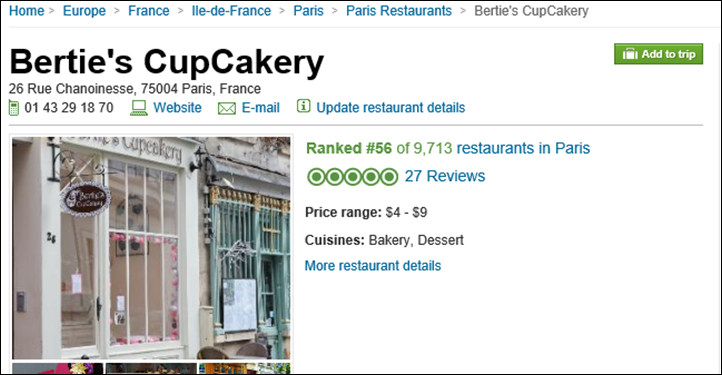 We have also been featured on two more blogs. I always enjoy reading what others have to say about the shop, and even more so seeing what they took pictures of! I am constantly changing little things in the shop, so I like seeing if my newest decorations are noticed! Here are both links to the blogs, feel free to check them out for some cupcake eye candy. Carly Fuller Photography and Bon Parisien. If you have seen any other posts floating around the web about Bertie's please forward along the link! Unless the author lets me know directly, I never know about these posts!
Here's me, working on some of my redecorating!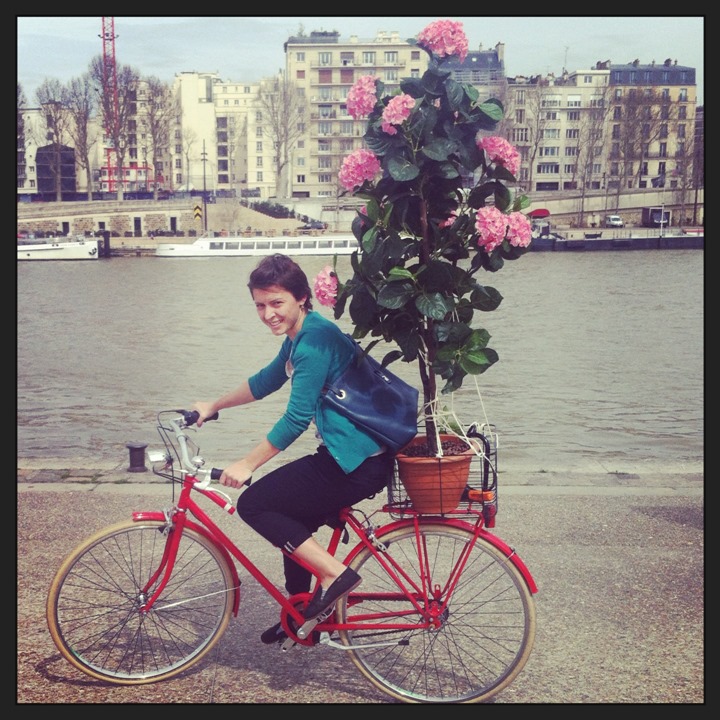 We were super stoked to grab a cameo on the latest HGTV's House Hunters! We were welcomed the following morning of the showing with your screen shots and photos of your TV's, and congratulations for the appearance! Unfortunately we didn't get to see it (being over here and all) soooo if anyone has the video clip or something I would love to see it! It's funny to look at the below photo, and then the one a bit later on in this post to see how much decorating we've done since then!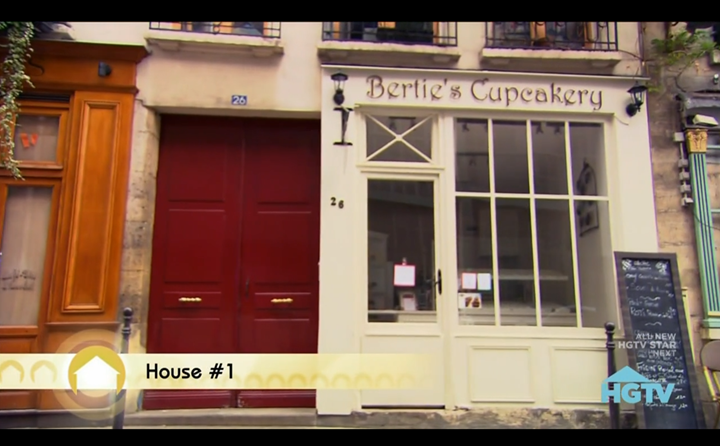 We have recently welcomed two new employees to the team, and they are fantastic. We have a new sales gal who is a Parisian with family ties to Texas! I couldn't have asked for a better teammate! I like to think of her as being ambidextrous with her Parisian and Americana customer service. So if you come by the shop and don't recognize the girl behind the counter don't be afraid to talk to her in French or English, she'll take care of you. Also new to the mix is another baker. You probably won't get the chance to meet her at the shop, but likely you might see her running on the streets of Paris! She too is a very active runner and triathlete, a fast one to boot!
We're still looking for both bakers and sellers to be able to handle the demand for longer hours and more cupcakes, so if you know anyone interested – feel free to drop us a note!
Lastly, we have expanded! Just like we waited forever for approval for installation for our exterior signs application, we also had to apply for outside seating at the cupcakery! Now we are happily providing outside seating for you to enjoy your cupcakes and refreshments! Bon Appétit!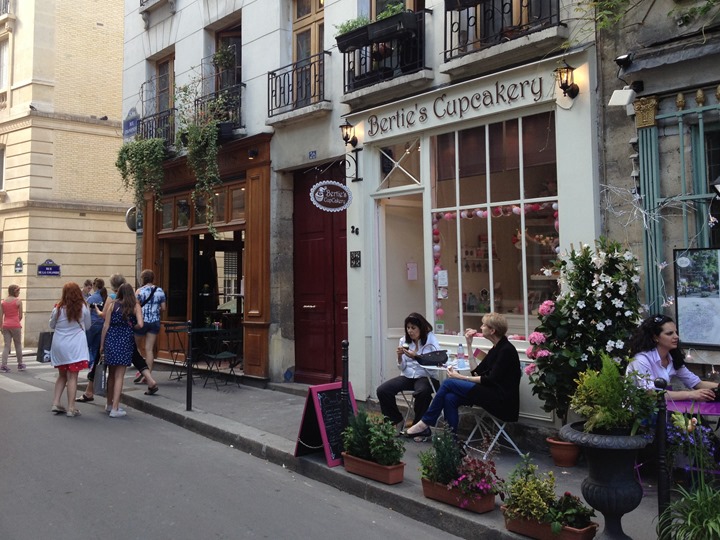 Cakes and Cupcakes
Since a lot of you are long time readers of DCR, you already know my passion for cake creations. However this isn't readily known amongst the Paris population, and I am doing my best to get the word out. So I thought you might be interested in seeing a snippet of what's new in cake creations from Bertie's kitchen. Remember if you are traveling to Paris for a special occasion and would like to celebrate with a cake or custom cupcakes all you need to do is ask!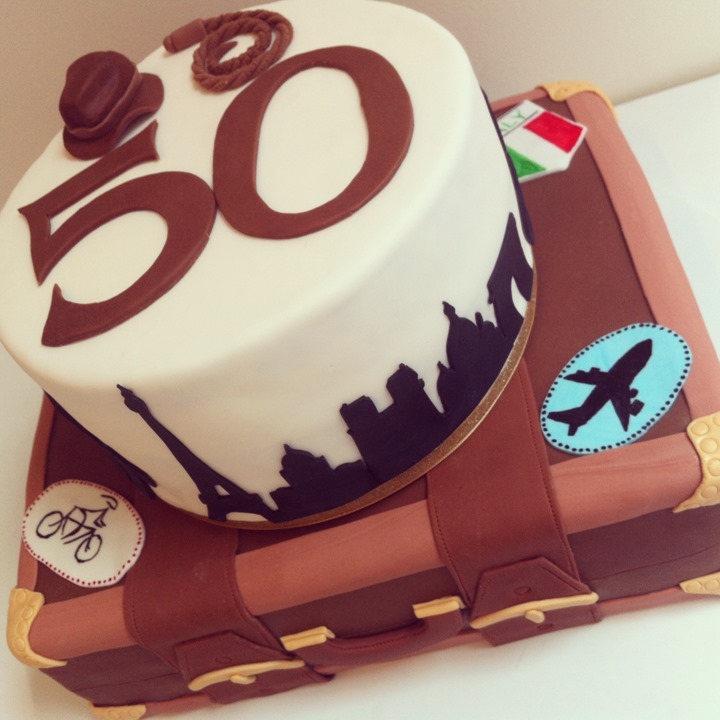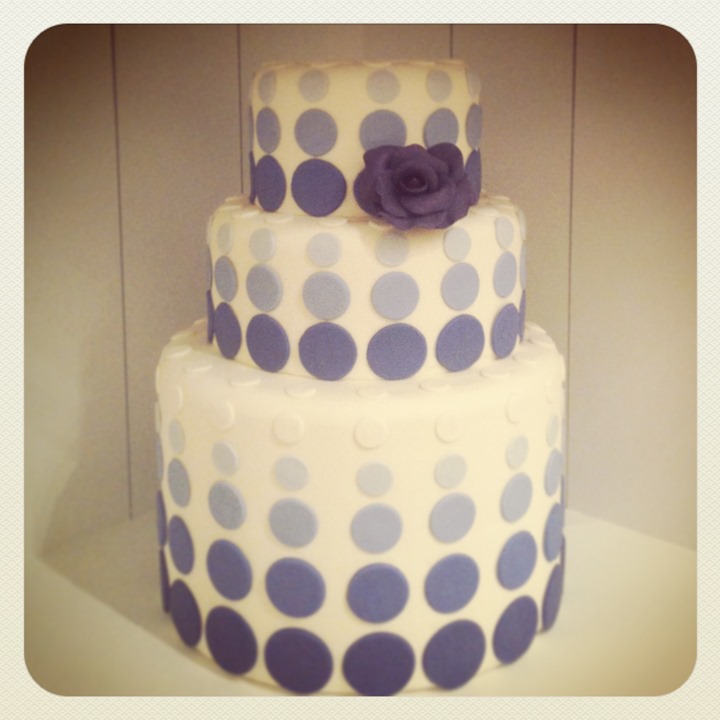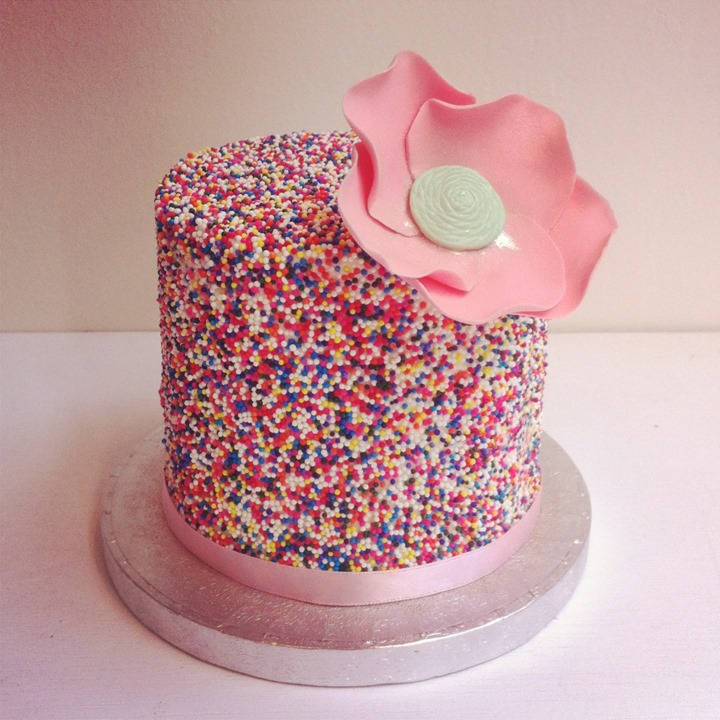 Cupcake flavors are slowly evolving. The thing is people really seem to like what we have and they aren't looking for a change! We are happy to say that we have permanently installed Strawberry Lemonade into the cupcake family as this is one of our daily top sellers, and one of my favorites to boot!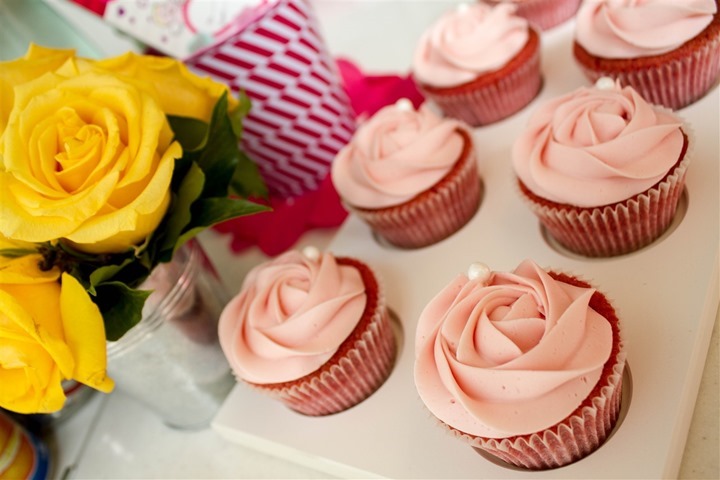 Also our Oreo Cookie cupcake is a new family member as well.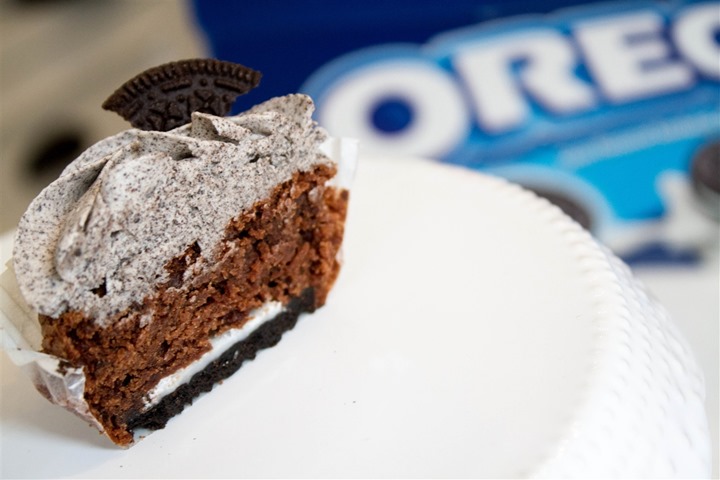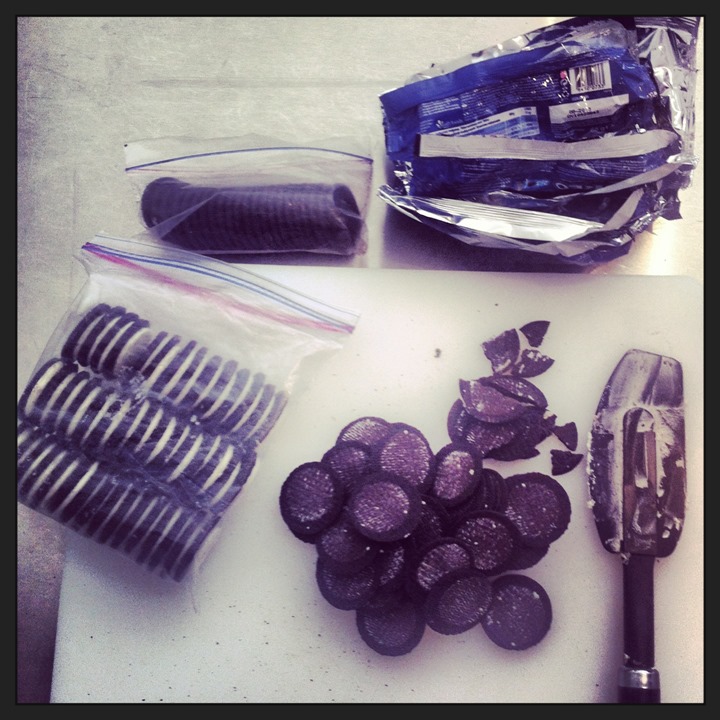 This flavor is a big hit with the North American and UK customers, but the rest of the world seems to give it a questioning raised eyebrow before moving their gaze back to the ever popular Salted Caramel and Nutella Banana!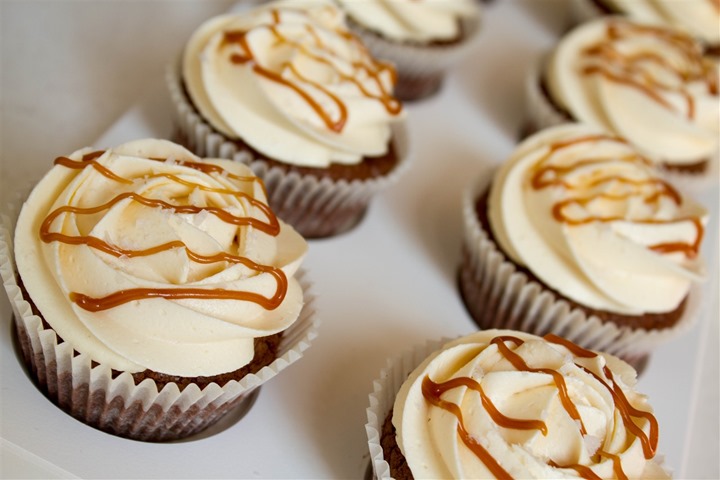 The big news is however, I have finally convinced my Health and Safety consultant that Cream Cheese icing is not a bad thing! See here in Paris, Philadelphia Cream Cheese is a relatively new product and not widely understood, much like cupcakes. So I had to do some in-depth food science homework on fresh cheese and keeping it "shelf stable", in other words, prove to the health and safety controllers that I could create a cream cheese icing that wouldn't make people sick after displayed at room temperature for a few hours! So I am happy to say that I am working on my recipe and getting it ready for the lab (read: Ray's stomach)! I will be very happy to have a certificate that allows me to safely sell cream cheese icing. Interestingly, here it's simply referred to as "Philadelphia", if you say "cream cheese", most won't know what you are talking about. Meaning, Red Velvet and Carrot Cake cupcakes are in the near future! Woohoo!
Free CupCakes!
Since I love saying thank you to all of the people who make Bertie's CupCakery a success, we have recently started our loyalty program! Every time you buy a cupcake you get a cupcake stamp, and once you have 11 stamps your 12th cupcake is on us!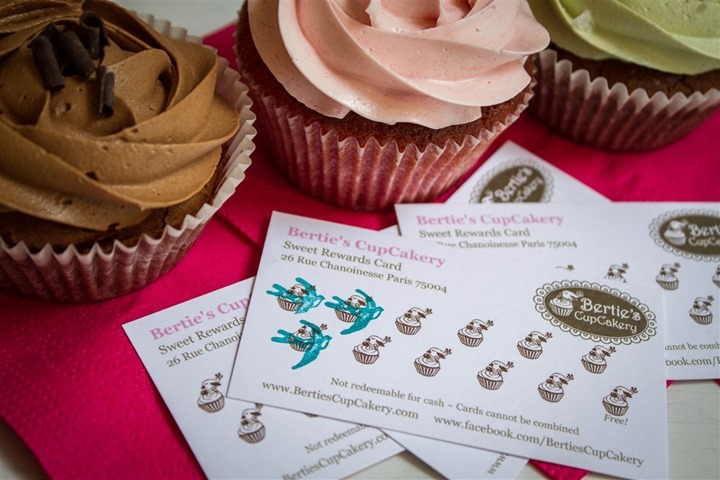 That's about it from here in the kitchen! Thanks again to all of your support, and I look forward to seeing you in the shop someday!
Bertie's CupCakery!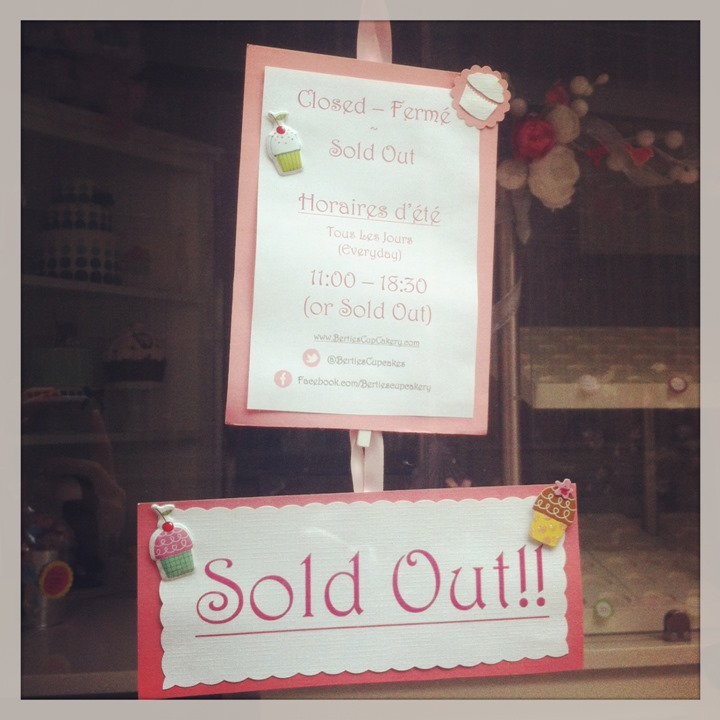 P.S. Totally unrelated to cupcakes! If there are any Parisians reading, I'm looking for weekly Squash or Badminton partner! I used to play competitively in Canada and would love to get back at it! Otherwise, I'm also looking for a co-ed or women's soccer league, but I imagine it's a little tougher to break into that crowd. Any thoughts, suggestions, or interest you can e-mail me at info@BertiesCupcakery.com
Thanks!!