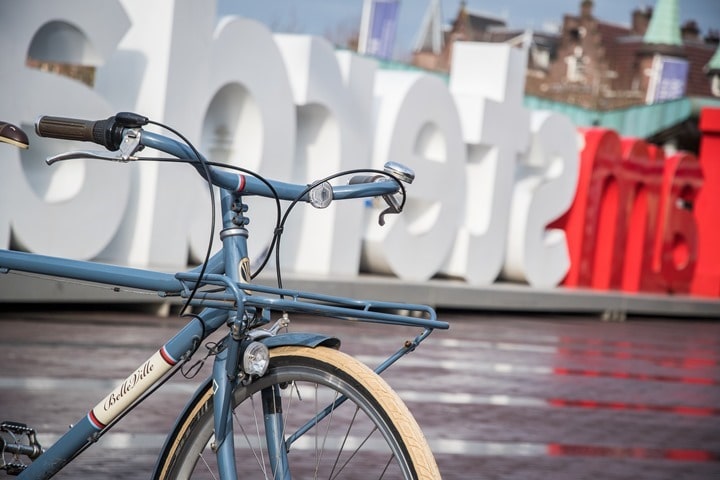 This past weekend when we touched down back in Europe after three months away in Australia, we arrived home to a slightly different land.  Rather than say Bonjour to immigration officers, we were instead saying Goedemorgen. That's because we now live in the Netherlands!
Yup indeed!
Why the move?
Well, we've actually long been interested in Amsterdam, and have continued to really enjoy our visits to the city (and country of the Netherlands at large).  That included a couple of trips last summer that kicked things off, along with a few more that I didn't post about here.  Whether it be the immense number of bikes, to the more easy going lifestyle, to the lack of hilly objects The Girl has to run over.  All of it was appealing…minus the weather.
Which isn't to say we don't love Paris – we really do (especially the food!).  And in fact, we'll be back in Paris this weekend again for a few days, and probably back quite often.  After all, it's only a three hour train ride away.  We've got many friends there given we lived there nearly six years, and numerous places throughout the country we're likely to continue coming back to year after year.
Our time living in France was incredible.  We went from just The Girl and I, to having two little ones born there (plus a dog, also born there).  Not to mention owning businesses there and becoming a small part of our Parisian neighborhood.  We learned a ton about the culture and the people, but also about us as a family.  We got to visit countless spots around Europe with new and old friends, and got to explore places easily reached from Europe (all of which we'll continue doing!).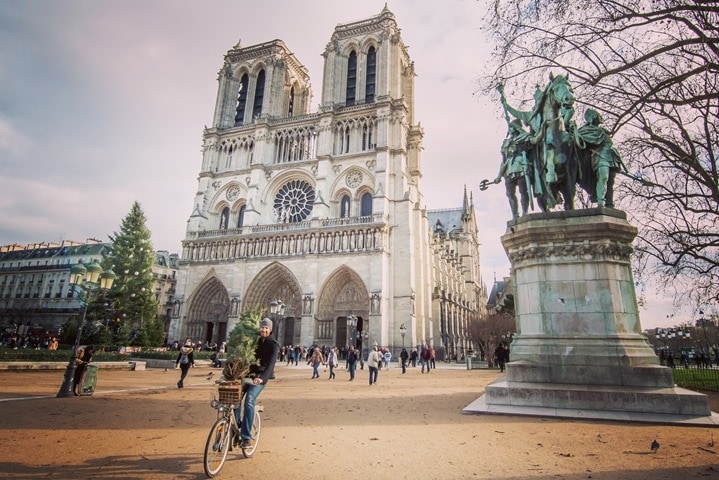 When The Girl and I started looking at homes in Amsterdam, we were thrilled that many street-level apartments had small backyards that you could hang out and BBQ in, or even put up a swing set.  We weren't able to BBQ from our apartment in Paris (or the DCR Cave or the CupCakery), so this had huge appeal to us.  As did having a place both The Peanuts and Lucy the dog could run around in.
So when we found a spot that included a great backyard, a place for a BBQ, and lots of quietness (and even a fig plant)…we said Yes to the dress…err…home!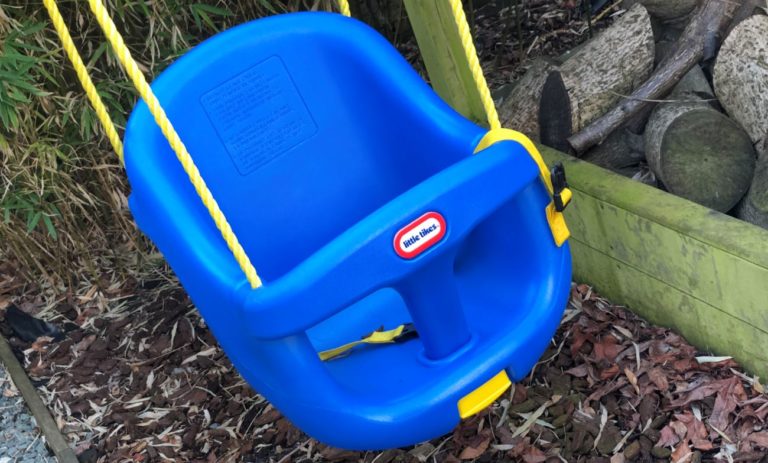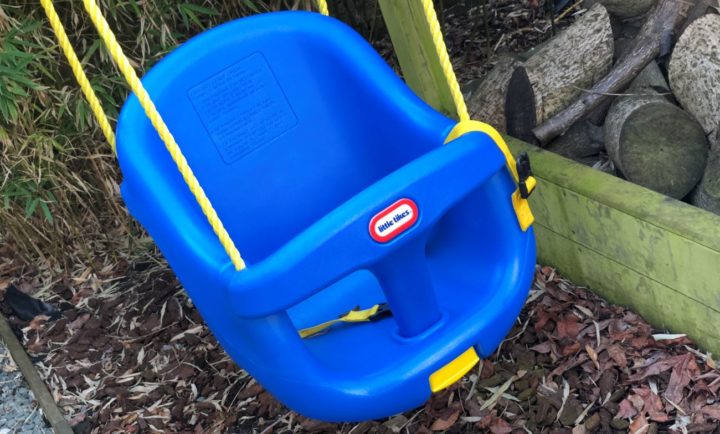 Just after Christmas we packed up the whole Paris apartment, and with the help of a bunch of the Expatriés Triathlon team folks, we threw caution to the wind and moved out of our Paris apartment. It was quite the day, mostly because we did it without the assistance of professional movers.  That saved us about 10,000EUR in moving costs (for just the apartment, let alone another 10,000-15,000EUR it would have cost for the DCR Cave and Studio move).  But, it also meant we were exhausted the weeks around Christmas.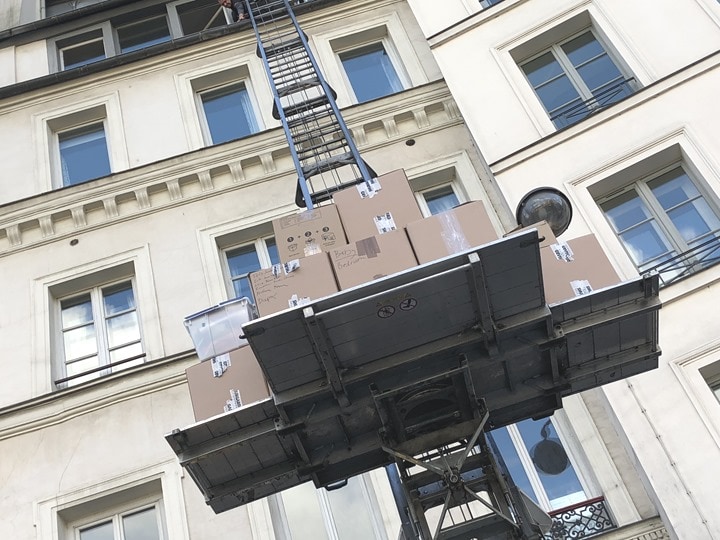 We were not only moving two full entities to different countries, but also trying to figure out what we'd need for three months away on the other side of the world in Australia (both as a family, and as the DCR blog). Yikes!  Again, our friends were amazing in helping here – especially David, Catherine, Karsten, and Sarah who all stayed crazy late into the night as we crammed every last centimeter of stuff into our moving truck. It was a totally nuts night.
Now you may remember way back to the annual DCR party that I said it would be the last one in that location?  Well, this probably provides a bit more insight as to why.  Though, I was definitely out of space – soooo incredibly out of space.  The good news is I've got a few options here that I've been looking at both before our Australia trip as well as the past couple days, for a new DCR Cave.  Definitely much bigger, which if nothing else keeps me more organized (and that in turn means I can pump out more goodness!).  Oh, and don't worry, I'll definitely have another DCR Cave Open House…this time, Amsterdam Edition!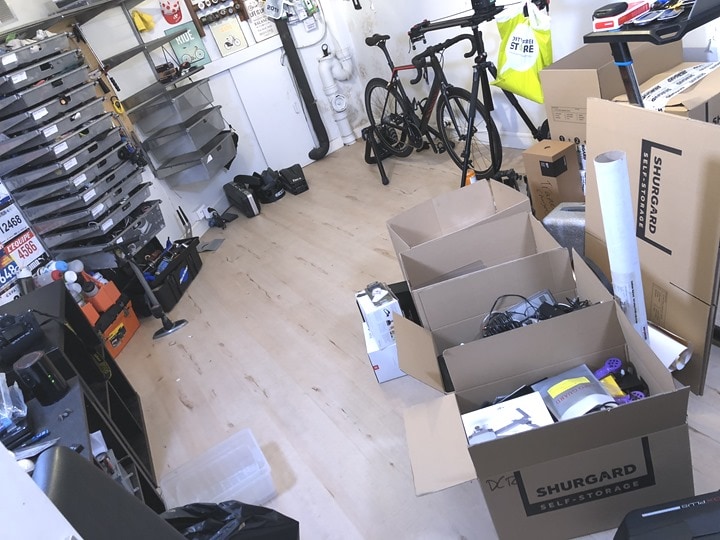 It'll probably be at least a few more weeks until that's all sorted though, but once I've got everything signed I may be looking for a few good folks to help move the gear via moving truck from a nearby storage unit into the new DCR Cave.  Plus, I've got one heck of a story to tell about nearly catching the entire DCR Cave moving truck on-fire on the side of a French highway late into the night.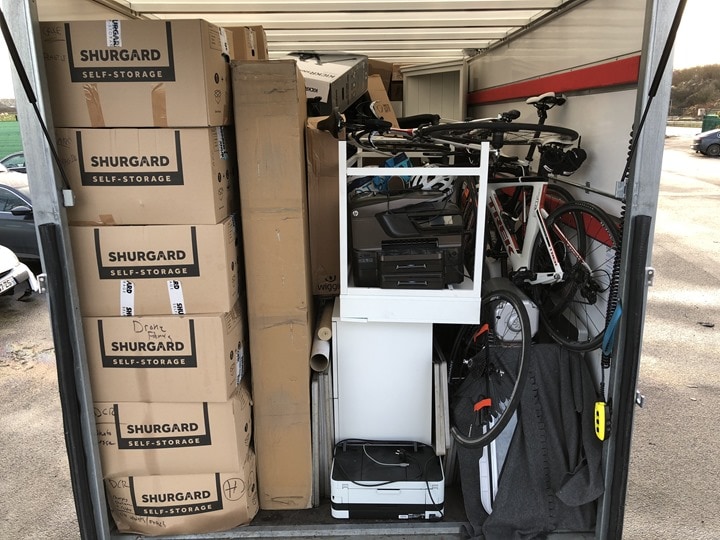 I ended up doing 3-4 truckloads of stuff, all moved myself.  Roughly 12-hour round-trips from Paris to Amsterdam and back, including unloading each time.  Again why things were pretty quiet on the blog back in late December (including packing everything to move!). But I'll detail some of that hilarity in the next few weeks.  Plus, The Peanut even assisted me on a journey (and Nemo too):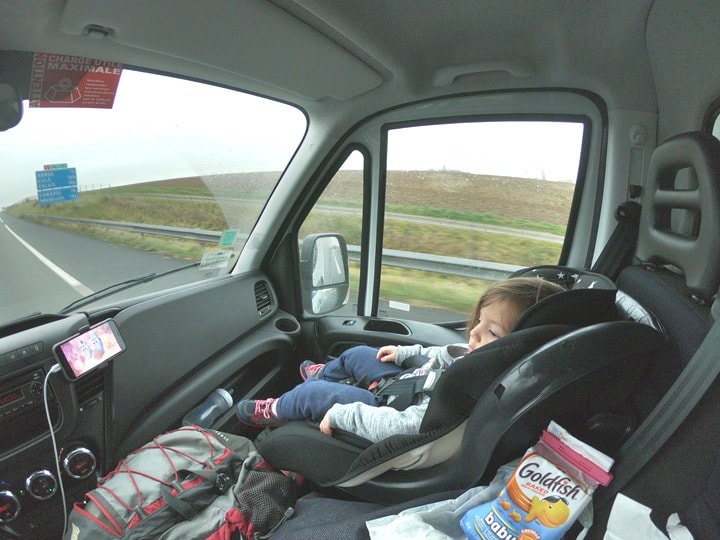 I'm now very well versed in the road routes between Paris and Amsterdam, as well as all of the rest stops along the way.  Also, without question, the best time to do such a journey is 10PM to 5AM. Efficiency level is high!
A Few Questions:
Now, I'm sure you've got plenty of questions.  So we'll dive into a few of them.
Do you speak Dutch?
Nope. Not yet anyway.  But we're gonna learn.  Because starting earlier this morning the little ones go to school/daycare, and it's all Dutch, all of the time. And as of now, neither speaks a word of Dutch (just English and French).  We hope to be able to find a way for our oldest daughter to continue hearing French.  She doesn't speak it well, but does seem to understand it fairly well, since when in France she was in French-only school (with zero English at all).  And of course, we'll (attempt) to learn Dutch too.  For now, I'm just thankful most of the food packages are also listed in French, so at least I have a fighting chance of figuring out if I'm eating beef or horse.
Where in Amsterdam are you living?
We're about a 2-minute run from the southwestern end of Vondelpark.  Thus you'll often find us running loops around that, or out with the kids at the park there.  We wanted to avoid the super-touristy central portion of Amsterdam, and live near more normalcy.  We think we've found that balance.  We live on a tram line with easy access to anywhere we need to go, plus of course, bike or walking access is simple. Not to mention the airport is a mere 10-minute drive away (sadly, no good tram/train connections to it from us).
How long are you staying?
We haven't decided, beyond the first year or so.  It may be a one year thing, or it may be a five year thing. We're going with the flow and seeing where it takes us!
Are you getting a cargo bike?
Absolutely! The girl and I are eager to start research there and do some test drives over the next week or two.  It's gotta be able to easily carry two or more kids and a dog. And maybe cakes.
What about the Cupcakery?
We started in 2017 slowly ramping down day to day Cupcakery stuff and instead focusing mainly on custom cake orders (weddings, special events, corporate stuff, etc…).  For one, it's just easier to manage (less employee pieces, etc…), and two – it's simply far more profitable.  The Girl hasn't quite decided what she wants to do in Amsterdam yet, whether it's more cake-focused, or perhaps some other business ventures she's got brewing.  She's always got ideas (lots of them!) and I'm sure you'll be the first to hear of them!
Is Lucy coming?
Of course! Though, at the moment she's actually up in Norway with a close friend.  She spent the winter there since she wasn't allowed in Australia.  We'll go get her in the next week.  She's likely displeased she got sent to the frozen north while the rest of us went all tropical.  Sorry Lucy.
Are you still doing DCRAINMAKER?
Yes, of course – it's still my full-time job! I haven't taken some magical job here or anything.  We just packed up and moved (and of course, did all the fun visa work too).  In some ways it'll make it easier here than in France for various companies that are also in Amsterdam in my space.  Tacx is headquartered here, and Wahoo/Shimano/TomTom and others all have meaningful presences here.  On the flipside, Withings/Nokia and Garmin and a few others had spots in Paris, so that made that easier too.
Does anything change on the site?
Aside from more bike pics in Amsterdam? Nope, nuttin' else that I can think of.  Perhaps less Eiffel Tower photos, but don't worry – we'll work to maintain the same level of Nutella inclusion as before.  After all, if there's one thing we learned in France, it's how to make a Nutella-Banana crepe.
To be fair – one of the things that's hard to understand until you've been in the previous DCR cave is how small it really was.  Photos make it look big, but in reality, it's smaller than many American kitchens.  As such, I was spending a ton of time always re-arranging stuff to find what I needed that day, usually an hour or so of lost time on setup and tear-down, especially for video/photo shoots, or anytime I needed to compare older units.  So with a bigger space I'll gain that time back and hopefully be able to pour it into more (and better) content.  Or…I'll just eat more waffles with that time.  We'll see.
More questions!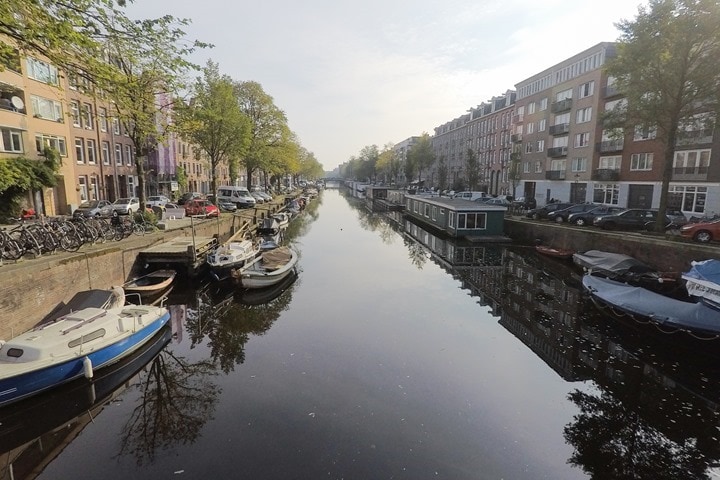 But then of course, we've got plenty of our own questions as well!  Most of these are pretty simple, but things you have to figure out anytime you move somewhere new – but especially a new country!
– Building stuff: What's the equivalent of Home Depot/LeRoy Merlin (in France).  We found Gamma, which I bought a pressure washer at today…but wasn't sure if there are other options.
– Tech Goods: I found MediaMarkt for electronic stuff, which we bought a replacement TV (sadly the one item that died in our move).  But if there are other retail or online sites that are akin to Best Buy/FNAC, that'd be great!
– Bike goods: We're on the lookout for a cargo bike (for transporting the kids and other things).  We've got plenty of protected hallway storage space, so it doesn't need to live outside 24×7.  Any suggestions/tips/thoughts in this area are greatly appreciated! We want something that The Girl can easily navigate around with a full load.  So one consideration we haven't decided on is e-assist or not.
– Events: What are the big running and triathlon events to not miss registering for?  Right now I'm looking at this triathlon in May as a potential option, mostly because it's super close…and because you get to play next to giant airplanes mid-ride.  But if you've got suggestions – we're all ears!
– Food: Got a favorite restaurant? We're definitely well within the foodie category, but we love eating at anything that's great – be it a small food shack or something more elegant.  Food is our friend!
Of course, if you've got any other tips for living here, we're all ears.  The kids are already in daycare, so that's taken care of.  But we're certainly up for meeting lots of folks, especially in our neck of the woods (and even more if you have little ones in the 0 to 2y.o. range).  The girl is looking for a running club, possibly Tri Team, and/or a new Squash partner. So we'll take any advice or things not to miss that you can give us.
With that – thanks for reading, and see ya around town!