One of the greatest parts about living in Europe is just how easy it is to travel from country to country.  In less time than it would take to drive or take a train from Washington DC to NYC, we were able to zip up to Amsterdam for our first weekend away sans-baby.
But more than that, this would also be our last weekend away before a bit of an expansion.
1) There's Peanut 2 on the way!
First, it's probably time for a bit of an announcement of sorts.  Though, perhaps not for all of you.  For those that joined The Girl and me on the Facebook Live session we did back in late July, you might have caught a short note to an expansion of the DCR Durability Testing Team.  This team is currently lead by The Peanut, who likes to chew on every watch or action camera I get.  As long as she doesn't break it – it's durable!
But coming this fall…we'll be expanding that team to P2: Peanut 2.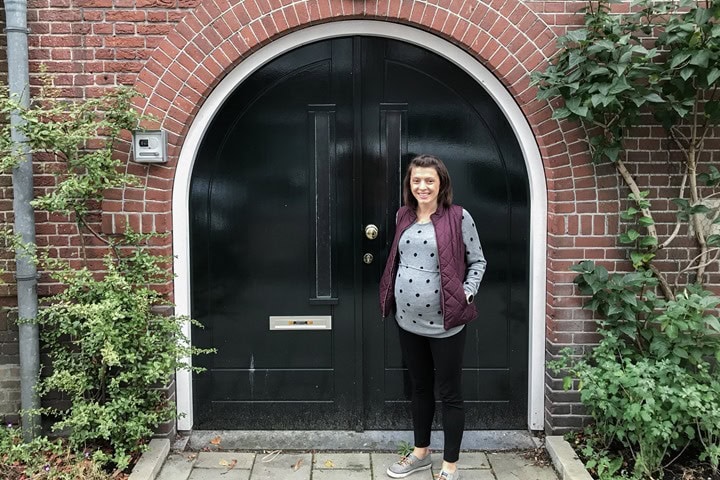 Yes, that's actually what we call her for now.
Yes, her.
I'm going to be severely outnumbered now, especially if you count Lucy the dog!
Others of you that follow The Girl on Instagram (her personal account, not the bakery's account) may have noticed the watermelon accessory she has.
I'm super excited for another little one, and she'll be here before you know it – later this fall.  Once I return from my trip to the US & Canada for Interbike and the ANT+ Symposium on October 1st, there will be no more intercontinental travel for me till P2 is here.  Fun times and more sleepless nights ahead!
2) Taking the train up to Amsterdam
With another impending baby about to arrive, we decided to take our very first weekend away from The Peanut.  While we've both individually had weekends, away, we hadn't actually done a single getaway night or weekend together since she was born last summer.  So it was time to change that.
After the handoff of The Peanut to the babysitter for the weekend, we boarded the high speed Thalys train up to Amsterdam.  When I said high speed, I mean – high speed and most importantly blissfully quiet. 🙂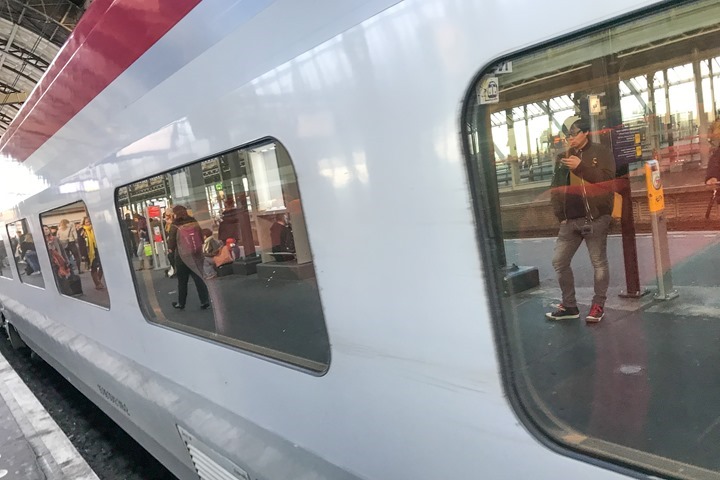 It's about a three hour ride up there, stopping along the way in Brussels and Rotterdam.  Mostly we just relaxed and enjoyed the dial-up style high speed internet now offered on the train (we also roamed on our phone, but that's wonky at times on the high speed trains as you cross countries, poor coverage areas, etc…).
We got in on Friday evening, just in time to head to our tiny little studio AirBNB rooftop spot and get a glimpse of sunset before a rainstorm drenched everything and everyone.
A good start to the weekend!
3) So much good food!!!
We didn't have a set agenda for Amsterdam.  Both of us have been numerous times before and done many of the core tourist items.  We just really like the city, especially in the spring and fall when it's a little less hectic.
In fact, we made it a general goal to largely avoid the central core of Amsterdam (e.g. roughly from the flower market to Central Station).  Instead, we wanted to enjoy the neighborhoods, small restaurants and general ambiance of the areas further out – like De Pijp and to the south/southwest of that.  There's so many awesome little restaurants here, many of them new.
For example – one of our favs – Bakers and Roasters.  For the record, that's pulled pork in that dish. Brilliant breakfast food!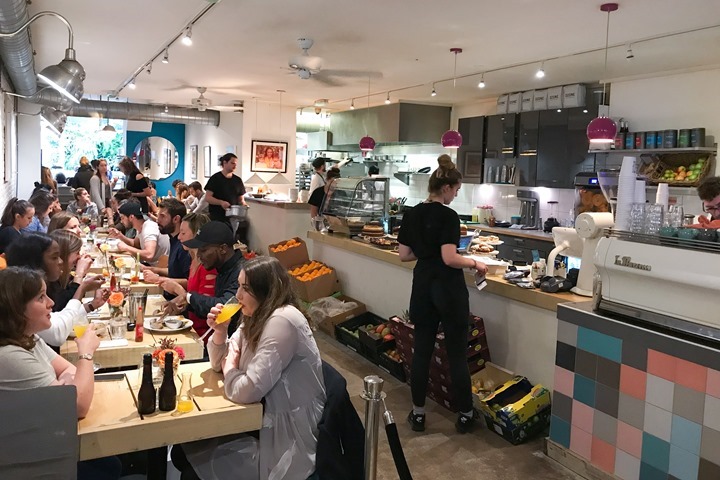 And then there's Harewood Bakery.  Serious danger right there!
Of course, not everything works out as well as we'd hoped. We tried a little trendy Italian place that just failed on multiple levels (namely service and over-thought food).
But there were more often than not great examples of awesome food.  Another being breakfast the next day at Dignita: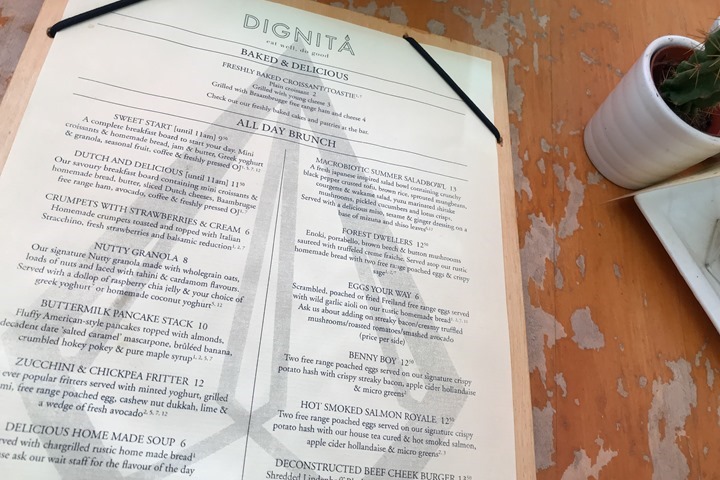 Let's be honest, these pancakes could have easily passed for dessert.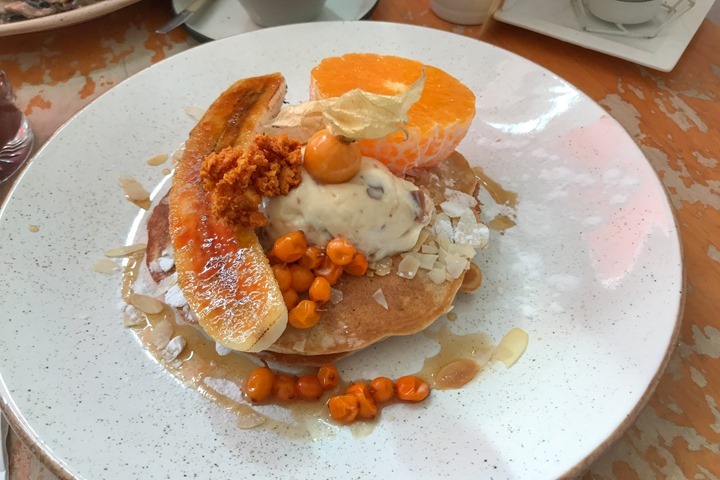 Mmmm… I loves me some breakfast!
4) A Vondelpark Morning Run
After all this food, I need to get in some running, in addition to all the walking we were doing.  So I headed out Sunday morning for about a 10KM long run.  This would be more time-focused than distance, with me trying to get back by a certain time.
I wandered through Vondelpark first one direction, heading out to a canal before looping back towards the Rijksmuseum and the famed I Amsterdam sign.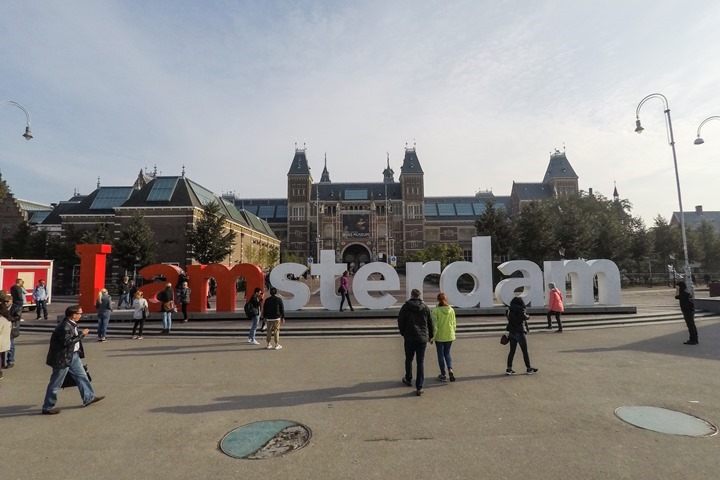 Then I topped off a loop in the park before doing zipping back over to the AirBNB spot.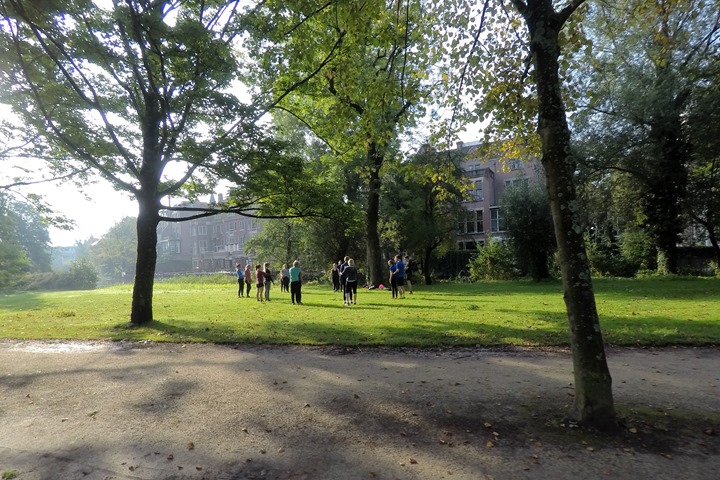 The weather was perfect on this morning, just the right temperature for running with broken sun/clouds.  So perfect.  Tons of groups out in the park as well doing various workouts.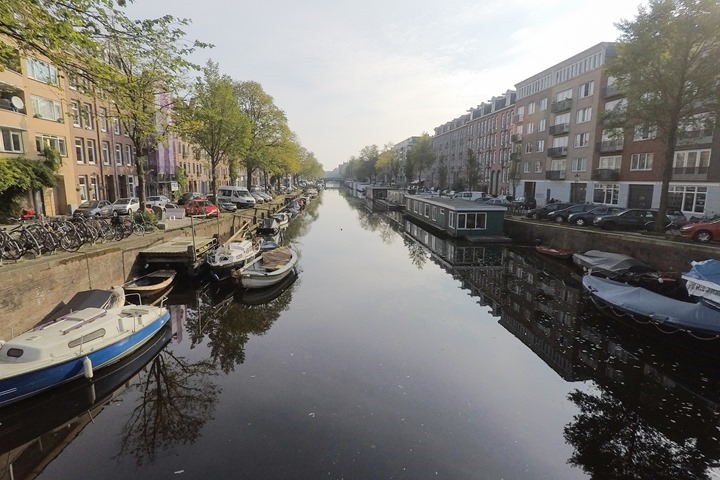 And plenty of runners and casual cyclists out and about on the park loop.  Of course, as I found out that morning, some 40,000 runners were out running the Dam to Dam run, a 10-miler.  But alas we only planned our trip a few days prior, and only learned of the race that morning.  Looks like an awesome race though!
5) A lot of walking, and back home we go
In our continued efforts to make headway against those darn donut shops, we walked a crapton.  I ended Sunday with more than 30,000 steps that day, plus nearly another ~27,000 steps the day before on Saturday. Boom!
The weather was mostly nice the rest of Sunday, but occasionally it blitzed us with rain.  Still, we enjoyed just wandering around aimlessly, stopping in on little spots as we found them.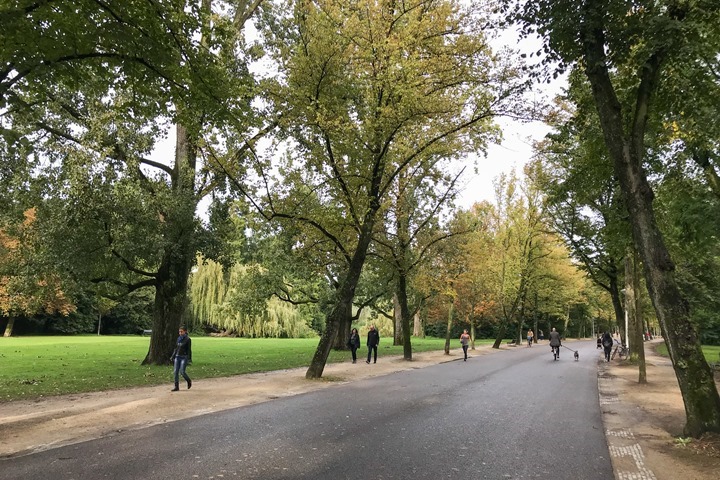 For example, this running store even has a short track in it for gait and pressure point analysis: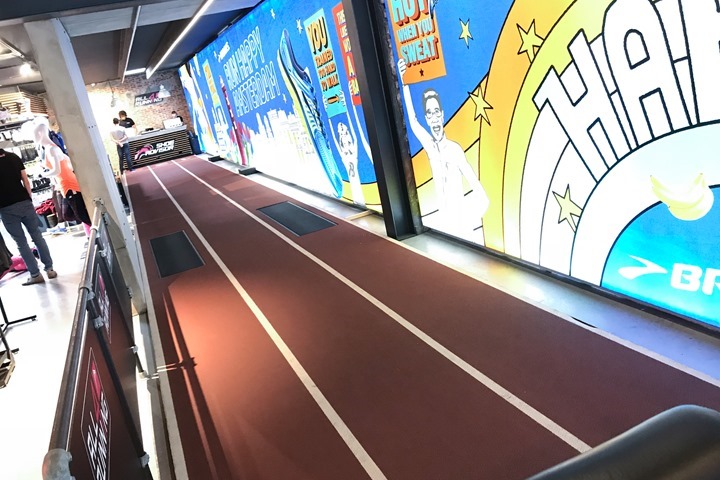 Later that evening we'd jump back on the swift Thalys train to Paris!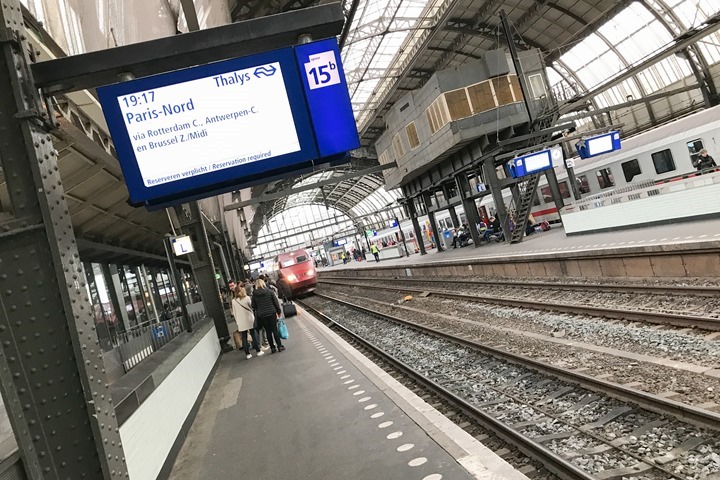 Our little peanut was in bed already.  And unfortunately, I had a bunch of packing to do well past midnight to get ready for a crazy and packed two week US trip that started at 6AM the following morning.  Interbike, ANT+ Symposium, and some other stops along the way.  It's gonna be a busy product release cycle, that's for sure!  My suitcase and bags are packed with gizmos.
With that – thanks for reading!