As Interbike kicks off you'll see a slew of both mainstream as well as smaller companies try and get your attention with new products.  Some of these will be products that you genuinely find useful and plan to buy, and others will just be ones you sit and marvel at with either fascination or child-like intrigue.
It's that second emotion that covers a new app released today for Strava that allows you to see your Strava workouts and routes in augmented reality.
For those not familiar, augmented reality is roughly when your camera (or a camera) is pointed at the environment around you and then the phone/computer overlays data on top of it.  For example, it could be holding up your phone at the top of a chairlift and having the ski runs overlaid onto the terrain around you.  As you turn the phone, the labels 'stick' to the terrain.
With Fitness AR, a secondary company is leveraging a combination of Strava's API's and Apple's new ARKit technology.  As such, this app is only available on iOS.
Once you launch the app, you'll see it's pretty simplistic. Down on the left side you've got some sample routes you can load up from exciting places.  This is notable if you happen to live in a terribly flat farm locale and don't want the most boring demo ever.
Alternatively, you can link up your Strava account to view your own workouts, routes, and friends' workouts.  So I did just that.
With that all done I've got my listing of recent workouts:
Because I wanted something exciting, I went with this Swiss Mountain ride one from a week or so ago. You can see my whole post and video about it here. It was epic.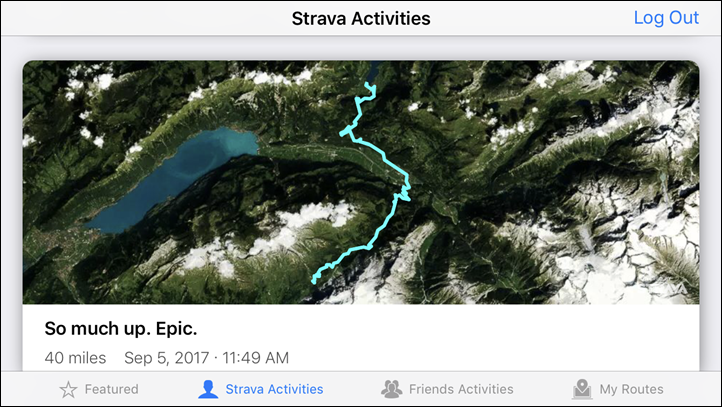 Now the app will ask me to place the map somewhere.  The first time I did this I just tapped the screen, and that looked kinda silly with the mountains floating in mid-air.  So I'd recommend placing it on a table or something, it'll look fitting that way.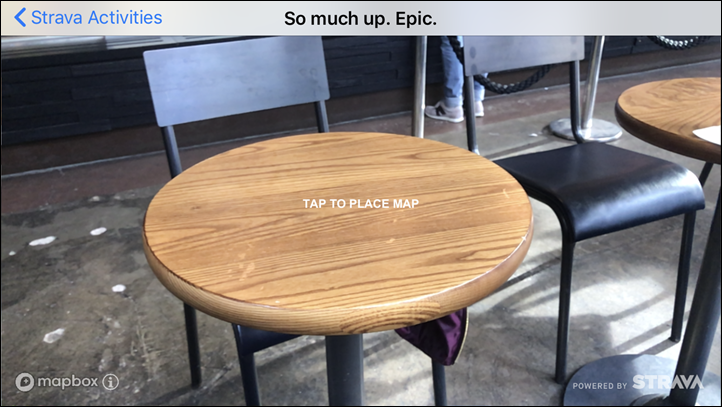 With that done, the mountains are rendered, as is my route.  What's unique here is that I can physically walk around the table, getting closer and further and the imagery zooms accordingly based on where I go and what I point my phone at.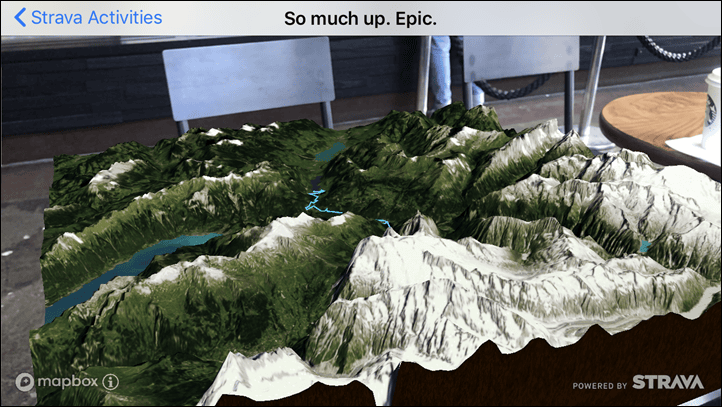 You can also pinch to zoom and rotate using your fingers as well.  Further, you can then select your friends' activities or your routes.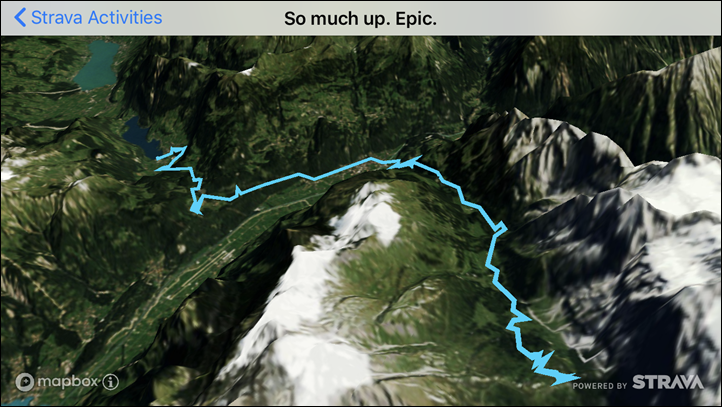 So rather than try and explain this further in screenshots, let me just share with you this super quick demo video I shot.  It helps to make it all make sense:
Pretty nifty, huh?
Now of course, augmented reality is nothing new.  It's been around for years, despite various companies claiming they just re-invented the wheel.  And of course, the ability to zoom around your Strava workouts has certainly been seen elsewhere.  But it's the ease to which this is now on your phone that's notable here.
In any case, I figured it'd be a fun little thing to talk about that didn't require 18 hours to write an in-depth review.
The app is available as of today from the App Store for $2.99.  Note again that because it relies on Apple's new ARKit tech, it's not available for Android.  Also note that you can't get mad at Strava for that, because it's a 3rd party that's making this app.  They're just leveraging the Strava API.  Oh – speaking of which, you need iOS11 for this – so get your phone all updated!
I'm not sure how often (or if ever) I'll use the app again. But it was fun to poke around, and I've certainly spent $2.99 in far more frivolous ways.