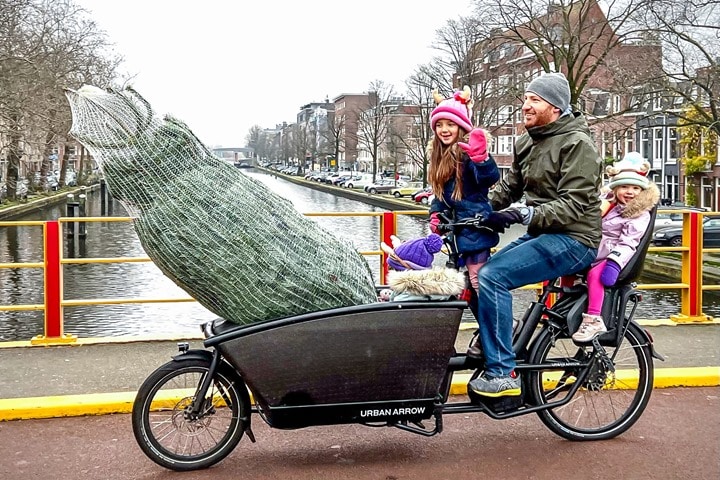 This year marks a decade of getting the Christmas Tree home by Bike posts. Undoubtedly, many in parts of Europe (or elsewhere), have been doing this for much longer. In our case, we started in Paris with Velib bike share bikes in 2012, and have since graduated to Amsterdam with an Urban Arrow cargo bike. Including now not just the tree, but three kids in there too!
This year we kicked it up another notch. Mainly, cause, umm…the kids are literally bigger, taller, and older. There may come a point where all three kids and the tree don't fit. But that point is not soon. So, as always – and mostly for my own historical benefit decades from now, here's our annual Christmas Tree by Bike adventure. Which, is a good point to mention: The goal of getting the tree home by bike isn't to go from Point A to Point B the fastest. Nor is it to find the closest tree stand. Rather, it's making an afternoon out of it.
With that, we set off to find our tree. For almost all of our years in Amsterdam, we've gotten the tree from the same florist. And yes, the vast majority of Christmas tree spots in Amsterdam are with florists, either directly or indirectly (they allow a 3rd party vendor to use some of their space). And so, we started by loading up the bikes and getting going. Given we had two bikes, the two older girls were sending voice messages back and forth between the two cargo bikes using the Garmin Bounce LTE watches (yes, I know, I still need to finish that review). Like secret agents, except, not very good at being secret.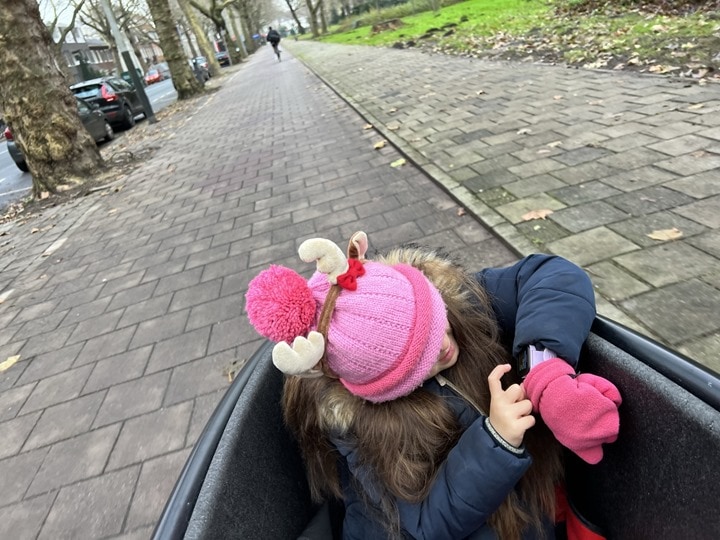 We arrived at the usual florist spot to check out their wares. In this case, they partner with what I believe is the same guy each year. Inspection of various trees occurs by all parties. The Peanuts inspect both small and tall trees, and the adults reject most Peanut suggestions – notably, the pink trees.
My requirement for a Christmas tree is that it first, be at least as tall as me – before applying the tree topper. I can't be, literally, looking down on a tree. Next, it needs to have firm branches that won't droop and drop the excessive amount of ornaments we have.
Of course, at this juncture, you may be thinking it needs to be some unicorn princess of a beautiful tree. But, not so. I just need about 2/3rds of the tree to look functional. The remaining 1/3rd can be a dumpster fire for all I care, because it's going into the corner where nobody shall see it. The only scenario that side is seen is when the tree tips over on the pretty-face side, in which case the visibility of the fugly side is the least of our problems.
Unfortunately, only a couple of trees fit my height criteria, but didn't fulfill the visual criteria. So, we moved on. However, the guy was kind enough to let us know about his buddy down the street – just a two-minute pedal away. And, it'd turn out this spot had plenty of trees fitting all criteria.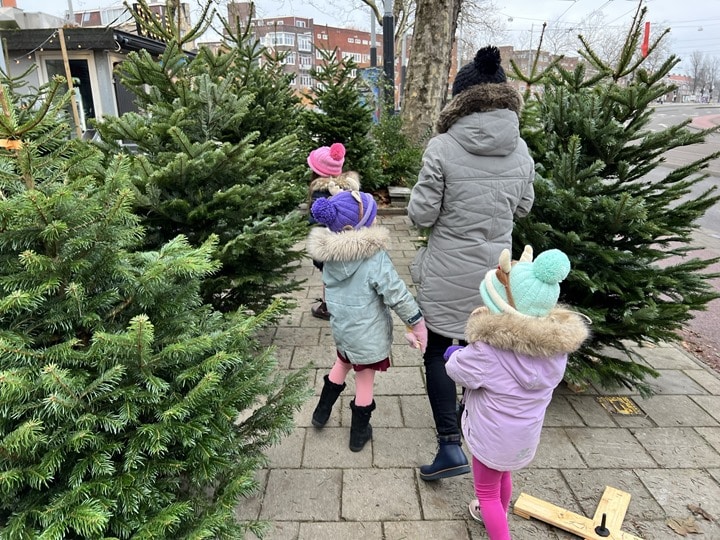 It didn't take long for all voting members of the family to agree upon a tree, which was then followed up with a sham vote for the non-voting members who thought they had a meaningful ballot.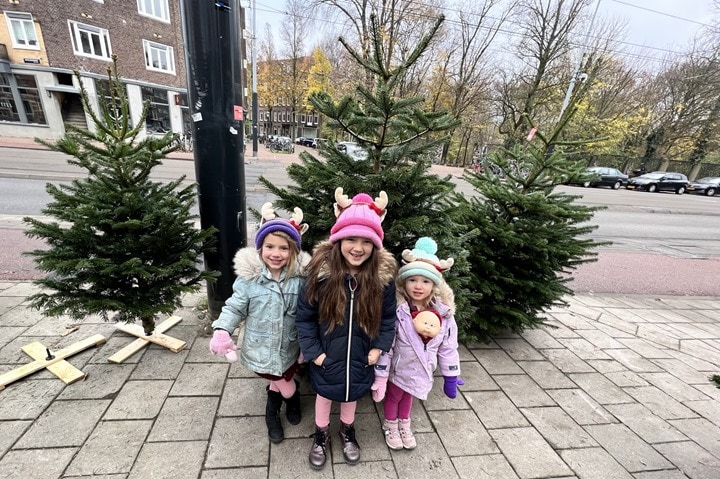 After which The Peanuts were enthralled by the tree netter. For that matter, so were the adults. It's just such a brilliantly cool device. The guy was also super friendly too.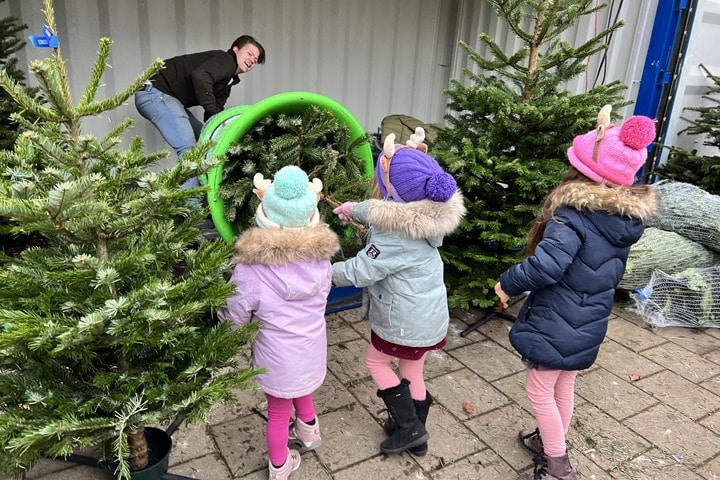 Then it was time to stick the tree in the bike. This is actually the easiest task of the entire day. You simply plop the tree in, with the trunk extending under the kids' bench/seat. No ropes/cords/straps/etc are needed. The weight of the tree essentially locks itself in place. It's amazingly simple and secure. Less simple is the three Peanuts deciding who gets what spot on the bike.
In the end, Peanut #3 is on the back kid's seat, Peanut #2 is in the bucket sitting sideways, and Peanut #1 is standing on the beam. Practically speaking Lucy the dog could have gone in the bucket quite easily.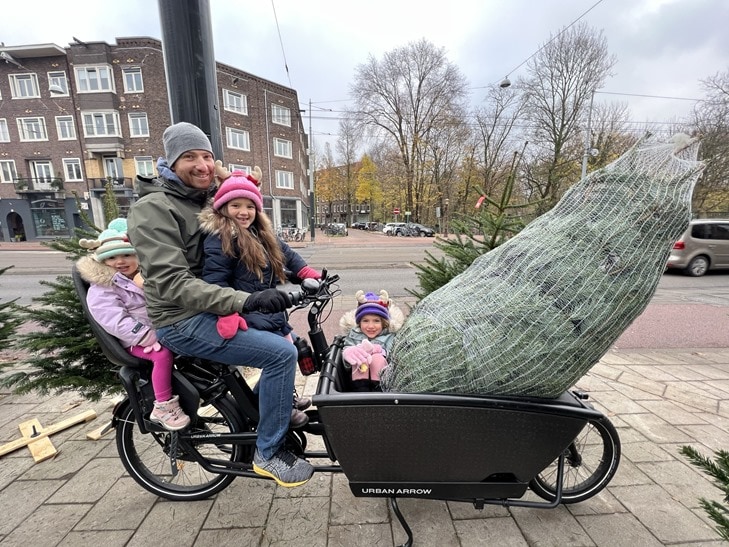 From there we slow-rolled it around the corner and over one of the canals. As is often the case in the Netherlands, having four humans and a Christmas tree on a bicycle is not even glance-worthy. It's just complete normalcy.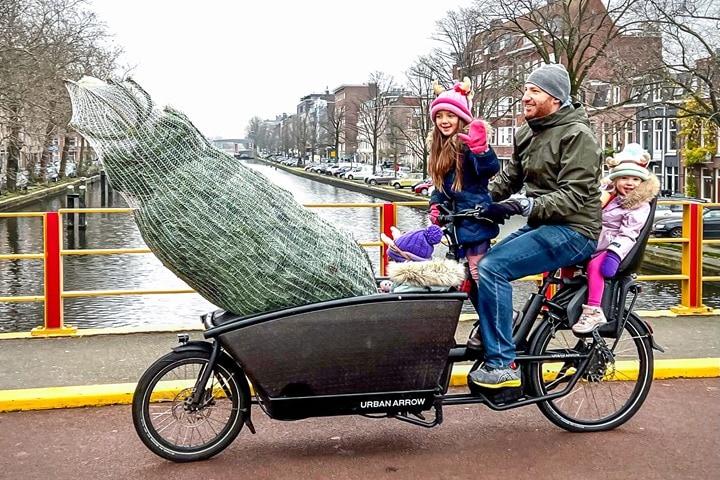 From there we had to make a stop at a playground. Obviously. Lucy the Dog tried to bring her own Christmas tree home. Some of you have asked for more Lucy pictures. She doesn't seem to make the cut on the site as much anymore. Maybe she should work harder.
After that, it was back out onto the bike paths. There was a bike seat change that occurred here, as required in order to minimize sibling squawkery.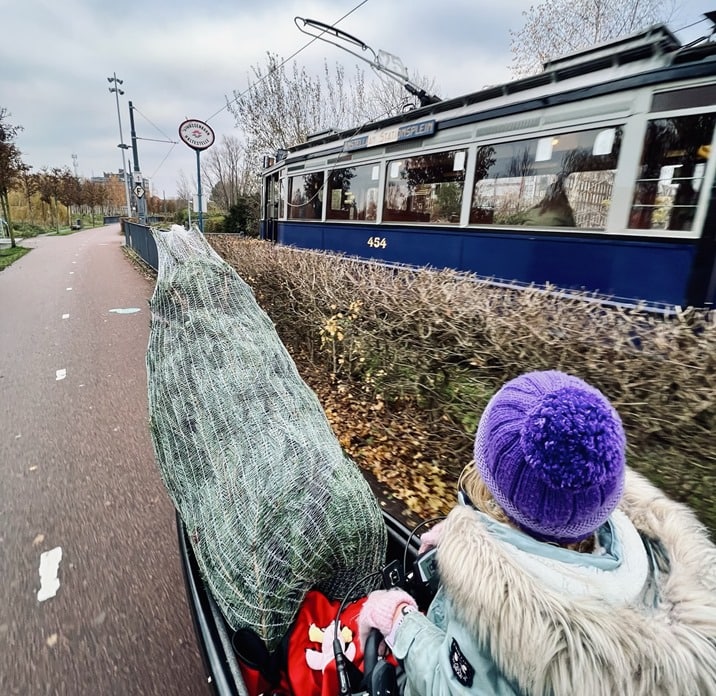 From there we doubled-back a bit on our loop to a temporary Oliebollen shop. This is what the Dutch call their fried dough creation. They also sell other fried and baked dough things like Nutella waffles. The oliebol, like most Dutch food: is brown, fried, and typically doesn't photograph well. Though equally, like all brown fried Dutch foods, they taste delicious.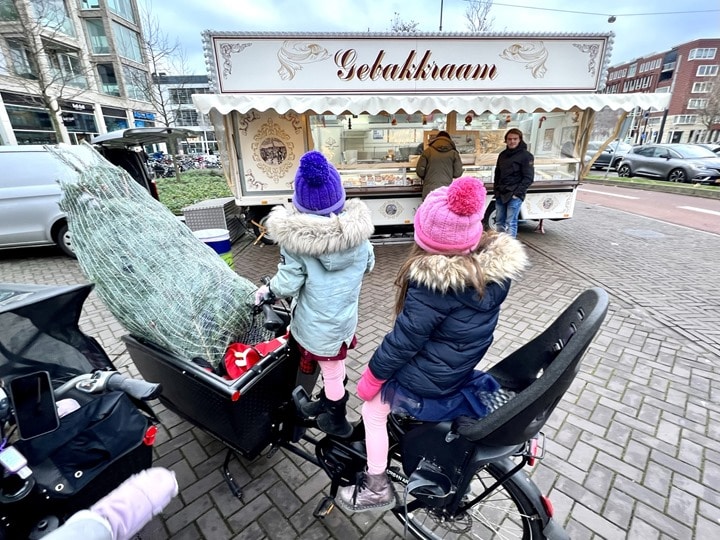 I'm always amazed that there are businesses that buy a vehicle like this, which is only present for about 45-60 days, and then isn't used for the rest of the year. I know there are certainly plenty of businesses that operate that way, but these are small family-run businesses, and most of them aren't completely slammed with business. It's a more casual flow.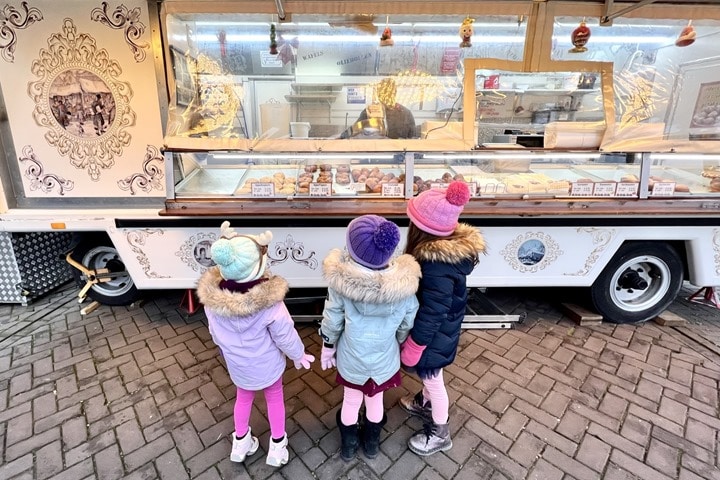 Finally, after that, we hit up the forest as we worked our way towards our final destination, home. Once again, there was a game of musical chairs for this leg. Also, one child abandoned ship for the other bike.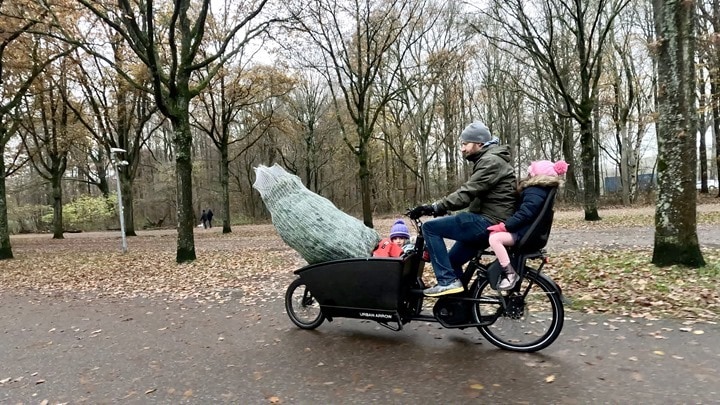 But a few minutes later I stopped my watch, then unloaded the tree from the bike. Into the house it went.  Where it naturally sat for a few days while we procrastinated getting it decorated. However, mission soon accomplished!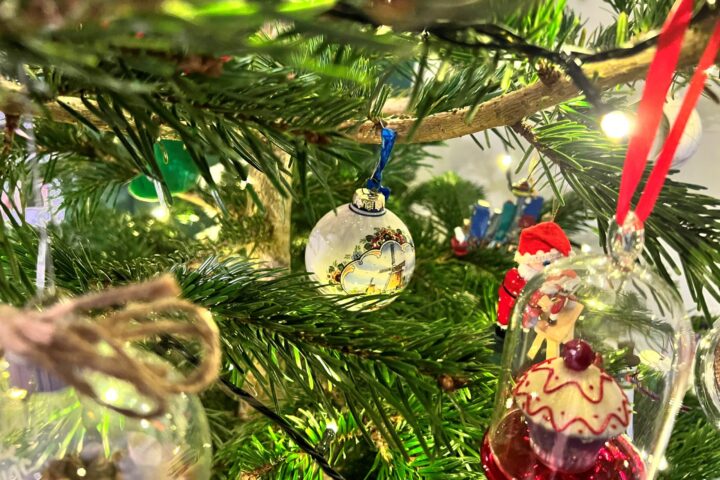 Now while we didn't do a video this year of it, we did one in 2020 that was a ton of fun. Perhaps again next year. Still, the below video is a bit of a classic – if for no other reason than it involves about half a dozen GoPro cameras. Go forth:
And in case you missed some of the previous years, here's a random smattering from the past decade (all posts here):
With that – thanks for reading, and for those that celebrate, have a Merry Christmas!