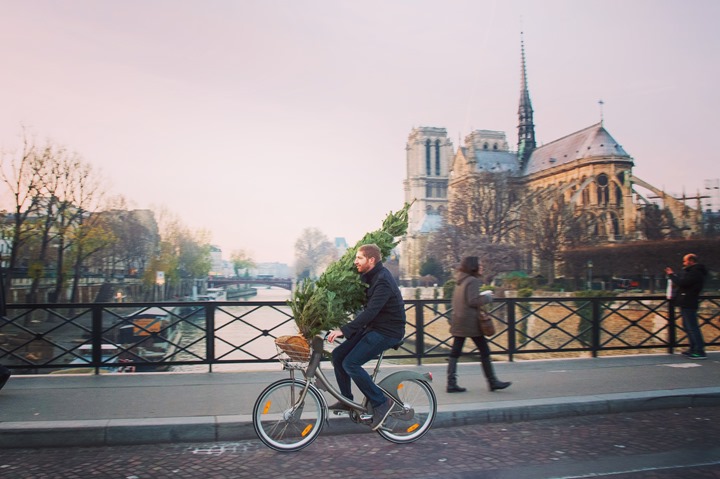 Since moving to Paris, it's become a little bit of an annual Christmas tradition of ours to pickup our tree at the flower markets and then subsequently bike home with it.  This would mark the 5th year of doing so, though, a few years ago we walked home with it before realizing that biking home is actually much easier.  Of course, in true Parisian fashion I use the Velib, which is the city's bike sharing system.
First thing we do is head over to the flower markets.  These markets on Île de la Cité (one of the two islands in Paris), have been around since 1830, and offer all sorts of vegetative stuff.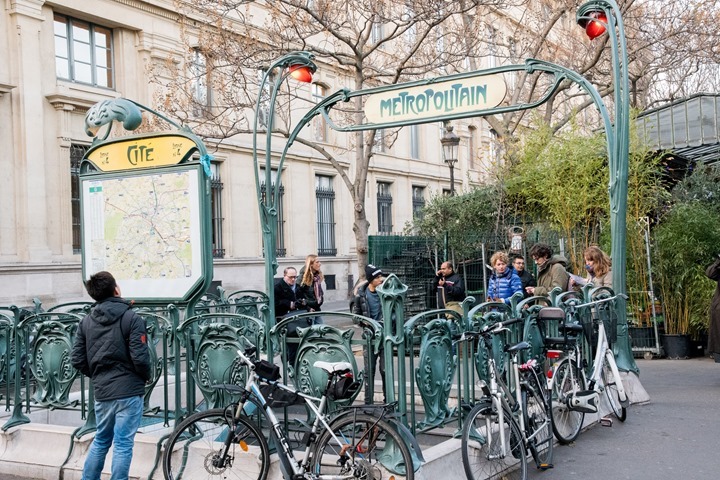 It even turns into a crazy bird shopping locale on Sundays. Then during the holidays, visitors can pickup all sorts of Christmas stuff there as well.
There are about 4-5 different vendors there who sell trees, each with perhaps 15-30 trees available.  The Girl is a Christmas tree expert and thoroughly inspects all of the trees before giving the nod; this first set of trees were deemed as no-gos.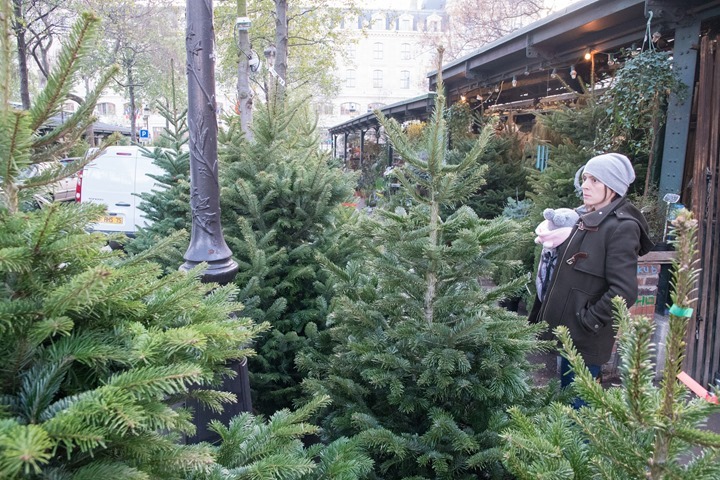 Eventually though we find one that we like: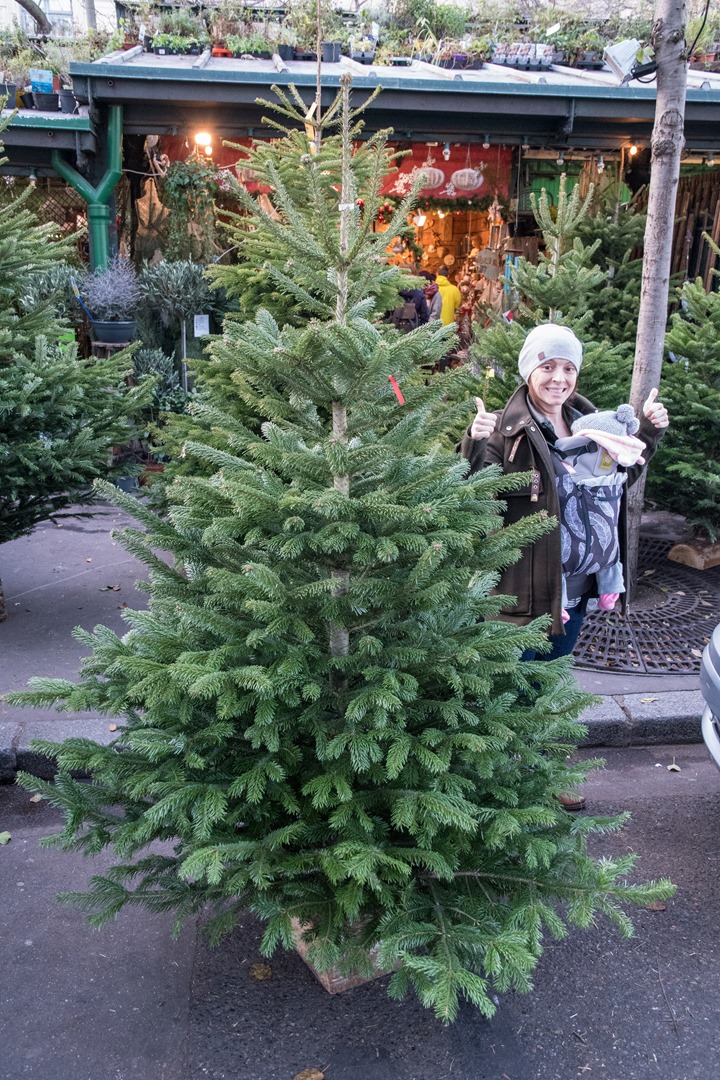 Now unlike how we treat most Christmas trees bought in America, the base of these trees are shoved down into half a log.  So you don't put them in a bucket of water (or feed them sugar water in The Girl's case).  It still seems to stay green just as long as at home, but the needles are a disaster by the time New Year's rolls around. The sound of the needles hitting the ground are a liken to a didgeridoo!
Anyways, at this point with our tree selected and the sales man tying it up; I was off to fish out my Velib card.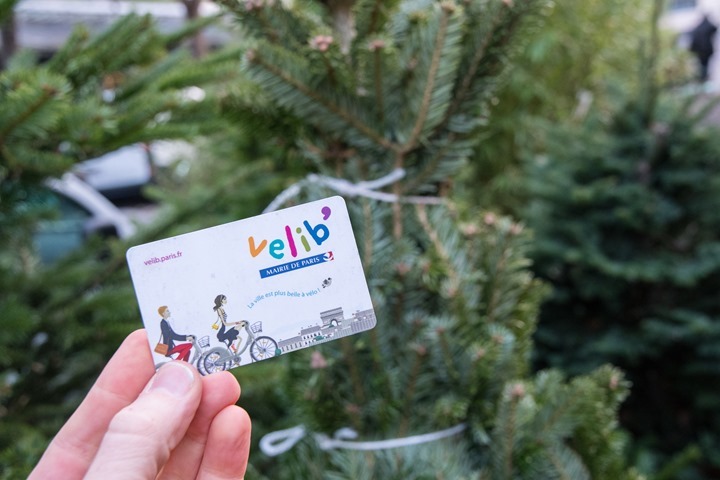 Then the crazy science of picking out a usable Velib.  The most important thing is ensuring you have good inflated tires.  Also, I tend to gravitate towards the newer/refurbished bikes which have the big seat lever vs the tiny metal ones.  Usually these bikes are in better shape.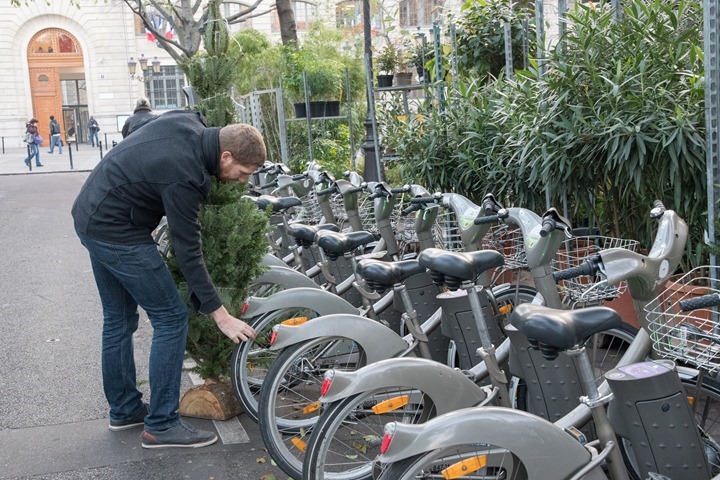 Next was getting the bike all loaded up in the basket.  These baskets are built like tanks.  I've seen two kids in them at a time before.  And I've transported heavy bike trainers in them, as well as even a kitchen sink.  True story: The Bertie's Cake Studio oversized kitchen sink I bought at a hardware store and then transported via Velib. Even The Girl has taken a ride in one on the rare occasion we've had a little to much wine… but I'm certainly not calling her a tank!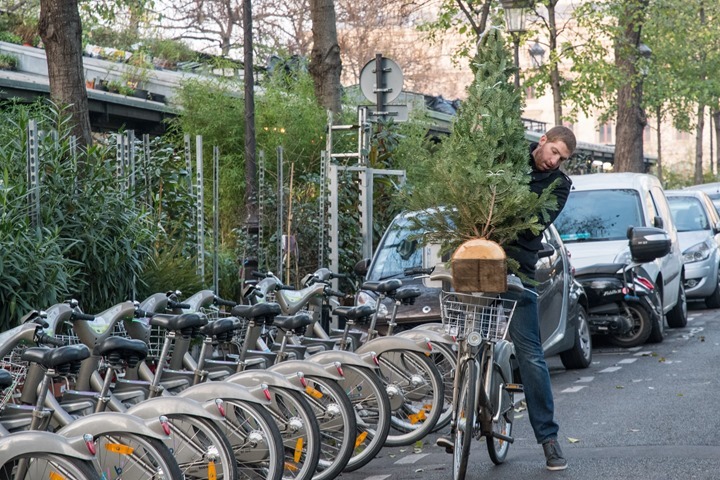 From there it was off for the short journey home.  The flower markets snuggle right up against the police headquarters, which is seen below.
Due to the traffic patterns though, you end up wandering a bit to get home.  It's definitely shorter to walk, but it's faster and easier to bike with traffic.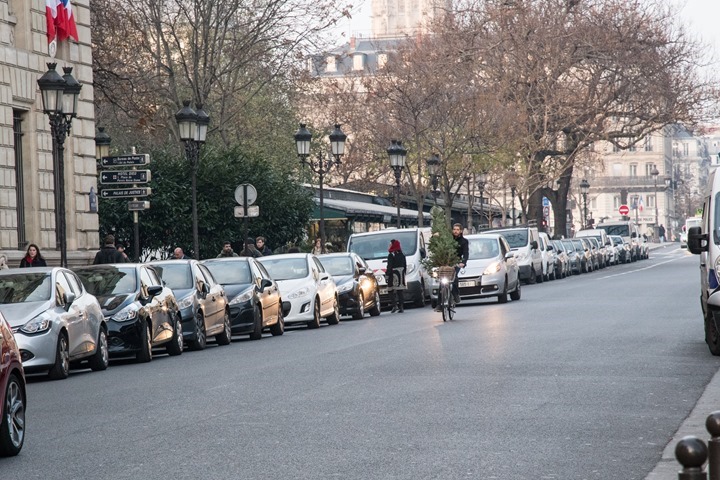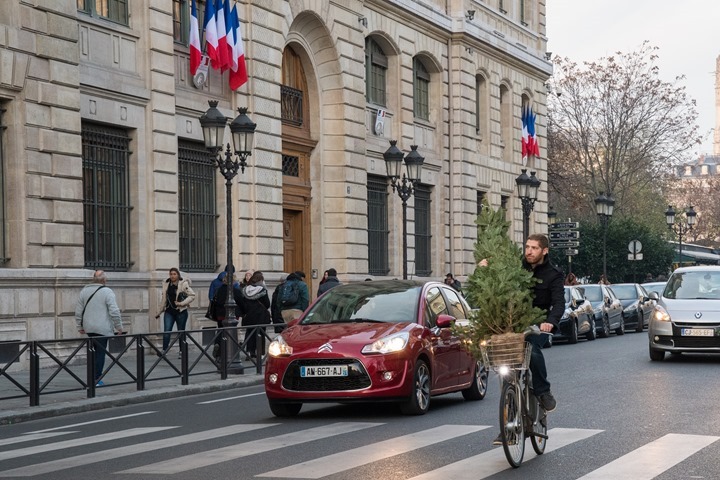 I rounded past the front of Notre Dame, before using the bike lane along the side of it.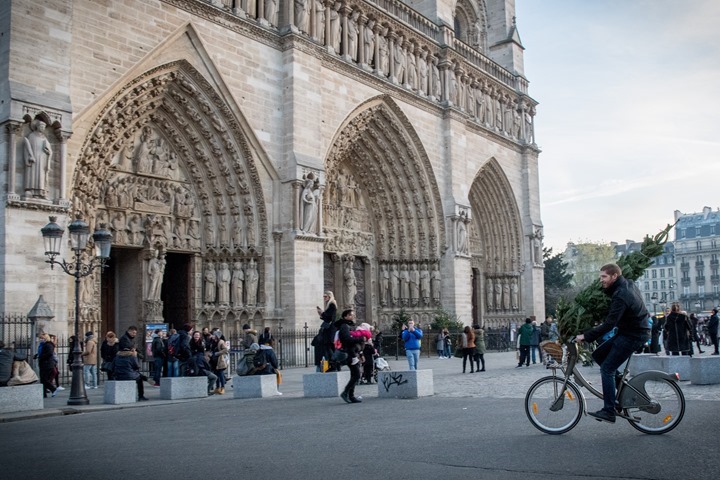 Then it was around the back of the gardens to cross Pont de l'Archevêché, which used to be one of the famed lock bridges of Paris.  They just finished the renovations on it yesterday actually, removing all the construction façade and opening both sides of the sidewalk back up again.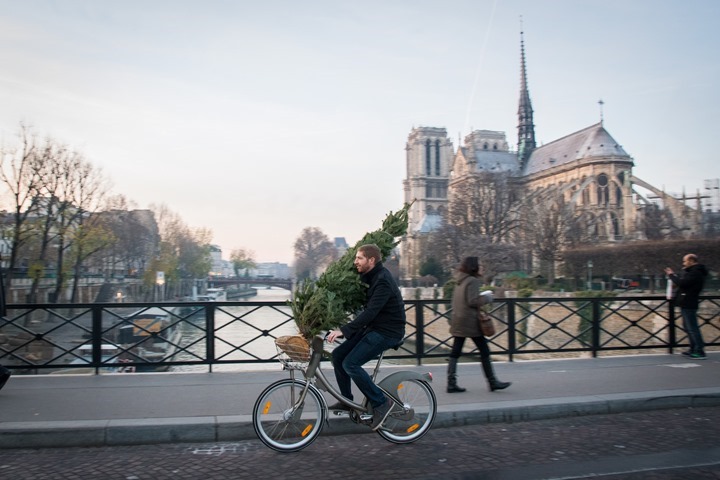 Then I had to wait for a stoplight, naturally.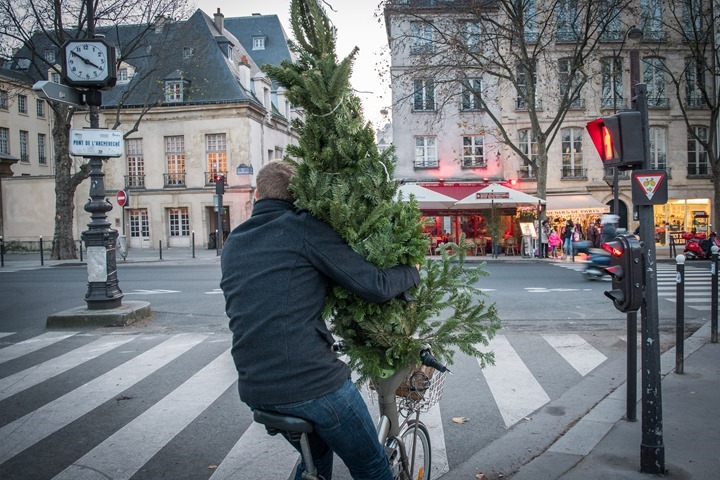 Then it was a quick turn onto the final home stretch!  Though due to one-way roads and cars I had to slightly overshoot the house and loop back around again.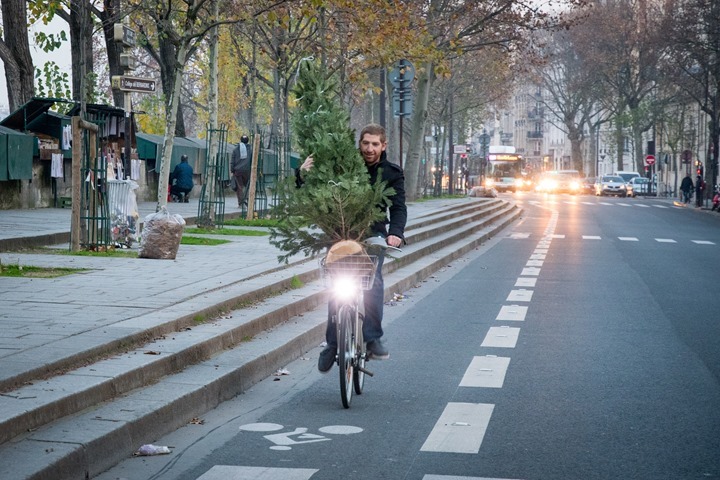 For those wondering, here's the ultra-distance covered, according to Strava and the Apple Watch: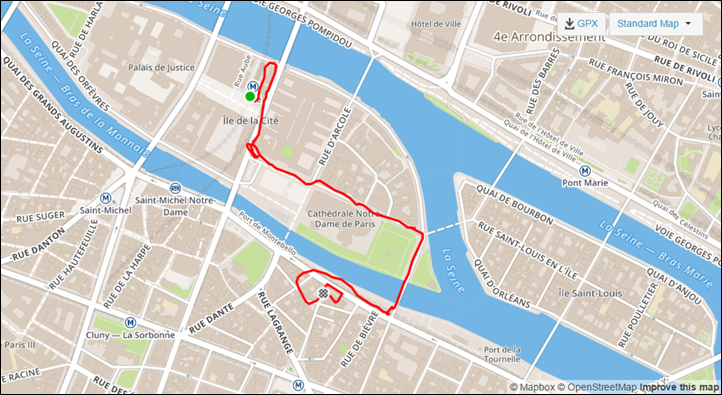 Of course, the next challenge is getting the thing into our apartment.  That requires our miniature elevator and then up the stairs.  It was too tall to carry vertically up the stairs, so I'd end up having to carry it sideways.
And of course, last but not least – decoration time!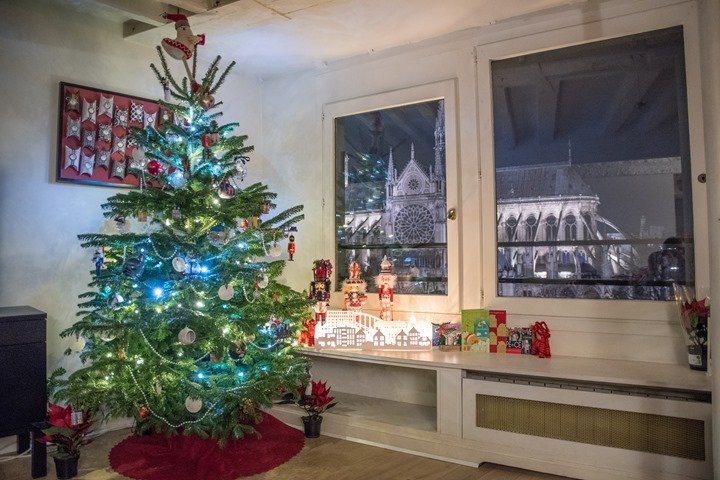 Tis' the season! So with that – we're getting all prepared for the big DCR Open House and morning run tomorrow, and then of course the annual Santa 10K race on Sunday.  Woot!
Have a great weekend all!