Here's this week's "5 Random Things I Did This Weekend" post, complete with our annual picking up of the Christmas tree via Velib.
1) Chateau Cake Deliveries
First up on the docket was a wedding cake delivery out to a chateau in the countryside.  Normally we'd use Autolib for this, but we recently decided to get a Zipcar membership, since sometimes the delivery drives would be slightly further than our little electric Autolib can take us (range of 75KM one-way).  And we don't want to have…ummm…another incident.
So after picking up the car a few blocks away (brand new with only 300KM on it!), we loaded up the cake: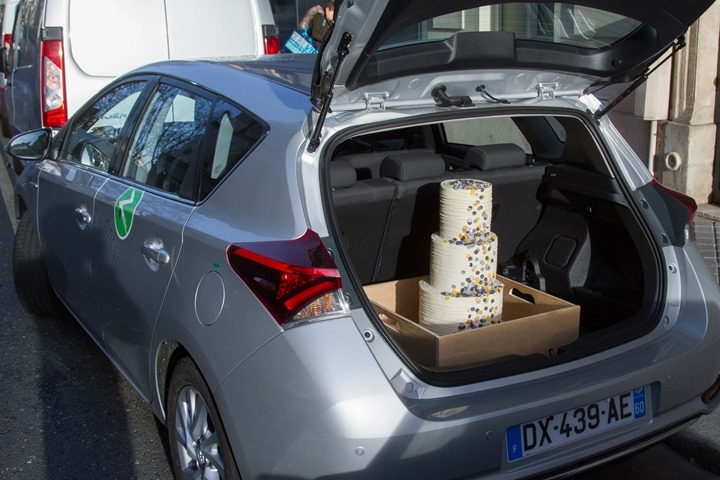 From there it was an hour drive out into the countryside.  I've actually ridden out in this area before, as it's not super-far as the crow flies from Paris, but it's just messy to get to with traffic/routes/roads.  We probably would have made it with Autolib this time, but the cake size might have been challenging.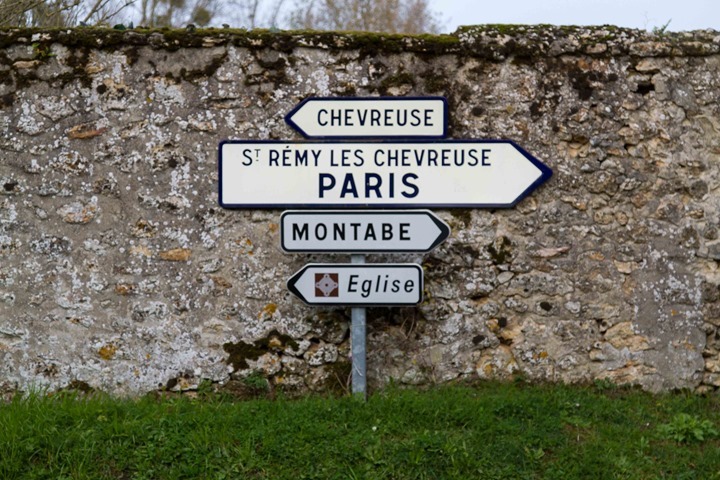 The location definitely delivered on wow-factor.
The wedding reception was still a few hours away, so we didn't get a chance to take any photos of the cake in its final resting spot, but here's two of it before we left the Cake Studio:
We also always take a 'proof of life' type photo after dropping it off, especially in cases like this where we're leaving in cake in its non-final location (the event kitchens).  As much as we'd like to believe the event staff won't damage a cake, most Parisian event folks aren't used to handling large and heavy American-style wedding cakes (this one probably ~30KG/~60bs).  We always prefer to place it in it's final spot, but sometimes that's not possible.
As far as we know – no problems after we left this time!
2) A Forest Run
After dropping off the cake we headed across the street to go for a run.  It just so happened there was a small parking lot area that provided the entrance to a large forest/park.
In case you're wondering, this is what most of our runs look like at the start…as I wait for my 19 devices to acquire whatever they need to acquire.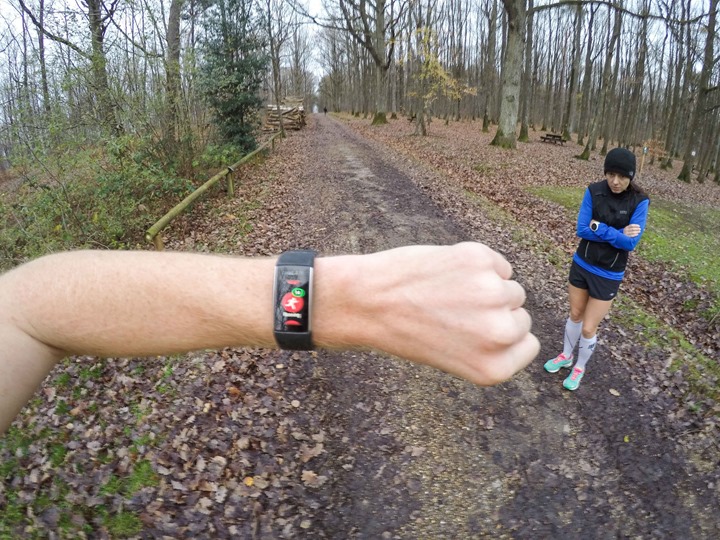 From there The Girl and I made our way down a surprisingly steep hill, which was made far more complicated by the wet leaves and mud.  I'm pretty sure we could have slid down the entire thing like a giant slip and slide had we wanted to.  I lack a photo from that, so here's an owl instead.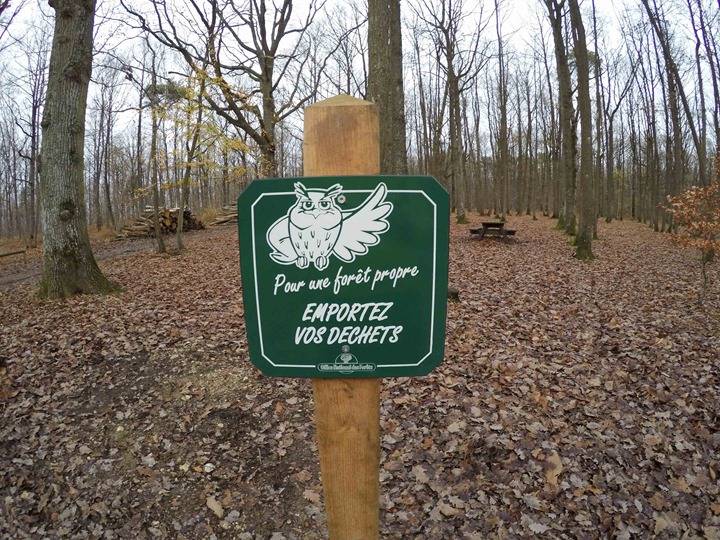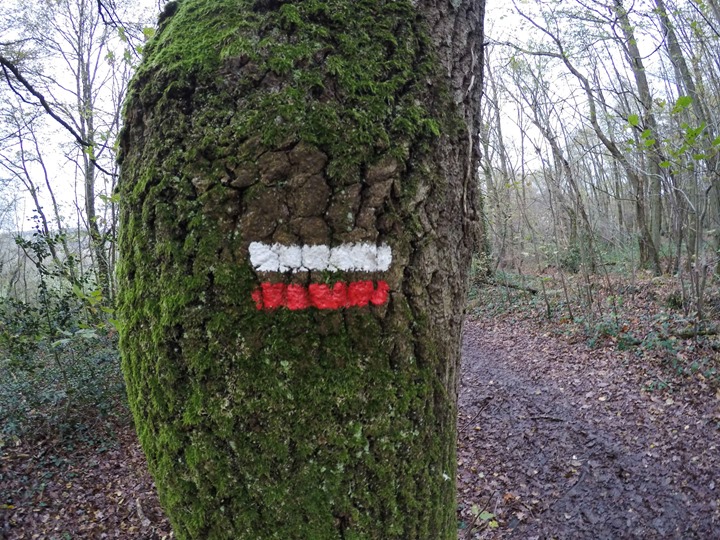 Soon after we arrived on a meandering bike path where we split ways for a little while to run by ourselves.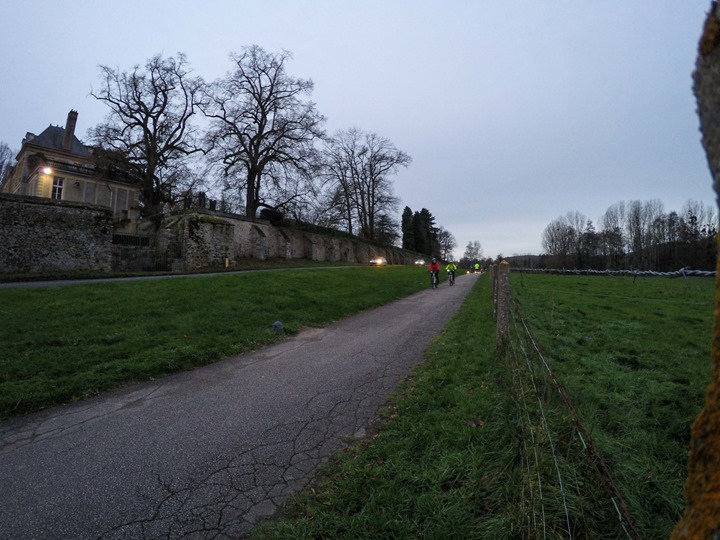 We'd eventually meet back up just prior to heading back into the woods and up the hill.  A perfect little run squeezed into the end of day.
3) Christmas Tree via Velib
It's that time of year again when we pickup our Christmas Tree and…well…bike home with it via Velib.  It's become a bit of an annual tradition for us, and this year was no different.  We headed over to the recently renamed Queen Elizabeth Flower Market to pick out our tree: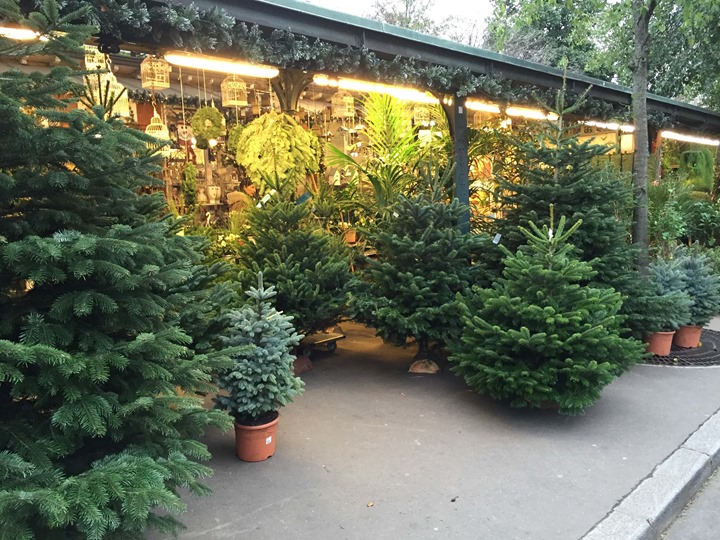 There wasn't a lot of choice quite yet, but we wanted to get a tree earlier this year, since we'll be travelling later in the month of December.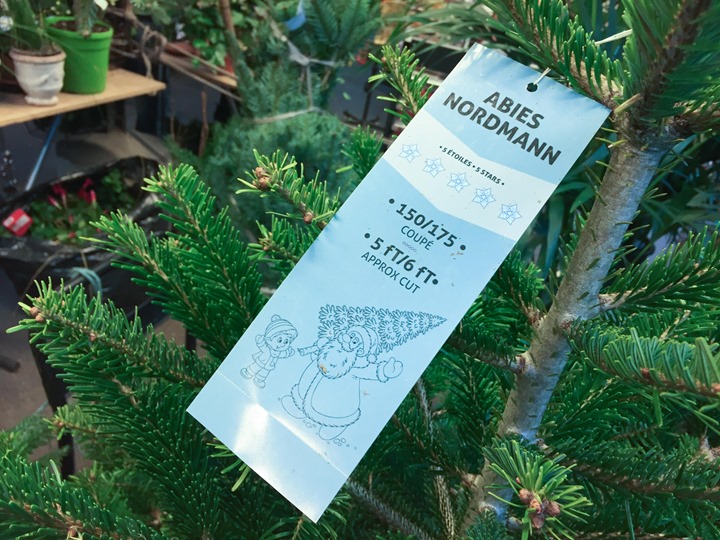 After selecting our Sapin de Noël, we loaded her up on the Velib.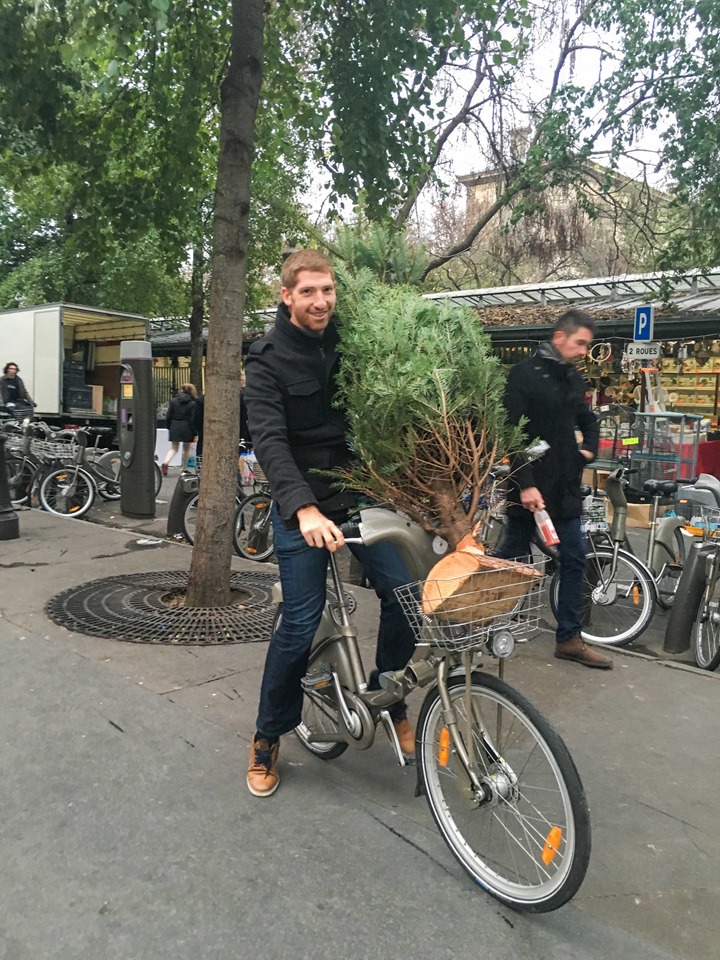 Lucy decided she wanted to run after me.  A healthy plan until she found the end of her leash: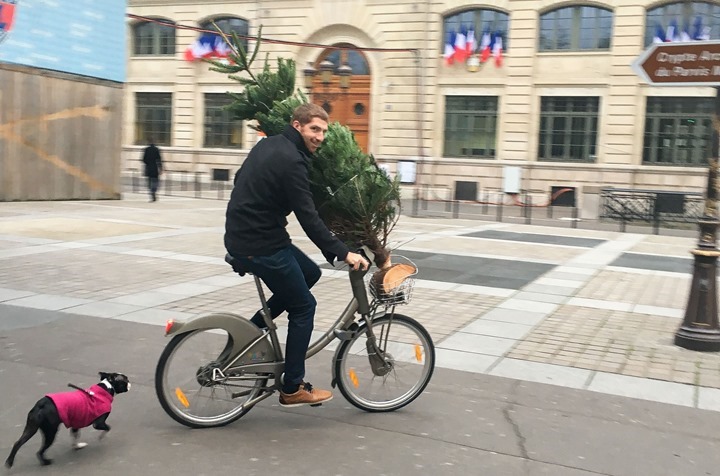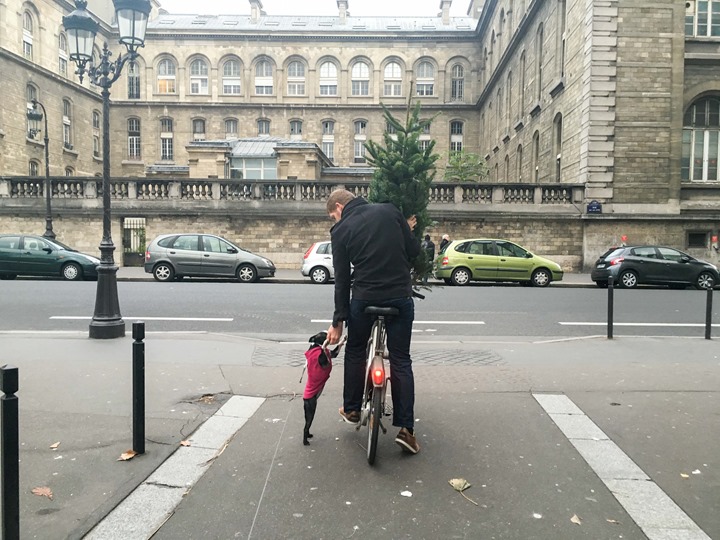 It's not a terribly far journey by bike.  Perhaps 3-5 minutes of careful pedaling.  The Velib is fairly heavy so the whole lot is quite stable.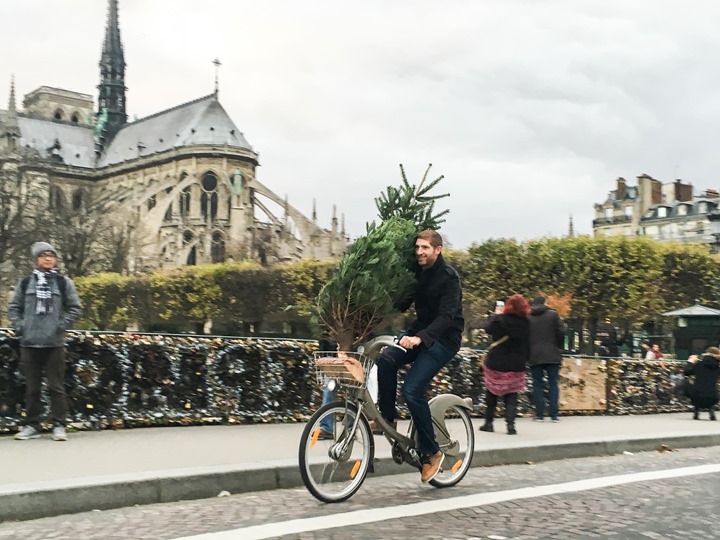 Less you think we're the only ones that take our tree home via Velib, that's not actually the case.  I've seen numerous others over the years as well.  Gotta do what ya gotta do!
4) Climate Changing Velibs
After ensuring our Christmas tree had proper structural support in case Lucy decided to climb it while we were away (or cause it to faint), we headed out to a movie across town (Hunger Games).  It so happened that the best time available was on the Champs-Élysées, only 10-15 mins by Metro away (as public transport was free due to the conference!).
As we exited the movie, we noticed that they had setup numerous Velib and related stations all the way down both sides of the Champs-Élysées.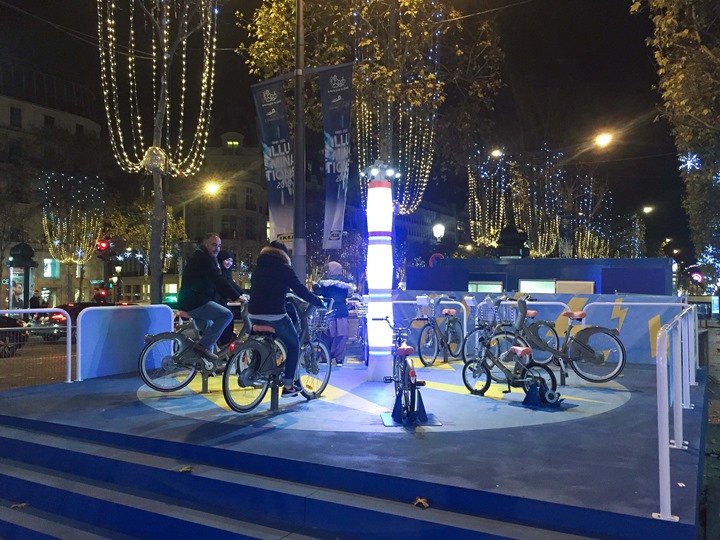 Each station allowed you to pedal to illuminate lights in that area of the Champs-Élysées.  It also displayed your wattage: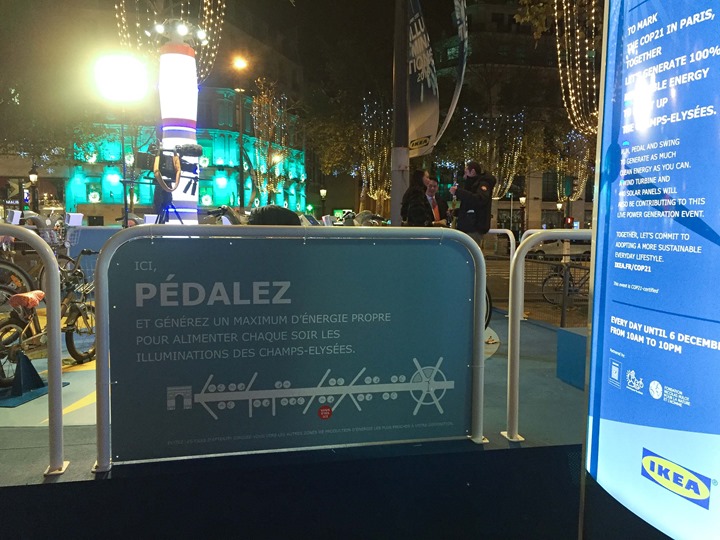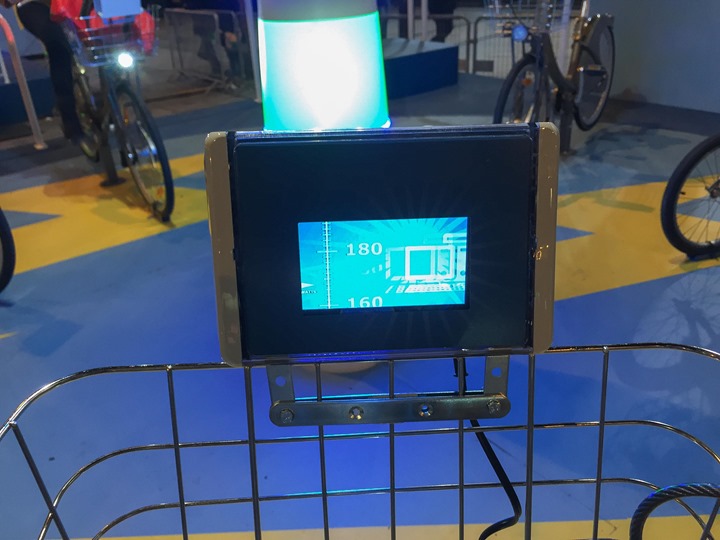 Turns out, the Velib's power meter definitely needs a wee bit of calibration (feel free to insert your own obligatory power meter joke here).  It was saying 200w, yet I'm pretty sure I was throwing down more like 300-350w on this thing without trying too hard, or raising my seat post.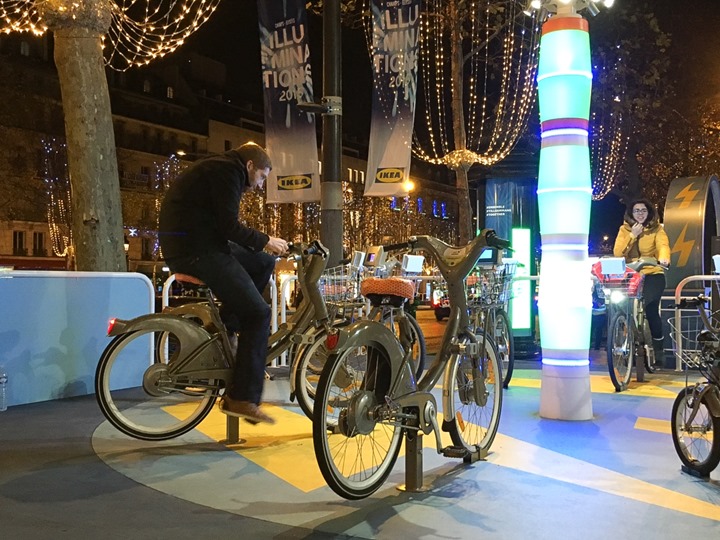 In addition to the Velibs, they also had giant human-hamster wheels.  Pretty self-explanatory: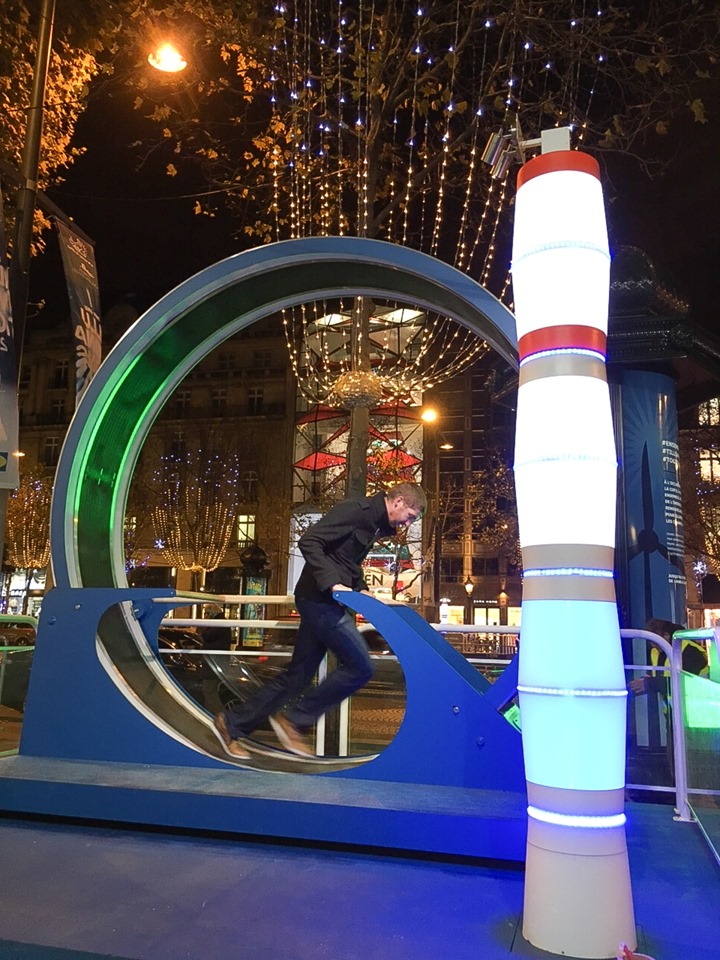 All of this in support of the climate change conference that kicked off this week here in the city (well, technically just outside the city in Le Bourget).
5) The Christmas Markets
After being a human hamster, we passed a wind turbine that they had setup on the middle of the Champs-Élysées, and then behind it (hard to see) are two massive solar panel installations (perhaps 2/3rds of a football field in total).  All for the conference.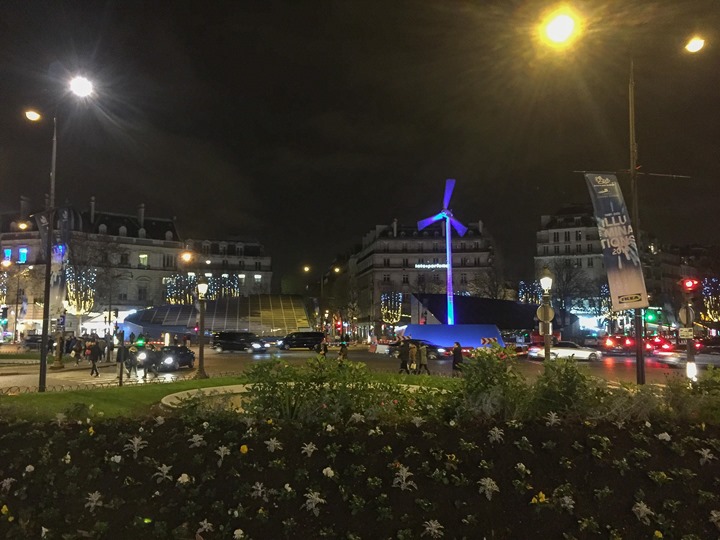 But, our real goal here was the Christmas markets, which is an annual occurrence.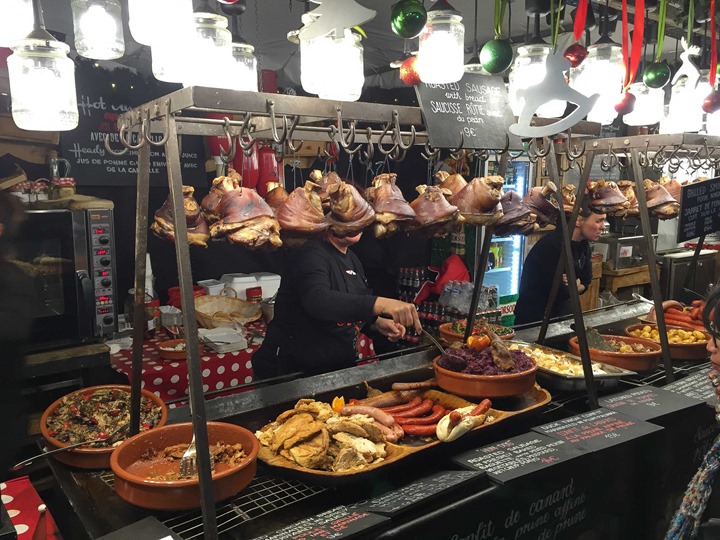 We wander down through them at least one night during the holidays (but often run through them more often).  Now most of what's for sale here is…not so awesome.  A lot is quite simply touristy trinkets or low-quality stuff.  There are exceptions of course, but in general our favorite thing in the markets are the fresh churros – made on demand if you ask.  Oh, and served with Nutella.  Because everything is better with Nutella.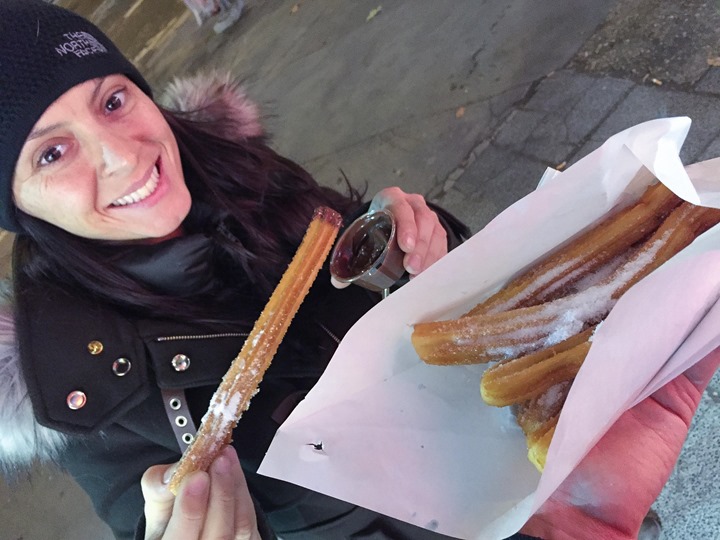 We did notice they expanded the ice skating rink this year, from a 'track-like' installation to more of a full-on rink, complete with carefully guarded trees.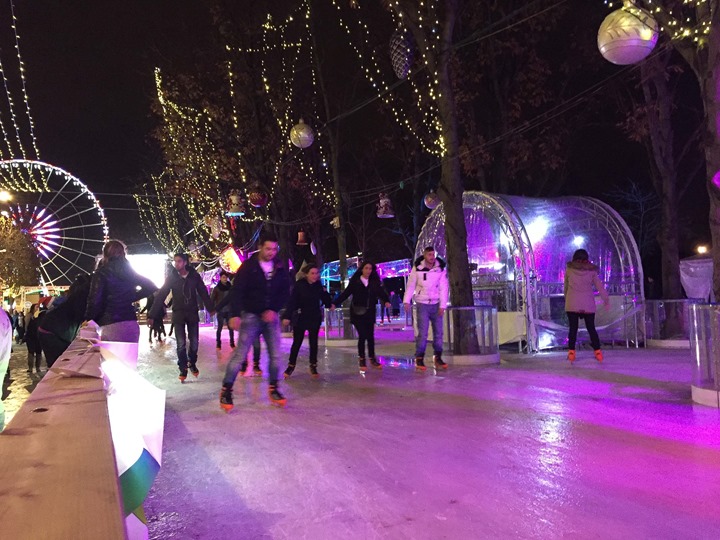 After the market we walked the rest of the way home, a few miles all in.  First passing the Ferris wheel that's installed each winter at Concorde: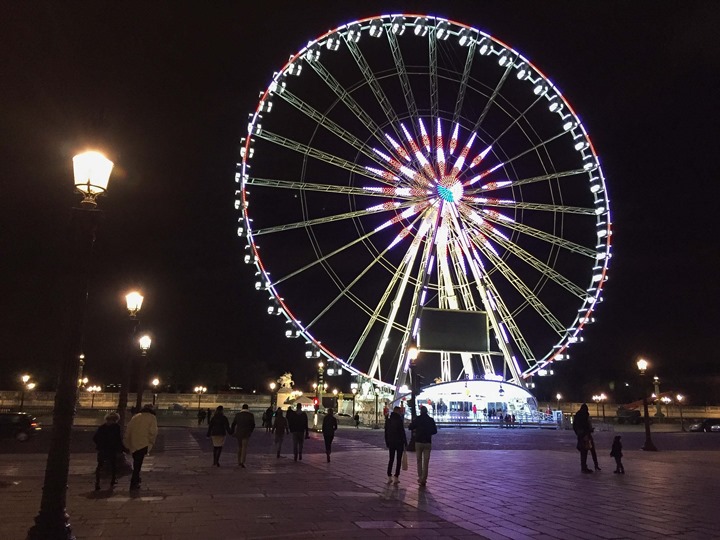 And then past the National Assembly building, which had people projected onto it.  My understanding is that it's in lieu of protests that were planned for the climate change conference (due to understandable security concerns in the city, no large gatherings/protests are being permitted at this time).
Of course, the French having a long-standing tradition of finding a way to bend the rules (and being experts at protesting), staged this impressive shoe protest this weekend  instead.
Since Sunday evening we've seen more than our fair share of presidential motorcades going by us.  Japan last night, then another flag I didn't fully recognize today.  And Obama late last night as well, helicopters and all (I believe he's the only one that gets helicopter escorts).
With that – no doubt an interesting week ahead in the city!  Speaking of which, don't forget to register for the DCR Open House in just two weeks!  It's gonna be an awesome day of events!
Thanks for reading!