Summer is definitely in full swing here in Paris – with this weekend being especially busy!  Here's what we were up to!
1) Independence Day Celebrations!
For those non-Americans in the crowd, Independence Day (aka July 4th) was this past weekend.  For us here in Paris, the festivities actually started back on July 2nd.  That's because we (our CupCakery) were invited to help cater the massive 2,000+ person Independence Day party at the US Ambassador's Residence.
So…there were a lot of cupcakes made: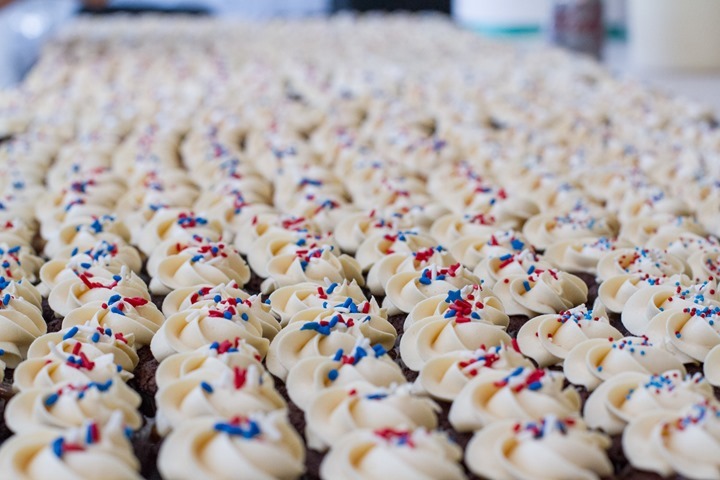 Interestingly this event is a bit different than most others.  Notably that all of the companies present actually donate their time/goods, sorta like a giant potluck.  Be it us, Chipotle, or Disney – all of it was free of charge.  Also, the event is actually more for invited French guests than American ones.  Sort of a bit of show of Americana.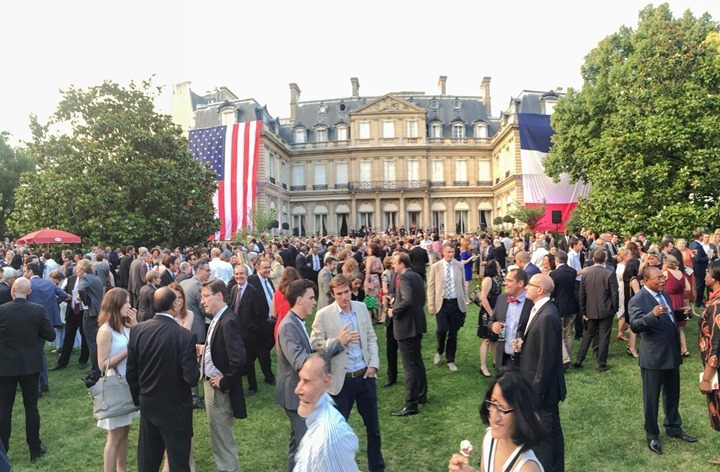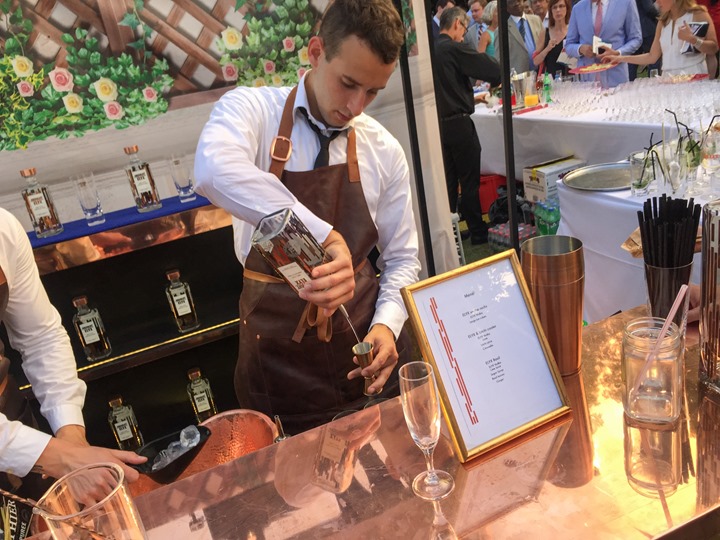 For our part The Girl and our team (along with some friends in town assisting) made a large three-tier cake, and then the aforementioned crapton of cupcakes.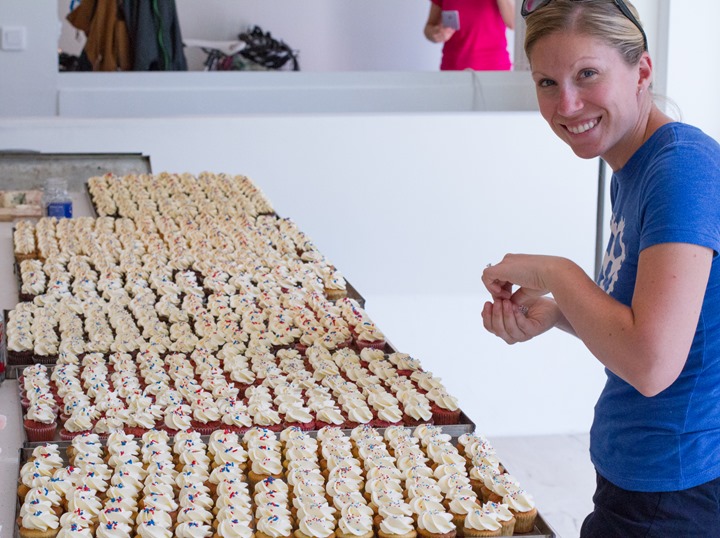 We had our own little tent of sorts, which had a great view of the residence itself.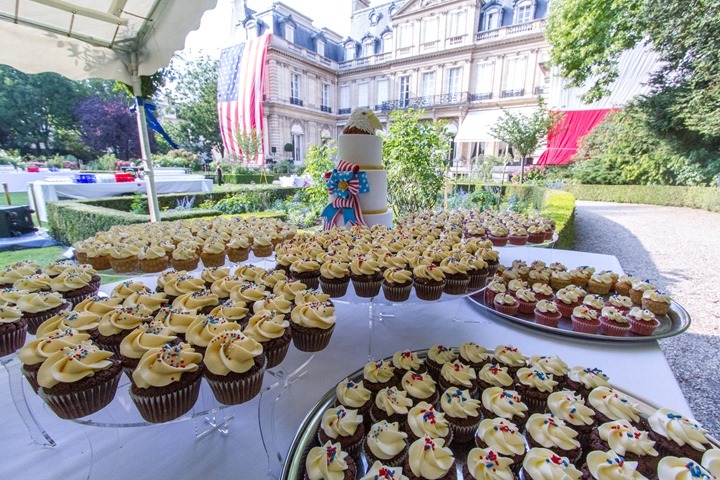 This view was particularly notable because later in the night would be a sound/light show projected onto the Ambassador's Residence.  When I first heard of the show, I wasn't terribly excited – as usually such things end up being pretty lame.  But I've gotta say, I was blown away with how incredibly detailed and cool it was.  Every little nuance of the building was perfectly tracked (windows/edges/etc…) with various elements in the show, which was put on by Disney.  Everything seen below is actually projected onto the building (the windows were totally closed/shuttered).  It was hard capturing the show portion, since it was just too dark for my phone.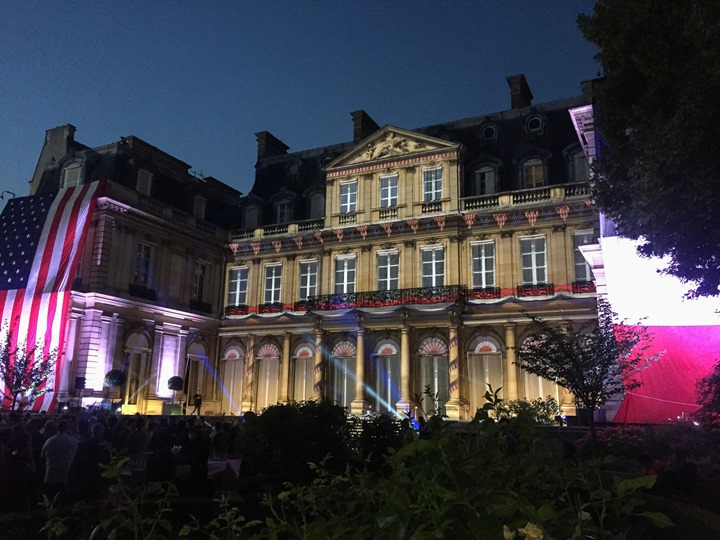 At the end the CupCakery logo was up on one side too as part of the thanks!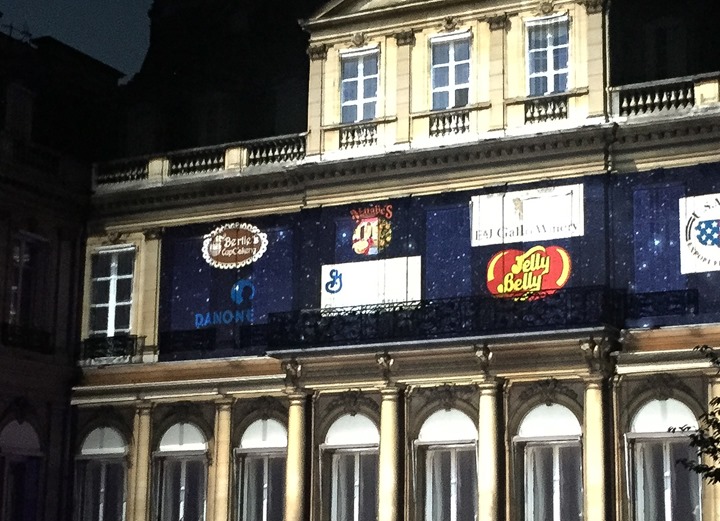 As we wrapped up the night we started cutting the cake (no reason to let that go to waste!).  Here's what a multi-tier cake looks like inside to keep it all from collapsing (plastic straws).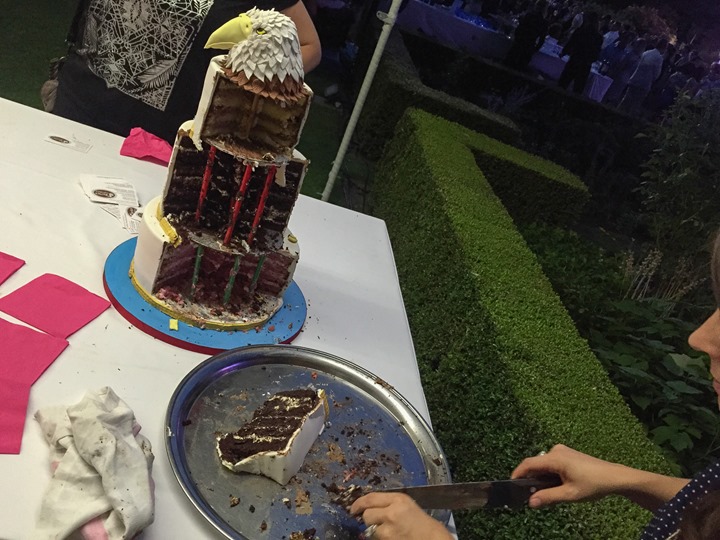 Definitely a pretty fun night!
2) Packet Pickup and Running Shoes Dropoff for the Paris Triathlon
Friday at lunchtime we went over to packet pickup to grab our Paris Triathlon race packets.  We figured this would be a reasonably quiet time to do so, since it was just opening up.  And for the most part it was pretty quiet.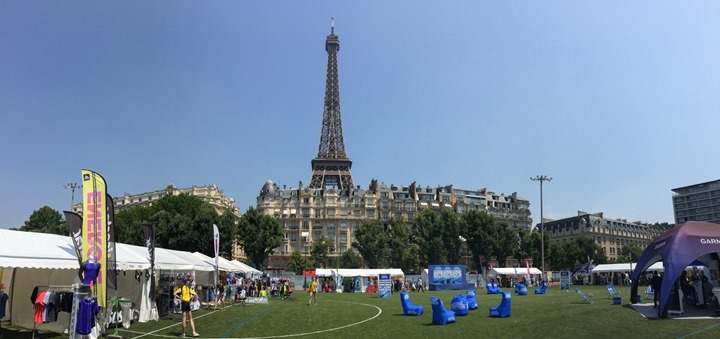 The packet pickup area (and ultimately the race finish area) was held on a nice running track just a few hundred meters from the Eiffel Tower.  Many clubs also use the track for weekly workouts, especially given the prime location.  I think it'd be hard to find a track anywhere with a better view.
The packet pickup portion was quick and simple.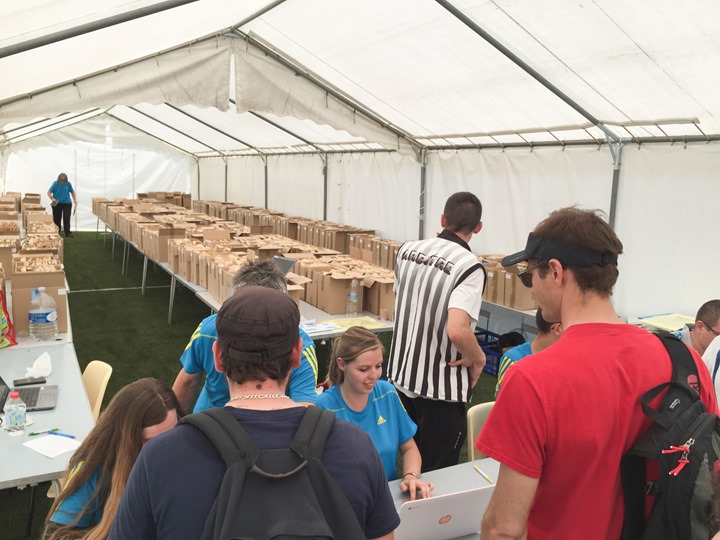 After packet pickup we went home and sorted out all of the various transition bags.  The event is a 'point to point' course, which means that you start and end in totally different places – requiring two different transition areas (many miles apart).  More on that later in the race report though: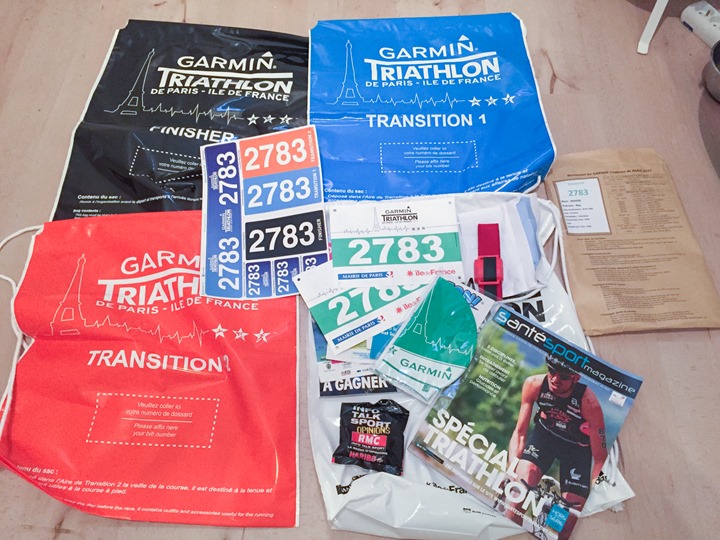 Then back on Saturday evening we made the short ride back to the Eiffel Tower to drop-off our run transition bag, which simply contained my running shoes:

Then just another quick zip on the bikes back home.
3) Friends in town enjoying some food
We've had some friends arrive in town a few days ago, which will be hanging out with us the next few weeks.  They're both very fitness focused (triathletes) as well as into enjoying food.  So obviously, we've been doing both.  Mostly starting with food.
So there was the hanging out at one of the many pop-up restaurants at Bercy for meat and cheese platters: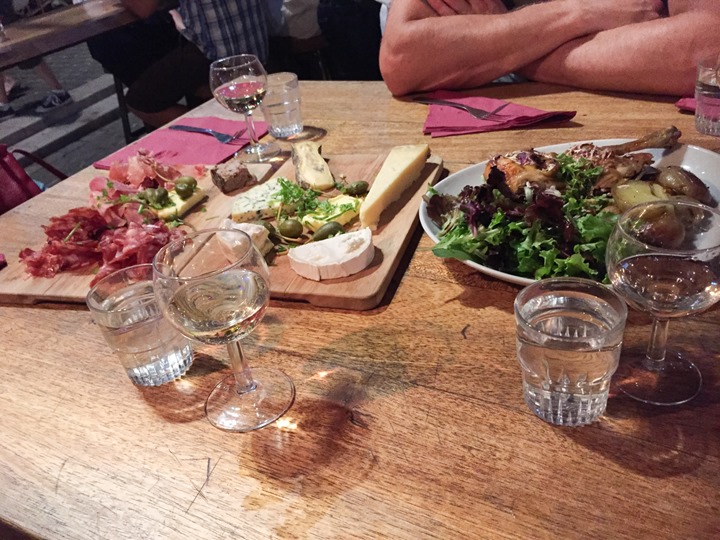 Crepes for brunch:
And a stop at our favorite grilled cheese place, where I got my usual pastrami grilled cheese with caramelized onions.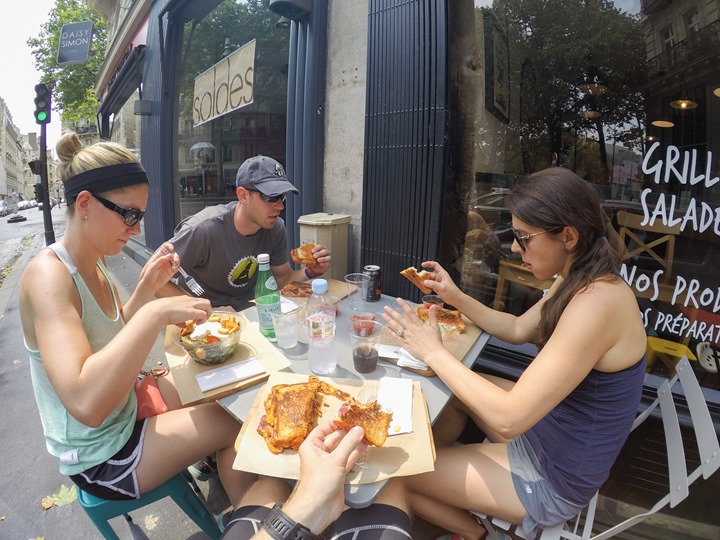 Then more meat and cheese (and champagne) along the river.  Really you can never have enough of those items.

And lest we forget – a surprise birthday party (disguised as a 4th of July party), held at the studio: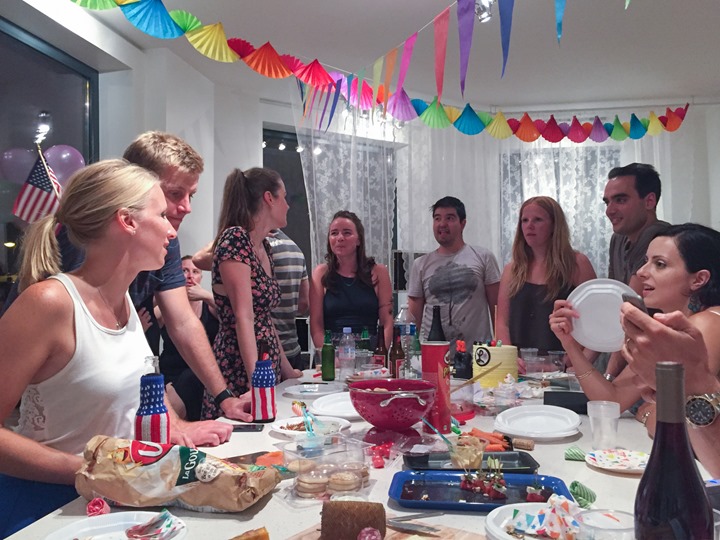 Phew – lots of food!
4) Racing the Paris Triathlon
Sunday morning we got up around 6AM and worked our way out to the race start, which is about 10-15 miles from the center of Paris.
While I'll dive into the Paris Triathlon in a race report in the next day or two, here's one quick photo to tide you over: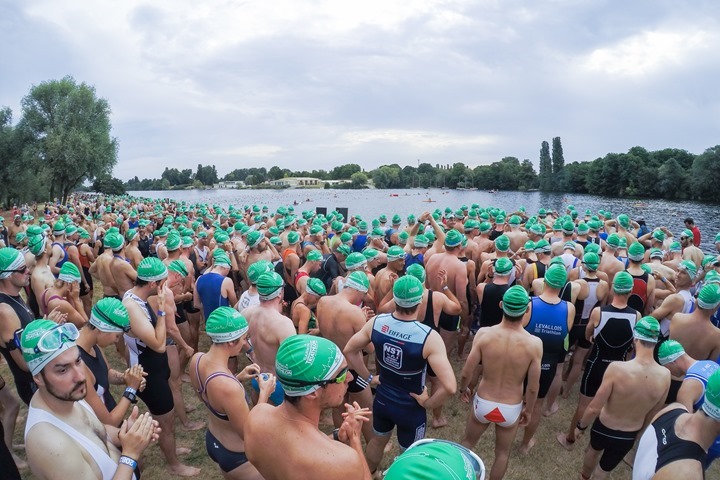 It was probably the most fun I've ever had on a triathlon course – so definitely some good stuff to share!
5) A night city walk
After the race Sunday there was a some multi-hour napping going on.  I think everyone was exhausted, especially given the week leading into it for us at the CupCakery we'd been working basically 24×7 in shifts due to all the parties/events that had collided on this short timespan with custom orders.  But post-nap it was time for a bit of a wander.  The Girl and I love walking around Paris at night, especially in the summer when it's warmer out.
Last night we started along the river as we often do, hitting up many of the major sights.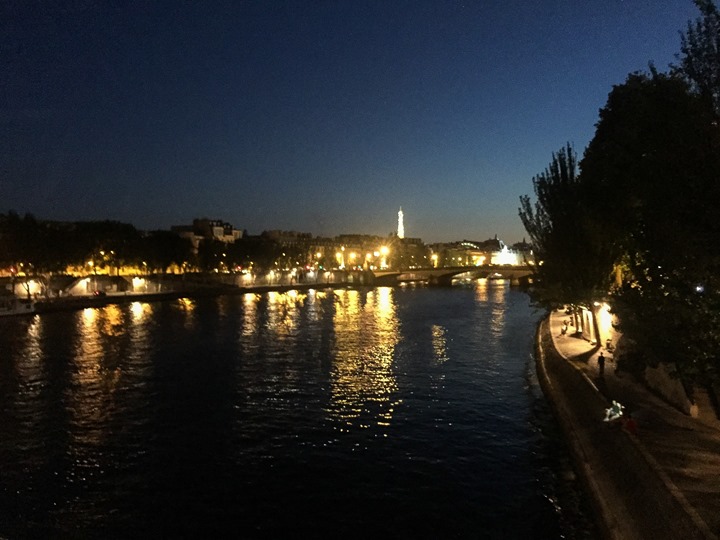 We then looped through the Louvre and over to the Tuileries, where on the edge of it is a carnival of sorts.  It shows up around the winter holidays for a few months, and then returns again from June till August.  This year though it certainly seems a bit bigger than past years.
While it closed a bit earlier in the night than we expected (11:45PM) – we had a blast in the fun house.  It was sorta like those obstacle course type reality TV shows that are popular right now (mostly in the US I think).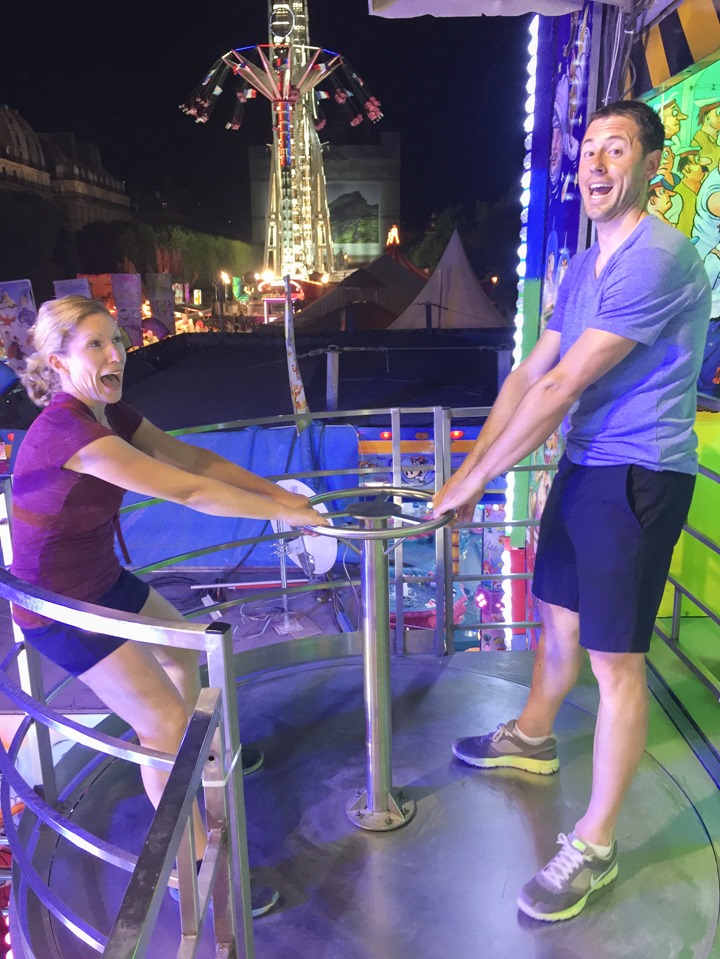 Definitely a bargain for 4EUR.  From there we wandered on back home, completing our 3-4 mile round-trip walk.
—
A fun week ahead – including some days at the Tour de France!.  Thanks for reading!