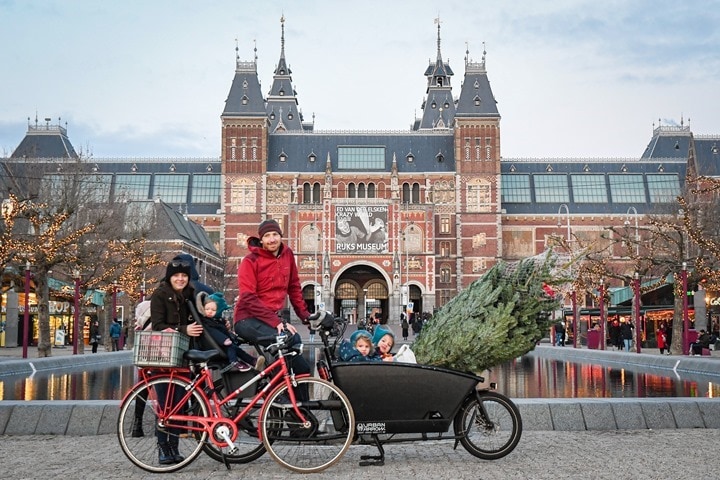 It's that time of year again! Or rather, it was a few weeks ago. But – the key thing is I've squeaked into home with this annual tradition of a post. And this year we stepped it up to video format. Ya know, using all that spare time we have.
Now in its 8th year, this is our annual "Christmas Tree by Bike" tradition. It started when we lived in Paris, using a bike share Velib to make the trek from our favorite Christmas Tree vendor at the flower markets in the shadow of Notre Dame, to just across the river to our apartment.
In case you missed some of the previous years, here ya go:
Now, this year we'd be upping the ante with the full load of kids onboard – all three Peanuts were allocated to tree guarding duties, plus me as the volunteered captain of the ship. The Girl helped get photos, video, and most importantly: Was the child whisper/ snack-keeper.
As is usually the case, we take our tree on a loop around the city on our way home. But this time we figured we'd step it up a notch and try and shoot a video of it – initially more just for our own friends and family. But it turns out I had enough footage around to make something more substantial out of it. Perhaps a bit different than your normal DCR tech review video – but fun and bikes nonetheless.
With that – simply hit play – sit back, and enjoy!
Thanks for watching, and if you celebrate Christmas – have a Merry Christmas. And if you don't celebrate Christmas, we can all celebrate in the fact that 2020 only has a few days left!