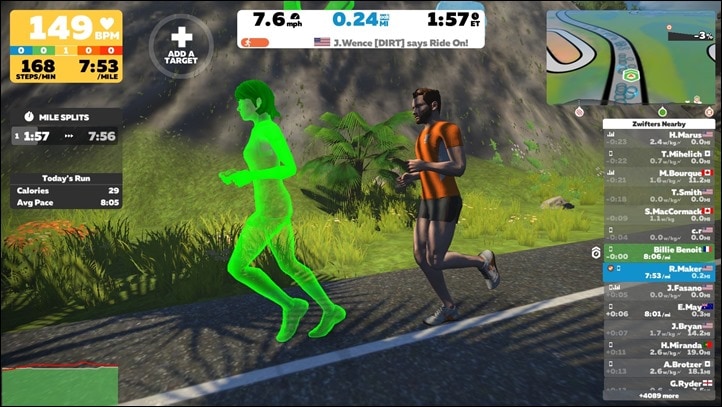 Last week Zwift announced that Pace Partners for running would be arriving on the platform this week, and indeed, as of earlier today they have now arrived. For those unfamiliar, Pace Partners were launched on the cycling side of Zwift earlier this year and have essentially morphed into giant almost-always-on group rides. I really like them, and think they're one of the best new things Zwift has done in quite a while.
But till now they haven't been available for running. In fact, this would mark really the only major new running feature since almost exactly a year ago when the new running track was added. Of course, there have been new roads added that Zwift runners can take advantage of as well, but the majority (all?) of new features have otherwise been on the cycling side. And that's probably no surprise given Zwift's CEO noted recently they're going to be focusing more on cycling than other sports for the foreseeable future. Still, I'll take a new feature when I can get it.
Thus, it was off to the DCR Cave for a late night treadmill test. Ironically, the weather was exactly the kind of crap-filled-winter fun that you'd want to be using Zwift on a treadmill indoors for: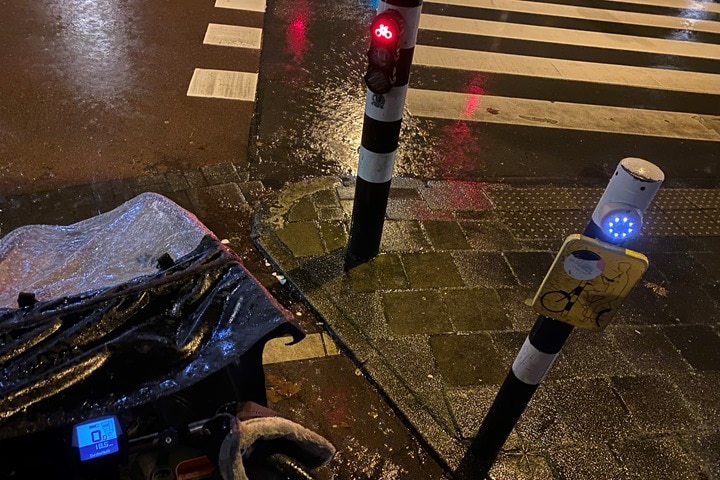 Nobody wants to be out running in that. Or, riding as it was in my case.
The Details:
After selecting to start with running, you'll land yourself on the main Zwift selection screen. It's here that you'll first choose Watopia, and then down in the 'Join your friend' section, you'll select Pace Partners:
The first time you launch this it'll show you a few quick tips to get started: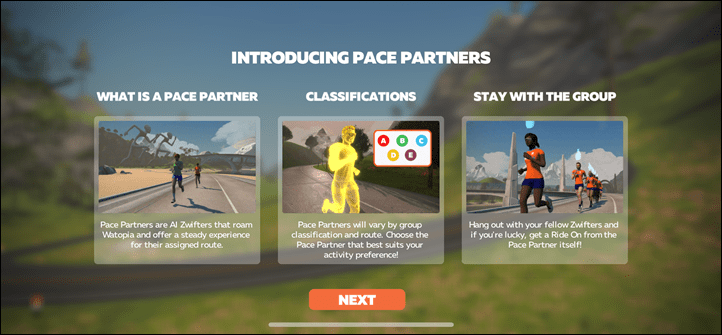 Then you can choose the pace partner that best matches your ability: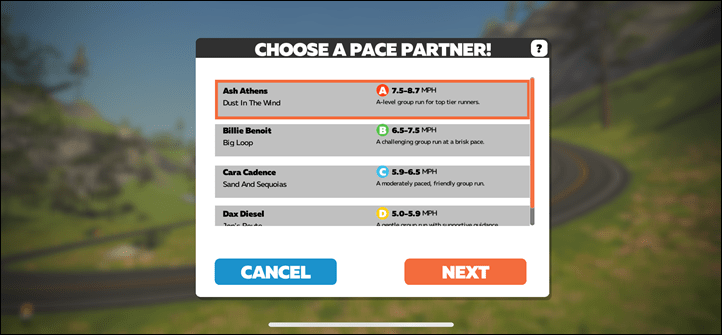 Interestingly, on Zwift's release notes, they narrow it down to a very specific pace:
Alton Able is an A category runner who will keep a spirited pace of 14.6kph/9.1mph (4:07/km, 6:36/mi) around the Dust in the Wind route.

Billie Benoit is a B category runner and loves the Big Loop route, targeting a speed of 11.9kph/7.4mph (05:03/km, 08:06/mi).

Cara Cadence is a C category runner holding a speed of 9kph/5.6mph (06:40/km, 10:43/mi) around the Sands & Sequoias route.

Dax Diesel is a D category runner who feels most at home on Jon's Route at a conversational 7.2kph/4.5mph (08:20/km, 13:24/mi).
And that specific pace was my experience as well tonight. There was no actual range or oscillation. It was just a flat as-is pace. For the 'B' category that worked out to exactly 7.3MPH the entire time. But more on that in a second. First, I found it interesting that on Apple TV the fastest pace was named Alton Able, while on iOS it was named Ash Athens:
In any case, after confirming your selection, you'll see the pace partner you've selected show up down below: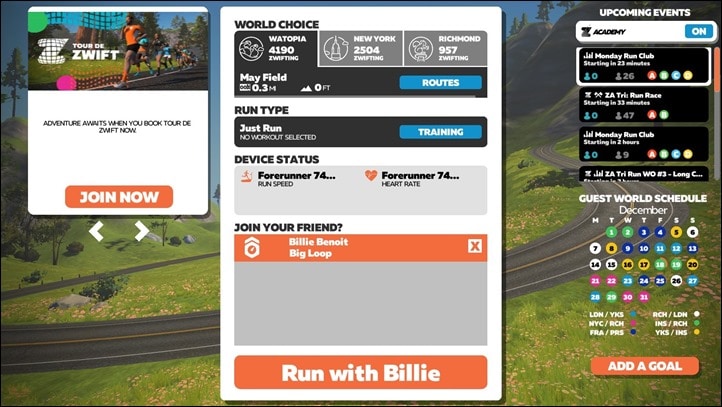 This would be an ideal time to start your warm-up. Because once you click to start running, you'll immediately join your pace partner with no forgiveness on pace. Speaking of things that would be ideal – it'd be great if Zwift would show the pace partner's speed range again here (or, just the actual current speed), that way I could match that on my treadmill and not have to try and remember the exact speed or range again.
Once you've started you'll be running along next to the colored translucent ghost of your choosing. For my first run that was with Billie Benoit: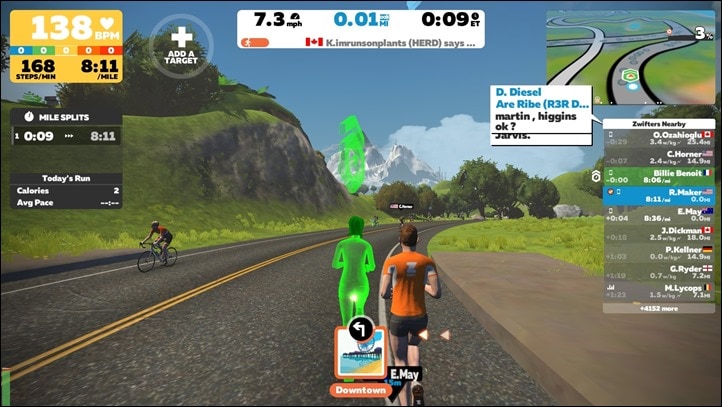 Initially there were exactly zero other people running with me. But after about a mile another woman joined us for perhaps a mile before leaving:
And that's probably to be expected for now. The feature literally just launched a few hours ago, and unlike cycling with often tens of thousands of concurrent cyclists, the number of concurrent runners is far less. Then the number of people who would run that very set/specific pace even less again. Still, my guess is that give it a few weeks and we'll see it increase.
Once cooking along there are a few notable differences to Zwift's cycling pace partners:
No shifting of pace: On the cycling side the pace partner meanders within the pace range (w/kg), however here that never happened. It stayed exactly the same – even going up and down hills.
No Drop Bonuses (points): Unlike the cycling side which awards you bonuses for staying close to the pace partner, that doesn't exist on the running side. Though I suppose given the pace doesn't actually change, it's basically just setting your treadmill for that pace and as long as your legs/lungs hold up – there's little tactical attention required compared to the cycling side where you're constantly oscillating pace/speed/output as well as navigating the draft effect.
Yet there are also things that are the same:
Routes are static loops: Each pace partner operates on a known loop, day in and day out. The assignment of partners to loops doesn't change – just like it never does on the cycling side. This is an area where I really wish they would mix these up on the cycling side.
It's Watopia only: All four of the Pace Partners are within Watopia, and none outside of it. Again, an area I wish they'd reconsider.
After I was done running a few miles with Billie Benoit, I switched over to Alton Able, the fastest of them: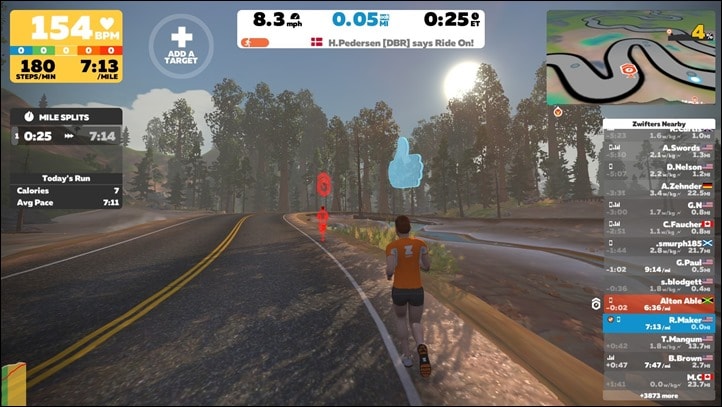 This got off to a rocky start as I failed to let my wrist-based pace (from the Virtual Run profile the FR745) stabilize/catch-up at the beginning, compounded by me trying to take screenshots/photos. I stupidly forgot to plug-in the NPE Runn on the treadmill before I started. Thus, I was playing catch-up from the outset as my pace meandered the first 20 seconds. But eventually, after some suffering, I caught back up: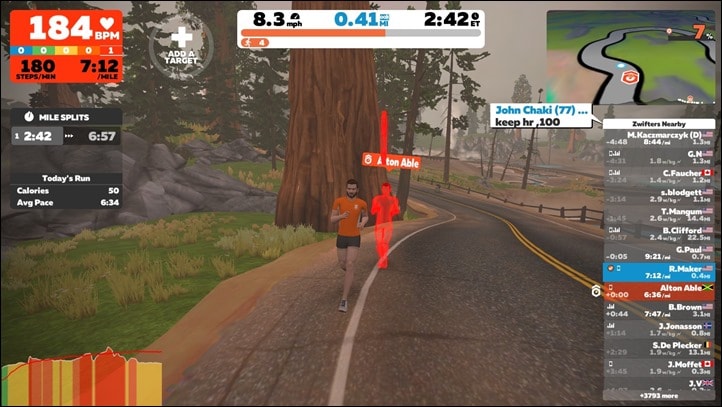 However, this ultimately made me realize (or concrete my existing thoughts on it) a bit more:
The pace ranges are super specific: Many have commented that the four pace partners have huge jumps between them in terms of pace, and that's definitely true. For me there wasn't really a good option. The 'B' pace partner was too slow for a long run pace, while the 'A' was far too fast for such a pace. While the 'A' Pacer was more ideal for a tempo-run pace for me, that ran into the next problem (more on that in a second). Not to mention the gap between B & C is even greater than A & B. For most runners, a 30 second/mile pace swing is a huge amount. So to have minutes between the pace groups is kinda big.
Inability to warm-up: Since you start each partner, literally, running out of the gate, there isn't a warm-up concept here. Sure, you can do as I did the first time I started and do a warm-up before hitting start on Zwift. But doesn't that kinda defeat the purpose of logging miles in Zwift? And sure, you could also do a throw-away session, but again – nobody wants to upload a disjointed run session. Ideally there would be something akin to a starting pen option, allowing you to warm-up and get credit for it, before hitting to join the partner.
The same challenge with intervals: Since we've established that pace partners are basically static paces, that means they're only ideal if your planned run is exactly that pace. Whereas for intervals or other structured workouts, they don't convey. And that's fine too – this doesn't have to solve every problem. But, it would be cool to see the same concept as rubber banding in workouts where basically you could enter a recovery interval and not lose the pace partner forever. Again, I don't have a specific programmatic solution here. I'm just pointing out my first impressions on using it.
And while one could try and imply these same problems exist on the cycling side – the reality is that they don't in practice. This is an area that one has to recognize that running and cycling are fundamentally different. Unlike in cycling where you have the massive impact of the draft or the bigger impact, that doesn't exist in running to anywhere near the same degree. As such, you can't recover in the draft, nor can you leverage that to perhaps go beyond your abilities with a faster group.
Which isn't to say that pace partners are bad. Hardly at all – it's just to point out that I don't think they'll be as successful as on the cycling side simply because the way people run isn't the way people cycle. Just like in real life where I find most group rides have a far more broad speed range during the ride, group runs tend to be hyper-specific and stable once they start (save an interval workout of course).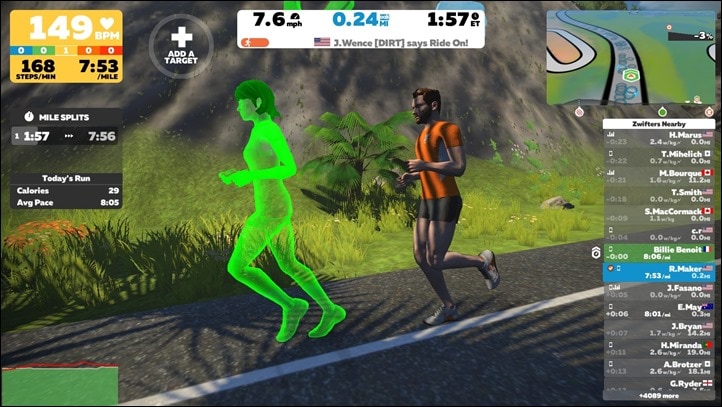 Like I said – where I think pace partners could be most valuable is actually tempo runs, where you're pushing out of your normal pace ranges, but can't quite make an existing group run fit schedule-wise. For me, the 'A' pace partner would be perfect for a tempo run, once I warmed up pre-joining.
With that – go forth and run!
Thanks for reading!