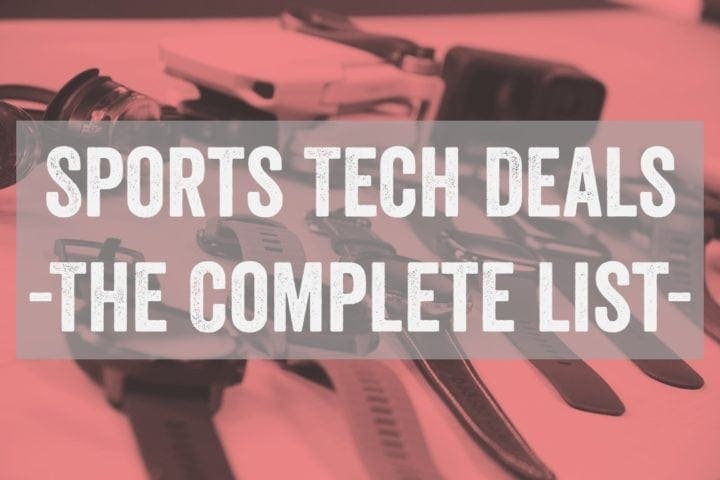 It's back again – Amazon Prime Day…err…Days. That means that most (all?) Amazon country properties are doing pretty substantial deals across the board on all sorts of products, and that definitely includes sports tech gear. This event is held each summer, usually in July, and often this day has better sports tech deals than even Black Friday does (from an Amazon perspective).
In some ways, a July sale date for sports tech items is timed perfectly. See, typically Black Friday deals are for 'older' things, rarely the 'just announced' stuff that often comes in the late August to October timeframe (especially cycling trainers and watches). But with Amazon Prime Day being in July, there's more opportunity for brands to put things on sale for a one-off summer day. Typically speaking though, don't expect to see things on sale that were announced this year.
To take advantage of Amazon Prime Days you simply need to be an Amazon Prime member. The good news is that you can sign-up for the free trial and cancel later if you don't find value in it. Just hit up this giant banner below to do so:
I've organized all the best sports technology Amazon Prime Days deals (and a few others I've found) below in the tables by category. I'll be updating them throughout the next two days. Keep in mind not all deals last (in fact, most don't). So if you see something that's hot, I'd strongly suggest buy now (and return later if need be).
With that, onto the deals! And thanks for supporting the site via the links below. As an Amazon Associate I earn from qualifying purchases. Enjoy!
Europe Folks Note: This year almost *ALL* of the watch/cycling deals you'll see in the main lists are available in Europe too! So you can click on those links and it'll theoretically redirect to the correct Europe store. For the most part, the %-off are the same (a first!). I'm also adding in Europe-only/unique deals to the bottom Europe section too.
Watches & Wearables:
This covers anything you can wear that's watch-like or activity band-like, including sensors.  Generally speaking, you'll mostly find deals here that are on things I've written about in the past.  So you won't find a deal on some random non-sports tech watch here, or on socks. Unless the socks have some crazy sensor or something in them.
There are no deals currently.
Cycling Gear & Trainers:
Got a bike? Then this section is for you.  Everything from bike computers to bike lights to trainers, it's all here.  I won't generally be adding things like brake cables or bike seats here, but if I find a good deal on a cassette to stack on that new direct drive trainer you just bought, I'll probably list it here.
There are no deals currently.
Action Cameras & Drones:
Wanna record it?  No better way than an action camera.  Anything that's action camera-related or drone-related you'll find here.  That's especially true of action camera mounts, which are often found for great deals around the holidays.  Same goes with drones and drone accessories.  Usually a great time to pick up an extra battery or extra props.
There are no deals currently.
Other Sports & Fitness:
Anything else that's sports and fitness related that I think is interesting will be here.  It may not be super techy – but it's stuff that most readers will be using in pursuit of their running/cycling/swimming/hiking/whatever.
There are no deals currently.
European Deals!
What's that? You're not in the US and still want a deal?  No problem!  Note that on Amazon Europe deals, generally speaking, you can order from any Amazon European country site (i.e. Amazon France) and have it shipped within the EU (i.e. Spain). Thus, many times deals are duplicated across the sites. I generally try and just distill it down to one.
Remember these deals refresh each day for the most part, and usually only last a few hours. Jump if you see something you like!
There are no deals currently.
DCR Random Gadget List:
This is basically the mostly totally unrelated gadgets and things I think are cool deals that I've likely bought one or five of (you can never have too many, right)?  Some of it's probably photography stuff.  Some of it's random stuff like chargers and battery packs that I use daily, fun camera gear I use to make videos like sliders and turntables, and well…just random things you'll find around the DCR Cave.  It's all random…but it's all awesome randomness!
There are no deals currently.
With that – thanks for reading, and for supporting the site via the links above.