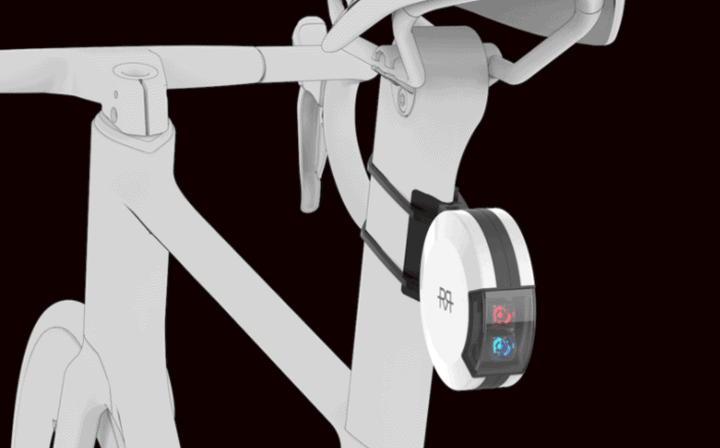 When it comes to triathlon, there are basically two core types of races: Those that permit drafting, and those that don't. If you watch the Olympics, you see short-course style racing, that permits drafting. Whereas if you watch an Ironman race (such as the World Championships usually held in Kona), then you see non-drafting triathlon, where athletes have to stay separated out of the draft zone (usually about 12-meters long). An athlete can pass another athlete but has to do so within a specified period of time (e.g. 25 seconds), else they can receive a time penalty.
In general, most triathlon events that age-groupers participate in globally are not draft legal. Meaning, you can't draft. Draft-legal triathlons do exist for age groupers (such as this one I've done in Paris a few times), but they're somewhat rare (likely because most triathletes aren't great at riding in packs at high speed).
When it comes to long-course triathlon (like an Ironman race), where drafting isn't legal, it's penalized when an official sees the action occur. Officials roam on the back of motorcycles through the route as best as possible. But most races will only have a couple of officials on motos, for a course that can be upwards of 112 miles in length (less if loops are done). This makes it virtually impossible to catch all drafting infractions (or catch even a small fraction of them). As a result, purposeful drafting (aka cheating) is widespread in triathlon, especially in larger events where draft packs will occur*.
RaceRanger aims to change that with a new system targeted at event organizers that puts sensors on bikes to not only police the race, but also provide athletes with feedback on whether or not they're in the draft zone, and how long they have to get out of it. It's a problem that has vexed triathlon for decades, but this seems like the first viable tech solution for it (some have attempted cameras previously, but only overhead/drone cameras could correctly account for showing separation distance over a multi-hundred meter stretch of roadway).
(*Yes, some courses have non-ideal portions that essentially create areas drafting has to occur due to the number of athletes – such as the start of the race. Hang tight, I explain how the technology handles that in a second.)
The Technology: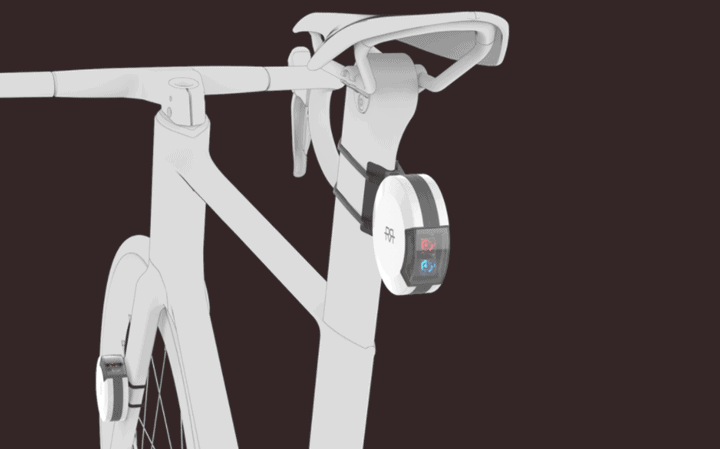 The RaceRanger system is comprised of two sensors, which would be loaned to the athlete in their race bag (just like a timing chip is). One sensor goes on the rear of the bike below the saddle, and the second attaches to the front fork (both seen above). They use the industrial-strength and reusable zip-ties to attach. The two devices work together to fork the network on a given athlete's bike, but also to talk to other bikes passing by.
The rear device (above) has lights on it, which communicates the draft zone status to the rider trying to pass you (more on that in a second), thus there's no reason for a rider to look at their own lights for regular passes. They're looking ahead, at the person they're trying to pass. Meanwhile, the front device also has lights too (and a speaker). Those lights are used to alert you that you've received a warning or penalty, in conjunction with an audible noise from it.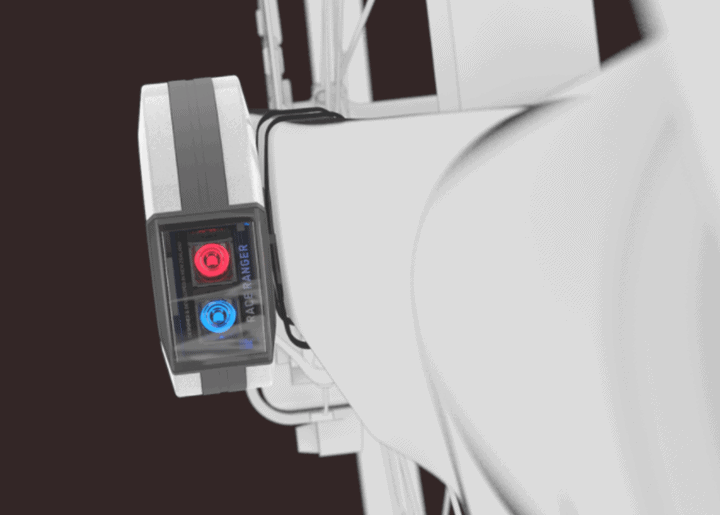 Prior to race day, the units hang out in standby mode. But on race day, the units programmatically power on, and the company says they have enough battery power to last the entire day for the slowest allowable time of an athlete at a long-course iron distance event (17 hours). It'd be up to the race organizer to do the charging of all the units ahead of time (wirelessly). Note that while the device would of course have an aero penalty, that penalty would be the same to all athletes (just like a race bib), thus, it's basically zero-sum there.
Out on the course, as two riders get closer, the units start communicating with each other. This is done via Ultrawideband (UWB), Bluetooth, and LoRa. Though the units contain an alphabet soup of technology, including also GPS, NFC, accelerometers, and wireless charging. At present they don't contain cellular technology, though it sounds like they've got some ideas in that realm. In fact, the devices are circular in shape as a way to bend the four antennas around the device (GPS, UWB, BT, Lora).
Once the following (rear) rider enters the draft zone, the light signal on the bike *in front of them* changes to a red rapid flashing light. The company says their technology is accurate within 10cm, thus more than enough to enforce the 12-meter long draft zone for an Ironman event (or even a 7-8m long zone as some other events have). Here's a screenshot from their detailed video they have:

As the following rider completes the pass the lights switch to blue. And then at that moment, the roles reverse. The now-passed rider is in the draft zone and needs to fall back out of it (within the allotted time, 25 seconds in the case of an Ironman event).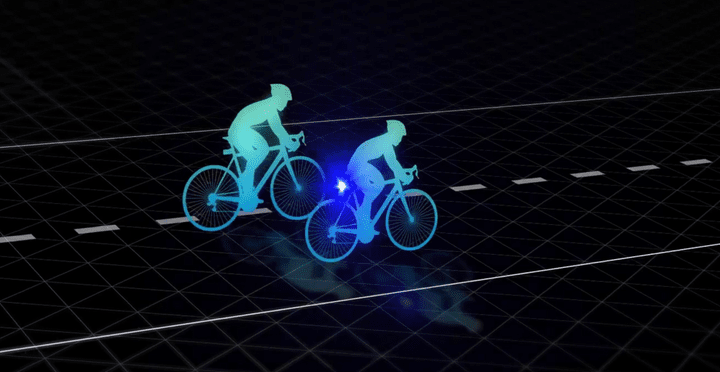 Should an athlete not complete the pass, then the system logs that, and transmits it to the official.
This is where things get pretty interesting. The official can be upwards of 5KM from the athlete when the information is transmitted to the tablet: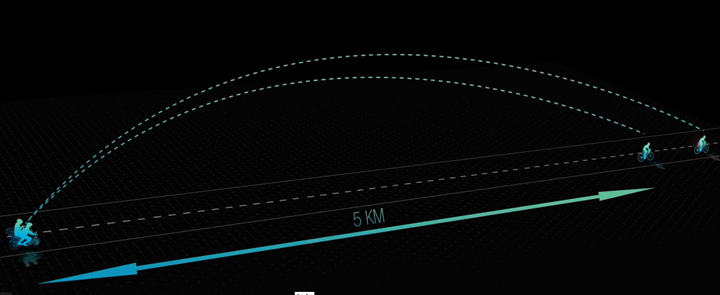 At that point, the system has the flexibility to do a myriad of things, depending on how the governing body or race organizer sets it up. It could automatically give the athlete a penalty, or, it could notify the official that there's a given athlete that's worth going to and following for a bit (to perhaps hand out a manual penalty).
In fact, the system also tracks so-called 'yo-yo' attempts. Where an athlete enters the draft zone constantly but doesn't actually make the pass. In triathlon, once you enter the draft zone, the only (legal) way out of the draft zone is by completing the pass. Else technically, it's a penalty. Of course, there are scenarios where the lead athlete could get penalized (such as purposefully blocking the passing athlete). And that's where the system is probably best run in a manner that aims to make athletes give thought, rather than instant penalties. The official is never shown the name of the racer, just the race number. This allows them to look at that list and say "Huh, Racer #423 has been in the draft zone illegally 8 times today for an average period of 72 seconds each time, maybe I'll go follow them for a bit". The tablet is sorted by distance to the moto.
Still, if run in the instant-penalty realm, then the offending rider will get an audible alert, as well as a flashing yellow pattern of lights on their front sensor at their fork: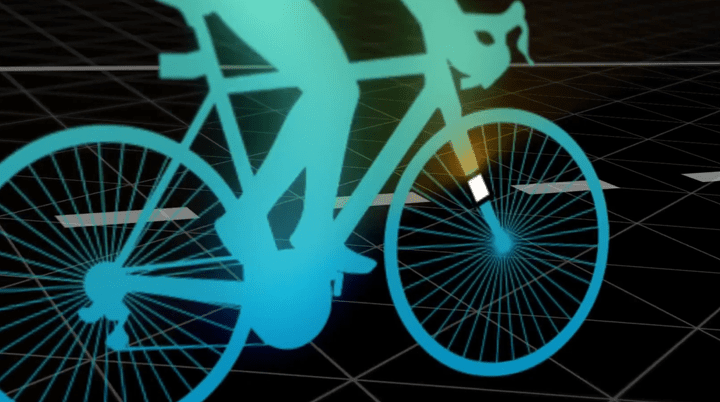 And then later, as they pass by a penalty tent, the system will automatically show the athlete that they have a penalty: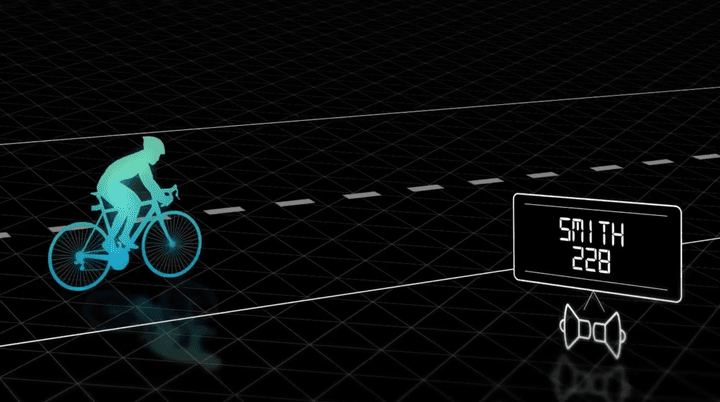 Oh, but you just wait. Not only does the system detect the original draft penalty, but the penalty test itself detects the exact time the rider is serving in the penalty tent itself. Thus counting down the time until the rider is allowed to leave. This sounds crazy, but it makes sense – after all, it's pretty easy to detect that in this case.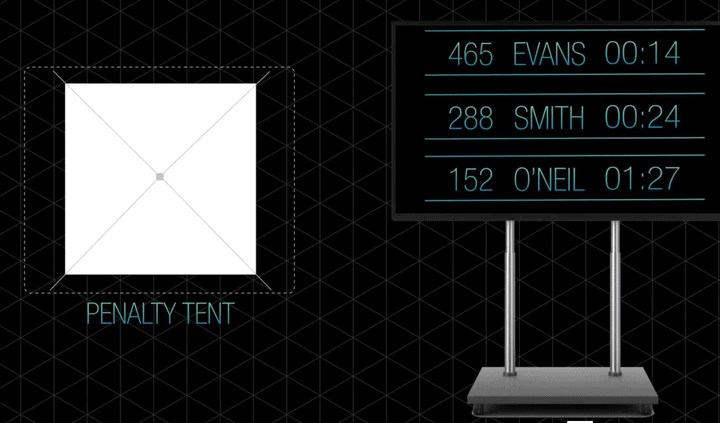 Now RaceRanger says they understand that many races have sections of the course that make it virtually impossible to avoid drafting. For example, the start of a race is a common area where drafting can be challenging to avoid, especially in a mass start event. The same goes for steeper climbs, or even mandated slower sections of a course (some steep twisting descents). For that, the system can assign no-policing zones (seen in yellow below)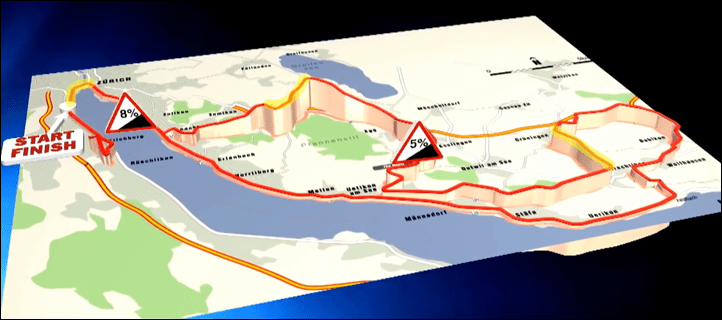 And even with those zones, the company notes that it won't solve every scenario on every course, saying:
"Ultimately, RaceRanger is not a silver bullet to the issue of overcrowded race courses. The responsibility lies with event managers to address this issue, as it does today."
Down the road, the company also sees the value of live tracking, given the GPS onboard. Not just for spectator tracking, but also for live broadcast scenarios. We've seen a rotating door of companies trying to provide not just triathlon, but cycling too, with live-tracking functionality that scales across vast courses with huge numbers of riders. To date, most of those companies haven't survived more than a couple of seasons. Unlike most other sports technology, the device purchase here isn't targeted at the end-consumer, but at the event organizers. That in turn makes it a trickier play.
Now before we talk next steps, I've gotta give this company credit for putting together what is *BY FAR* the most comprehensive FAQ list I've ever seen. Seriously, you have to check out how detailed this list here is, including my favorite on what happens if you like to draft: "Tough biscuits my friend."
Next Steps: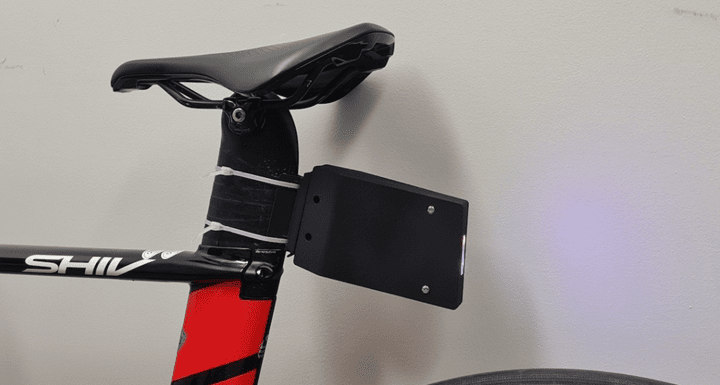 So all this sounds great in practice, but, in an equally food-related analogy: "Where's the beef?"
Does it actually exist? The company says yes. They've been building out the platform bit by bit for over 6 years now, you can see one of the prototypes above.
They plan is to start trialing it in races in January in New Zealand, where they are based, for summer triathlon events. From there, based on rider, event organizer, and sanctioning body feedback, they'll make tweaks. And then ultimately they want to start full-scale manufacturing in the second half of the year. They note that there are areas they just need real-world feedback on, such as what athletes think about the light system after sitting on a bike with hundreds or thousands of others and lights for 5 hours. Additionally, they know that some countries don't permit blinking lights on roadways, as an example of an item still to sort out.
However, the company got a boost yesterday with an endorsement from World Triathlon, the governing body for triathlon announced support of it, including having assisted RaceRanger in testing and development:
"World Triathlon is one of the most progressive and innovative sporting organizations in the world, and we have proved this approach multiple times. With this agreement with RaceRanger we want to make the athlete experience better, providing new technologies that will increase the fairness of the competition for all athletes, especially the ones competing in longer distance formats", said World Triathlon President and IOC Member, Marisol Casado. "I am really proud of our involvement in bringing the RaceRanger project to life from the beginning, supporting new ideas and technologies that will help develop our sport and make it even more accessible for all in the near future"
I could also see though this technology being acquired by one of the race companies out there. Assuming it works as described, it'd be a significant competitive advantage to have this supplied at races. I could easily see competitors looking at something like this and saying "Oh, Challenge or Ironman has RaceRanger, thus, I know the drafting will be significantly less there."
I could also easily see a Garmin or other sports tech company picking up this technology to license (and I'm sure there are countless other non-triathlon use cases as well). Either scenario would likely increase the chances of commercial (and technical) success here, simply due to added funds and visibility.
Ultimately, the company says their "roadmap has us on track for full-scale use in mass age group fields of up to 3500 athletes from April 2023". Hopefully, that turns out to be the case. I'd say this is one of the coolest and most interesting sports tech things I've seen this year, if not in a few years.
With that – thanks for reading!