It's pretty rare that I'd ever have two race weekends back to back, but with the Eurocup being hosted in France this year, the city of Paris has moved virtually all non-Eurocup athletic events out of the June 10th to July 10th timeframe.  Thus how I ended up racing the Versailles Triathlon the weekend before, and the Paris Triathlon this weekend.
No worries, I still had a blast – let's get into things!  Oh – and if you want to skip all the reading, here's a fun 360° video I shot during the bike segment:
Ok, back to the reading and photos!
Pre-Race: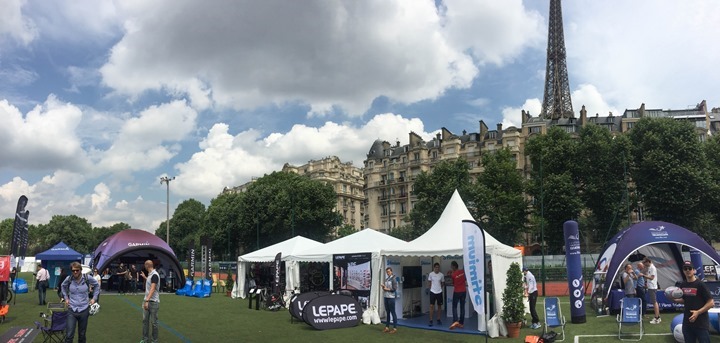 The race is a point to point course.  It starts off in a basin just outside of Paris proper on the eastern edge.  After swimming there you'll jump on the bike in T1 (Transition 1) and cross the entirety of Paris (and back) before ending up at the Eiffel Tower.  It's here that you'll hit up T2 and switch to running.  Additionally, it's where the finish line and expo/packet pickup area is.
So I made my way down Saturday mid-day to pickup my race bag and drop-off my running shoes.  You had to leave those there before the race on Sunday.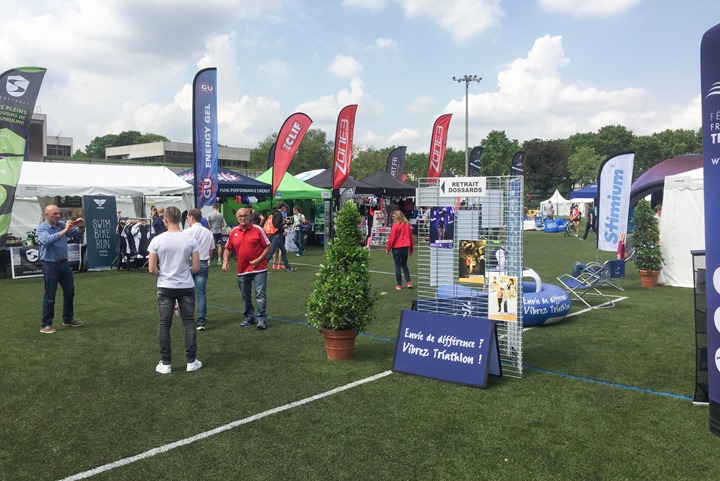 The whole process was nice and quick and only took a few minutes.  It was also useful in that I was able to see my bike spot the day before (versus if you had gone Friday, you didn't know where your spot really truly was).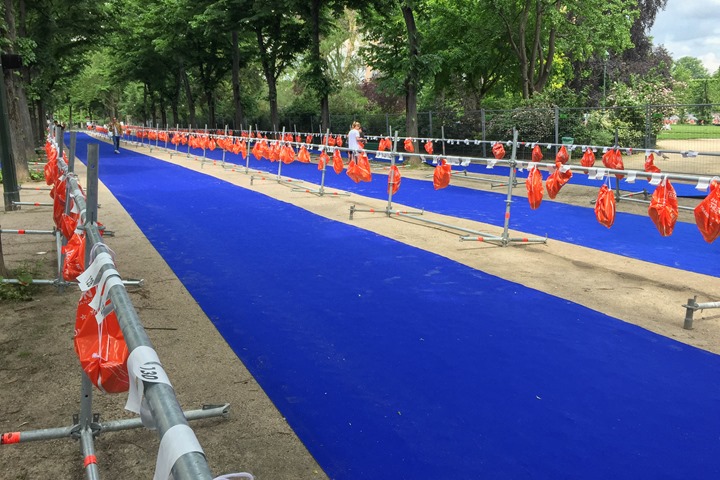 With that done, we'll fast forward to Sunday morning.  I jumped on the RER-C train a block away for the short 15-20 minute ride. From there it was perhaps a 1KM ride via bike to the staging area.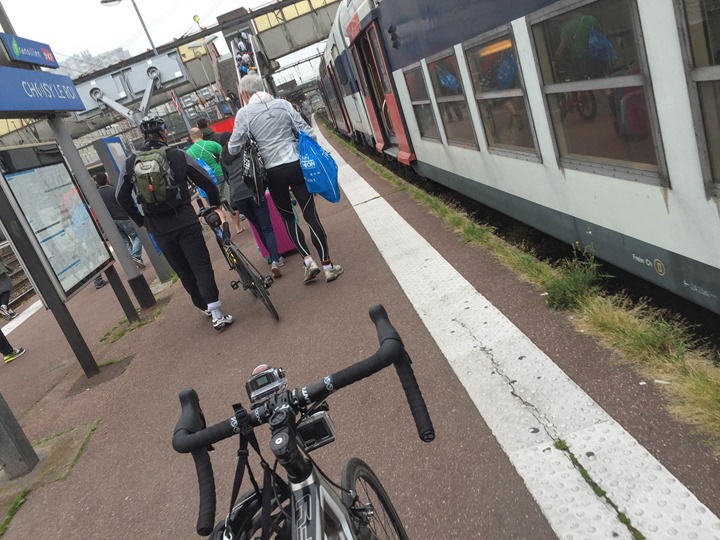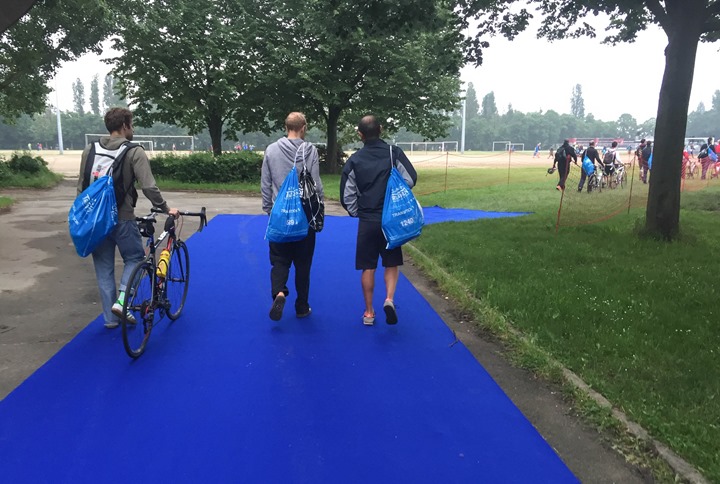 Once there I passed through the officials check station and my bike was good to enter.  However, a man in front of me was having a very sad-panda moment finding out he couldn't race with longer aerobars.  Last year we actually saw two people trying to disassemble high-end triathlon bike aerobars on race day.  Eeks!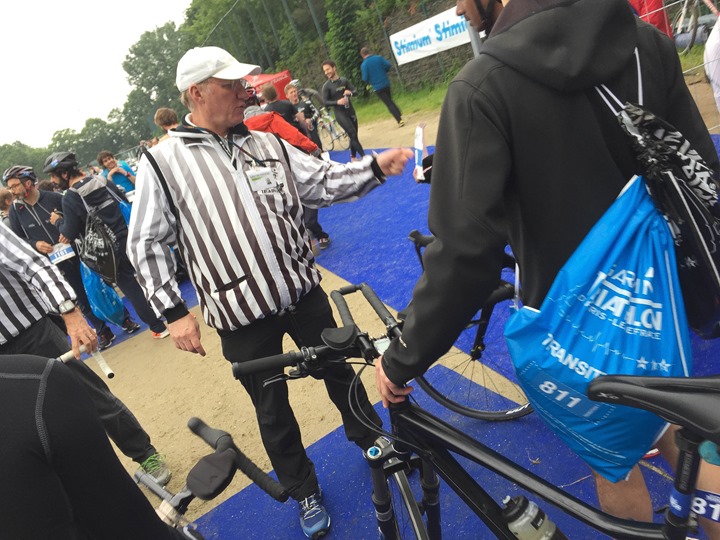 I got my spot all set up, which only took a moment.  Given it was point to point, there's not much here except for a spare bag to toss your wetsuit in.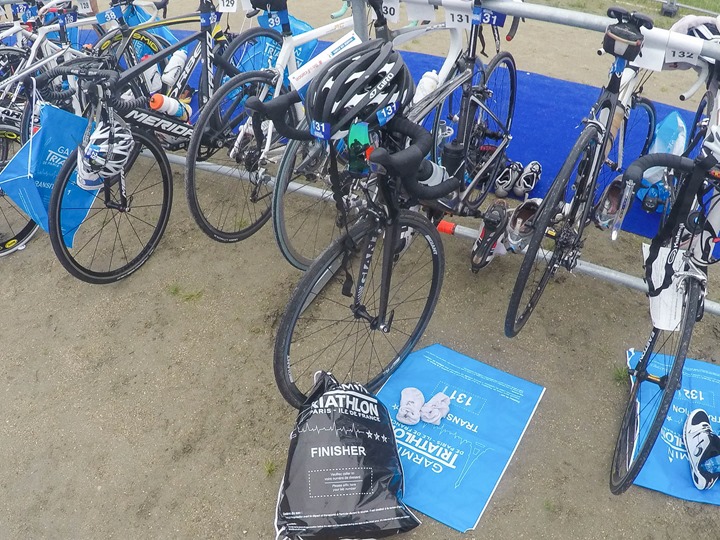 But first – let's talk cameras!
I had rigged up the bike with three cameras.  Two GoPro Hero4 Black cams recording front/back.  These were both on K-Edge mounts (under seat and forward bar mount).  Then I had the Kodak SP360 4K 360° cam mounted up front as well.  I inverted a second K-Edge mounting bracket to get it a bit lower down.
Oh, and then I also tossed a GoPro Hero4 Silver in my wetsuit to take pictures for the swim, and eventually on the run (I'd stick it in my back pocket).
With that – I ditched my finish bag with the Junior Fireman and made the 1KM walk to the swim start.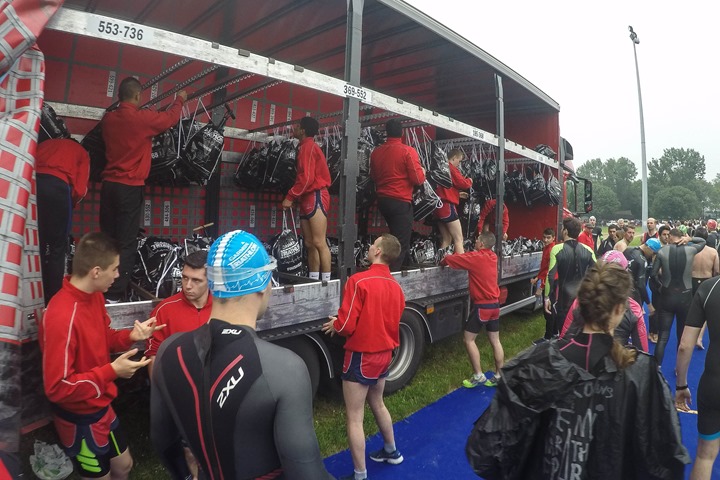 Dear other Paris races: Please hire/pay/bribe/whatever these guys to handle your bag process.  So much better than any of the other running races by a million times over.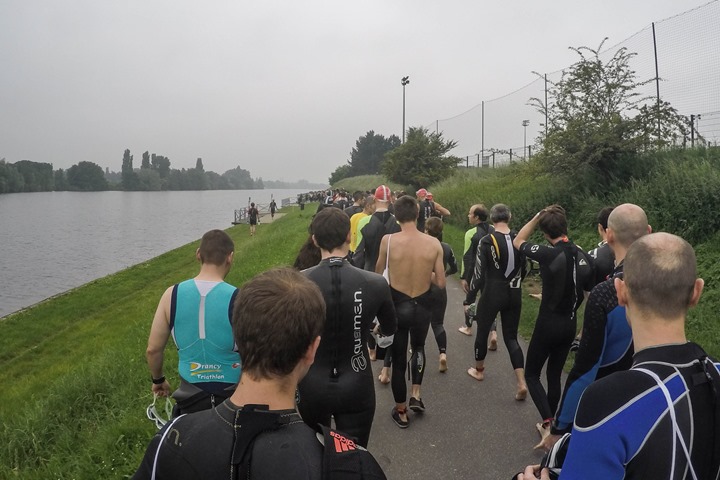 You end up finishing the one-way swim close to transition, so you have to walk to the start.
The Swim: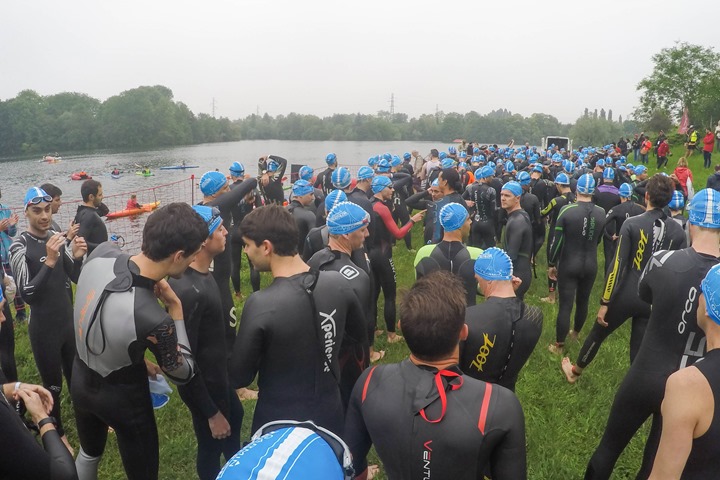 With the walk to the start all complete it was time to hop in the water.  I was in the first wave, which was the licensed men.  It appeared to be a few hundred or so guys.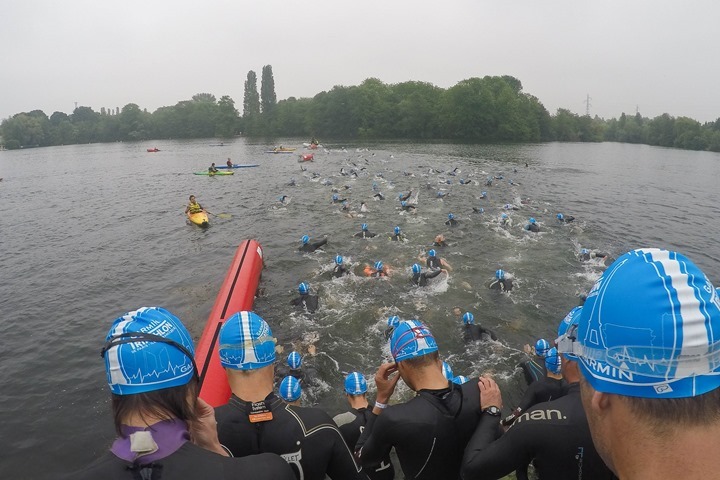 The most important trick to this swim course is not starting where you get in the water.  But rather, using the 2-4 minutes you have before the gun triggers to swim across the basin to the other side.  There are three reasons for this:
1) It's a good warm-up
2) It reduces the distance you have to swim by about 100m
3) It reduces the swimmers around you significantly
This is all because when you exit the swim some 1,500m later, you'll exit on the opposite side of the basin.  So you can either swim that distance ahead of time, or swim it while the clock is running.  Seems an obvious choice to me.  And not just to me, but also to a DCR reader that I chatted with three seconds before the starting gun.
Oh, and with that – we're off!  As usual here, no count-down.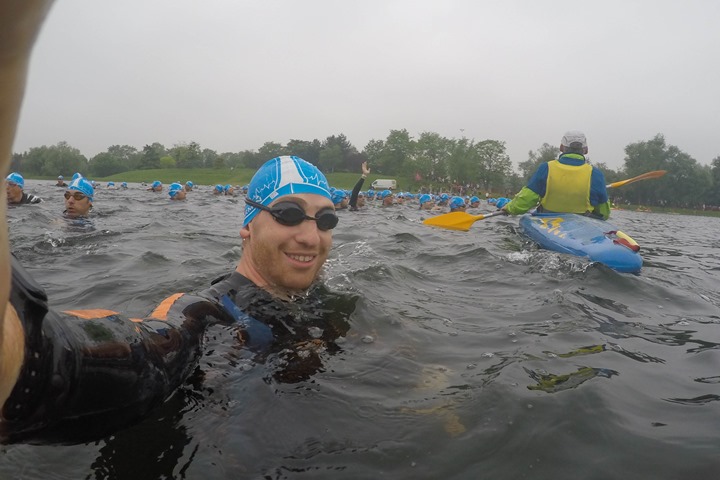 Unlike the Versailles Triathlon a week prior, I was pretty clear of people here.  So it was a rather calm start.  Sure, a handful to swim around, but I was able to get right into the groove of things.  Also, being closer to the wall it made it easier to sight off the wall, rather than constantly sighting forward (though, you still do plenty of that).
The swim is of course still my weakest sport of the three.  In large part because I (purposefully) spend the least amount of time on it.  That's OK though, at least I can still swim mostly straight – as evidenced by my GPS track: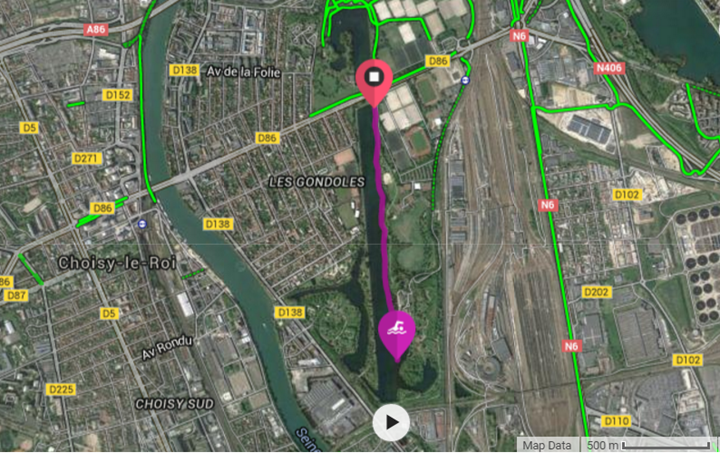 The swim went by pretty quickly for me.  I had simply divided it up into three 500m chunks, and each chunk was coming in at about 8 minutes.  Slow, by front of the AG pack standards for wetsuit legal, but I was content with the stability of my pacing, each segment being pretty consistent.  Plus, I'd rather put more of that energy into the bike and run.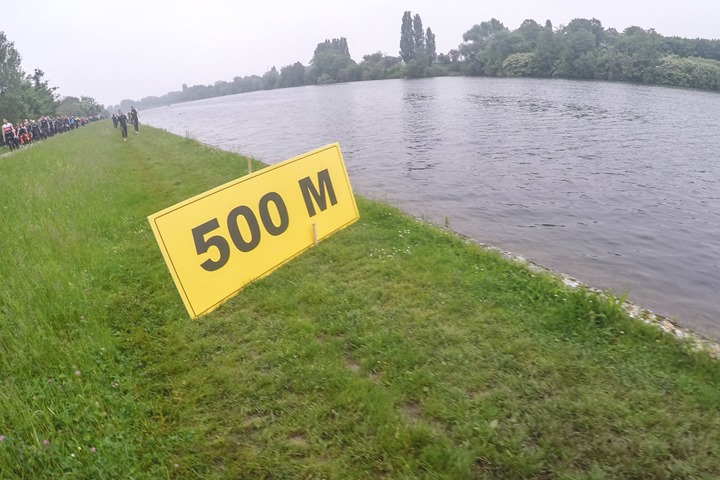 Some 25 minutes later I exited the water.  For some odd reason my timing chip didn't trigger upon exit of the water, though did upon exit of T1.  No worries, here's a picture I took while running: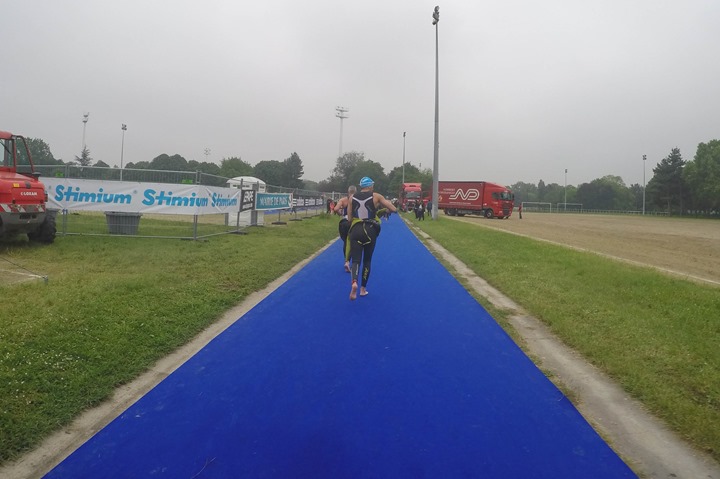 The transition area is pretty vast.  You've got a 200-300m run just to get to the entrance of transition.  Then from there it's another 100-150m across transition where you pickup your bike along the way.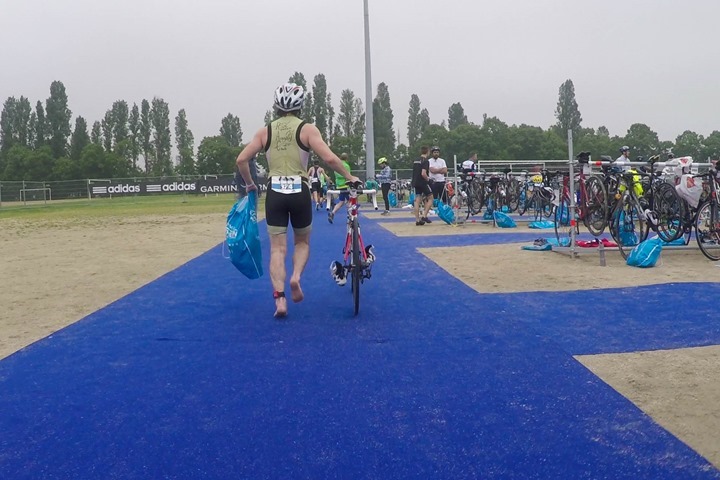 Finally, you've also gotta drop off your swim bag at the exit to the Junior Fireman in the red shorts.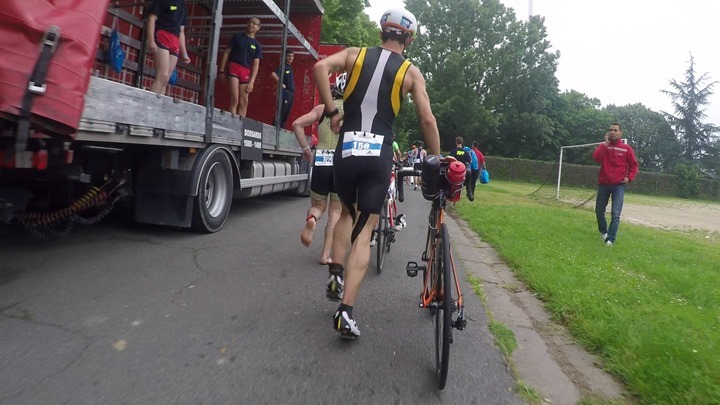 With that, it's pedaling time!
The Bike:
Like many shorter distance (Sprint/Oly) events in France, the bike is draft-legal here.  That means that you're disallowed from using longer aerobars found on dedicated triathlon/TT bikes.  And of course it means you draft on the bike.
In many ways it's a totally different sport – sorta like running a steeplechase race is totally different than that of a normal 10K race.  Sure, they have common elements – but tactics change a lot.  In the case of draft-legal triathlon, it's critical to get with a group.  But it's equally as important to not become complacent and stay with a slower group too long.
With my less-optimal swim time it would mean that I'd be coming out of the water behind people that would be of more equal or greater biking capability to me.  Said differently: Many of the faster bikers were ahead of me.  So, I'd have to work a bit harder upfront to try and find others that could work together.
For the first 5-8 minutes I didn't really find many good candidates.  Everyone was slower than my desired 25MPH (40KPH) threshold.  Basically, if I was going slower than 25MPH, I needed to find a new group.  Equal to that I'd stay with the group and try and conserve energy.
It was as I was hop-scotching to the next group ahead around the 8-minute marker that I decided to just wait to catch-up to them once I got on the bridge.  The slight uphill to the bridge seemed tiring to me since I was already pushing 350-400w at the time trying to catch them, so I just figured I'd catch-up after the corner.  Turns out that was a great decision.  As this happened next: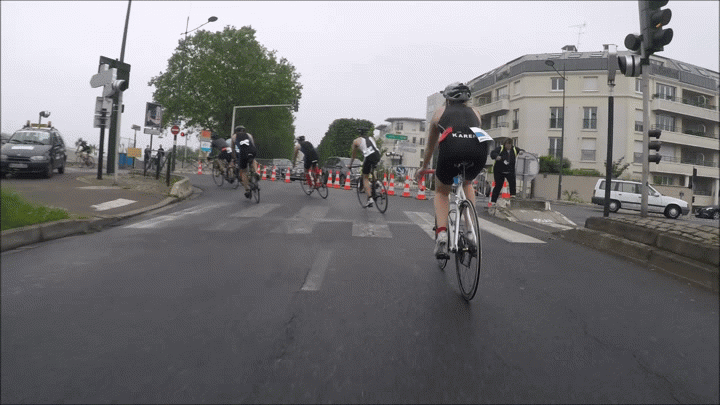 Phew!
Given the rains, the roads were slick, especially on corners.  There were plenty of crashes to be found.
A bit after that I found another group that I stayed with briefly, but then too left them behind.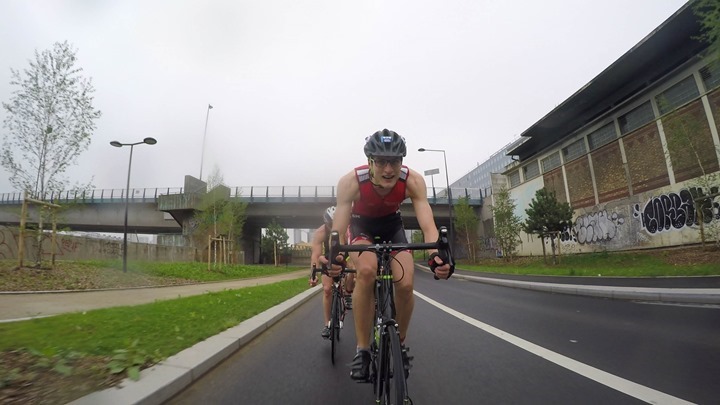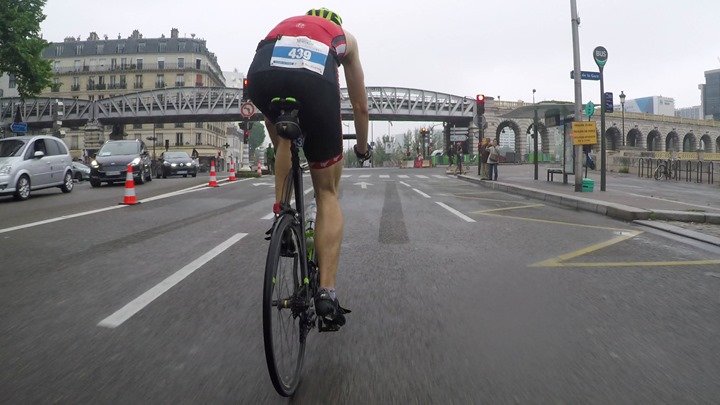 In fact, it wasn't until almost the Eiffel Tower – some 30+ minutes into the bike portion of the race that I found a group that worked for me.  Ironically, it was being led by one of my Expatriés Tri teammates, Luis.  Along with another team member, Cesar.  Perfect!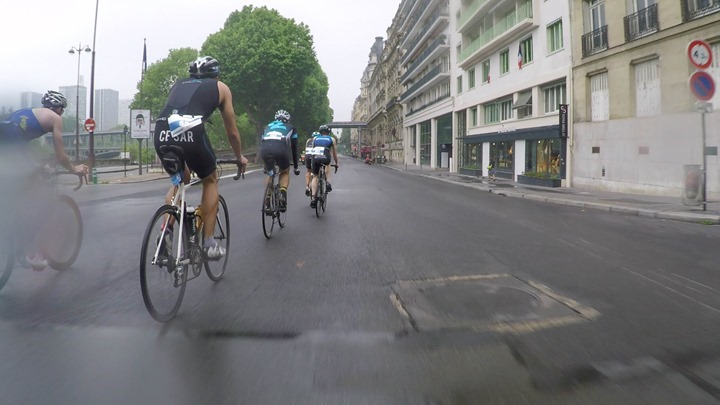 I quickly latched on and we started rotating through.  It was during this that it became clear why I caught them: Many French won't do the hard work.  Or at least, many French triathletes.
I noticed this trend in past races, but wasn't sure if it was just because I wasn't in the licensed division.  But it was super clear in this race: Almost nobody would pull their weight in a group.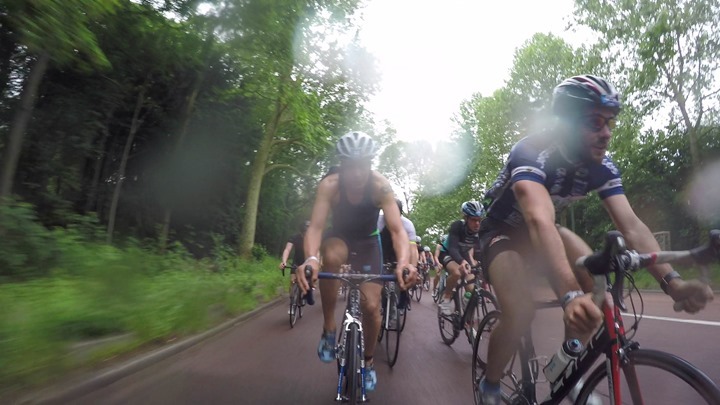 In this case, Luis and I got right to rotating through with 1-2 other guys.  But there was 15-20 people behind us and almost none of them would pull for even a few seconds.  It's funny, as it's not a hard concept: The team goes faster as a whole if more people take turns – even if briefly.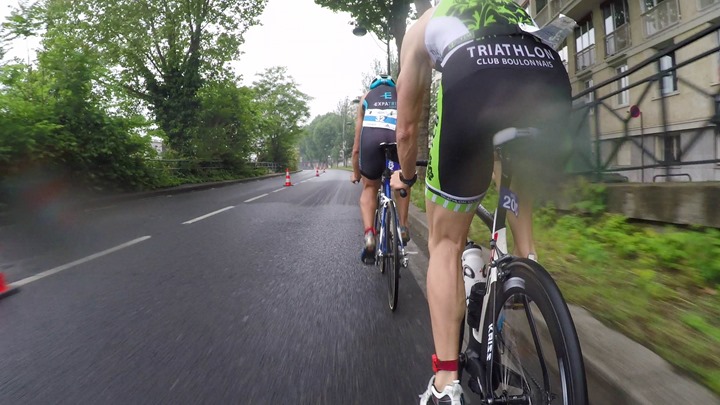 Luckily Luis and I are in the same ballpark when it comes to cycling, and this worked pretty well.  I was a bit cautious on some 90° turns, going a fair bit wider, causing me to have to catch-up.  But with people dropping like flies on wet turns (it was raining now), I figured cautious was better.  Plus, it wouldn't take more than 20-30 seconds to catch back up.
The remainder of the bike was pretty uneventful – just kept on rotating through.  When we got to the bridge between Trocadéro and the Eiffel Tower, I knew to back off.  It has a section of cobbles that I know from riding often is super slick, especially being on a turn.  The Girl was spectating there and noted numerous folks went down.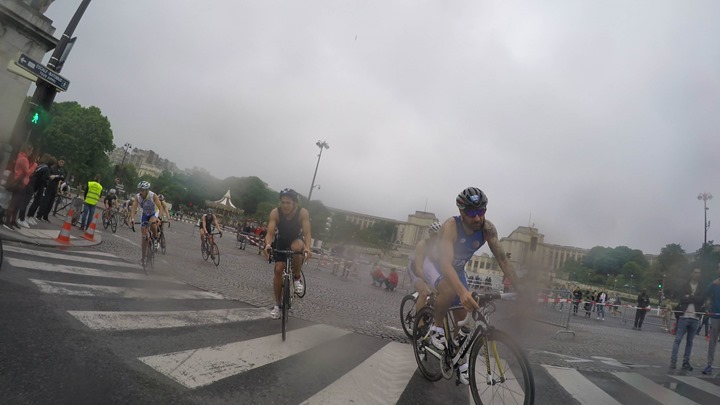 Same goes for the next turn off the bridge in front of the Eiffel Tower.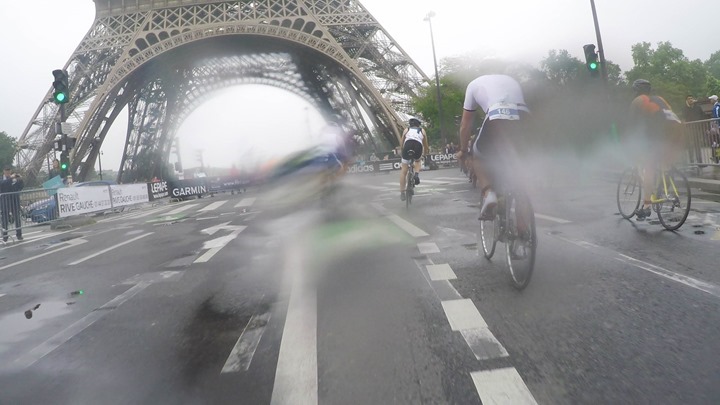 Of course this was a bit of a double-edged sword as I lost about 100m of ground on Luis, which he'd maintain and slightly extend during the run.  In any case, into transition we went: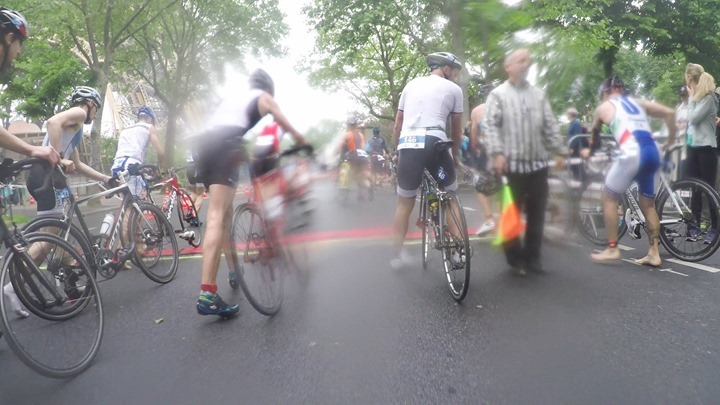 The transition zone is pretty long, I'm guessing about 400m long, and wrapped around the park under the Eiffel Tower, and exited right at the base of the Eiffel Tower.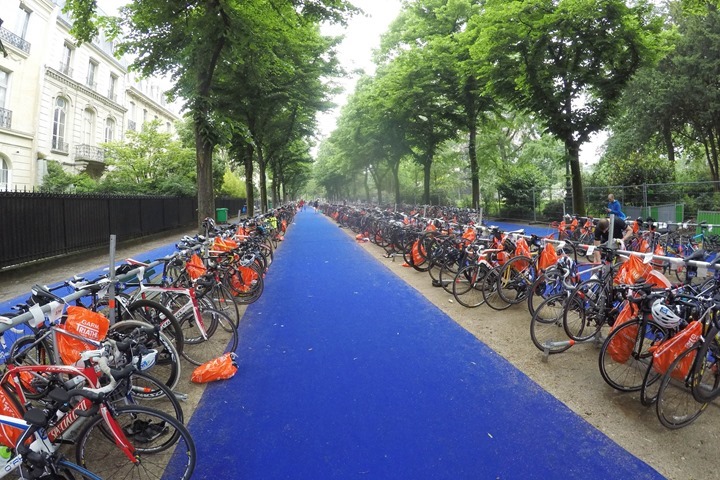 Side note: What on earth was this guy below thinking?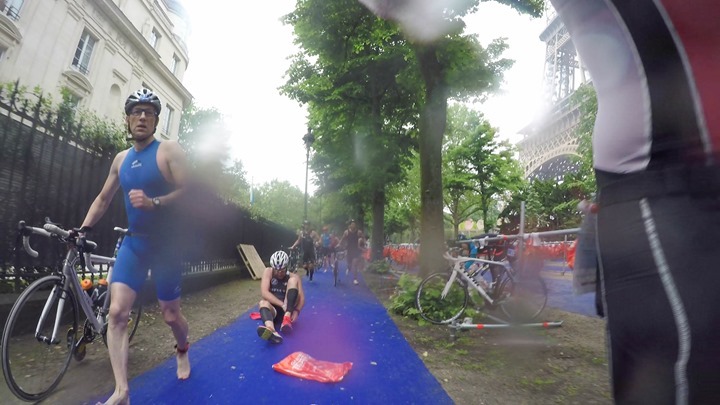 Oh, and my average speed for the bike was 24.2MPH/39KPH, with a time of 1:03:43.  In fact, my bike time was actually faster than many of the Top 10 overall finishers.  Though, some of them were likely riding it solo-cup given their positions out of the water.  So obviously that's a whole lot harder.
And in case you skipped over it above, here's the video from my bike using the 360* cam:
I mostly just used the GoPro footage for screen clips.  Too much editing work after already editing the 360* cam footage.
The Run:
Ok, time to run – finally!
This year they changed the course quite a bit.  There's virtually nothing in common with last year.  For example, last year the course was almost a pancake along the river, a sort of out and back in two directions.  This year it was two 5K loops with a gigantic hill in the middle.  Pretty much the only hill in central Paris.
But first, you'd start off running up to, around, and then past the Eiffel Tower on the tree-lined road in front of it.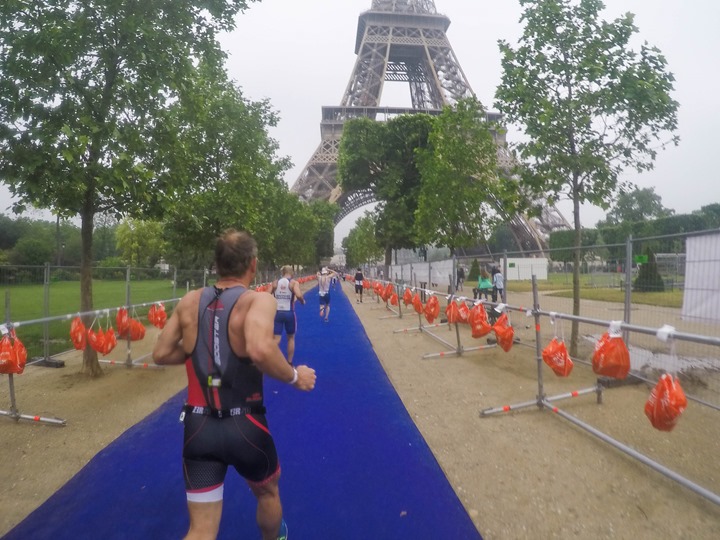 From there you turned back around and re-visited the Eiffel Tower while crossing the bridge towards Trocadéro: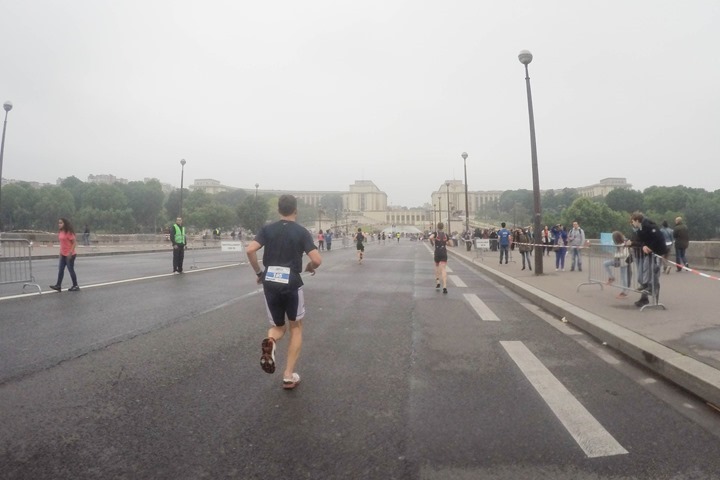 It's at this point that you pondered how much life was going to soon suck, as the hill lie ahead: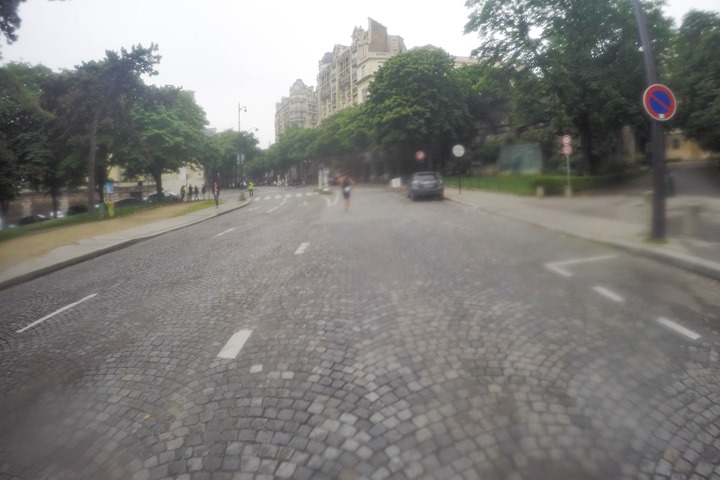 During the DCR Open House I dragged everyone up to the top of the hill, since it's a great lookout over Paris.  Except, we took the 'easy' way up – the stairs.  Whereas in the race, they took the 1KM uphill route, prolonging the pain and suffering for a number of minutes.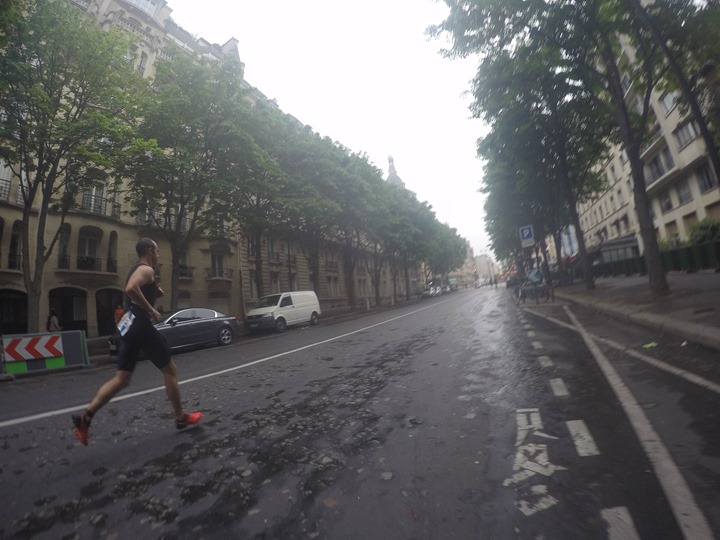 Once at the top though, you do have a good view looking back to the Eiffel Tower.  From there it's back downhill.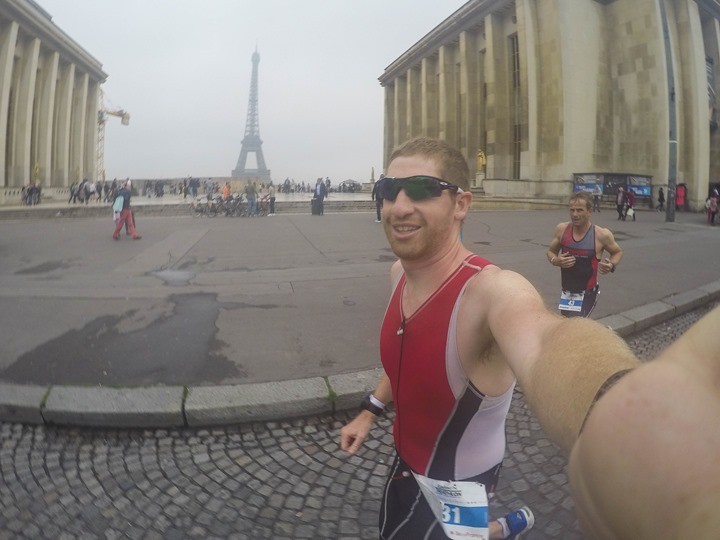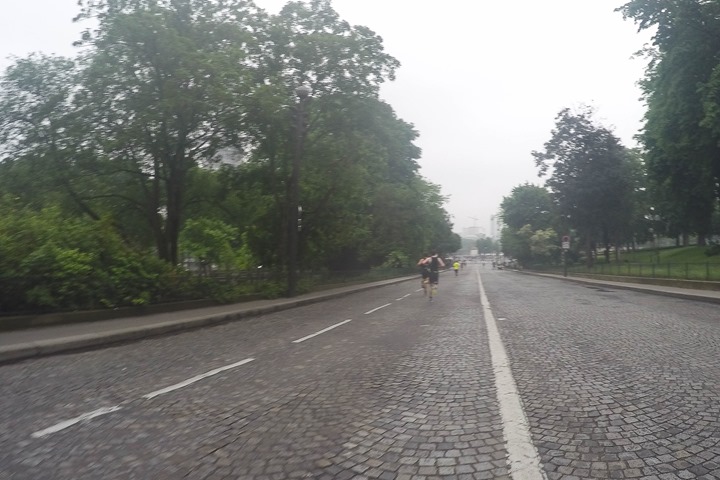 Once along the river you go and see the Olympic monument, which is also used as a Princess Diana memorial spot.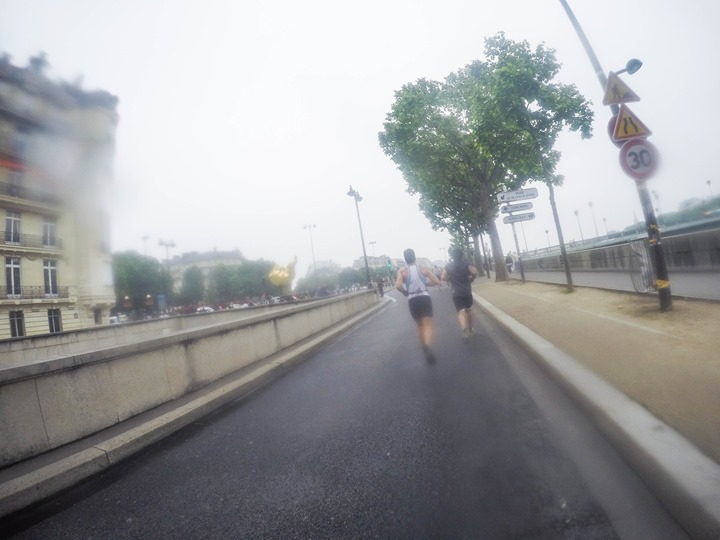 Then it's back to the Eiffel Tower to repeat the whole thing again.  I actually felt reasonably good on the first loop, so things weren't too bad.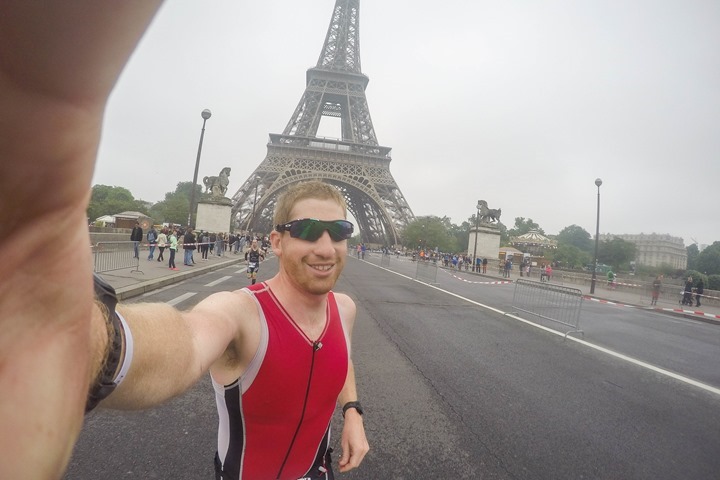 But by time I got to the hill on the second loop I was re-considering how hard I'd biked.  I think it still worked out.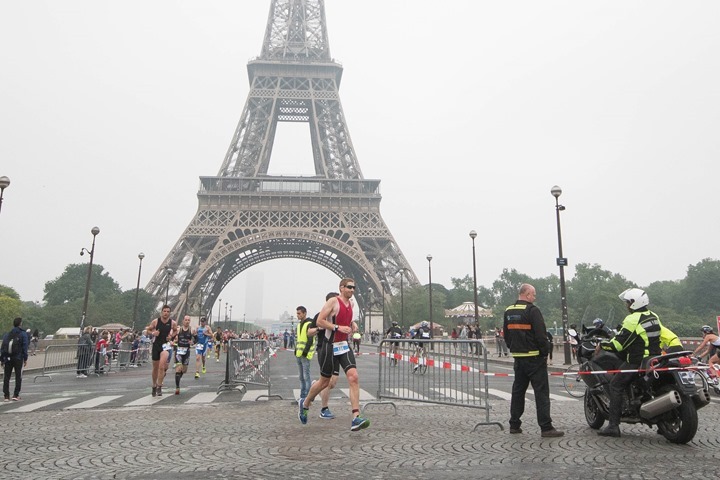 But I lost a bit of ground on Luis as my pace slipped, who was still ahead of me.  At least it wasn't hot out, otherwise I'd have been toast.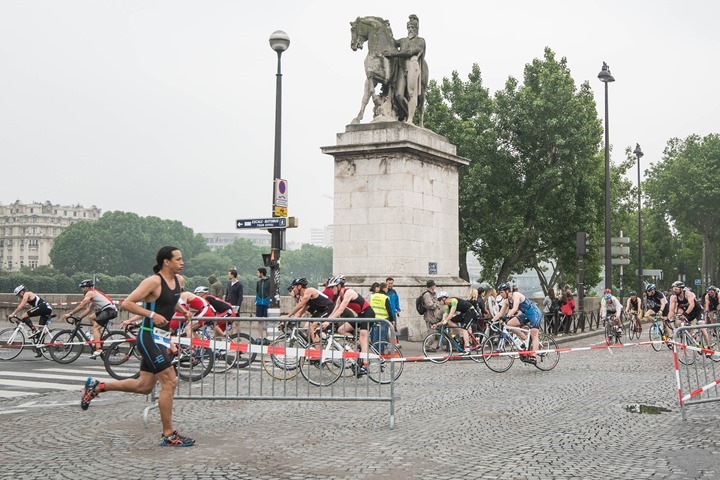 Soon I cleared the multi-loop turn-offs and was going all solo for the remaining 1KM towards the finish line.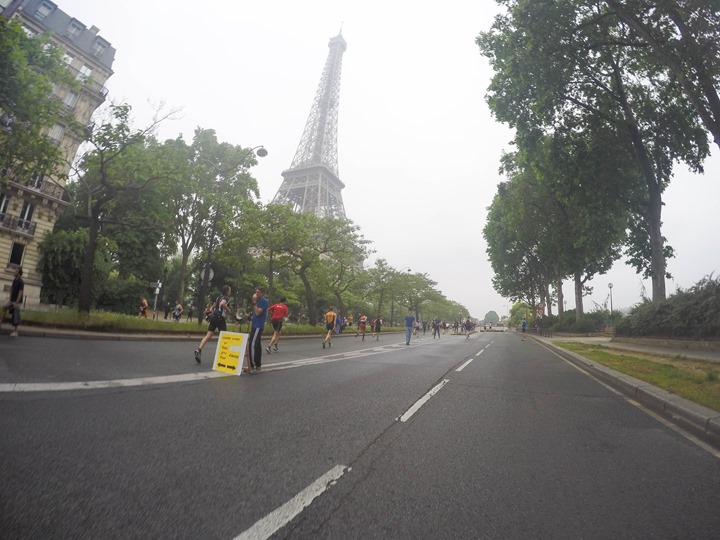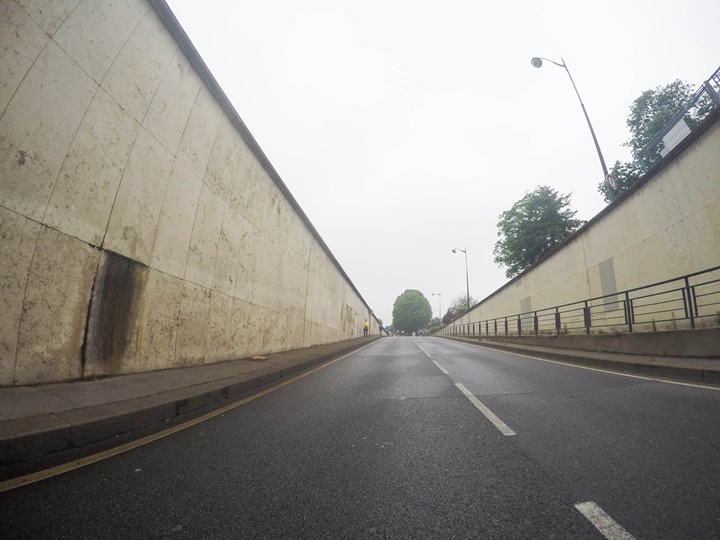 For better or worse, nobody was behind me.  But I gave whatever I had left in the tank (or legs), which wasn't much.  I also ate a mouthful of confetti somehow.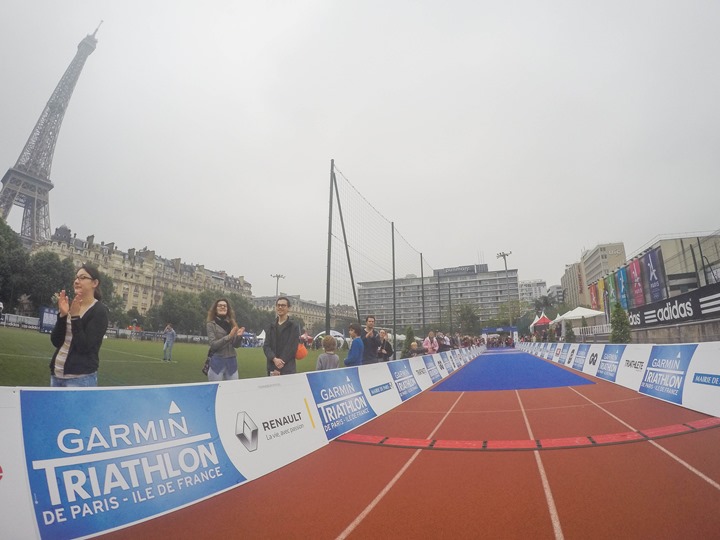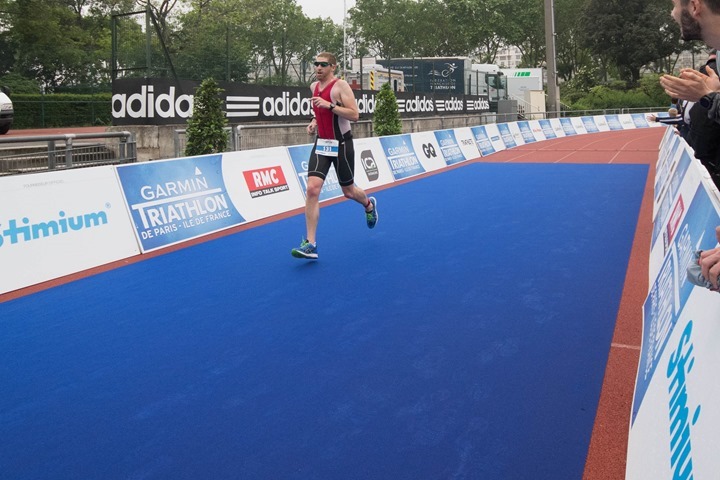 Final finishing time of 2:18, putting me in 52nd place out of 1,400 participants.
The race organizers did a great job overall and I'm looking forward to racing again next year.  And even better is that the Expatriés Tri Team snagged 3rd place in the team division.  Woot!
And thanks to The Girl for coming out and standing in the rain to cheer and take pics like the one above.
With that – thanks for reading!