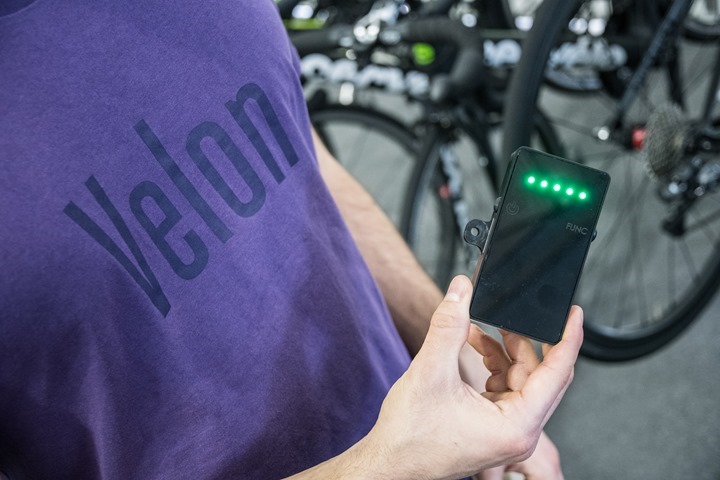 Since a change in leadership at the UCI in 2013, we've seen an increase in the number of data tracking platforms that are following the pro peloton.  For example, last year at the Tour Down Under I highlighted one solution by Satalyst, and then this past summer at the Tour de France with Dimension Data.
Here we are a year later, and the Tour Down Under has another solution – this one far more widespread in usage than last years, and it's also not the first time we've seen the Velon solution used in races.  But this race does seem to mark a bit of a transition period for the product, and perhaps what Velon is aiming to do.  Thus, it's as good a time as any to detail how the tracking platform works – especially since you've still got three hot and steamy stages of the Tour Down Under left to check it all out.
The Hardware:
We'll start at the bike first, since that's where all live tracking goodness begins.  At the Tour Down Under they're running two different hardware variants.  Three, if you include the fake variants, but more on that in a second.  One variant is a more aerodynamic looking design, which appears to be a 3D printed case.  You'll see it (both variants actually) sticking out from the rear of the saddle: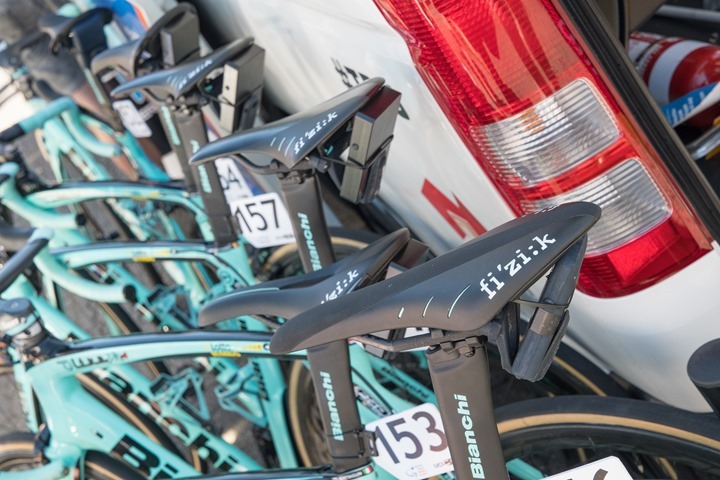 The second newer variant is more squared in design, and carries a small panel of LED lights for validating functionality.  This new design gets upwards of 12 hours of battery life on a charge (in theory; it sounded like in practice it was probably in the 6-9 hour range).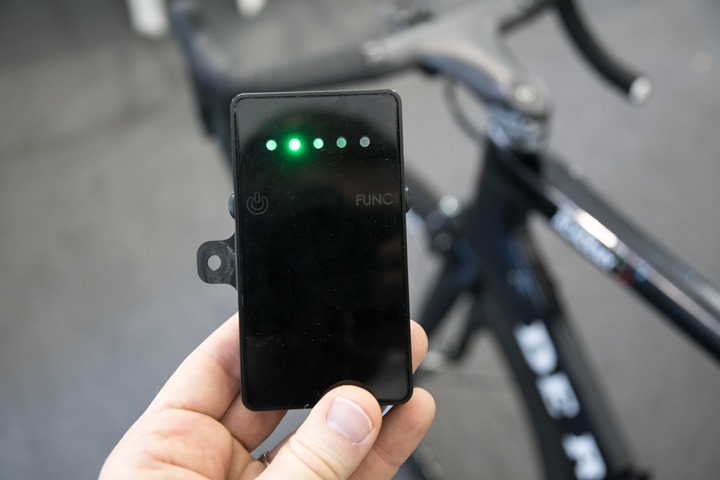 Both designs though include GPS for positioning data, as well as support for connecting to ANT+ sensors including heart rate, power, and cadence sensors.  At present, the newest models also have some aspect of Bluetooth Smart support, but that's mainly aimed at faster configuration of the device (which isn't fully rolled out yet), rather than Bluetooth Smart sensor support.  Given that there are currently no Bluetooth Smart-only sensors in the pro peloton this year (all power meters, cadence sensors, and HR straps in use are dual ANT+/BLE), the lack of Bluetooth Smart sensor support is a non-issue in practice.
Finally, the hardware has accelerometers on it, which can capture acceleration data.  Though at this point that's not being heavily used.
The point of having all of this data collection across GPS and ANT+ is to ultimately forward it along via cellular services, which are contained within the unit as well.  In cases where cellular service is lacking, it'll simply buffer the data.  Otherwise, it transmits at a rate of once per second.  Note this is slightly different than the Dimension Data solution, which leverages a relay and mesh system of race motos, other riders, and circling aircraft, to bypass cellular reliability issues.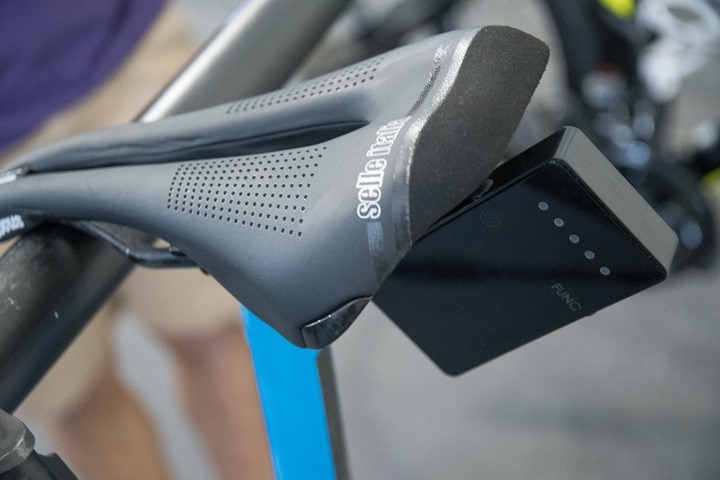 The newer devices connect using standard GoPro mounts, which are then attached to K-Edge saddle mounts. Interestingly, these are the same K-Edge saddle mounts that I often use as well for shooting with action cams.  Solid and dependable (though, so are BarFly and GoPro's bike saddle mounts, to be fair).
So who's carrying these devices?  At the Tour Down Under there are 14 teams that are equipped.  Within that, 12 of them are part of the default Velon teams, of which Velon will automatically provide coverage for (or looked at differently: Which are automatically going to ride with the system).  Then there's two additional teams that signed on for the TDU: Dimension Data and UniSA).  It might seem odd that Dimension Data, which has its own competing platform, would use Velon's, but one had to remember that the 'team' Dimension Data' is actually quite separate from the tracking entity of 'Dimension Data'.  There is a bit of an invisible wall between the two.  Plus, the Dimension Data tracking solution isn't at the Tour Down Under anyway.
Within those teams, 5 riders are carrying legit/real devices.  Whereas two riders are carrying fake devices.  These devices have the same weight as real devices, but are just blocks of nothingness.  Why fakes?  Well, simply put Velon doesn't have enough devices for everyone at this point (that's being rectified shortly).  So the 2 fakes are so that the entire team is 'equal' from a weight standpoint.
Teams are responsible for the devices, including charging. Here's a stack of units being charged in between stages back at the village: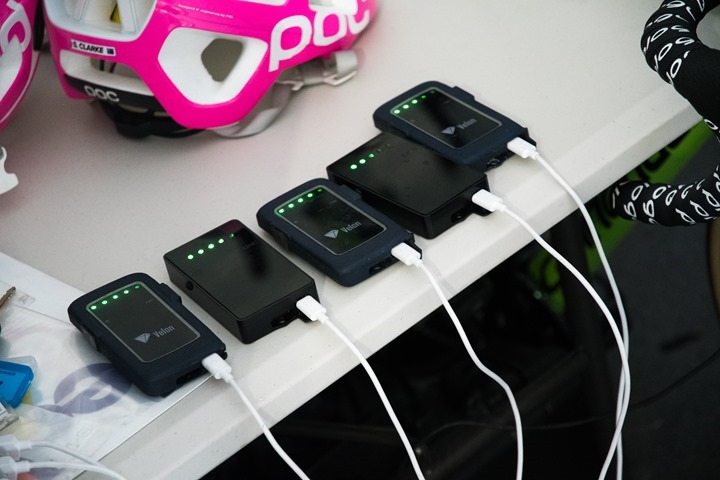 And while team mechanics do manage the devices day to day, Velon staff (easily spotted in their purple attire) also double-check and oversee them as well.  They run through each morning and validate each and every device is turned on and functioning.
In a setup like the Tour Down Under which is in one nice and straight line, doing this morning check-up is pretty quick and easy.
The Platform:
After the hardware piece comes the app portion.  It's here that things aren't quite as fancy as what we saw with Dimension Data.  In my case, I used the app platform on iOS, but the app also exists on Android (as well as their site).  The app is receiving data from the cellular connected bike sensors in real-time, updated every second.  That platform is watched over by a global team with outposts in London, Paris, Colorado, and Australia.
Here's a few screenshots from yesterday's stage on the app:
As I said, it's pretty basic, and you can't really drill down into much detail on it.  Also, we don't see anywhere near the analytics of Dimension Data in terms of outputs to social media.  But we do still get some pretty infographics, arguably more pretty than Dimension Data.  It's all about pretty, right?
⚡️ DATA ANALYSIS ⚡️ How @quickstepteam's @eliaviviani won @tourdownunder Stage 3 >> https://t.co/4V6aALRbRK#TDU #TDU2018 pic.twitter.com/l6leGbZzcd

— Velon CC (@VelonCC) January 18, 2018
It's clear from discussions with Velon that the goal is to start expanding out this piece a bit more, and given the amount of data they're collecting, this should certainly be possible.  Of course, it has to balance various rider/team concerns about how much data is being given out, with that of the overall desire of pro cycling to be more open.
Finally, it's worth noting somewhere here that Velon also arranges the on-bike cameras for various races – such as the Tour de France.  This is part of the 'rights' that Velon has negotiated on behalf of their member teams.  These cameras are typically GoPro's that record content during a race and then upload it post-race.  However, the plan is to start doing more live on-bike camera action, as the organization already trialed last year.
The challenge though is ultimately getting races to approve it.  In the case of the Tour Down Under, for example, you'll find no on-bike camera footage, as those rights went to broadcasters.  That's a bit of a shame, because ultimately nobody to my knowledge has had a camera on-bike during this year's event, and thus all of that potential viral social media reach has been lost. Not just for the teams, but perhaps, more importantly, the Tour Down Under organization.
Their Ambitions:
In many ways, the Velon solution is a bit of an underdog type platform.  It's definitely not the prettiest, nor the most comprehensive, nor the most detailed.  But it is lighter, cheaper, and easier to implement for a given race than the Dimension Data solution.  And for some races, that likely makes sense.
If we look at races like the six-day Tour Down Under, the terrain is relatively trivial for cellular networks, and the requirements for a lightweight solution are more important. There aren't the financial resources for a Dimension Data solution at the TDU, which would command their fancy trucks/buses, motos with repeaters, circling planes, etc…  Yet for the attention and breadth of the Tour de France, with its 21 stages and complicated terrain of the Alps, the Pyrenees, and simply middle of nowhere France villages lacking reliable cell phone service (remember: I live in France) – the Velon solution would likely falter and fail to meet expectations.
As such, it'll be interesting to see how the Giro d'Italia goes this year for them.  They'll be doing the live tracking there, where they hope to have all but a couple of teams on the platform.  With the Giro being a Grand Tour it too has 21 stages, and along with it mountainous regions that lack reliable cellular service.  Still, the cycling world is eager to receive data from riders, so even the occasional blip in data might not be seen as a huge deal.
And for other race organizers that lack the massive funding and visibility of the ASO events (who is behind the Tour de France, Vuelta, and others), this type of solution is likely a perfect fit – just as it is down in Adelaide.  In total, Velon has a touch over 100 days of live tracking events on the calendar this year, up from approximately 50 days last year.  Thus, with a doubling of their race coverage days – it appears the organization is finding its groove.
With that – thanks for reading!