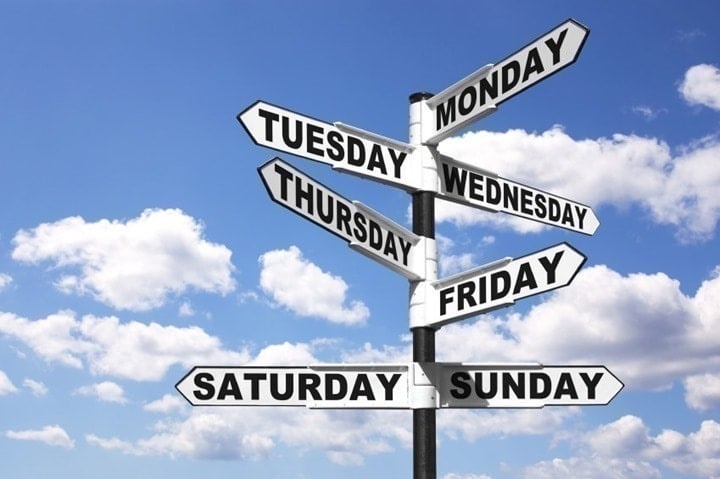 The Week in Review is a collection of both all the goodness I've written during the past week around the internet, as well as a small pile of links I found interesting – generally endurance sports related. I've often wondered what to do with all of the coolness that people write, and while I share a lot of it on Twitter and Facebook, this is a better forum for sending it on to y'all. Most times these different streams don't overlap, so be on the lookout at all these places for good stuff!
So with that, let's get into the action!
Sports Tech Deals of Note:
Here's a smattering of current sports tech deals. The Apple Watch Series 5 one is probably one of the most solid ones.
Product

Sale Price

Amazon

Other site

Sale Notes

All Amazon Kindles: 33-45% off
Varies
Amazon
Both myself and The Girl have Kindles for reading. In her case, she uses hers daily. In my case, it ends to be more vacation/weekends. We both recently upgraded are crazy-old ones to the newer Paperwhite editions. We don't need much fancy.
Amazon Echo Dot - 53% off
$19
Amazon
I use these around the studio and home - and for $18, it's kinda incredible what kind of technology they can pack into that price.
Amazon Halo Wearable Band - 30% off
$69
Amazon
Apple AirPods Pro - $60 off!
$249
$189
Amazon
Apple AirPods with Wireless Charging Case - $50 Off!
$149
Amazon
⚡ I use AirPods primarily when I'm travelling just to listen in airports, planes, etc... I don't tend to use these for workouts due to them falling out. Personally, I just use the basic model.
Apple Airpods (2nd Gen) - $30-$50 off
$159
$99-119
Amazon
I use AirPods primarily when I'm traveling just to listen in airports, planes, etc... I don't tend to use these for workouts due to them falling out. Note: Price fluctuating between $99-$119 throughout day.
Apple TV 4K (2021 Edition) for Zwift - $29 off
$169
Amazon
I use this for almost all my Zwifting. This is the first major deal we've seen on something barely a month old. Also, the 32GB model is on sale too, from the same link.
Apple Watch Series 6 - (40mm) - $120 Off
$399/$499 (cellular)
$279
Amazon
⚡⚡ The strongest deal yet on the Apple Watch Series 6! Note, this price is fluctuating constantly throughout the day, so keep checking back if it's not showing the lowest price.
Apple iPad - Latest Model 8th Gen (32GB) - 10% off
$299
Amazon
I use my iPad primarily for TrainerRoad as well as Zwift when not with a larger display. I also occasionally use it for other apps, namely The SufferFest - but I pretty much test every smart trainer app on it. (US AMAZON DEAL ONLY).
DJI Mavic Mini Fly More Combo Kit - 24% off
$399
Amazon
Fitbit ACE 2 Activity Tracker for Kids - 57% Off
$29
Amazon
Umm, this is an incredible. So incredible that I've almost gotta wonder if this product line is going to be kept around. Fitbit never discounts this much. But hey, they also never drop support on things - so it frankly doesn't matter much if there's not an ACE 3 or something.
Fitbit Charge 4 - $50 off!
$149
$99
Amazon
Currently the best deal we've seen to date, matching only the Black Friday deal last fall.
Fitbit Inspire 2 - 40% off
$99
$59
Amazon
Fitbit Sense - 40% off
$329
$199
Amazon
This is the lowest price to date for the Fitbit Sense (by far), and makes it a deal you should definitely consider versus the Fitbit Versa 3 for the same price (no, really, there's no reason to get the Versa 3 at the same price).
Garmin Edge 1030 Plus - $110 off
$599
$490
Amazon
⚡ I don't think this particular discount will last long. It seems a bit quirky the way it's worded on Amazon's page. Note that the Edge 1030 Plus was on sale for $100 off till last week, so in some ways this is just a continuation of that for a tiny bit longer/more.
Garmin Edge 130 Plus - 30% off!
$199
$139
Amazon
⚡ This is the lowest we've seen the Edge 130 Plus on sale. The 'Plus' variant is notable compared to the regular unit for having ClimbPro on it, plus a handful of other tweaks. $139 is a great deal for it.
Garmin Fenix 6 Sapphire (Base model) - $300 off
$499
Amazon
This is the non-Pro variant, so it doesn't include music/maps, but has essentially every other feature on it. Also, this specific sale version is the Sapphire edition, so a bit hardier glass. Still, it's an incredible discount on this watch.
Garmin Fenix 6 Series - $100 all models
$599-$1,149
$100 off
Amazon
⚡ This deal is back! A variant of the $100-$150 off Fenix range deal shows up each May/June ahead of Fathers day and past Amazon Prime Day, and this is no different. This also includes the newer Fenix 6/6S Solar units from this past summer.
Garmin Forerunner 245 - $50 off
$299/$349
$249
Amazon
Both the Forerunner 245 is on sale for $50 off. While not a huge sale, it's actually the lowest we've seen either product priced to date.
Garmin Forerunner 245 Music - $60 off
$289
Amazon
Both the Forerunner 245 Music is sale for $60 off. While not a huge sale, it's actually the lowest we've seen either product priced to date. The FR245 Music supports Spotify, Amazon Music, and other streaming platforms.
Garmin Forerunner 45/45S - $20 off
$199
$139
Amazon
This is a good deal, though, keep in mind the Forerunner 55 just came out. So the 'normal' list price of $199 for the FR45 isn't really true anymore (that's the new FR55 list price). Thus this is roughly $20 off. In any case, it's a great running watch.
Garmin Forerunner 745 - $25 off
$499/499EUR
$475
Amazon
The FR745 multisport GPS watch has music support (including Spotify), and is otherwise a full triathlon watch. This is only the second time we've seen it on sale since release. So $25 off is better than nothing off.
Garmin Forerunner 945 - $83 off
$599/599EUR
$515
Amazon
Backcountry
Not a bad deal, the price seems to fluctuate between $80-$85 off (official Garmin sale price currently).
Garmin Instinct Esports Edition - 40% off
$179
Amazon
This is actually the first time we've seen a deal on this quirky little variant of Garmin Instinct, meant to pair up with its own special app for transmitting data to streamers.
Garmin Instinct Solar - $150 off
$399/$449
$249
Amazon
⚡ By far the best deal we've seen on the Instinct Solar edition, which came out last summer.
Garmin Instinct Tactical- $120 Off
$179
Amazon
This is the lowest this watch has been ($120 off, and down to $197). Note that this is the non-Solar version, so do keep that in mind.
Garmin Varia RVR315 Radar - 23% off
$104
Amazon
N/A
This is Garmin's latest gen Varia radar, without the light portion. This is also by far the best deal we've seen on it.
Garmin Varia Radar (RTL515) - $30 off
$169
Amazon
Competitive Cyclist
This seems to go on sale about once per year, and this be that time. If you're looking to pick one up, I wouldn't expect any further deals till probably Black Friday timeframe.
Garmin Venu GPS Smartwatch - $130 off!
$299
$219
Amazon
⚡ This is about the lowest we've seen yet for the Garmin Venu GPS (by far), which includes an AMOLED display as well as music (even Spotify offline). Solid deal. Note, the Venu 2 did come out last month.
Garmin Vivoactive 4/4S - $100-150 off
$299
$189
Amazon
⚡ This is Garmin's current offering to compete with the Apple Watch series (alongside the Garmin Venu/Venu 2), and is currently the lowest price we've seen to date, even better than Black Friday last year. Historically Garmin refreshes this lineup the last week of August this year, but who knows what the future holds.
Garmin Vivofit Jr. 3 - 38% off
$49
Amazon
This deal easily beats Black Friday last year, making it the lowest we've seen on the Vivofit Jr 3 series.
GoPro Hero 9 Black - $50 off
$399
Amazon
REI
This is the camera I use for all my daily shooting during sports. Actually, I've bought a few of them. Note that if you're a GoPro Plus Subscriber, then it's a bit cheaper at $349 from GoPro directly, but otherwise, it's $449.
Google Nest Mesh WiFi Router - 30% two-pack
$205
Amazon
These are the WiFi mesh access points I use both at home and the DCR Cave. Love them - I don't need to dork with them, they just work.
Jackery Portable Power Station - $100 off
$199
Amazon
This is something I use frequently when shooting out and about and I need to re-charge a crapton of drone batteries, action cameras, or just cameras and such. I also use it on trips to Eurobike and elsewhere to keep equipment charged. Technically you can even hook a solar panel up to it. Heck, I've even powered a KICKR trainer ride from it!
Lacie 2TB & 4TB Ruggedized USB Drives - 41% off
$91
Amazon
These are the drives I primarily use for large piles of storage with my laptop and daily use before offloading to a file server. I also sometimes edit videos off these too (though, for multiple 4K streams in video it can be a tiny bit slower than SSD drives). But still, definitely recommend these.
Nest Cam Indoors - 23% off
$99
Amazon
We have more Nest cam's than I can count. No really, we have half a dozen at the DCR Cave alone, plus more at home. We love them. Nest Cam's really only go on sale about 1-2x per year.
Nest Cam Outdoors - $50 off
$149
Amazon
We use one of these and so far after I think just about three years, it's working great for us. Love it, and works better than trying to stick a regular Nest Cam out the window (since it'll reflect both during daytime and at night with the IR sensor).
Nurvv Running Insoles - 40% off
$299
$179
Amazon
This is a pretty new product, just launched this past fall that sits inside your shoe and even has GPS built into the pod sidewalls. However, just last week (mid-June) it got an update that now includes a new footstrike coach/target system.
Polar Ignite GPS - $40 off
$229
$159
Amazon
This is a good deal for a good unit. As with the Polar Vantage M deal, it's no longer the most recent version of this watch, but it's still got a ton of features packed into it.
Polar Vantage M - $50 off
$279
$223
Amazon
This isn't the latest model anymore, but it's still a really solid multisport watch.
Samsung Galaxy Buds Plus Wireless Earbuds - 43% off
$84
Amazon
Samsung Galaxy Watch 3 - 23% off
$329
Amazon
Not as good a deal as it gets (down to $238 earlier this May), but hey, a deal is a deal.
Samsung Galaxy Watch 3 - 35% off
$279
Amazon
This is almost the lowest price I've seen on the Samsung Galaxy Watch 3
Samsung Galaxy Watch Active 2 - 36% off
$159
Amazon
SanDisk 1-2TB Extreme PRO Portable External SSD - 36-45% off
$169
Amazon
This is one of the two the high speed drives I use to store the footage I'm actively video editing, so that I can edit it on both my iMac at the office, and then my MacBook when travelling or at home.
SanDisk 256GB Extreme PRO SD Cards - 52% off
$47
Amazon
I use the SanDisk Extreme Pro SD Cards exclusively for all my video/photo shooting on my Panasonic GH5 and Nikon cameras (video and stills), including up to 6K recording with the GH5. I've mostly used 128's, but more and more lately I'm filling up cards faster with higher bitrates, so this sale is gonna have me pickup a bunch of the 256GB ones instead. The 128GB/512GB/1TB ones are also on sale too viathe same link.
SanDisk 256GB MicroSD Card - 40% off!
$28
Amazon
I use this card in both 128GB and 256GB variety, and it's perfect for all my drones and action cams, easily recording 4K/60 and 5K/30, as well as 5.7K without trouble. I often pickup these cards when on sale like this, so I have them for later in the year when not on sale.
Suunto 7 Wear OS Watch - $128 off
$399
$270
Amazon
This is the lowest price we've ever seen the Suunto 7 Wear OS powered watch at. Plus, it continues to get new features too!
Suunto 9 Baro Series - $100 off
$599 (non-baro is $499)
$499
Amazon
This isn't quite as good a deal as a few weeks ago when it was 42% off (basically $200 off), but it's still a deal nonetheless.
Synology 4 bay NAS DiskStation DS920+ (Diskless) - $110 off
$439
Amazon
⚡ I use Synology NAS units for all my file storage at the DCR Cave. This unit is a slightly smaller variant of what I use (DS1817), but mainly just with less storage space. The DS920+ linked here is a solid deal at $110 off, though, keep in mind if just using for simple storage, the DS418 is cheaper (but doesn't support expansion units). Also, remember you'll need to add disks. I currently find 8TB units are the sweet spot on price vs capacity.
DCRAINMAKER.COM Posts in the Past Week:
Here's all the goodness that ended up on the main page this past week:
Sunday: DCR Video: Riding Zwift on the Actual Champs-Élysées
Tuesday: Garmin Acquires Firstbeat Analytics: A Quick Analysis of the Winners and Losers
Tuesday: Polar's Unite Fitness Watch: Hands-on Details and First Run
Friday: Stages Bike (SB20) In-Depth Review
YouTube Videos This Past Week:
Here's what hit the tubes over on the You of Tube, definitely don't forget to subscribe there to get notified of videos the second they hit!
Stuff I Found Interesting Around The Interwebs:
Here's a not-so-small smattering of all the random things that I stumbled on while doing my civic duty to find the end of the Internet (and in this case, some of these are from the past few weeks to clear out the backlog):
1) The Banned Vanmoof Ad: The ad was OK, but of course, the real magic was having it manage to get banned in France – and just drawing attention to the situation.
2) Google acquisition of Fitbit getting closer scrutiny from EU: It'll be interesting to see what, if anything, Fitbit launches this fall. Given the company is still operating independently of Google, it puts them in a tough spot – unless they simply decided to go towards Wear OS anyway for new devices per their previously announced plan with Google.
3) Apple sleep tracking planned for over five years: While a good headline, I'm sure someone had it on a notepad somewhere to add sleep tracking. Ya know, given it's been on every other competitive wearable company for 5-6 years. Plus, they did buy a sleep tracking company a few years later. That said, I completely agree on the REM sleep aspects of the interview.
4) Peloton rolls out Roku streaming app: It's a super smart strategy to be as device agnostic as possible on the platform side (for those without bikes). They also rolled out Apple TV support back a bit ago this fall. Still, these apps lack significant amounts of workout target type metrics that the bike does have.
5) Lululemon buys Mirror for half a billion dollars: Well then.
6) Google Glass Part 2? Google buys North, a company focused on smart glasses. Ultimately, this product category won't catch on in sports until GPS is integrated, battery life is 6-8 hours, do *everything* a watch or bike computer does, and the entire package looks like normal glasses. It's this last line item and 2nd to last item that's currently failing. (via Patrick)
7) Older Apple Patent around Cyclist Wind Resistance Shows up in News Cycle: However, this first came around 3-4 years ago when the patent was first applied for, but the patent hasn't actually been issued yet best I can tell. Which, makes sense…cause it's pretty much exactly what the PowerPod/iBike from Velocomp has been doing for probably a decade prior to Apple's patent.
Sports Tech Device Firmware Updates This Week:
Each week I quickly highlight some of the new firmware, app, software, and website service updates that I see go out. If you're a sports technology company and release an update – shoot me a quick note (just one-liners are perfect, or Tweet it at me is even better) and I'll make mention of it here. If I don't know about it, I won't be able to post about it. Sound good?  Oh – and if you want to get a head start on things, this page is a great resource for watching Garmin and a few other firmware updates.
Garmin Instinct Beta Firmware Update: Compass bug fix
Garmin Fenix 6 Series/MARQ BETA Firmware Update: Bug fixes
Polar Grit X Firmware Update: Some bug fixes, some tweaks to existing features
Suunto 7 Firmware/Software Update: Adds better integration to Google Fit, improved GPS accuracy, other tweaks
Wahoo ELEMNT/BOLT/ROAM Firmware Update: 'Stability Improvements'
—
Thanks for reading!