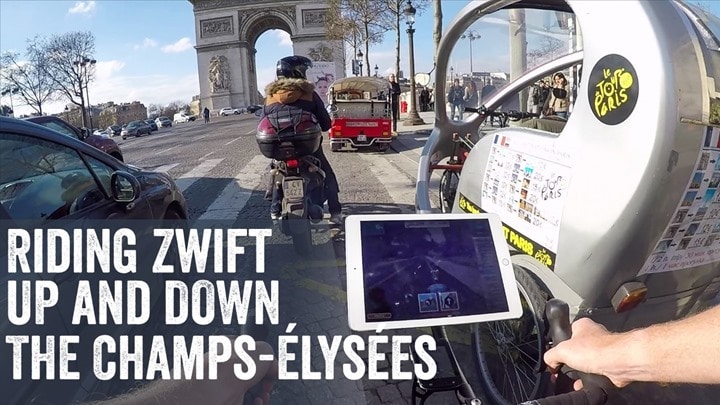 You know what happens when you've got terabytes of old and unused video footage sitting on your recently expanded server? You make a video for DCR Supporters, that's what you do. And three months ago – I did just that. They all quietly got a link to a pre-cut version of this video to enjoy during the peak of quarantine (and they'll get another video today too!).
But then Zwift went out and decided to make it possible for you to ride the Champs-Élysées with Zwift. And I thought to myself: Aww…that's cute, I did that years ago!
Actually, I did it a number of times. But, I never ended up finishing the video on it, which is a shame, because frankly it might be one of my best video productions to date. Or at the least, funniest production to date.  So I dusted off the already dusted off version I created back in March and re-did the narration with something more than a cell phone.
You'll hear all about why I did so in the video (testing a product of course), but let's not make this intro any longer than necessary. Simply hit play…oh…and watch out for buses!
Now, if you enjoyed this nugget of a video and also find the site at large valuable, consider joining those who got to see it early back this spring by becoming a DCR Supporter. You'll get an ad-free DCR site, plus tidbits like this from time to time, and a nifty little DCR Supporter badge when you comment that indicates your awesomeness.
With that – thanks for reading (and watching).