After getting back from Greece (obligatory beach Instagram pic here) mid-week, we were back in Amsterdam for the weekend here. Thankfully it wasn't as hot as the past week, though Saturday did take the cake for the heatwave. Here's what we were up to.
1) Drilling Concrete
Friday late afternoon and evening I was having fun with drills and concrete. As you may remember, almost all surfaces in the DCR Cave are concrete. It's 'awesome' for sound, and even more 'awesome' when I need to attach/hang something. I recently got a bunch of ceiling light panels in, with the goal of reducing my dependence on soft boxes. That's been working well enough, and thankfully there's a crapton of small hooks in the ceiling that we left after the removal of the previous false ceiling. Best decision ever.
However, I had some cameras I wanted mounted to the ceiling so I'd stop tripping over their tripods and c-stands. Plus, it just makes life easier. So I pulled out my hammer drill. I had bought this almost exactly four years ago when we needed to create an extraction vent at the Cake Studio in Paris during a heat wave. That way we could make our A/C system functional ahead of a 2,000 person event we were catering. I wrote all about that fun then (seriously, it was lots of fun).
Since then I haven't had much of a need for such power.
However, I had forgotten how awesome it is. I'd previously been using stone/concrete drill bits with my regular power drill, which was fine and all. But this was crazy fast. It was like slicing through butter. In any case, once done these cameras are also wired for both power as well as HDMI to the monitors. Those cables had been additional trip hazards (with the benefit of also pulling the cameras crashing to the ground).
For the top-down camera I used a combination of an adjustable arm with some vertical c-compatible wall/ceiling mounts (which I also use for all the lights). This allows me to basically point the camera any way I want from straight-down to off-set as seen in the above-left photo. Meanwhile for the main camera I used the same ceiling mounts plus a small frame/cage for the camera. Also, there's this tilt adapter that should arrive tomorrow so I can get the angle just right.
I'm now looking for other random excuses to use the hammer drill, probably much to my neighbors chagrin.
2) Birthday Time!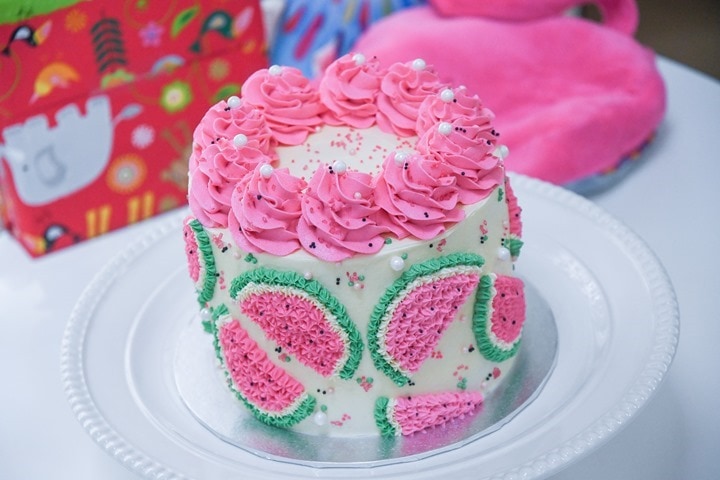 On Saturday we had a birthday party for The Peanut (aka Peanut #1). She'll be turning 3 later this week, and thus we had a gaggle of kids over from school to celebrate. Apparently 18 kiddos. It was basically a zoo. Lucy the dog hid under our bed for much of the afternoon.
The Girl made a cake of course, with watermelon being the theme of the party: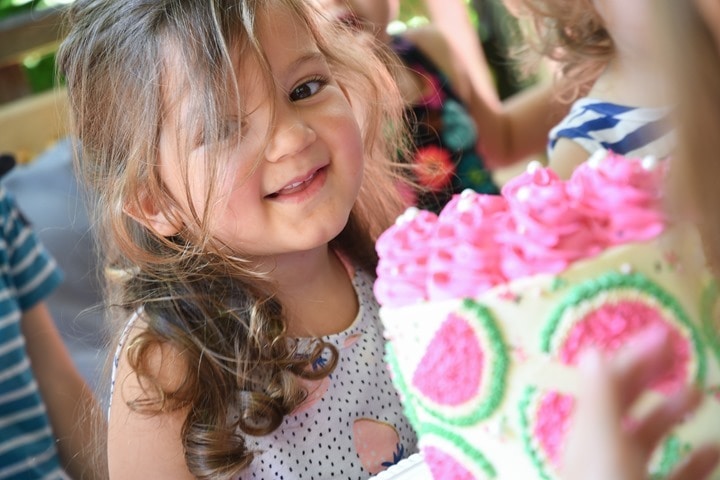 I learned a few things about Dutch kids' parties:
1) The adults all 'congratulate' you upon arrival (as the parent). Each one would come up and say 'Congratulations'. As an American (or English speaker I suppose), I can only interpret this as 'Congratulations, you managed to not screw this up another year!'. Still, I appreciate the gesture.
2) The Peanut got an absurd number of gifts. And really nice ones too. We had just done a toy purge the night before, reducing the toy quantity by about 50% or so. But that all went out the window by the end of the party, with each child bringing a gift. Eeks.
In related news, as one of the gifts we now own a large inflatable unicorn pool. It took about half the adults and two bike pumps to figure out how to inflate the thing. There's even photos of two Dad's (without realizing the implications) orally inflating the unicorn, one at the tail and one at the head. I believe sharing such a photo here would result in the site being banned for content reasons. So I'll save that one for the private Facebook group.
3) Neighborhood Bike Shop Block Party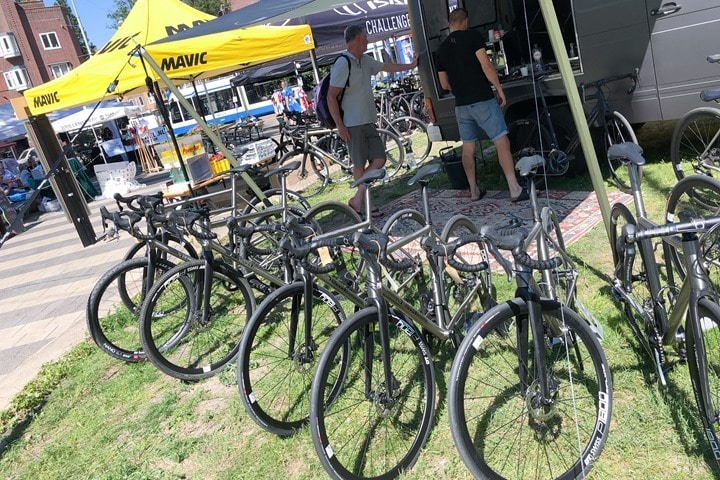 While The Peanut's birthday party celebrations took up the majority of the day, I did have a few minutes to escape late afternoon to check out a nearby bike shop's (Cor Mantel 2-wheelers) block party. Actually, I'm not entirely sure what to call it in English. It was like an open house, except outdoors and with lots of bike brands present. Oh, and a food truck. And beer.
You could go ahead and take any of the bikes out for a test ride. From major brands like Cervelo to boutique brands like J.Guillem. Like a demo day, which, turned out to be how I managed to secure bikes for Lama and Des later this week.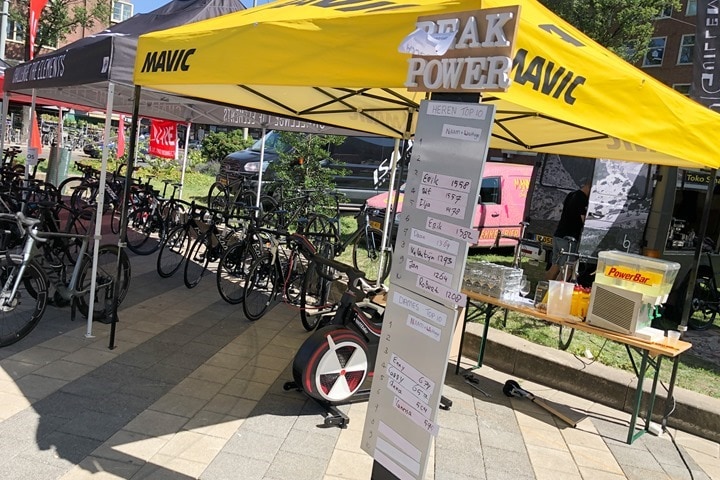 They also had things on sale. Which now reminds me I've been meaning to buy a new pair of cycling shoes. Crap, I knew I forgot something.
In any case, these guys are great and always help us out. Be it stealing eTAP batteries off of show bikes when I need to order new ones, or fixing something on one our bike at the last second. Plus, doesn't hurt that it's so close to home.
They noted that the only trick with having such beautiful weather on Saturday, was that a lot of people ended up going to the beach (it was about 32°C/91°F), so a bit steamy for the city. Still, for those that did venture out to the neighborhood square – bikes abound.
4) Dirt, bikes and swans
Yes, swans I said.
The Girl had some friends over Sunday, so I took The Peanuts on a bit of an adventure. First off to the Studio to ride bikes for a bit in the closed in space, and then while we were at it we watched the trolleys and geese swans. Because, why not?
Afterwards it was over to the hardware store to get some soil for some pots to plant some green beans in. It might be a bit late in the season to get those started, but somehow I don't think that'll matter too much to the kids. Plus, they got waffles from the store, so in their minds it was already a win.
Then Peanut #1 would put the seeds in the ground, while Peanut #2 would incorrectly assume this was a giant dirt sandbox and try and shovel the dirt around. While I think we roughly kept everything in the right containers for each seed type, there was a moment were the bean seeds spilled and we had to collect them. I fully expect we'll be finding bean plants all over the place the next few months.
5) Riding into the Sunset
Sunday night after the kiddos were in bed I headed out with a friend for some sunset riding. Warm summer sunset rides are among the best, and that's especially true around Amsterdam. This time we started off along the Amstel River before eventually wandering towards one of my favorite windmills.
The light was perfect when we got there: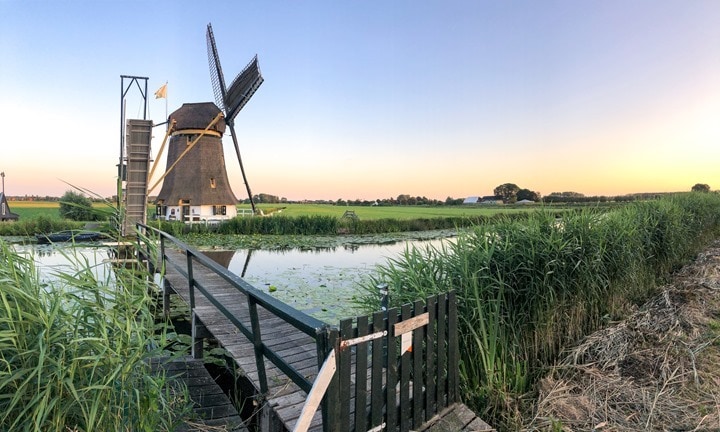 Oh, and another photo. Because you can never have too many windmill photos on a Dutch ride: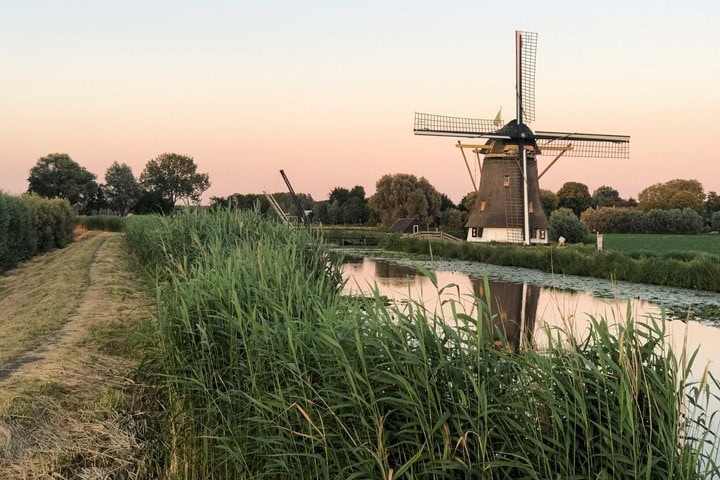 Then it was back cruising along different canals and rivers towards the setting sun and back towards the city of Amsterdam: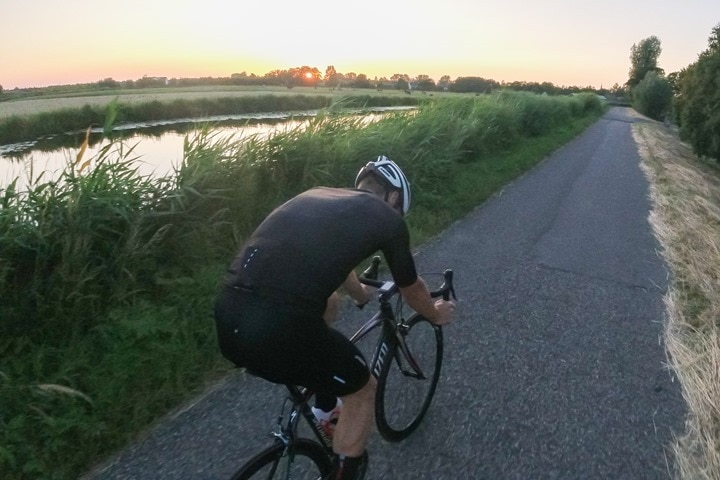 I was using the Stages L50 up front on this ride, and an Edge 530 in the middle. On the wrists I had the Garmin MARQ Athlete (review this week I think, finally, darn it), and the other wrist had the Polar Ignite. Power meters included the Favero Assioma, 4iiii Podium Pro, and trusty PowerTap G3. Though somewhat oddly the Stages L50 refused to discuss life with the G3. Not sure what was up there, so had to switch it to a different power meter. On my troubleshooting to-do list today.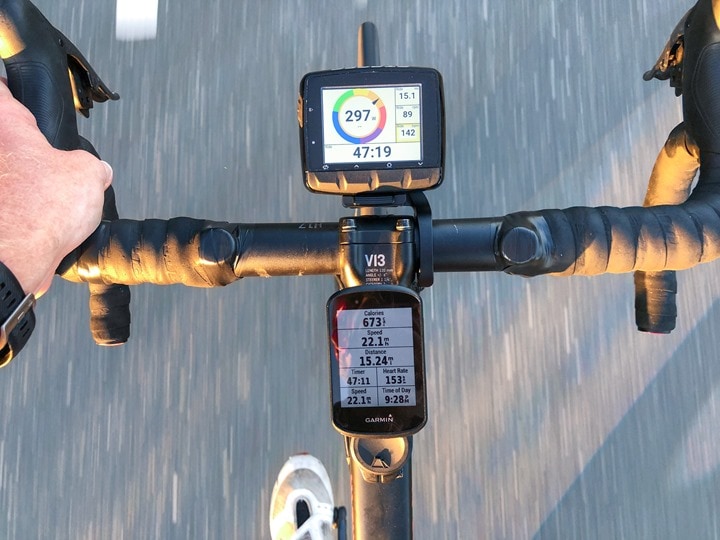 Anyway, ride was absolutely perfect. Well, I suppose minus the 1,382 gnats and other small bugs we ate or appended to our clothing along the way. The only downside to farmland that time of day – packed with bugs! By time I got home it was about 11PM….and still somewhat light out. Summer be great.
With that – thanks for reading!
—
Don't forget – DCR Summer BBQ & Open House (with morning ride) is next weekend (July 13th!). And both GPLama/Shane Miller and DesFit will be back in town for it! I ran into a few of you DCR readers over the past few days around town and some of you didn't know it. So…go forth and register!