With our first full weekend here in Cape Town in the books, we went all-in on seeing animals with the kids and getting our fill of touristy related things. Of course, with tons more to see in the region and beyond, we've barely made a dent. Let's dive right in!
1) Hello Penguins!
The Peanut doesn't watch a lot of TV or movies, but when hard times call – one of the few movies she does get to watch is Lost and Found, which is the story of a boy and a penguin and a rowboat going back to the South Pole. Thus, we had to see some penguins.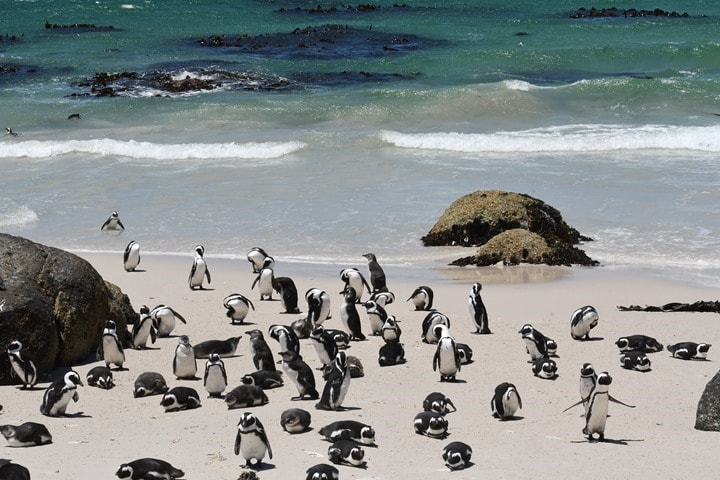 Boulder Beach and nearby areas are ground zero for these little guys; and penguins aside, it's a stunningly beautiful area.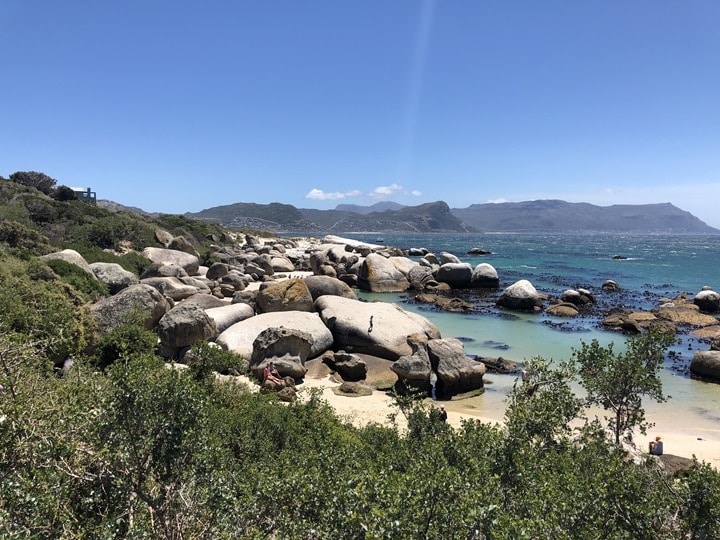 Turns out The Peanut likes the ideas of penguins much more than the reality of penguins. These things might as well have been Great White Sharks to her. She was alright watching from a distance, but wanted to get nowhere near the fence/wall. And god help the ear drums of anyone nearby when one of the penguins decided to waddle over to her on the beach and pay her a visit. Hysteria.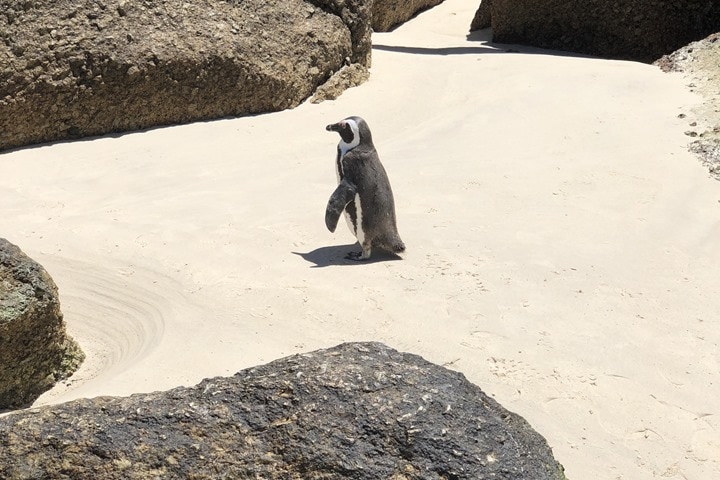 Her sister meanwhile? She was seemingly ready to join the colony. To P2, these little guys looked like her favorite animal: Lucy. Black and white, and right about the same size. So she figured they were just the same. She was constantly trying to figure out how to get through the hole in the fence and down to her little friends.
Of course, as soon as we left the penguins, all The Peanut could talk about was the penguins. As if she had the time of her life. I suspect we'll be back again some day.
2) A Safari Sleepover:
While both The Girl and I have done many safaris across Africa – the kids have done exactly none. With The Peanut loving animals (or at least the theory of them), we figured a bit of a soft safari was the best bet. Something that was one step above a zoo – but not quite hours upon hours on end looking for an animal, nor a gigantic process to get there either.
So I found a place that took us 1hr and 59 minutes to get to by car (and had mostly good ratings on TripAdvisor). Simply load everyone up, and simply drive up to our little safari cabin. Perfect. Like car camping, kinda. No airports to deal with.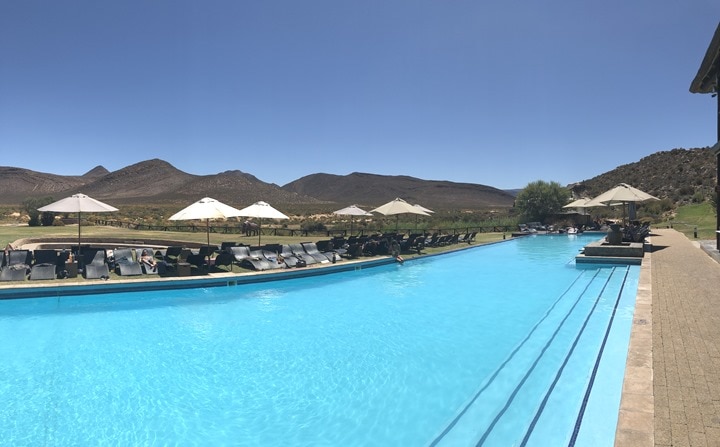 All food was included, and they had a huge indoor and outdoor children's play area (the nicest we've ever seen anywhere travelling or otherwise). Plus even crazy-cheap daycare for our littlest (P2) during the safari/game drives. Perfect!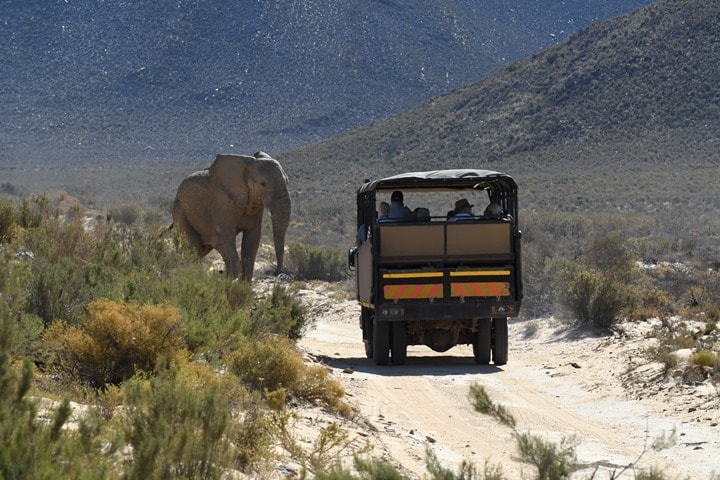 After lunch and a bit of pool, it was off on our first safari with The Peanut. She got to see all the animals, and in a never-ending stream of them too. From hippos to elephants, giraffe to baby rhinos, and even lions.  She was thrilled.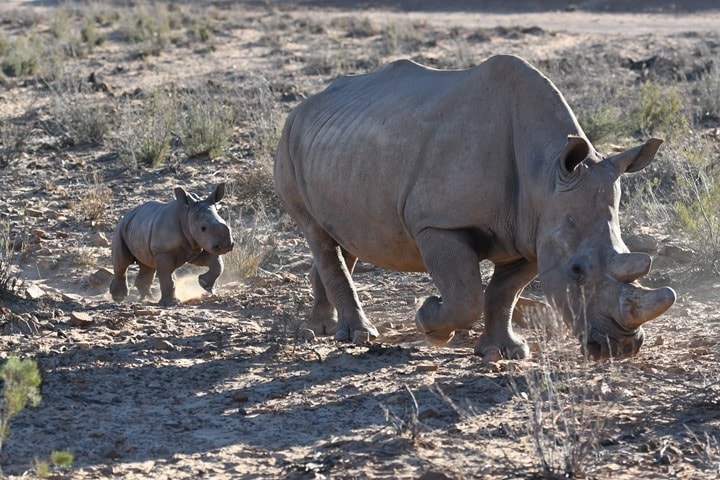 And surprisingly – she was absolutely into it the entire time. I wasn't really sure what she'd think after the whole penguin situation. But, there were other kids on the truck too so that was a good start. As well, the truck wasn't as open of a vehicle as you might see in more "serious safaris, so I think that kept her from feeling overexposed to the animals. None the less, she loved it. We had practiced all the animals in the weeks prior, and so she was pretty good at spotting them.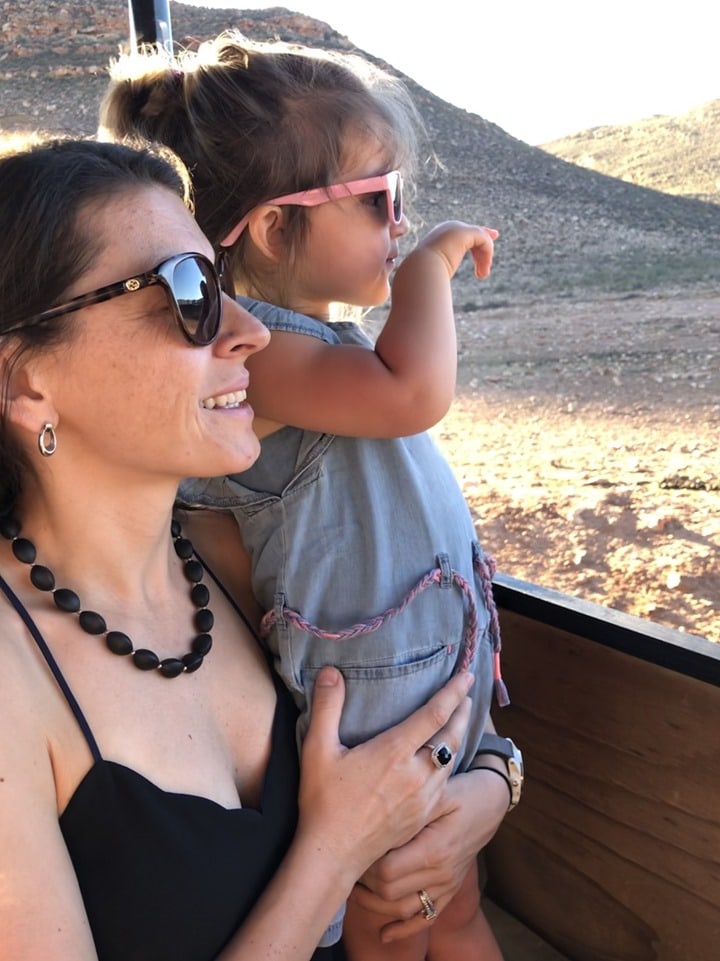 (Photo side note: All my photo gear here, but essentially all the animal shots were taken with a Nikon D500 DX DSLR with Nikon 70-200mm lens. Everything else just my iPhone X.)
As far as the camp goes, I'd absolutely recommend it for specific circumstances. For example, if you're coming to Cape Town for work or something and only have a day or so to see some animals – it's perfect. All the animals except the lions get to roam freely over a space of about 2-3 mountains big (100 sq kilometers officially). The lions get one mountainside to themselves, but since they are rescue lions from canned hunting camps – they lack the required hunting skills (and I suspect, the camp lacks the required game to sustain them).  It's definitely not a zoo.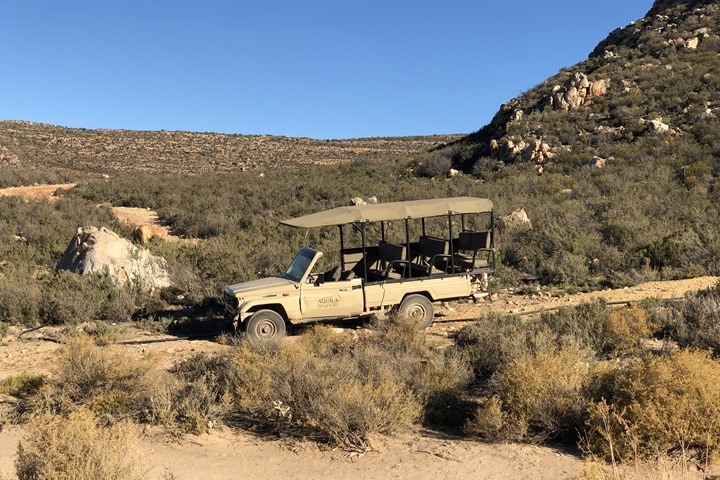 But it's also all about expectations too. For the most part the staff knows exactly where the animals will be (since some of them have supplemental food), and our particular driver was mostly just going through the motions.  Food was perfectly fine – not fancy or anything. But exactly on-par with perhaps typical hotel conference center lunch buffet food. Again, for us, it was exactly what we wanted with little kids. But on the flip side I wouldn't really consider it an ideal spot for a romantic weekend getaway.  Hope that makes sense.
3) Swapping tires and such
Prior to managing to dork up my back mid-last week (and doing absolutely nothing since), I went out for a short ride. Short in that it was intended to be 1.5-2hrs, and it ended up being 5KM. I managed to double-flat before I barely left the neighborhood.
So while over picking up my loaner mountain bike from the Yeti crew at NSquared, I bought a pile of new tubes and tires. I'd been meaning to get new tires for a while now, as my others had virtually no traction left on them. So two birds with one stone.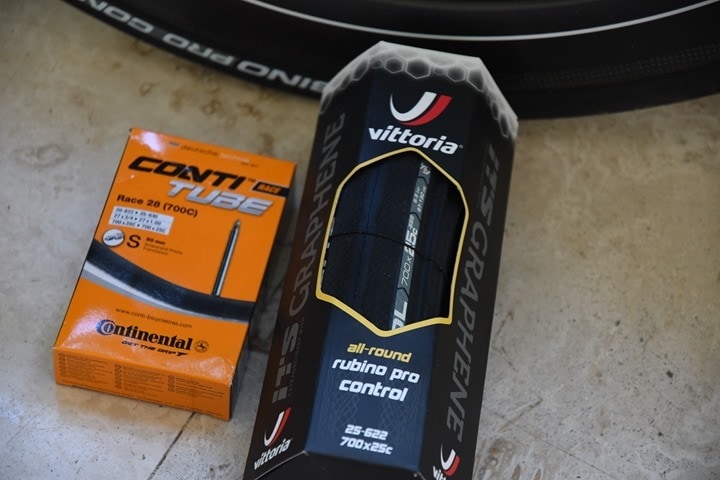 And now, my bike is good to go! Oh, and that mountain biking? Soon, definitely very very very soon. I was waiting till my back got to the point I could stand up and walk before I introduced it to mountain biking through rock gardens. Given the weekend (and an awesome Ironman-competing chiro) helped resolve that, I'm ready to ride.
4) A very windy ride
We drove back from the mountains Sunday afternoon, and I had hoped we'd be back in time to make the 4PM canal openwater swim. But with an arrival at the house at 3:52 (plus unloading of kiddos), that wasn't going to happen.
So instead I went out for a ride. It seemed like a perfectly logical thing to do…but in reality, not so much.  The same wind that'd quickly spread and fueled the fires turned out to be one of the most challenging rides I've done from a handling standpoint.  The outbound was OK, because I was into a very slight head-wind. Not slight in terms of wind-speed – oh no – it was gusting upwards of 45MPH/72KPH. Rather, slight in that it was more of a cross-wind, but head-on.  That was actually OK, because it was keeping my speeds slow, so it was hard work going a screaming 6MPH yet pushing 350w on flat ground.
But, some of the wind-protected beaches were pretty, so it's all good: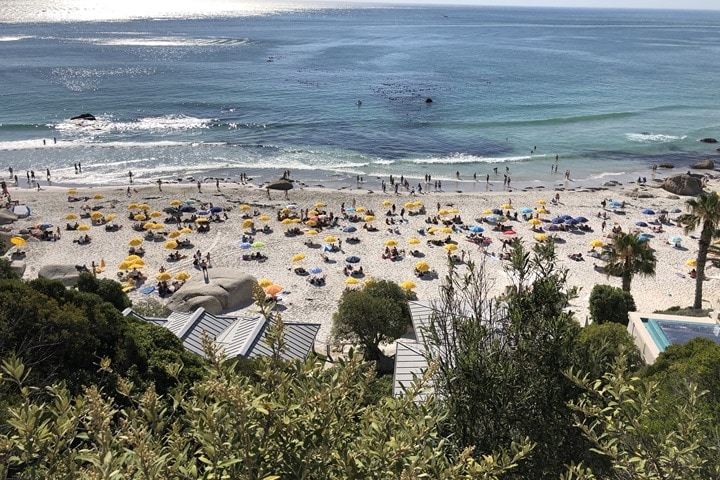 Then my rear eTap battery ran out of juice. Or, I thought it did (more on that in a minute). Either way, I had no more rear shifting. Which is much better than no front shifting (of course, you can swap batteries in such situations). My derailleur was mid-way up the rear cassette. Note a horrible spot per se, it meant I had a so-so easy gear and a so-so harder gear. Nothing that let me climb anything super-steep, nor really scream on the flats. Like I said: so-so.
But it was fine, I kept going.  Then I started a longer climb and the winds picked up, and with the gearing I had I couldn't keep fast enough speed to keep the bike stable against the gusts.  So I turned around – figuring it'd be an easy ride back with the winds at my tail. Note the white caps out on the ocean.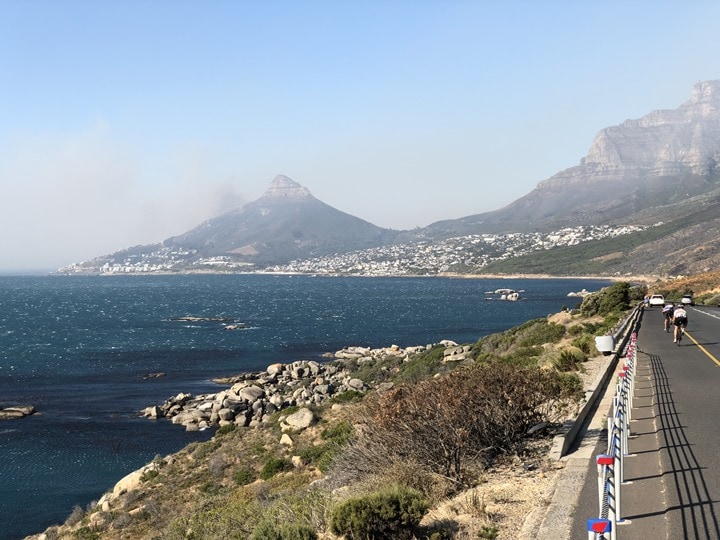 Turns out, I was horribly wrong.
Instead of being a clean tail-wind, it was a gusting cross-wind coming down from the mountain to sea. Keeping the bike on the road was turning out to be quite tricky. So I stopped for a moment and went to pick up my bike and move it a few feet. When I did so the wind caught my wheels, lifted the bike right off the ground, and nearly took it out to sea. No kidding, it was like a sailboat. Note to self: Don't do that again.  A few minutes later a pack of cyclists came by and found my similar predicament. Even two guys on e-mountain bikes were having issues.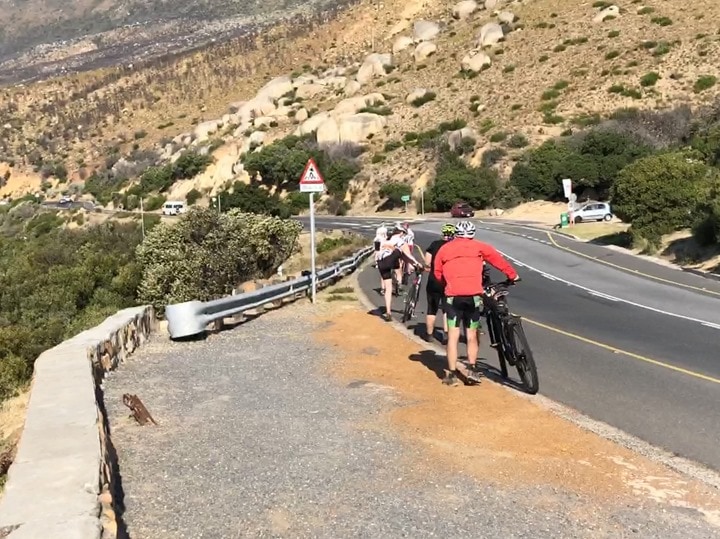 This particular section was funneling the winds extremely strong down a gulley, and anyone on a road bike was walking the hundred meters or so through this section. After that, it was slow-pedaling the rest of the way home (also induced by heavy afternoon beach traffic).
It wasn't ideal, but neither me or my random peeps ended up getting hit by a bus or blown over the seawall. So I'd consider it a success.
Oh, about that eTap battery: It actually broke. The tab on it seems to have broke. I thought it was odd that it died (without any low-battery warning), since I had just charged it a few days prior. But when I went to put it on the charger I noticed the broken tab – which meant the connection was loose.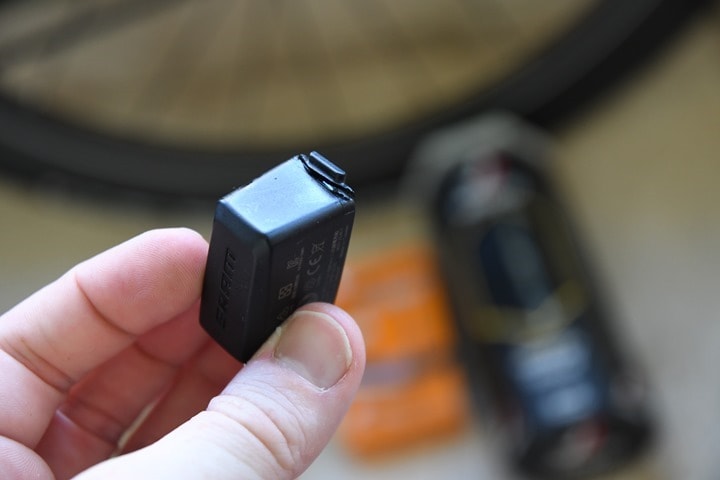 I should be able to find one at a bike shop nearby, or at worst I can electrical tape it tight onto the holder till a new one comes in. Weird.
5) Fires on the mountain
So here's the thing: My ride didn't actually end with me and the wind. Instead, it ended after riding through heavy smoke from a fire (plus wind throwing sand and whatever else at me).  As I neared back into the last 2-3KM into town, I ran into this: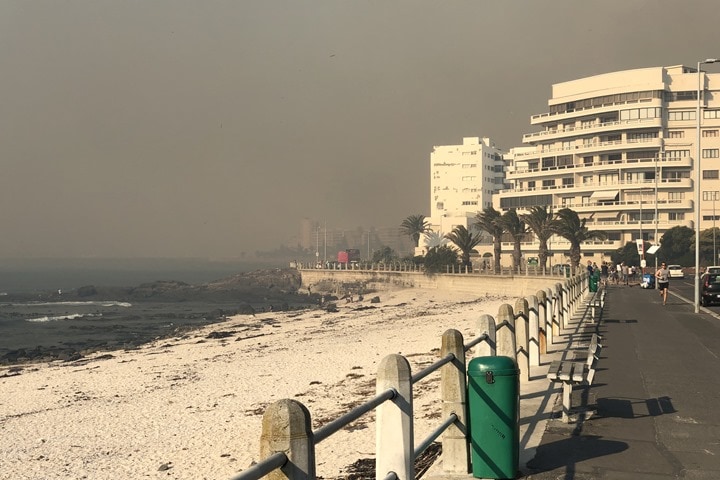 It definitely wasn't there when I left 80 or so minutes earlier.
Turns out in that time-frame someone/something set fire to the mountain, and as a result of the strong winds, it was quickly moving. and that smoke? Down into town.
While our Airbnb is close to the mountain (and ultimately almost directly below where the fire got to), it's still got a few blocks in between us and that. It was more the smoke that was an issue, but thankfully the wind kept most of it from smoking us out last night.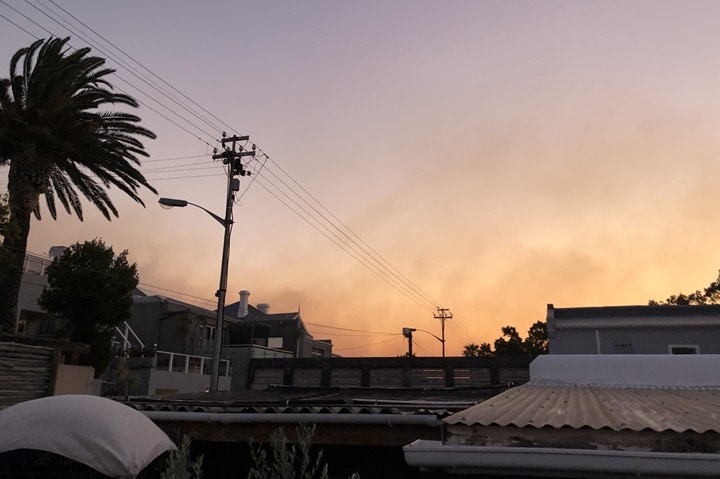 By morning, the fire crews had gotten the vast majority of it under control. In fact, as we went out for a run earlier this (Monday) morning, we watched as the helicopters continued filling buckets of water and putting out the remaining bits of fire:
Out on this mornings run, watching the firefighting helicopters refill water. Impressive circuit speed, about 3 minutes round trip to drop water on dwindling wildfires on the mountain, and then be back filling up the bucket in sea. Appreciate the hard work, especially last night! pic.twitter.com/oAMlGbnlYm

— Ray Maker (@dcrainmakerblog) January 28, 2019
The winds were calm now – but I can't even imagine trying to do that last night with the winds gusting up to 45KPH/72KPH. Eeks!
With that – hope everyone has a good week ahead, and thanks for reading!