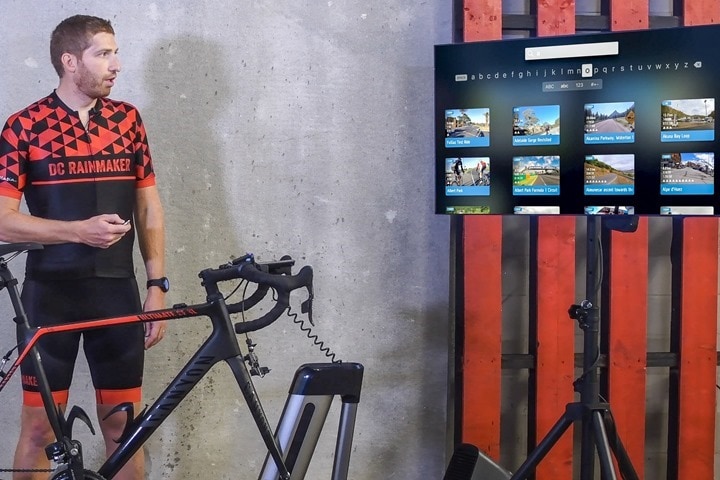 Over the last week FulGaz, the indoor trainer app that lets you ride outdoor routes indoors, released their Apple TV variant of the app. This is notable for a few reasons.  First, they've become the second app to do so after Zwift last fall. And second, whether or not you're an Apple or Android household, Apple TV represents the least expensive way to get a dedicated trainer computer/setup up and running.  With the regular Apple TV version costing $149, and the 4K version costing $179, there's no less expensive way – especially for 4K content.
But more than that, there is another world of trainer apps out there other than Zwift and TrainerRoad. Nothing wrong with either of those apps, but there's over 20 indoor training apps that allow control of the trainer and such. And it's cool to talk about those.
Even more so as FulGaz is doing some technically unique things within their implementation of the app, especially when it comes to the KICKR CLIMB and for the geeks in the house, NAS server support.
But, let's not get ahead of ourselves. Oh, and since it's a Friday and sunny out, I'm gonna keep this brisk so I can go out and ride.  However, since this post is all about video and such, hit up the complete video I made below – as it'll quickly and efficiently give you an overview of the entire app:
And by overview video…I really mean a ton of details.  You didn't expect anything less, did you?
The App:
To start on the Apple TV variant (they also have an iOS variant), you'll need a compatible Apple TV. In short, if your Apple TV supports apps, then you're good to go. If you're looking at picking up a new Apple TV, I strongly recommend spending the extra $30 for the 4K variant. It has about double the processing power of the regular one, which has a dramatic improvement in apps, even if you're not doing 4K video.
In any case, to find the FulGaz app you'll simply search for it within the Apple TV app store. It's basically the only one that has a name anything like it: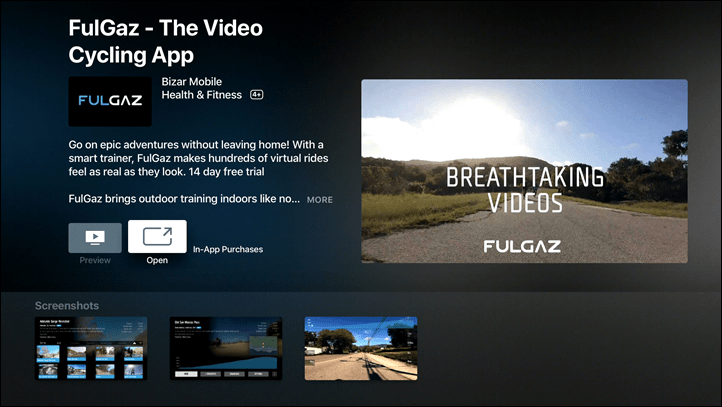 After that, you'll need to either sign-in to your existing FulGaz account, or create a new one. You can do a trial for 14 days, or you can pay monthly at $10US, or even less if you do an annual plan.
At which point the app is ready to pair to sensors. In the case of Apple TV, that means Bluetooth Smart sensors. You can see here the KICKR CORE I was riding, and then I selected one of the power meters for cadence. I also selected my TICKR-X heart rate strap.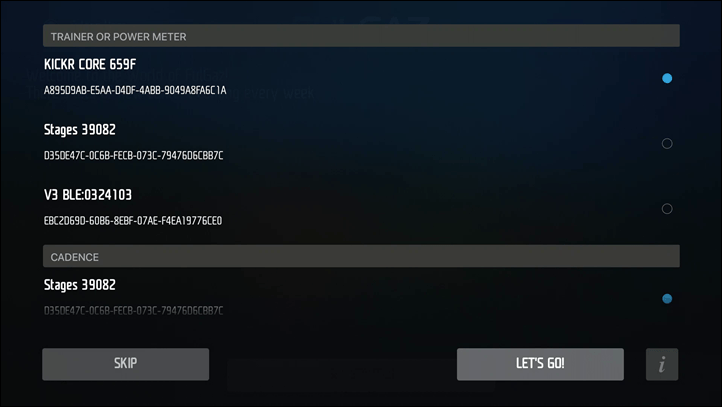 Now, there's a couple caveats here. In the case of the Apple TV, it supports a maximum of three Bluetooth Smart connections. Unfortunately, one of those is the remote. So you're down to two connections. That meant that it retained the trainer and heart rate sensor connection, but I lost the cadence one. That's because Wahoo remains one of the only trainers to not include cadence data within the native trainer sensor stream. So, no cadence for me (I could have swapped it for HR, but I'd prefer HR this time). Speaking of being behind the times – Garmin also needs to get with the show here and allow Bluetooth Smart broadcasting of live heart rate data from their watches (they allow ANT+ broadcasting only), as I could have in theory just done that too.
Also note that FulGaz does support both the NPE CABLE and 4iiii Viiiiva ANT+ to Bluetooth Smart converters, so that might be a solution for some to channel that data in from ANT+. After you've completed all that, you're at the home screen: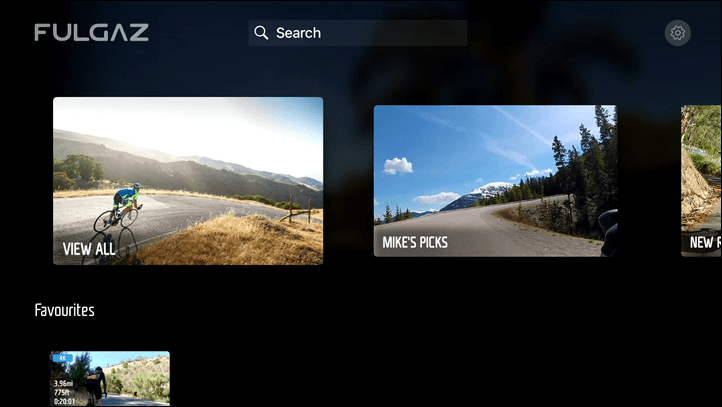 It's here they've got rides in a pile of categories from mountain rides to race rides and so on. The ones that are listed as KICKR Approved, are essentially ones they've gone through with a fine-tooth comb to ensure are perfect on the CLIMB. The others work just fine, but they've given these a bit extra love.
If you dive into a given video you can see a number of stats about it. This includes the elevation profile, a brief description, distance, as well as the duration, and the filmer.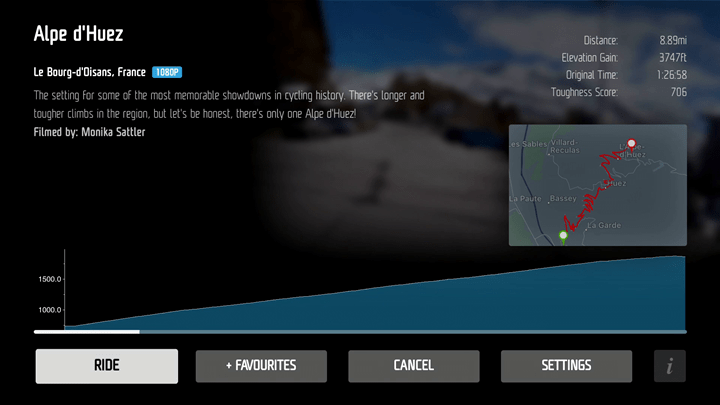 The duration and filmer are of note because the video is aligned to their cycling performance. All of these videos are filmed on real-bikes, mostly with GoPro Hero 6 Black cameras in a bit of a specialty setup.  They record everything in 4K with GoPro ProTune enabled, and then do a fair bit of processing afterwards to clean things up and make them as pretty as possible (including a bunch of processing on the elevation data as well).  The company even ships out camera kits (inclusive of a special mount they've designed for filming these) to folks that are willing to film special routes.  For example, right now they're looking for someone to go out and film the IM Kona course.  Today they've got 364 videos live, and they're aiming to onboard another 100 videos by the end of the year.
Anyway, the reason why the time matters is that the closer you are to the time of the filmer, the more realistic it'll be.  See, in the settings there's an option for the playback (Steady/Reactive/Challenge). When the video plays back there's basically the option to play it back at the speed it was filmed – Steady – regardless of your effort. Or, to play it back such that the video speed is slowed or sped up based on your effort (Reactive). This is similar to how other apps do it.
Speaking of settings, there's a pile of them, most of which are pretty self-explanatory.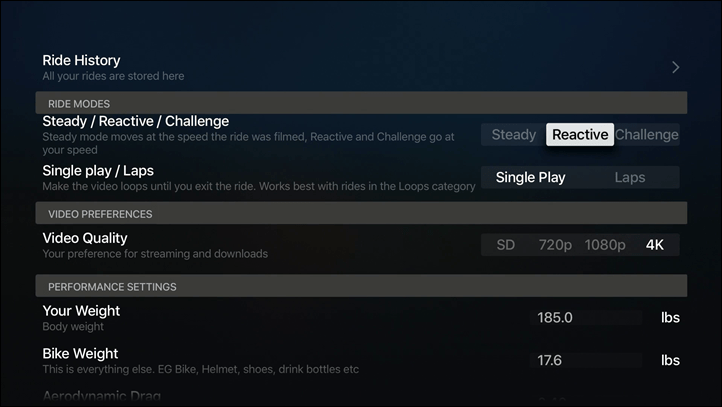 One of the coolest geeky ones though is the ability to download any of full-res 4K and 1080p video files to a local computer or NAS server on your network. This is notable if you've got bandwidth issues, or if your Apple TV is filled up already with other stuff, or if you're running a studio of these all setup and want everything available locally.  Cool stuff.
Below there are a bunch of options primarily related to the trainer and CLIMB. This includes what is essentially a 'Trainer Difficulty' setting, as well as max incline and even max decline for the CLIMB (in case you have crazy long crank arms or something and might bottom out). You'll also see support for the road feel/patterns within the Tacx Neo.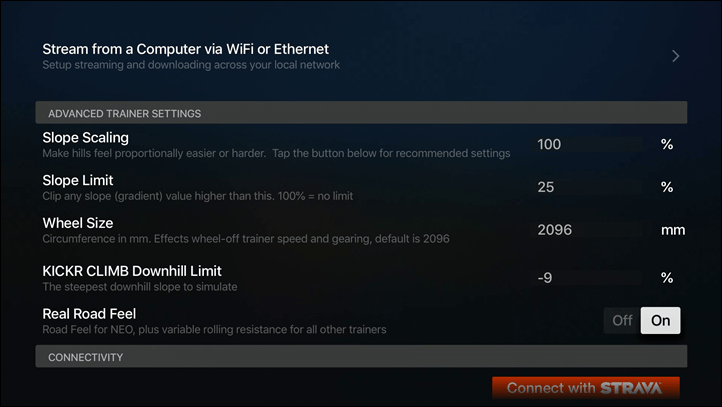 And finally after that is a bunch of upload options. Strava, TrainingPeaks, Today's Plan and such. Plus the ability to e-mail yourself the files (you can also download them from their web portal too).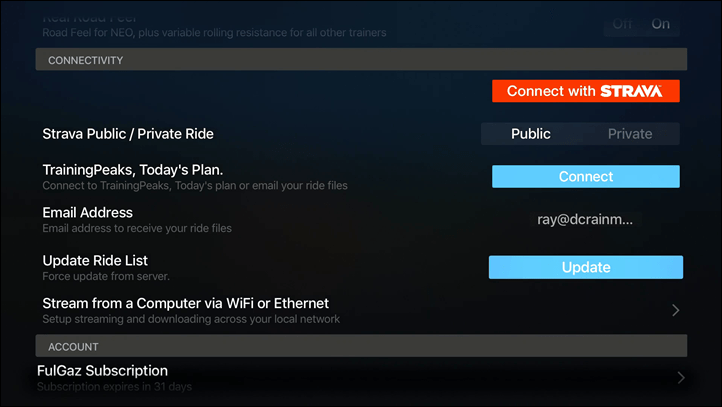 So, with all that set, let's start riding. In my case I selected to download the file to the Apple TV using the 'download' button (not the NAS server, just the standard download option you see a few screenshots above). In my case the download button has changed to 'Delete' because I've already downloaded it. Note, you don't have to wait for the download to complete at all – you can just stream it. After which, I'm brought to the start of the ride.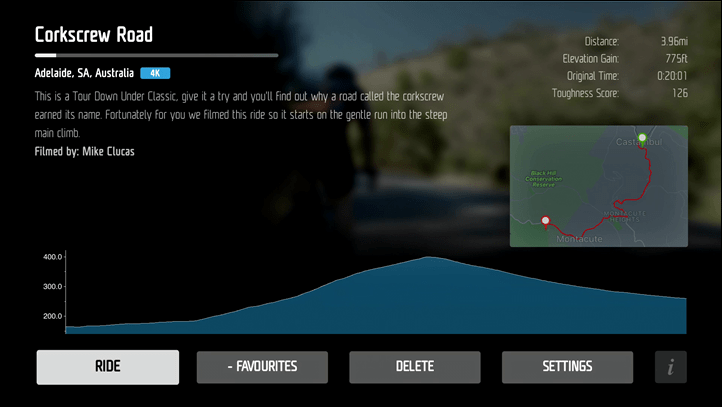 As I start pedaling you'll see most of the normal stats you'd expect on the sides and top, including my power/wattage and heart rate. One notable one though is the playback speed, directly below my speed (left side):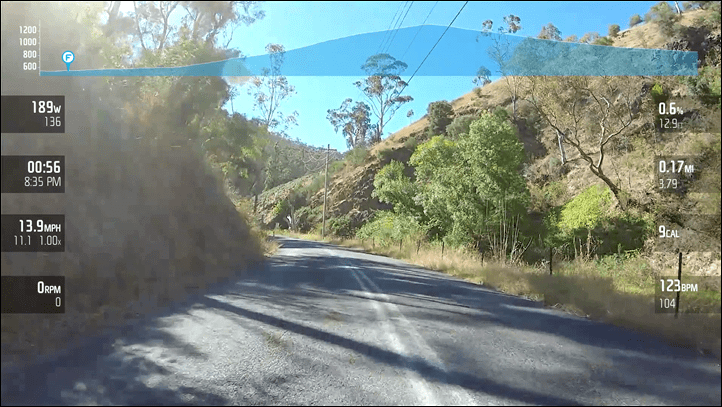 This is telling me how close I am to the original filmer. The closer this is to 1.00%, the more it'll feel like the real thing. If you're down at .60% or up at 1.33%, it won't feel life-like. If it's too slow it'll stutter, and if it's too high it'll look like fast-forward.  Of course, you can always just go and change this to simply play-back at the filmed speed (called 'Steady mode')– but the downside there is that your distance won't quite be accurate.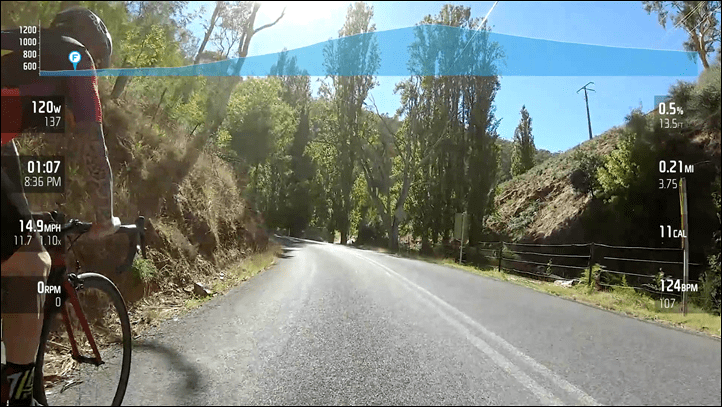 In my case it was easy enough to match the filmed speed (or be close to it), and things felt and looked really nice.  Since it's resistance controlling the trainer, it also changes the incline accordingly. This is supported for all the major trainers/brands.
And since I was using a KICKR CLIMB with this, it changed the CLIMB's incline there as well. And this is where they're doing some unique bits. See normally app developers with the CLIMB simply match the trainer incline. So by default an app tells the trainer (KICKR) to be 5% grade. That makes the KICKR 5% grade, and then the CLIMB is also made 5% grade at the same time.
But there's also a lesser-known option with the CLIMB's development kit that allows developers to send secondary commands to the CLIMB. This means that a developer can tell the KICKR to be 5% but the CLIMB to be something else.  Why would you want to do this?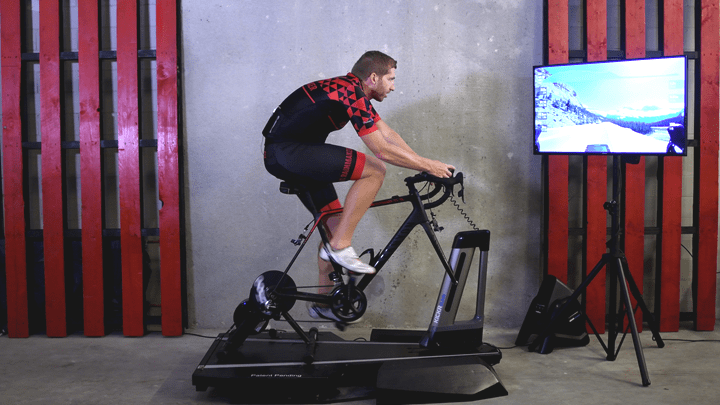 (Note: Yes, my seat is WAY to low. I had a DCR Reader in doing some power meter tests this week, and totally forgot to change it after the ride.)
Well, it turns out that it actually feels better to send the CLIMB's commands slightly ahead of the KICKR's.  In the case of FulGaz, they send the CLIMB commands 2 seconds prior to the KICKR gradient commands. This has the result of making the two feel more cohesive (as backwards as that might sound). It's really impressive, and just feels so much more immersive than it does in Zwift (which just uses the regular way). Two seconds apparently matters.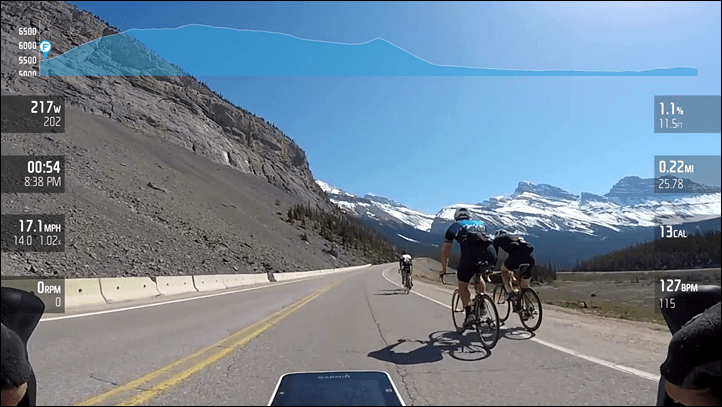 As noted above, there are some 364 courses/routes from all around the world. Some are longer climbs, and some are regular roads that may be interesting, and some are even loops that you can have it repeat over and over again.
Finally, when you're done riding your trainer, you can end the ride. However, you can also save your place and finish it another day – which is super cool. Why can't I do that on other apps? This is especially useful if you're doing a longer climb like Alp d'Huez, and perhaps finish it over two shorter weeknight sessions.
Once you have ended for real though, it'll upload automatically to platforms like Strava and such, depending on what you've configured.
Wrap Up:
I think there's a few overarching themes with the apps I enjoy reviewing. First, they do cool technical stuff. Everything just works, and it works well.  But, equally important is that the user interface just looks super clean. The user interface for FulGaz, especially on Apple TV – is so clean and efficient it feels like Apple TV itself. From the color scheme to the menu system, it doesn't feel cluttered or clunky or from the 1980's.  And again, it just works.
From a ride quality standpoint, the videos I tried were all pretty high quality. I did see a little bit of pixelization on some of the 1080p videos, as I was running up against a bug on getting the 4K videos to download (the company says the fix for that should be approved by Apple in the next day or two).  Looking at the 4K files though, they look awesome. There was one minor filtering bug I mentioned in the video around the mountains list being not right; the company has also said it looks like they had a secondary filter showing only a fraction of the videos. Should also be fixed soon.  But these are super minor things in the grand scheme of an app that just released onto a new platform.
Speaking of platforms, I know some of you will ask about Android. Here's what they had to say:
"No plans for Android at this time. It's not an Anti-Android thing or an Apple Fanboy thing on our part, it's just the harsh reality that it would take an entire rebuild from scratch, plus ongoing work to perfect things for all the Android variants. It would be nice to have, but it's the sort of thing a much larger company would take on. The same goes for Windows.

Apple TV was pretty simple in comparison because it's "just" a new interface. All the physics etc and device connection code is the same as the iOS version."
And there is a reality to what they're saying. With TrainerRoad and Zwift both having over 100 employees, it's pretty hard for a small development shop with only a few employees like Fulgaz, to do both platforms well. Unlike more traditional games on these platforms, the barrier to entry for a trainer game/app is much higher due to all the sensor interfaces (especially Bluetooth Smart variances on the wide variety Android devices).
Still, it's neat to see them branch out into the Apple TV realm. And more importantly, it's cool to see smaller app developers like FulGaz putting out equally high-quality trainer apps and even surpassing some of the big guys when it comes to specific technical implementations (like CLIMB).
With that – thanks for reading and have a great weekend ahead!