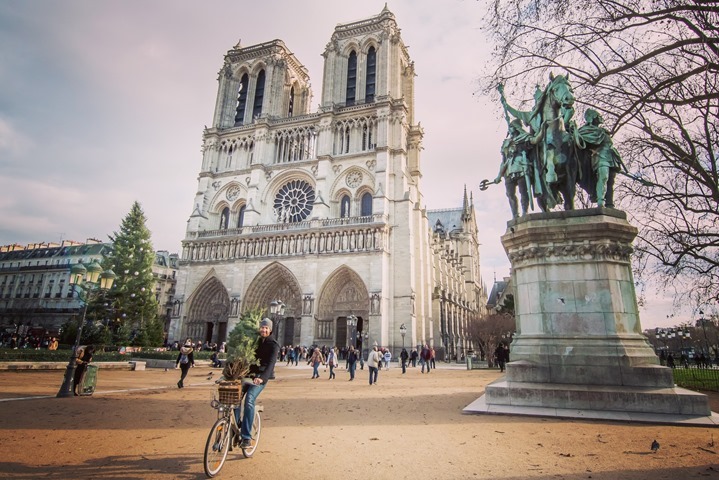 Each year since moving to Paris, we've ended up buying our Christmas tree not terribly far away at the flower markets.  While these markets are on the long list of tourism things to see in Paris, for us it's more of a case of convenience.  It's simply the closest spot to get our Christmas tree (save for some grocery stores that tend to have smaller trees).
Less you think I'm kidding about this being an annual tradition, here's some of our past years' exploits:
But this year we've added another human to the clan, and all of us would be going out together to pick up the tree.  Initially, I had hoped to put The Peanut in a bike seat on the back of the Velib for our transport journey, but some sort of shipping/procurement delay has occurred there…thus, we have no bike seat for her.  But that's all getting a bit far ahead of ourselves.  First up, picking out the tree!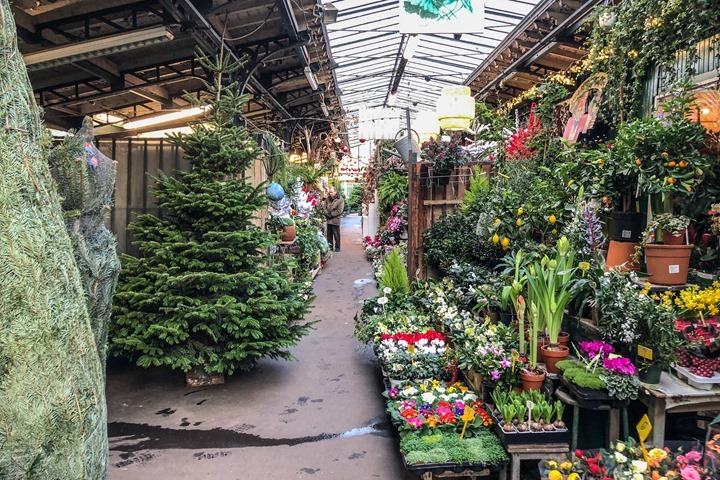 We generally oscillate between two of the 4-5 different vendors that have Christmas trees at the market.  The prices are pretty similar to that in the US.  Though unlike trees bought at most stores in the US, you'll find the trees here aren't designed to be placed in a bucket of water.  Instead, they're stuck in a log that somehow magically makes it better (seen in the bike basket pictures in a moment).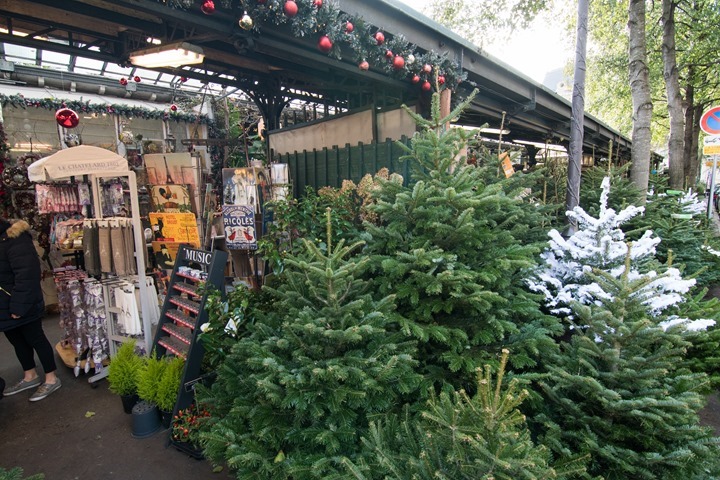 Pro Tip to The Country of France: It doesn't actually make it better.  It just makes your tree dry AF.  On the bright side, nobody has to remember to water the tree.
After picking out the tree I was off to get a Velib.  The good news is that the flower market actually has a Velib station right inside it.  The bad news?  Someone stole the entire stand.
Actually, not really stole it.  But rather Velib is changing ownership between two companies, and thus half of the stations are inoperable.  This happens to be one of the halves.  So instead I had to jog over to the Notre Dame station a few blocks away and pick up a bike there.
Once that was all set, the flower market lady bundled up our tree to prepare it for transit.  She didn't blink an eye when I pulled up with a Velib. Next, we got it all loaded up, and then got a quick family portrait.
Peanut #1 is in the stroller, Peanut #2 is bundled up inside The Girl's coat. And while sometimes Lucy is along for the ride, that just seemed like it would raise everything to complete and total @#$#-show level.  Thus, she stayed home.
From there, I got the weight and balance all sorted and began my trek home.  It's actually surprisingly easy to ride with a Christmas tree in the basket of a bike.  Or perhaps, I've just done it enough times it doesn't bother me.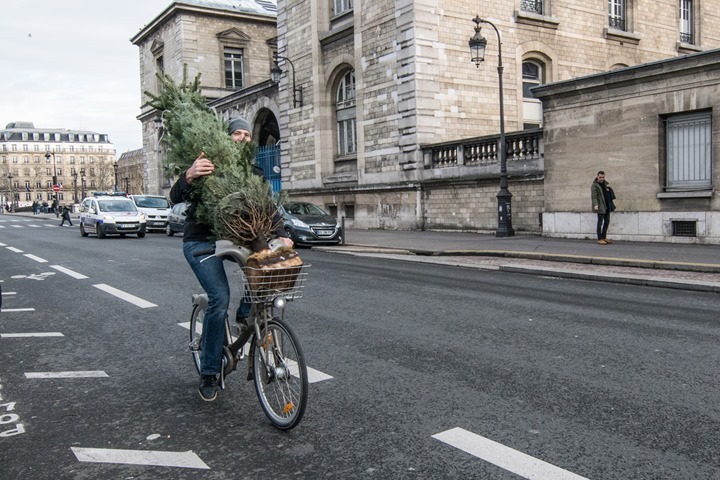 I'd pass the police headquarters, before making a turn towards Notre Dame: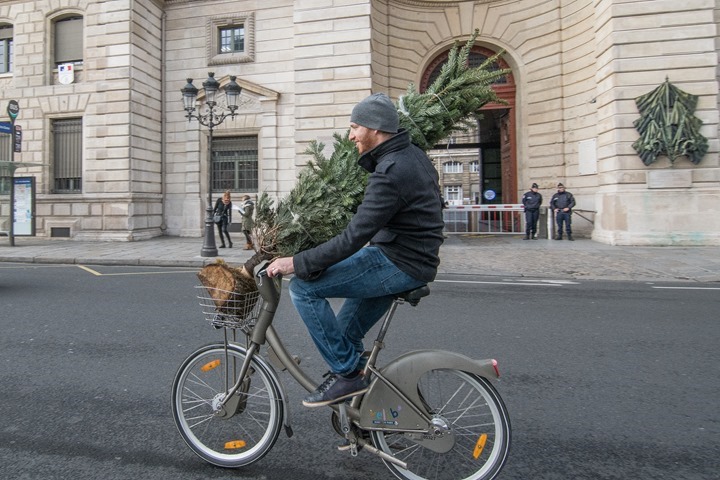 This year I took a slightly different route, just to mix things up a bit.  I'd pass in front of Notre Dame's main entrances, as opposed to along the side and back of it.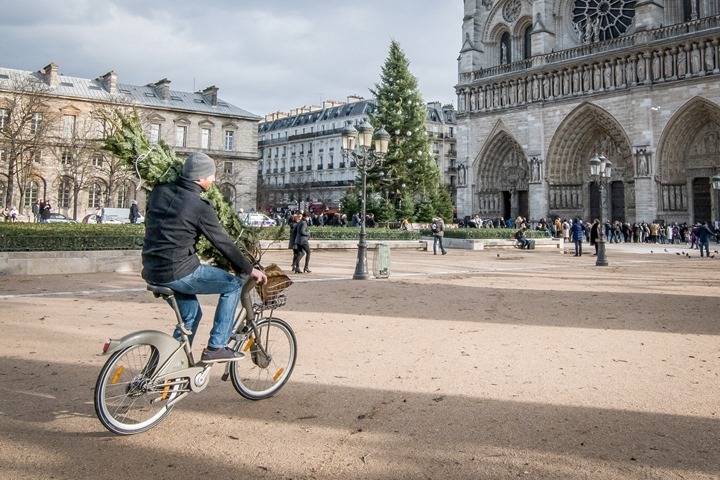 I did a quick loop back towards The Girl, because, why not?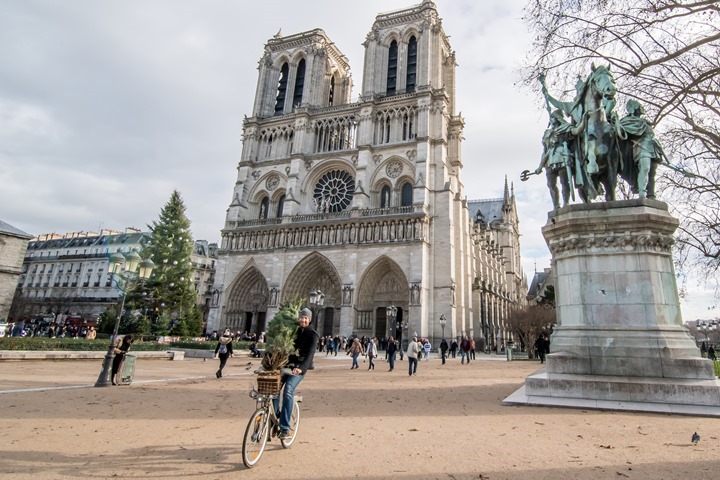 Then I'd cross the bridge to get over the river.  This ended up being a wee bit busy with a random slew of tourists that had just offloaded from a bus.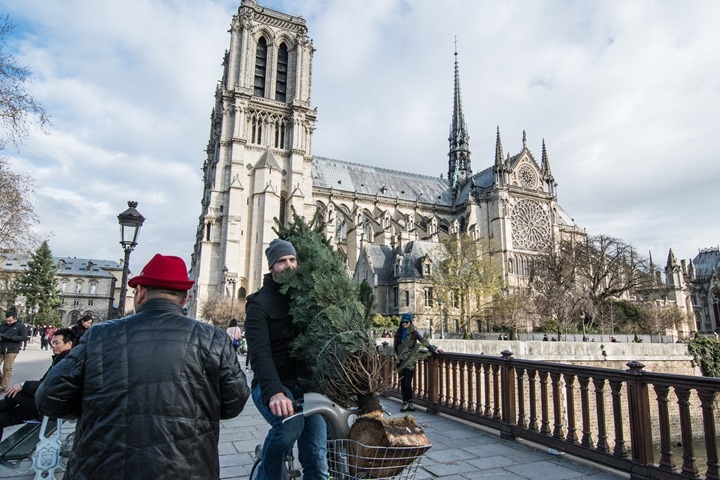 After crossing the street I made a bit of a loop behind our house, following a gaggle of one-way streets that have virtually no traffic on them.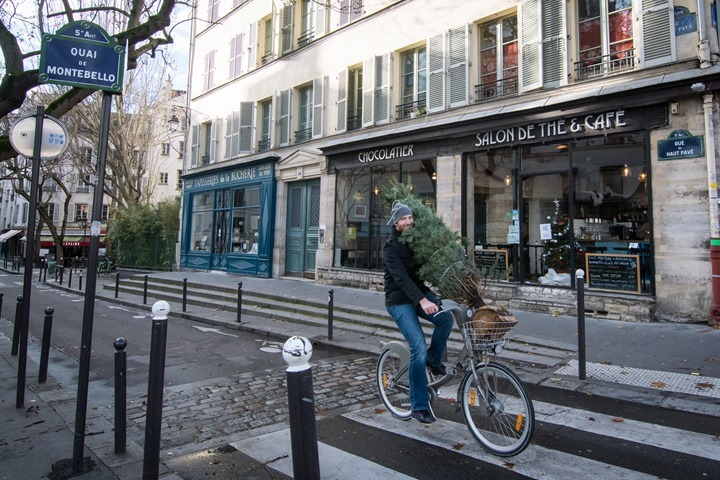 And then, I was all set at the front door – ready to get the bike unloaded and the tree inside.
Oh, I recorded the ride on Strava too using just the iPhone app!  Here's that:

(Ironic tidbit: Just after I temporarily parked my Velib bike and locked it, it was stolen. Who cuts and steals a Velib bike?!? Sigh…)
Normally, I take a picture of ourselves in the elevator with the Christmas tree, since the elevator is so tiny.  But this year we were dropping off The Peanut at daycare, so everyone else stayed downstairs.  Except, a neighbor showed up at that very moment, and it was a little awkward to take a selfie in the elevator with me, the tree, and him (he did indeed get in the elevator).  So instead, here's last year's picture: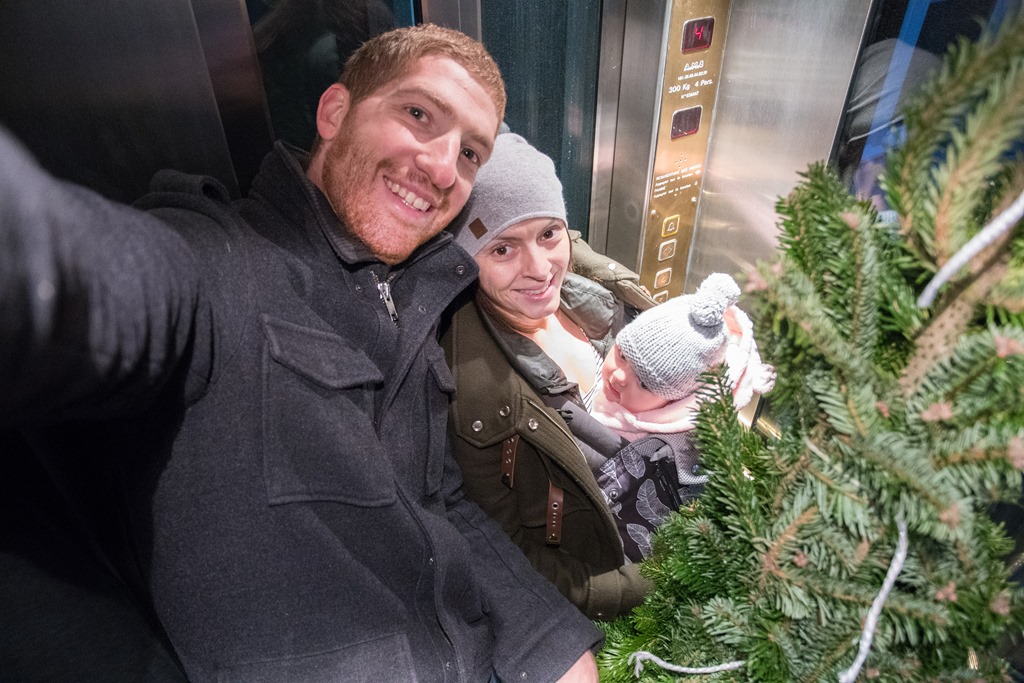 After which we have one tiny set of staircases to get it up into the front door of our apartment.  Then it's just a matter of decorating it: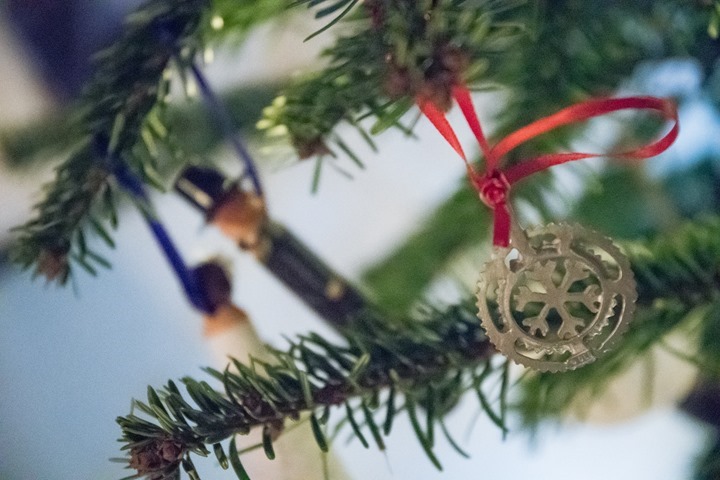 Oh, and the final result: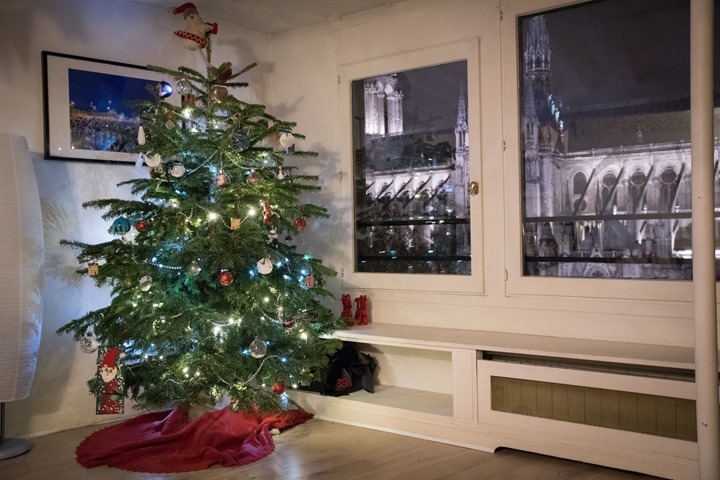 So far The Peanut has only removed a single ornament from the tree (and then put it back on again…over…and over…and over…and over… again).  Though, we've hidden all the good ornaments way out of reach this year!
With that – hope everyone has a great week ahead!