I have now had two weekends at home in a row!  And both of them had mostly great weather.  Here's what we were up to the last few days.
1) Accuracy Testing on the 4iiii Precision Dual-Leg
Thursday I got the 4iiii Precision Dual-Leg all unboxed and installed on my Cervelo P3C, along with doing some brief test rides.  But it was Friday that I finally got a bit of a longer test ride on the trainer to see how things were looking.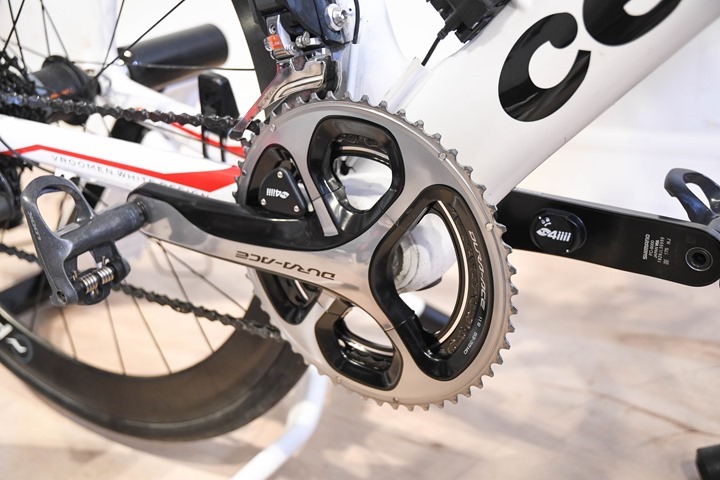 You'll remember this is the long-awaited dual version that 4iiii had initially set out to sell years ago, before then deciding to focus on the single-leg version for the past year and a half or so (which turned out solid – my review here).
So on that bike I'll have a PowerTap G3 hub in the rear wheel, the 4iiii Precision Dual on the left/right crank arms, and then soon a pair of PowerTap P1 pedals.  However, I managed to strip one of the P1 battery caps last week, so can't swap out the dead battery quite yet.  These were the original battery caps from last fall, before they switched to more strip-resistant caps last December.  I'll also plop on the latest LIMITS power meter on one leg too, just…for the heck of it.
In any case, the first 4iiii dual tests looked pretty consistent with the PowerTap G3 hub, and within 1-2% across a moderate spectrum of wattages (100w to 400w).  Once I've got three functioning power meters on there, I'll start publishing more results.
2) A Petite Pumpkin Party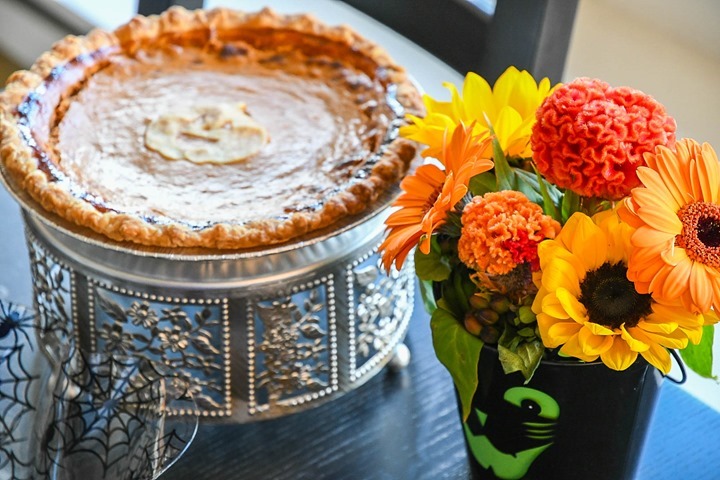 Remember last weekend when we headed out to the farm to pick up pumpkins?  Well, now those pumpkins had their first use.
We held a Halloween party at our apartment, for both little people and big people…in costume.  All triathlete friends of ours, about a dozen in total.  Oh, and one dog: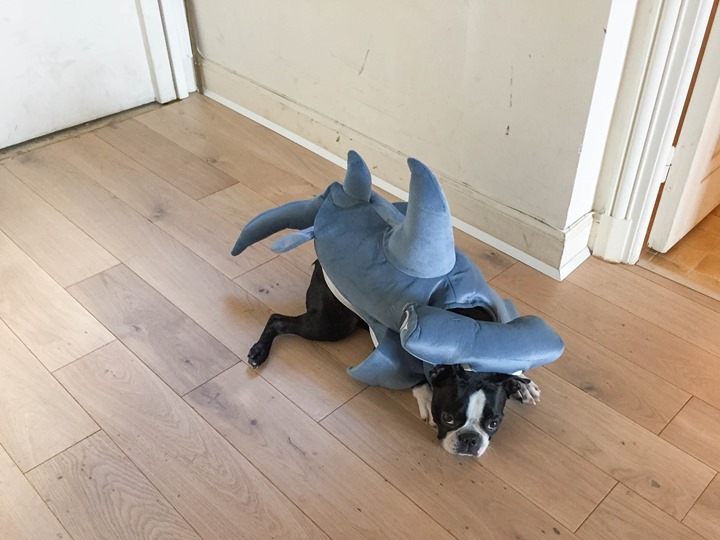 The Girl cooked up everything from quiche to pumpkin pie:
There was also other goodness brought by others, including these nifty IV/blood drinks…yes, alcohol included:
Good times!  And, there's a pic of us in costume on The Girl's Instagram page.
3) A Very Long Swim
Back in late June when we went to the South of France for a few days, the Baby got some brief pool time.  However, this weekend was her first legit pool time.  She went with two other babies from the pumpkin party (plus their respective parental units).
She successfully completed her first underwater swims, which involved a distance of approximately 2 feet (less than a meter).  Meanwhile, the parents swam around for what was probably a grand total of 7 meters in this whole excursion.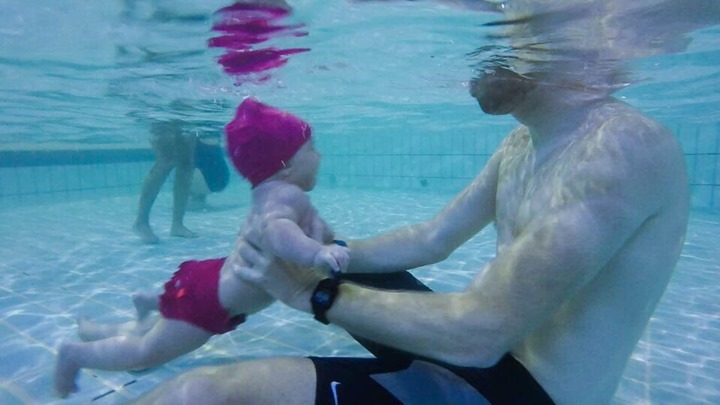 The challenge with babies this young is simply they get cold too quickly, so the entire swim session lasted maybe 15-20 minutes before it was time to get out.  So definitely not enough time for one parent to go off and do legit swim laps while the other hangs with the baby before swapping.
Plus, I counted 12 people* in the 25m lanes, so…I'm good, thanks.
(*Yes, I know, better than the usual 15-20, but no, not enough to entice me.)
4) Five Guys and Wikipedia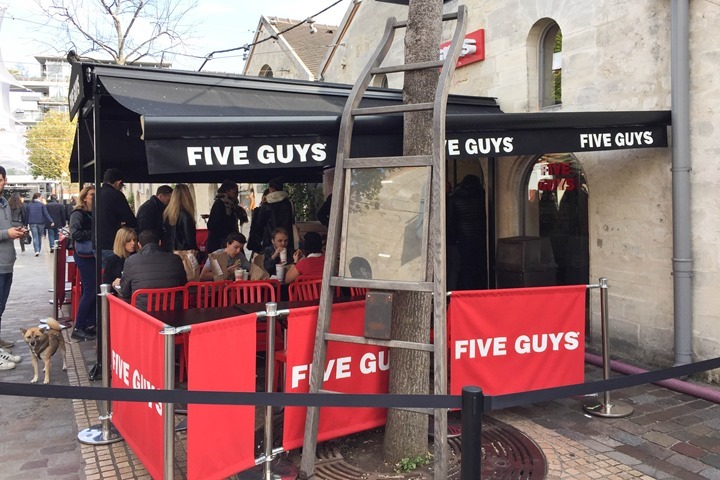 Given we swam such an enormous distance and for so long, we had to replenish our calories.  There's no better way to do that than Five Guys burgers.  The chain opened up their first store in France a few months back (in a non-touristy but trendy area), though their second store is set to soon open on the Champs-Élysées.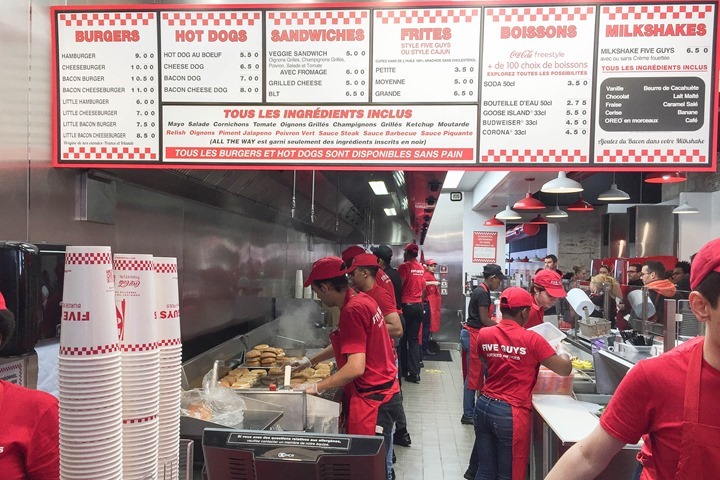 Five Guys was originally from Arlington, VA (the greater Washington DC area), and I'd go there every 3-4 months when I lived in DC. While their burgers aren't huge by some standards, they are made to order and incredibly tasty.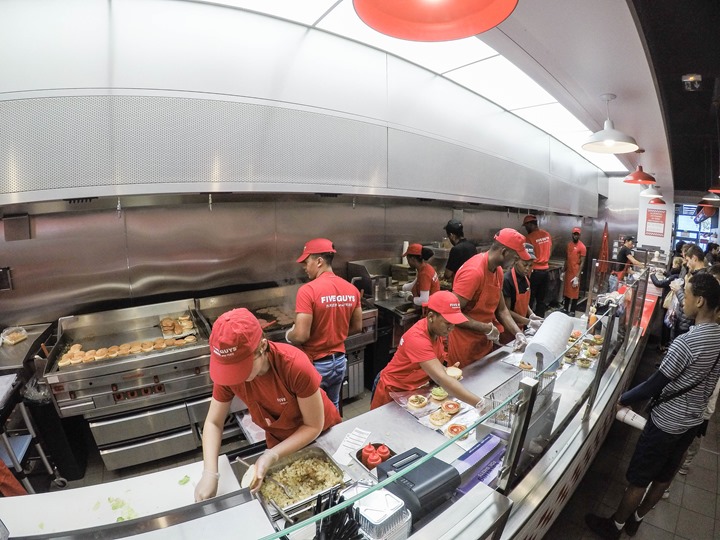 Burgers have been all the craze in France over the last couple years, with tons of burger shops popping up.  Unfortunately, the vast majority of them truly do suck.  It's the one culinary area that somehow the French aren't quite pros at.  My most common complaint being most burgers just lack flavor somehow.  Plus, they often like to make them more petite in width, but vertically taller (which is the worst possible thing you can do for a burger). And generally the burger-bun situation ends up a soggy mess…. not good!
In any case, Five Guys was great!  We didn't go all Americana and order our own fries, but rather just shared some among the five adults.  The oldest of the three babies also tried one fry, an endeavor which lasted her about 30 minutes.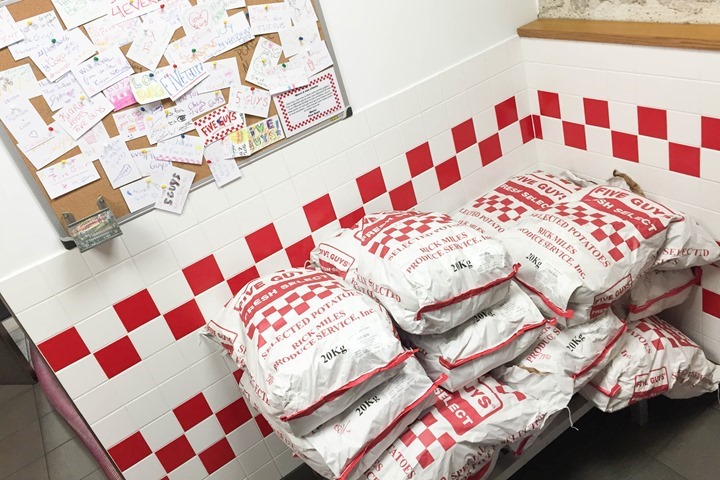 After Five Guys we swung through a kids store, and I noticed they had Wikipedia on a shelf.  Peculiar I thought.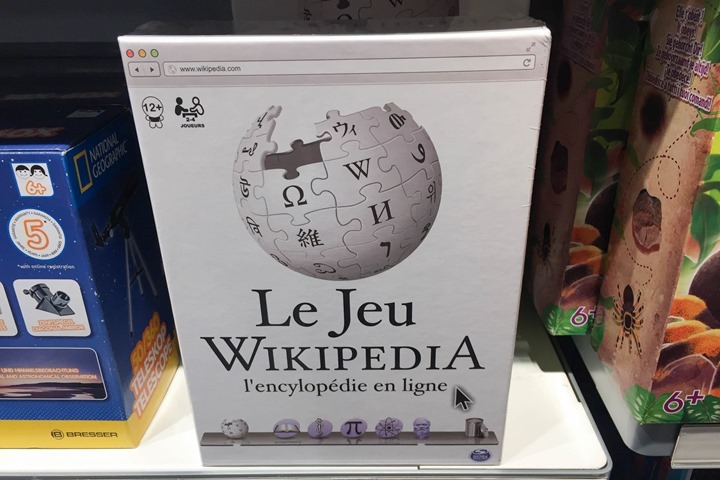 But it's actually a board game though, available in English as well as other languages.  Go figure.
5) Running in the Rain
After chowing down on Five Guys, it was time to head out for a run. Not immediately of course, but a few hours later.  In retrospect, I should have gone closer to immediately than later.  It was beautiful blue skies out earlier, but about the time I started my run, the blue turned to grey.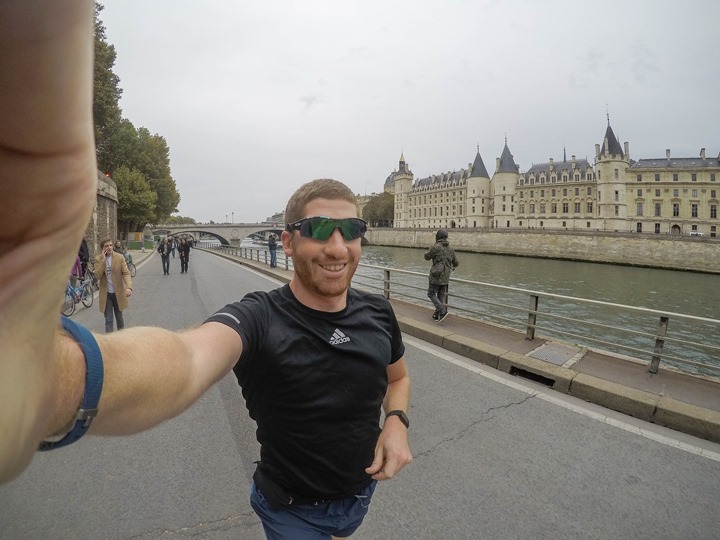 And shortly after the below photo, from grey to rain. Still, it was warm enough it didn't much matter. I made a simple loop along the river, with a brief excursion to and through the Louvre.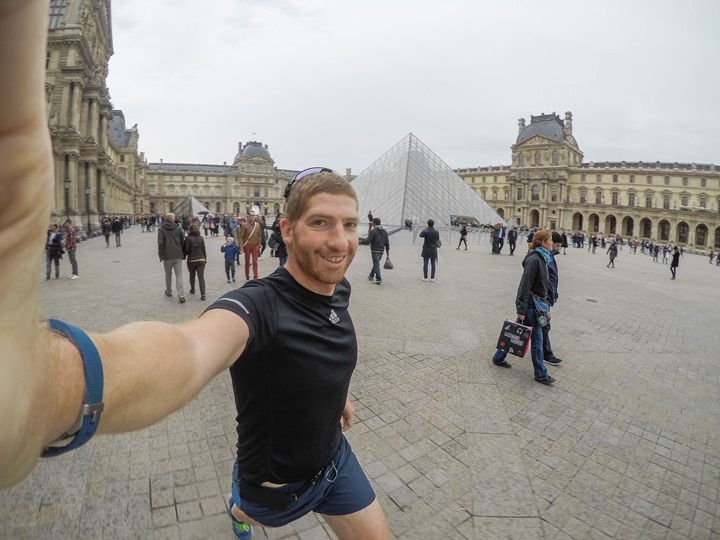 I had on both a Garmin FR35, as well as a Fitbit Charge 2 (with 'Connected GPS'…aka…my phone), plus a Suunto Spartan Ultra tracking GPS and reference HR on a strap.
All were sorta in the same ballpark for GPS, though, slightly more than I'd like to see.  More on that tomorrow I hope.  It was interesting to see the not uncommon chest HR strap wonkiness that often appears on cooler fall days in the first 5-10 minutes.  I think too many folks forget about those days with optical HR.  It used to be one of the most common search results for the site, but with optical, has since faded.
In any case, a nice run in the books.  Nothing special or terribly long – just pleasant.  And wet.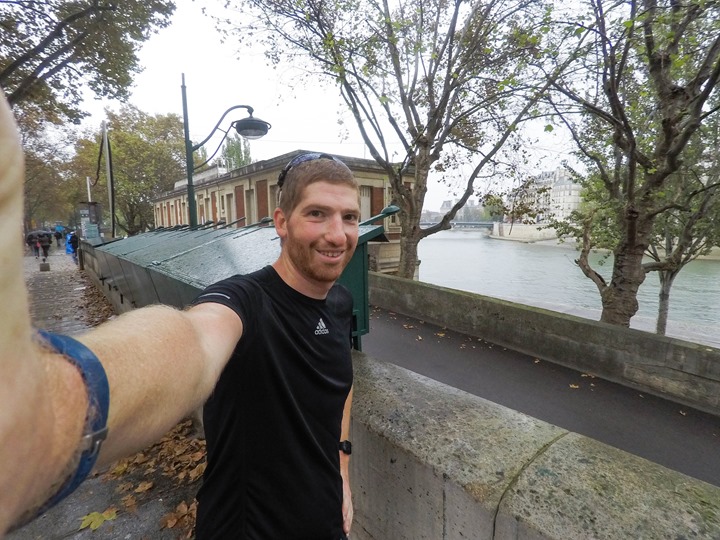 With that – thanks for reading folks, and have a great week ahead!