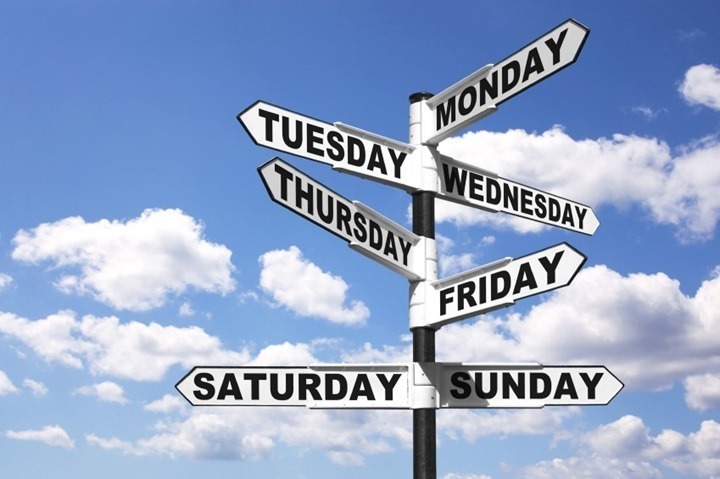 The Week in Review is a collection of both all the goodness I've written during the past week around the internet, as well as a small pile of links I found interesting – generally endurance sports related. I've often wondered what to do with all of the coolness that people write, and while I share a lot of it on Twitter and Facebook, this is a better forum for sending it on to y'all. Most times these different streams don't overlap, so be on the lookout at all these places for good stuff!
So with that, let's get into the action!
DCRainmaker.com posts in the past week:
Here's all the goodness that ended up on the main page of DCRainmaker.com this past week.
Monday: A look at Kinetic's new Smart Control Trainers (Holy balls you should go read the comments section)
Monday: PowerPod rolls out ANT+/Bluetooth Smart version, improved road surface algorithms
Monday: First Look: Stages introduces Dash bike GPS, training platform suite
Wednesday: Garmin VIRB Ultra 30 In-Depth Review
Wednesday: Thoughts On The New Apple Watch Series 2 with GPS & Waterproofing
Media Snippets this Week: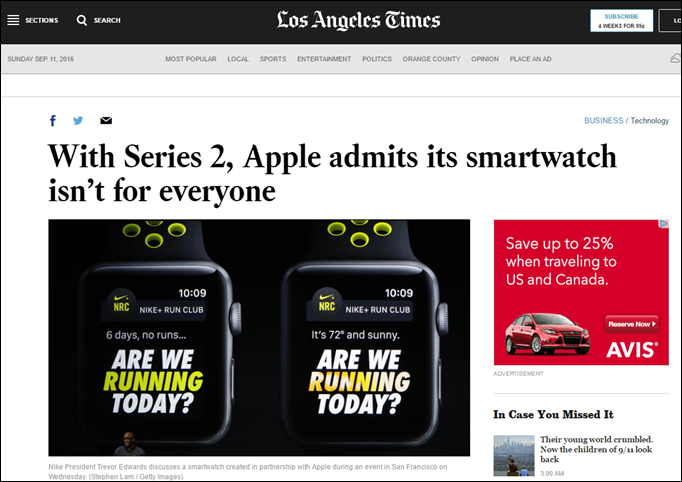 Sometimes I remember to call these out.  Most times I forget.  But this week was kinda neat – the LA Times.  Not sure if it was in the paper edition or just the online edition.  Either way, a few quotes from me, as well as some general backgrounder reference.  Though, they got my site name wrong.  Oh wells.
DCR Podcast!
Here's a handful of the topics discussed in this past week's podcast:
– We chat about Eurobike and the RV (and failures)
– New trainers at Eurobike
– New power meters at Eurobike
– The strange drilling outside Ben's RV (yes, we both had RV's)
– The new Apple Watch Series 2
– Garmin's new action camera
– What GoPro has up their sleeve
– And we take a few caller questions and fix some people's stuff
Listen to the full podcast here on the Podcast player, or just download the most recent one directly here.
YouTube videos of note:
Ok, I published a @#$#@-ton of stuff this past week on YouTube.  Mostly because I published approximately 0 things the week before while stuck in the Interweb-connectivity-hell-hole that was Eurobike.  So the flood gates opened up.
Rather than list everything here (there were 15 videos!), I'm going to pick some of the most interesting ones.  You can swing over to my YouTube page to see all of them.  Or, and you can just subscribe on YouTube here, so you get notifications instantly when I publish new stuff.  I've got a few more I'll be pushing up in the next 24-36 hours as I finish editing them.
Stuff that I found interesting around the interwebs:
Here's a not-so-small smattering of all the random things that I stumbled on while doing my civic duty to find the end of the Internet.
Note, some of these are backlogged from the last few weeks' worth of 'Week in Review' posts that never quite made the light of day, so I've picked the most interesting ones to me.
1) On the Zwiftcast! I recorded an episode with the crew of the Zwiftcast while at Eurobike.  We chat for an hour on everything about trainers. Tons of trainer talk. All trainer talk. Nothing but trainers. Did I mention trainers? You'll love it.
2) Chris Froome's lab results: But I actually don't care about him per se.  Rather, I thought the discussion in the comments about non-round rings was more interesting. Worth a gander if you're unfamiliar with the topic (or, even if you are familiar with the topic and why it matters).
3) The McDonald's Activity Tracker: While this was a few weeks ago and since recalled, I'm bummed I never got the chance to review this unit.  I had some funny ideas there, but they didn't have them in France and I had to wait till my US trip next week.
4) This man owns 4,500 cameras: And people say I own a lot of GPS watches or HR straps (or even action cams).  I've got nothing on this guy's collection numbers.  Though, at the current rate of wearables growth, it'll probably only take me a few decades.  The Girl might institute a ban (or garage sale) prior to that though.
5) Awesome SwimRun USA drone videos: You'll remember some SwimRun drone video work done previously that I've linked to.  A swim-run event is exactly what it sounds like, you swim and run.  The company has done a really solid job in putting together a flurry of videos.  My favorite is below, but tap the link up there for all of them.
6) Jabra gets HIPAA-compliant certification for platform: So this is really interesting on a lot of levels.  But in a nutshell Jabra has managed to get a complex medical certification for their sport heart rate earbuds, which are based on Valencell technology (same company that does really solid optical HR sensors).  This allows a doctor to prescribe exercise and use this specific product to monitor that (a consumer product).  I wanna do a bit of digging on this in the coming weeks, as this could be a turning point from where we are now with companies throwing out non-accurate products that don't have to substantiate their claims on accuracy, to companies actually getting certification.
But the creak in that concept here is that the sport earbuds themselves didn't get certified from an FDA claims perspective, but rather just that the software platform is HIPAA compliant, which is an entirely different beast (even considering that the original article has it misspelled as HIPAA).  So the PR stuff is a little muddy in my opinion. But, the certifications aren't my specialty – so, perhaps some readers know the deal here.  That said, if any company is going to manage to achieve some level of accuracy compliance, I'll hand it to Valencell to have the best shot at it.
7) Looking to sell your bike? Here's some tips on how to go about doing so.
8) Wearable tech data and player contracts: Some interesting details here on how different companies are handling data coming from wearables in major contract negotiations.
Sports Technology Software/Firmware Updates This Week:
Each week I quickly highlight some of the new firmware, app, software and website service updates that I see go out. If you're a sports technology company and release an update – shoot me a quick note (just one liners are perfect, or Tweet it at me is even better) and I'll make mention of it here. If I don't know about it, I won't be able to post about it. Sound good?  Oh – and if you want to get a head start on things, this page is a great resource for watching Garmin firmware updates.
Suunto Spartan Ultra Firmware Update: Received a minor update this past week, larger update slated for the end of September.  It's that point I'm aiming for my in-depth review of the unit to be released upon.
Wahoo ELEMNT: It received an update with FSA gear shifting integration, BestBikeSplit integration, as well as Komoot integration (and a crap-ton of other features/tweaks). The Komoot integration is in particular a solid snub to Garmin Connect IQ, which had initially demo'd Komoot as an app when they announced CIQ, but was never released.  Granted, this integration is much less substantial than what was planned for Connect IQ.
Garmin Fenix3/Tactix Bravo/Quatix 3/Fenix3 HR BETA firmware update: Minor improvements/tweaks.
Garmin Edge 1000 Firmware Update: Minor tweaks.
Garmin Edge 520 Firmware Update: Minor tweaks.
Garmin Varia Vision: Minor tweaks.
Garmin VIRB Ultra 30 Firmware Update: Performance improvements and other tweaks (can't quite find the link at the moment – Thanks Eduardo!).
—
Thanks for reading all!