It's been a number of years since I last wrote about how I setup my different GPS devices when it comes to screens for training and racing.  Given it's one of the most popular questions around these parts, I figured I'd revisit it and bring things a bit up to date.
I've gone ahead and put it together in three different sections, based on swim/bike/run.  Note that while I'm illustrating with various devices, for the most part I use the same data fields no matter the brand or model of device.  There are obviously some minor exceptions if a given device doesn't have the data field I want (such as metronome functionality in running).
So let's dive into it, starting with running.
Running: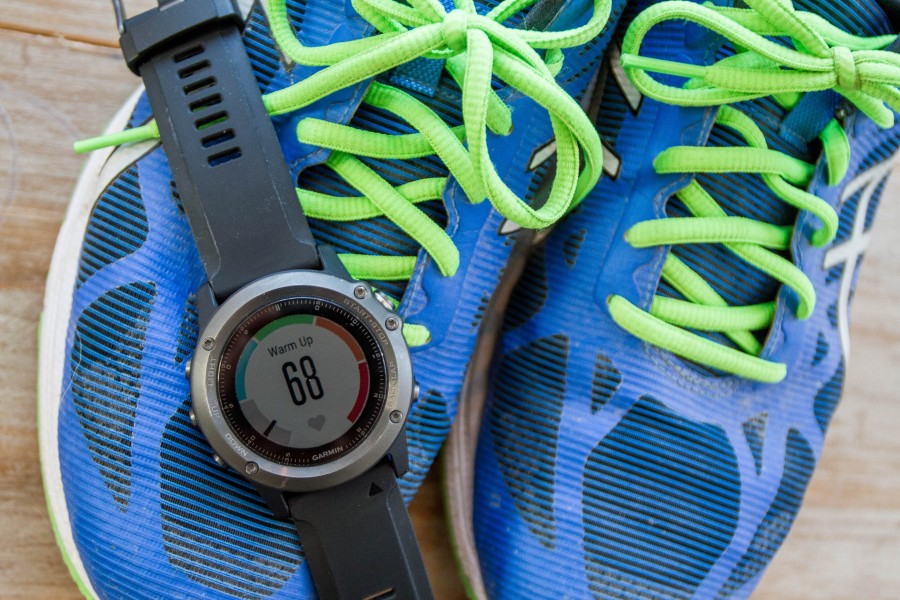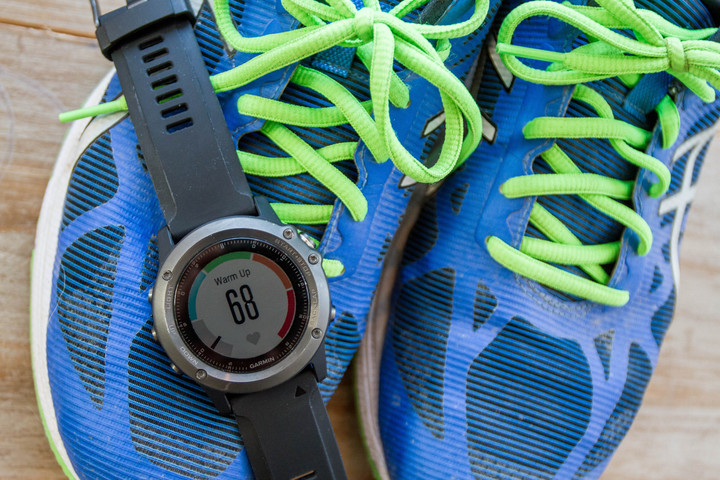 When it comes to running my workouts fall into one of two camps: Driven by heart rate (HR), or driven by pace.  While that may sound obvious, it's important because when it's driven by HR it's based on instant HR, while when it's driven by pace I'm usually shooting for a target pace over a given interval length.
So that means for things like interval workouts I'm going to want a data page focused on lap-specific data.  Yet, I always use HR as instant, never as averages.  That's because HR will always have lag in the first portion of the workout, so I don't want that skewing things (whereas pace is near instant at the start of an interval).
In any case, here's my running setup:
Page 1 (Lap Focused): Lap Time, Lap Distance, Lap Pace, Heart Rate (current)
Page 2 (Overall Run): Total Time, Total Distance, Average Pace, Heart Rate (current)
Page 3 (Drill focused): Running Cadence, Heart Rate (current)
Page 4: Just the HR Gauage
Metronome Page: Used for some drills I do around running cadence
Now I'm sure some of you are thinking – "You use 5 data pages?!?" – actually, no.  I'm just too lazy to reconfigure them for the different run workout types.  You'll see that they are mostly repeats with slight tweaks.
So, to explain those a bit:
Page 1 (Lap Focused): I mostly use this exclusively for interval/tempo run workouts.  Anything that has set sections where I'm using the lap button to split the workout into individual pieces.  This is typically the ONLY page I'll use during such a workout.

Page 2 (Overall Run): This is basically my 'curiosity' page.  I don't really ever use it except on longer runs to just see how long/far I've been running.

Page 3 (Drill Focused): This is primarily for cadence related drills, and thus, I just have my HR and current running cadence.  This is basically used in conjunction with the metronome page as I'm using the beep/vibrate function there.  This simply allows me to see how close I am.  I don't use this data page on anything except drills.

Page 4 (HR Gauge): I use this on long runs where I'm supposed to be in a specific HR zone.  Sometimes I just like to ignore how much time I have left, so I just have this so I can focus on the only thing that I need to know at that moment.

Metronome page: As noted in Page 3 notes, just used for drills.
Finally, a few random settings and whether or not I use them:
Auto Lap: Only used on long runs, set to every 1-mile.  No, I don't run in kilometers, though can do mental math on both kilometer pace and distances instantly if required.  Given I'm born American, miles are the way my brain thinks first.  At mile 23 of a marathon, my mental math skills are zilch, so I'm going to go with what's easiest.  Note that I turn off auto-lap for any other workouts other than long runs or races.  Instead I just use the lap button to break apart my workout by the various chunks.

Auto Scroll: Off – I don't want something else controlling what I see when I look down.

Auto Pause: Off – I want to control what is or isn't being recorded.

Backlight: Always on for night run (set to 'Always on').

GPS: Set to GPS+GLONASS.

Recording: Set to 1-second (not Smart Recording).

Map/track Page: Nope, don't care to see it.
As for power and running (with the Stryd power), that's super messy because I can't have things in a running profile on a Garmin device, though can on a Suunto device.  So in that case, I've just added in the 10s and 30s power data fields, similar to how I use on cycling.
Ok, I think that about covers running.  As for all the other data fields you can add, I just don't find value in my particular running with them.  So things like Running Dynamics aren't valuable to me mid-run, nor is elevation.  If I lived/ran in the mountains, that'd likely be different.  But I don't, and rarely run up major hills here (because they are few and far between).
Cycling: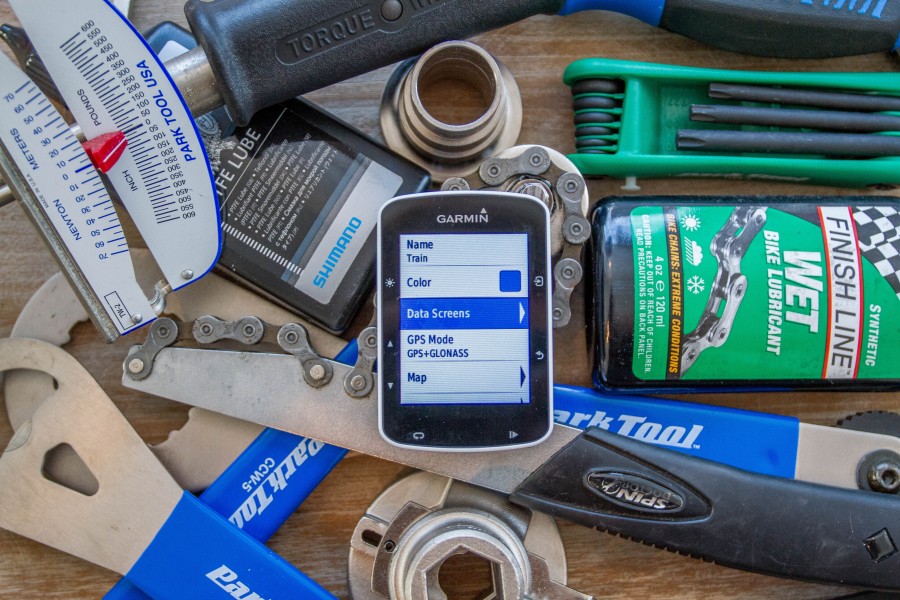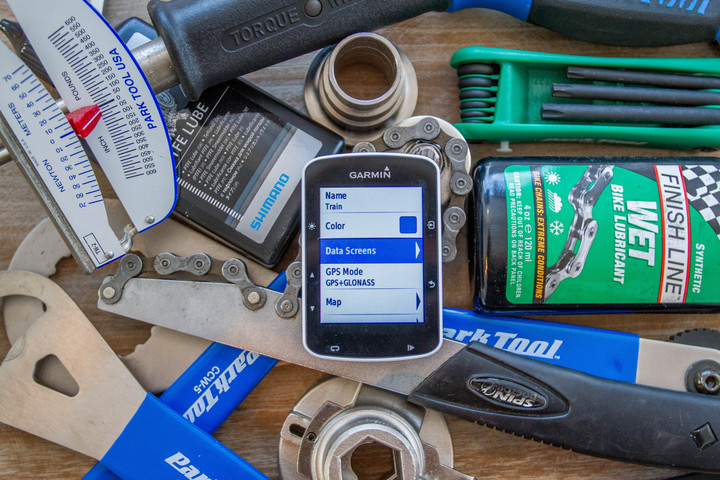 Next up – cycling!  Lots of fun data fields to be had here.  In many ways, my cycling data fields mirror the concepts I've established on running.
Meaning that I've got lap-specific fields for workouts that have different segments in them with different targets, and then I have general fields around the ride itself.  Note that cycling for me is different in that I'm usually riding with 3-4 head units, and as of late I'm often doing power meter testing.  So while I do analysis post-ride, I have a data page I've setup to be able to glance at as a 'power accuracy sanity check' on where things stand.
That sanity check allows me to ensure all units are in the right ballpark, rather than finding out hours later after the ride and being unable to address it.
Note of course on most cycling head units you can have a boatload more data fields than on running.  Also note that I don't have separate race/training/indoor/outdoor activity profiles.  I think this is mostly a DCR issue, rather than a normal issue.  That's because I have so many head units, often being fully reset for various reasons – that I long ago got sick of setting things up too detailed.
Here's my data fields:
Page 1 (Lap Focused): Heart Rate (current), Cadence, Lap Time, Power 3s, Power 30s, Lap Distance

Page 2 (General): Heart Rate (current), Cadence, Elapsed Time, Distance, Power 3s, Power 30s, Grade, Normalized Power

Page 3 (Power Meter Testing): Power 3s, Power 10s, Power 30s, Cadence (or Normalized Power)

Map Page: Enabled, usually with OSM maps (free)

Lap Summary Page: Usually enabled, only really used with lap-focused workouts. Setup to be power focused with lap time and power average per set.

Elevation Screen: Enabled on mountain rides, just shows defaults of Total Ascent and Elevation
I think these are pretty self-explanatory.  I use cadence often as a leading indicator of fatigue.  I tend to slowly reduce cadence when tired, though I often maintain power before I start to fade.  I tend to use the Lap Summary page indoors on a trainer, more than outdoors.
Sometimes in the summer I'll add the temperature gauge, but less so living in France now than in DC (it's simply not as hot in France as DC).  Note that I don't tend to use speed, it honestly just doesn't mean much to me in most cases.
Also, I often use Normalized Power as a bit better judge of overall ride effort than average power.
Finally, a few random settings and whether or not I use them:
Auto Lap: Off.

Auto Scroll: Off.

Auto Pause: Off.

Backlight: Always on for night ride (set to 'Always on').  During daytime riding I set the screen brightness fairly low to save battery.

GPS: Set to GPS+GLONASS.

Recording: Set to 1-second (not Smart Recording).

Include zeros in power: Yes (most apps don't care these days, but it's just a holdover for me).

Include zeros in cadence: Yes (same as with power).

Auto Sleep: Enabled

Strava Segments: Enabled, I have a few test segments favorited/sync'd, but otherwise I just let it automatically find segments in my area for me.
As seen in the settings, everything is pretty similar to what I'm doing in running.  No major differences there.
Swimming: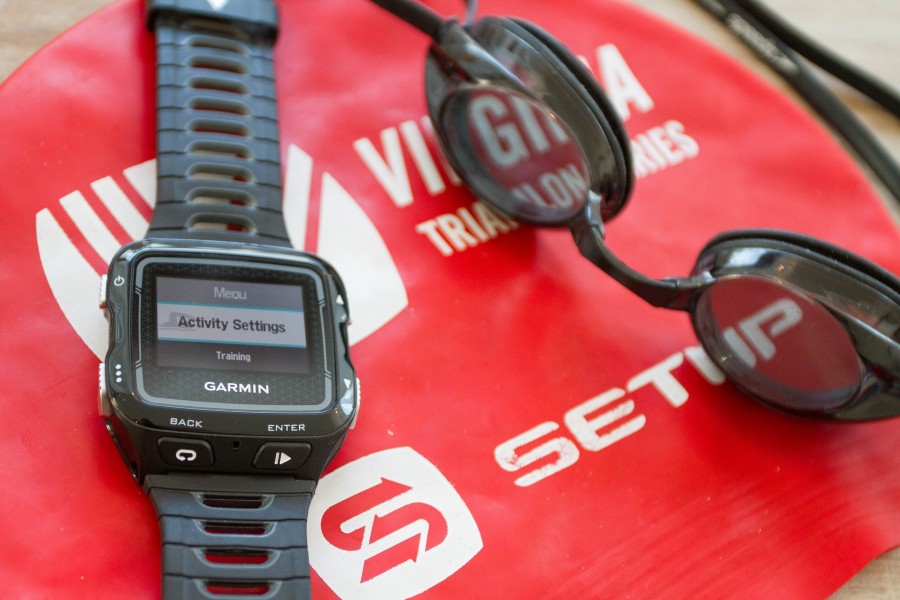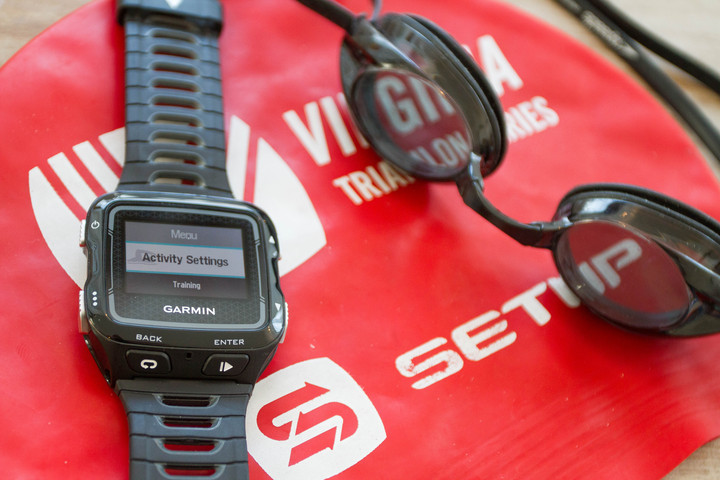 Last but not least – aquatics time.  Note that I have two sets of fields setup here, one for openwater swimming, and one for indoor swimming.  That's fairly logical since they track different things and your use would be quite different.
Like most folks, I'm doing swim sets based usually on defined distances (i.e. 500m, 1000m, etc…).  I also have drill work tossed in as well.  In most cases I don't have specific set times I'm trying to hit, but rather more around perceived efforts.  Partly because quite frankly my pool is too packed to try and hit any given time goal anyway.  15-20 people per LANE will do that.
In the context below, I'm using the term 'Interval' to mean in between me pressing the lap button (i.e. set).  I say that because some swimmers will use lap as a reference to a single length of the pool, others will use it as two lengths (down/back), and yet others will use it to define the time between two button presses.
Indoor swimming settings.
Page 1 (Interval focused): Interval Pace (average), Interval Distance, Interval Time

Page 2 (Overall workout): Pace (average), Distance (total), Time (elapsed)

Page 3 (HR): Heart Rate (current), Interval Pace (average), Interval Distance

Drill Log: Enabled
So what's the purpose of the last one (Page 3)?  Well, that's my 'test' page, to validate the HR strap is actually connected and working, if I am using an HRM-SWIM or Suunto HR strap (sometimes I them).  I use this page to simply ensure that if I'm above water that it's connected and showing something.  That way I know the two devices are talking to each other and that later on post-workout it should be able to download the data.
The Drill Log enables me to record drill sections of the workout, if done.
Next, openwater swimming, this is even easier!
Page 1 (Interval focused): Interval Pace (average), Interval Distance, Interval Time

Page 2 (Overall workout): Pace (average), Distance (total), Time (elapsed)

Page 3 (HR): Just the HR screen, that's all. Again, just for testing.
About the only time I mark intervals/laps outdoors is if swimming a route where I've got some sort of buoy and want to simply mark off sections of the swim (not a race, but just in general).  For example, this openwater swim I did in South Africa.
Otherwise, for the most part I don't really mess with too many data fields in the water.  I'm just looking for basic time and (estimated) distance in the water.
Multisport mode:
Finally, one quick note for multisport events.  When doing a triathlon, such as this weekend's upcoming race I have, I'll use the watch in multisport mode.  As such, it'll give me the elapsed time of all three sports.  I don't much care about elapsed distance, I just want total time.  I figured I'd note that here.
Also note that if doing an indoor triathlon (such as mine), where one or more legs eventually end up outside, that I highly recommend you get GPS signal outside before the event starts.  That'll ensure that it finds GPS almost immediately as you exit the building (such as to start the run leg).  For those doing indoor triathlons soon, check out my full post on indoor triathlon tips post.
Wrap up:
Ok – there ya have it – now you can be just like…me?  Nah – I'd recommend just going with whatever suits your workout best.  In my case, these are the settings that work best for me.  Obviously, there are always going to be rare cases where I add a field for something specific, but for the most part – these are what I use on 99% of my runs, rides, and swims.
With that – thanks for reading and have a great weekend ahead!