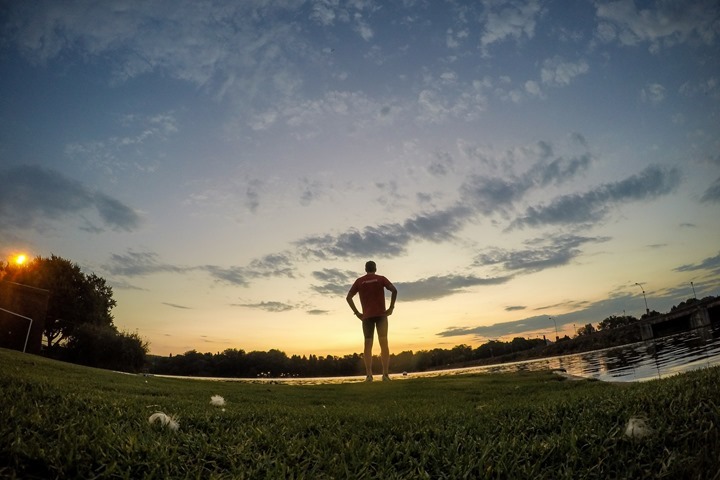 This week I was down in Roodepoort, South Africa for work stuffs.  For the most part, I was basically inside a room from 8AM till dark.  On a few of the nights though, I did manage to escape just at sunset to get in some workouts.  Sometimes my escape failed me, and I was stuck at the office till 11PM.
Now while I know that some might think all my travels are to glamorous places, there are just as many to places you probably wouldn't find as exciting.  But ultimately I think it's sorta what you make of it.  In my case this week, my co-workers all stayed in more fancier locales around the city.  I meanwhile stayed in a lower end chain hotel next to a highway overpass that was only a 10-minute drive from a puddle of water.  While that did mean my late night food options were basically between Subway and McDonalds, it also meant I got to swim at sunset and not sit in traffic.
A few loops around the lake: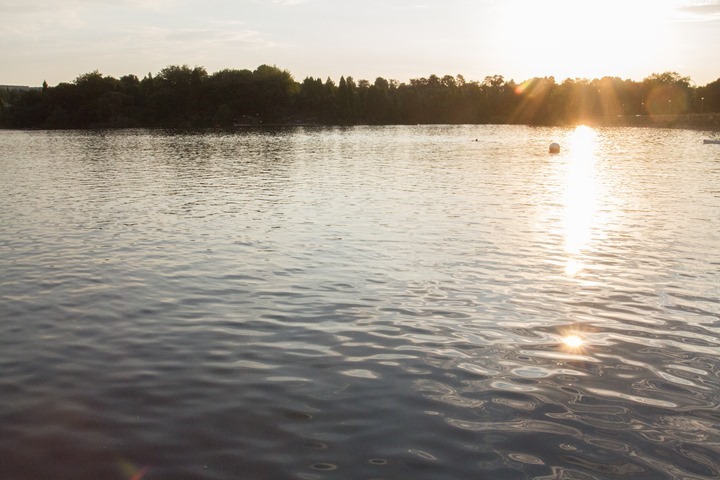 On Monday night, after having worked the day upon arriving earlier in the morning on a redeye from Europe – I figured a swim would be a perfect way to end the day.  I had asked for recommendations via Twitter and y'all delivered.  The location was a small lake adjacent to the Botanical Gardens, held up by a dam.  It's heavily popular with kayakers and paddlers…as well as triathletes and swimmers (and a gazillion ducks and other birds I've never seen).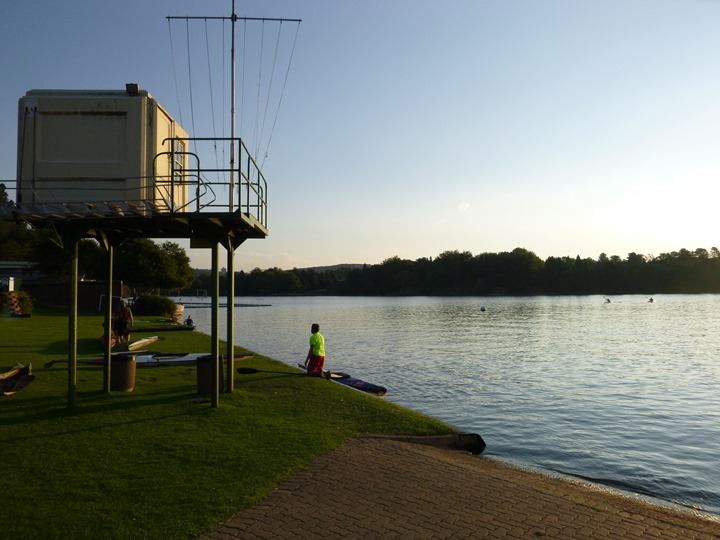 The best part was that there was a very precisely measured 1,000m triangular buoy route within the lake.  I used Google Maps to validate the exact permanent buoy spots with the line tool, and it was scary how perfect it was spot-on 1,000m.
So I set off for a loop…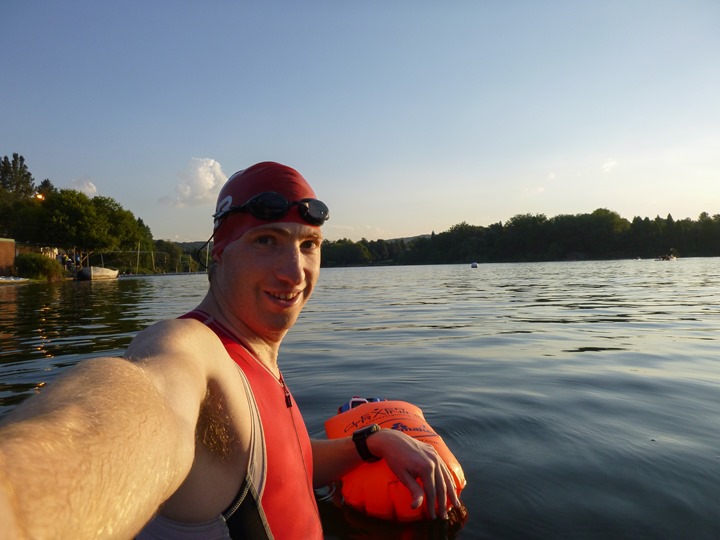 Here's the route, from the Fenix3: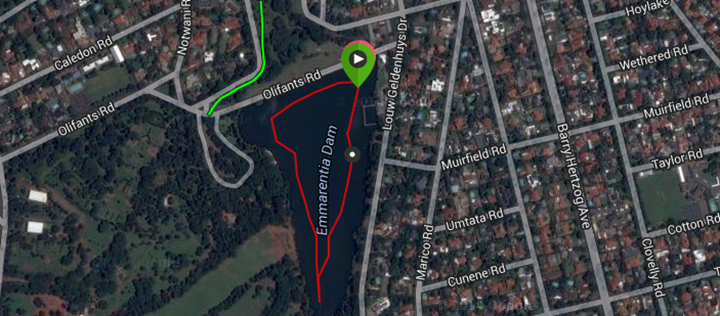 I'd repeat this three times by the end of the week.  I'd hoped to get in a fourth swim very early Friday morning, but apparently my 10 minute drive turns into an hour long fiasco that time of day.  By time I got to the lake this morning, I had to turn back around again to be at work.  The other times, I was always limited by fading light, finishing up just as the sun disappeared below the horizon: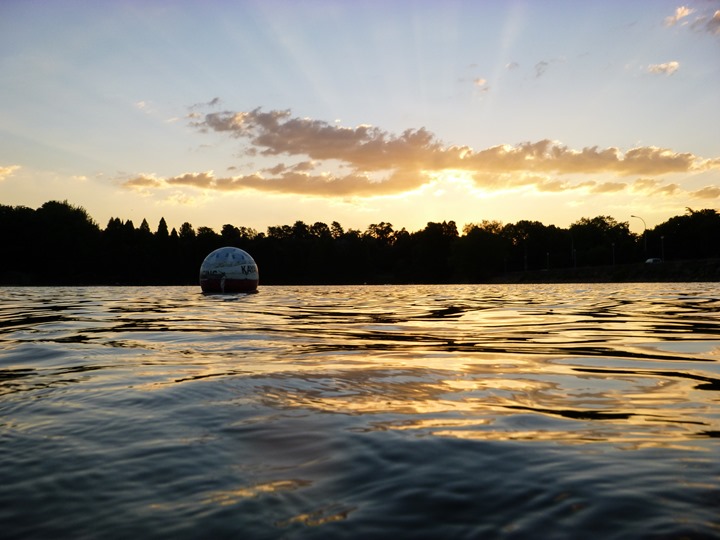 The weather was nice and warm, approaching 90°F, but not overly hot.  Just…comfy!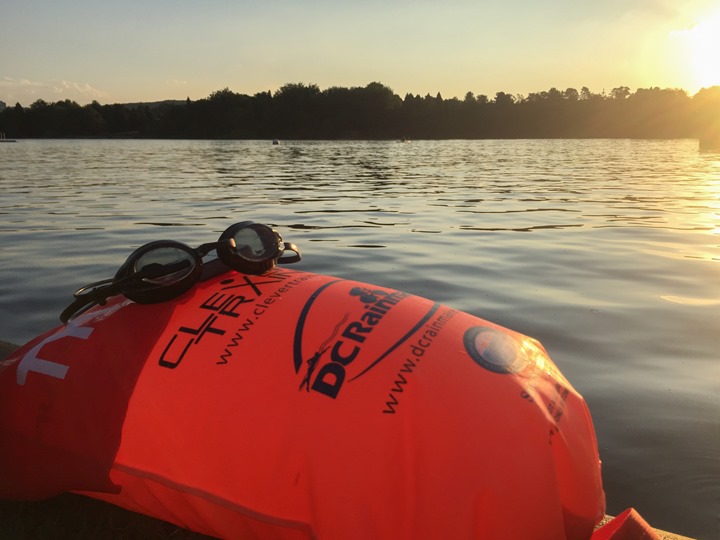 Of course I was testing devices, and using my little swim buoy behind me as well.  While I didn't have to worry about powerboats here, there was a non-stop flotilla of paddlers racing the triangle.  Interestingly, one came up afterwards to ask about the buoy.  He noted that it was actually great I was using it, because at certain directions into the sun at sunset, it was really hard to see swimmers otherwise.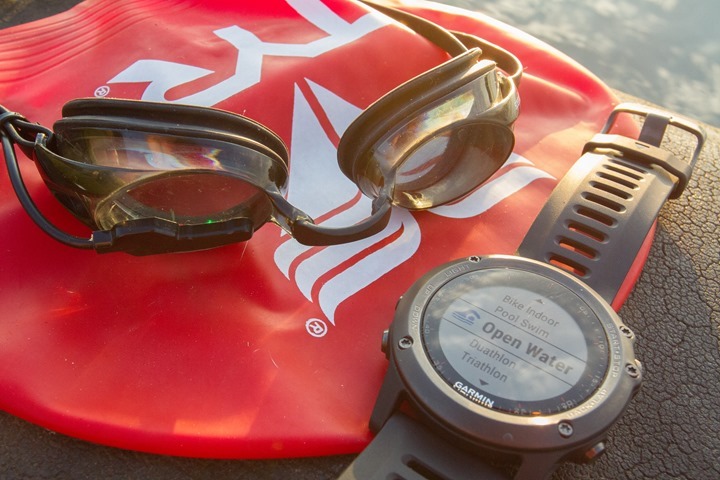 On the gadget front, above, the final production Fenix3.  And below, the final production IOLITE system, which I previewed last spring.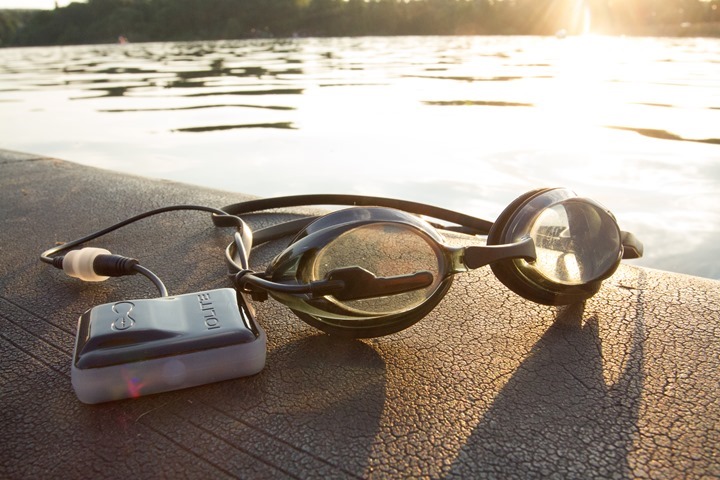 On Friday evening before my flight, I combined my swim with a short brick run around the lake.  It was only a mile, but it's all I had time for before I had to rush off to the airport to make my flying contraption's departure time.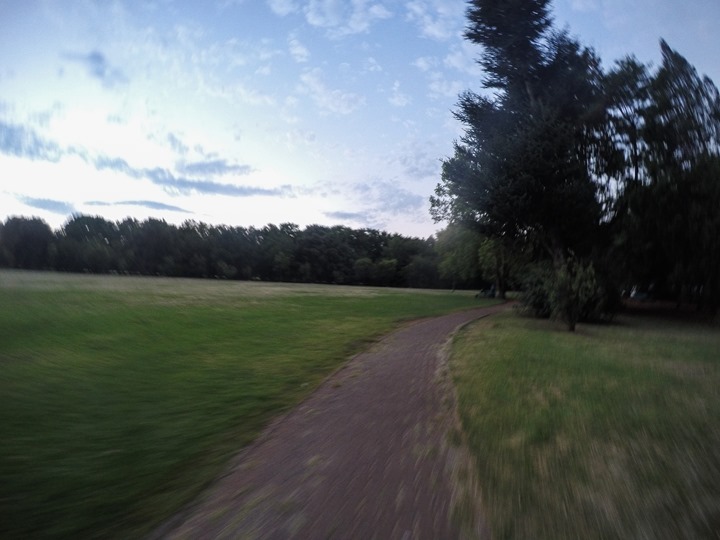 I arrived a cool 65 minutes before my flight departed.  Thank you to carry-on luggage and mobile boarding cards!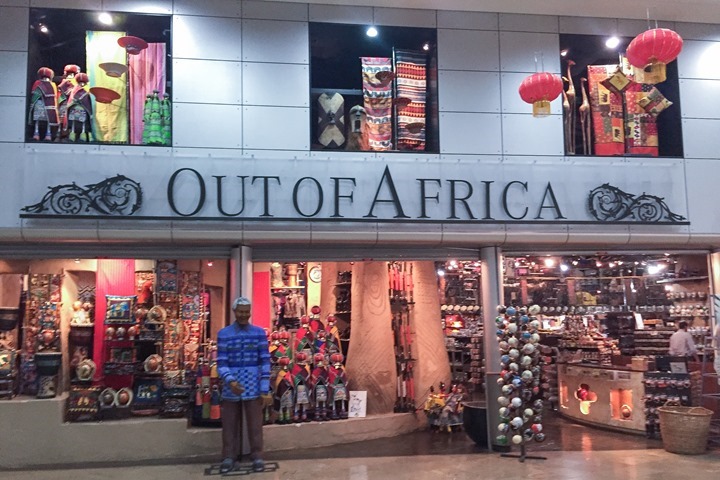 A Hilly Run:
The last time I was down in this area in December, I went for a bit of an exploration run, which ended up being rather hilly.  I didn't quite expect said hills at the time.
This time though, I was prepared for them!  In fact, I was seeking them out as part of a hill workout.  I've been doing said workout lately mostly on the treadmill, since I burn too much time getting to a proper hill in Paris.  So it was nice to head outdoors for this one.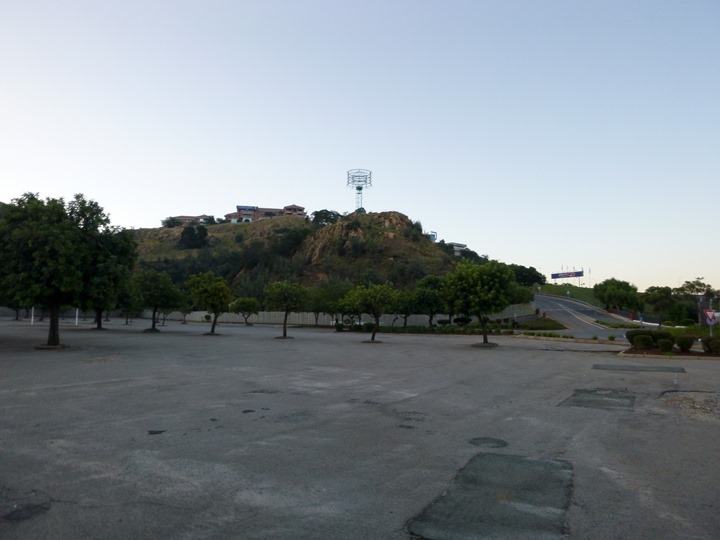 Of course, as you can see above, this one wasn't quite as scenic as my lake swim.  I started from a deserted shopping mall parking lot with a 24hr KFC, and went upwards from there.
The grade on the hill ranged a bit, but in some sections was 10-12%…which really sucked a lot.  Especially when you're starting elevation is over 5,500ft (1675m).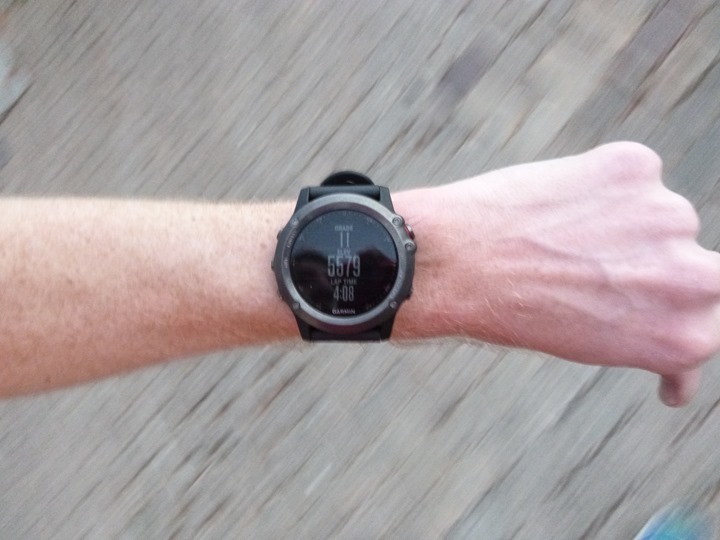 I don't really have all that many photos from the run.  It quickly shifted into twilight, and so good photos are hard to come by while running in the dark.  The activity file tells a better story anyway! Instead, I'll give you a photo taken earlier in the day, it's of Meat World.  Yes, seriously, that's an awesome sounding place.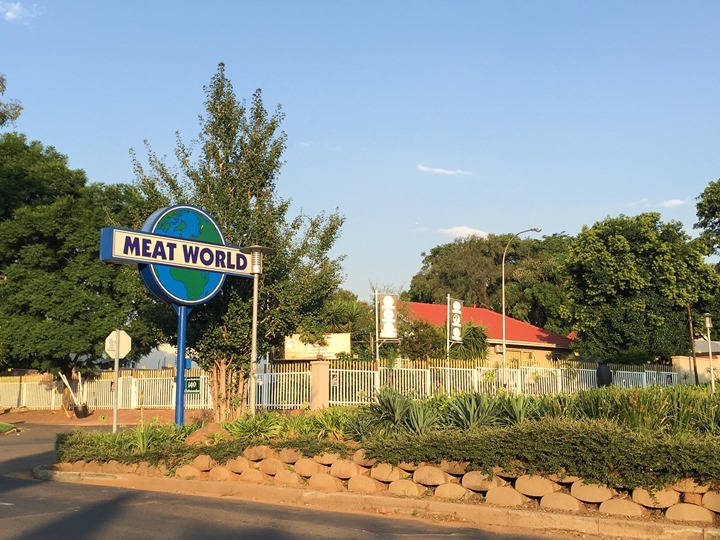 Meanwhile, in the vending machine at the office I found Simba. Or rather, his nuts.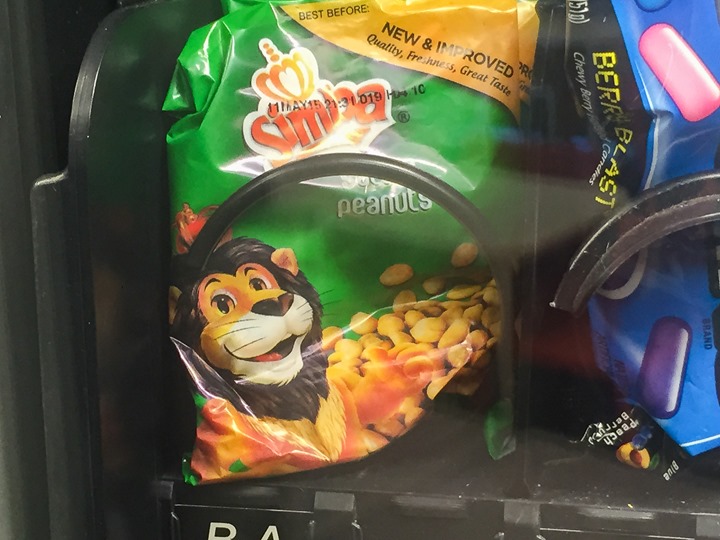 Oh, back to the run.  For those curious on the technical side, I was using Auto Climb with the Fenix3.  I explain how it works in this video below, which was taken on this very run.
With that – that's my week down in South Africa.  There's a ton of things I wish I could have seen, such as a new CycleOps PowerBeam Cycling Studio (the first of its kind, with 26 units!), as well as various rides/runs/swims with folks.  Unfortunately, the unpredictability of my working hours is the biggest challenge to these sorta things.  My work this week was more of 'it's done when it's done', with 'done' really meaning that when I got back from swimming I was still working away till midnight.  Hence making meet-ups hard.
In any event – I'm now on the way home, with the little screen saying my hometown made Boeing 747-436 being at 32,000ft, and currently situated over Maun, Botswana (been there before!).  Just 9 hours and 6 minutes left until I land in London.
Have a great weekend all!