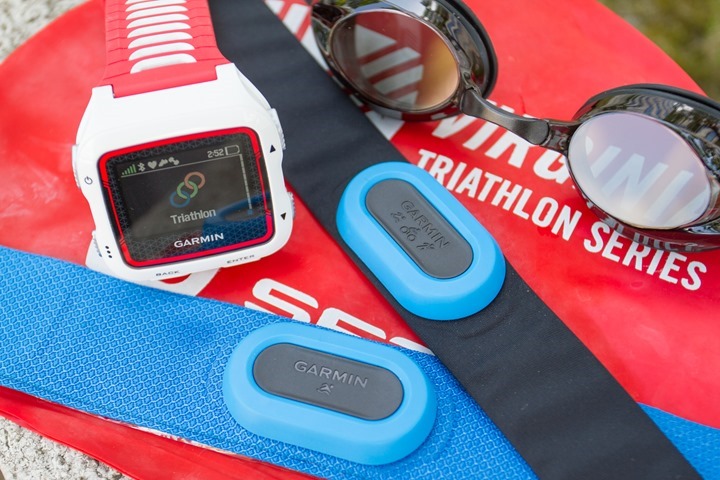 (**Update: A full In-Depth Review for these HRMs is available here!**)
Today Garmin introduced two new heart rate straps that are designed to capture your heart rate data while you swim.  This move puts them roughly on parity with offerings that competitors Suunto and Polar already have for recording heart rate data underwater.
As you probably already know, the wireless transmission of heart rate signals (either ANT+ or Bluetooth Smart) through water is non-existent.  It travels about 1-2 inches underwater before the signal is lost.  Instead, these straps follow what Suunto did by storing the data for sync after you exit the water.
Garmin has released two slightly different straps, aimed at covering the two core swimming scenarios:
Garmin HRM-SWIM: An ANT+ heart rate strap that records heart rate underwater, but has an additional special sticky back surface to keep it from sliding down your chest in pool scenarios.
Garmin HRM-TRI: An ANT+ heart rate strap with Garmin Running Dynamics that also records heart rate underwater and is designed for swim/bike/run triathlons.  It however lacks the special sticky part for pool use (but would otherwise work there).
Before we get into the details too far, let's dive into each strap individually.  Note that while I was able to toy with the straps off in a park on my own for a while, I was not permitted to swim with them yet.  So I don't know if they'll ultimately suck or not.  Thus, this is not a review nor anything representing one.  Just an explanation of what they do and how they work.
Some Background: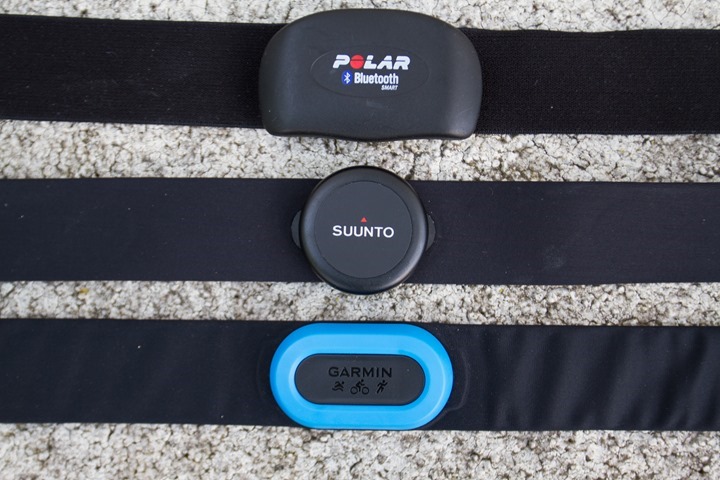 Getting heart rate data to a swim watch is certainly not new.  It's just…'complicated', to quote a Facebook relationship status.  Polar was really the first in this ballgame many years ago with their T-31 coded straps, and then subsequent hybrid straps – such as the Polar H7.  Suunto then followed with both a strap that sync'd afterwards, as well as then last summer with the Ambit3 and their Suunto Smart Sensor strap (also post-sync).
In the case of Polar, the data display was always 'live' in that it showed you what your heart rate was at that exact moment on the watch.  Again, via an analog signal.  Even with the Polar H7, the HR transmitter sent out both a Bluetooth Smart signal and concurrently an analog signal.  It's that analog signal that was actually picked up by the watch – the Bluetooth Smart signal never made it past your elbow.
Meanwhile, Suunto on the other hand went with a 'store and forward' option. In this scenario it didn't aim to transmit the data in real-time to your watch, but rather record it for later viewing.  This meant that you never saw your current heart rate on the watch in the water.  Instead, when you brought the watch above water (or directly next to the strap), it'd sync the data.  So this would occur at the end of a set while you waited at the wall, or afterwards if in an openwater swim.
The challenge however with both methods is that they depend on the heart rate strap staying put.  For women this isn't an issue, since you're generally wearing a swim top during pool swims – which keeps the water pressure from pushing it down when you push off the wall (unless you're swimming in Barcelona, where the women go topless while lap swimming).
But for men (including yours truly), the strap almost immediately slides down to one's waist when pushing off the wall with any reasonable force – let alone intervals.  I've tried all the tricks like turning it around or twisting the strap.  And some have even suggested suspenders or wearing a swim top – both of which I refuse to do in the pool.  Thus ultimately HR data while swimming has been elusive for many.
Note: I should point out that there have been hackable-ish attempts at using 3rd party optical HR sensors (primarily the Mio Link) with both the Garmin lineup as well as the Suunto and Polar products.  This has been a bit of a cat and mouse game with the big three (Garmin/Suunto/Polar) pretending to innocently block these attempts.  Ultimately, there's no technical reason they need be blocked, rather, it's just a software block to prevent pairing of these sensors in swim mode.  The non-technical reason though is that it likely reduces support costs with the portion of the population that it won't work reliably for.  You might have seen my swims with optical HR in the Garmin FR920XT review, for example. (Update: Garmin has sent over a note saying that for the Fenix3/Epix/FR920XT you'll be able to pair any 3rd party straps you'd like during the swim, including the Mio Link.  See FAQ section for more details.)
HRM-SWIM:
First up is the HRM-SWIM (the blue strap one).  This is Garmin pool-focused heart rate strap.  It'll record your heart rate and then sync up after you exit the water with your watch.
Why pool and not openwater swims?  Well, the strap is purposefully thicker (taller) to reduce sliding down your chest when you turn at each length of the pool.  Check out the size differences: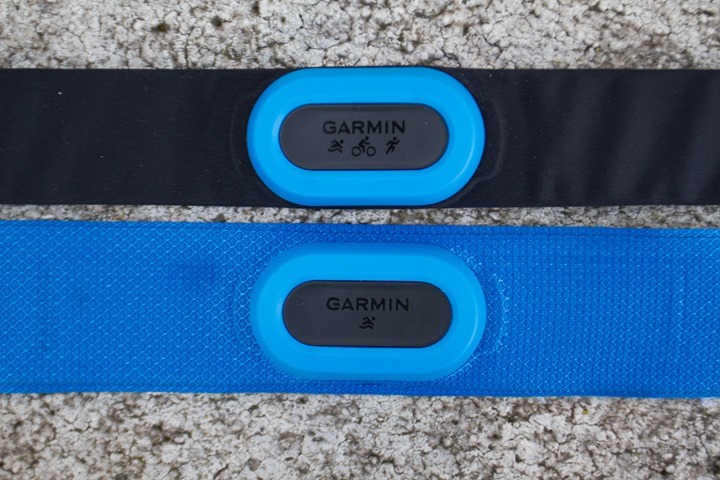 On the back of the strap is a sorta-sticky rubber material.  You know those little sticky balls that you can throw at the ceiling and they stick there?  It's kinda like that, but just not as sketchy (so it doesn't feel weird after you take it off).  It actually ships with a protective plastic coating – presumably to avoid it trying to do the romance dance with the rest of the packaging.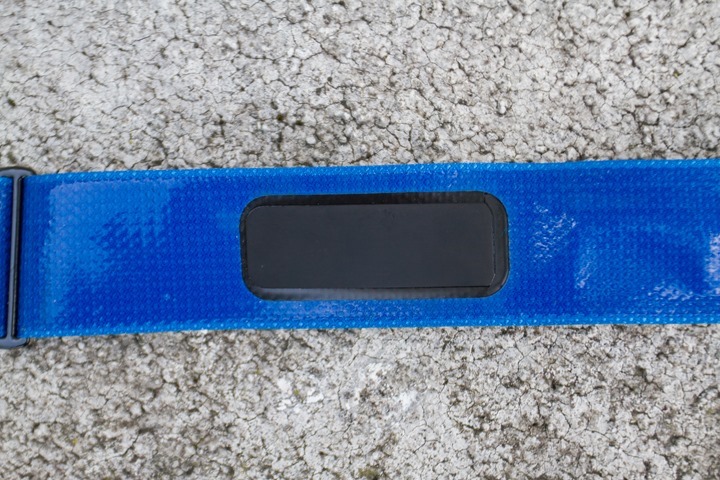 Of course, once you start using it you'll take off that protective plastic – just like you would for any other consumer electronic device.
You'll find that it has a bit of a thicker pod than most other straps.  But it does have a removable battery – so you can certainly swap it out later like other HR straps.  However unlike most heart rate straps that simply have a single size, this actually has an extender option.  Sorta like a seat-belt extender.  You can see the two pieces here:

This probably helps to ensure that more petite folks don't end up with a strap too big and unable to resize, rather than the other way around (more buoyant folks needing bigger straps).  Below you can see the length of a standard Garmin HRM strap, compared with the regular HRM-SWIM and then the extender for the HRM-SWIM.

Next, you'll notice that the strap does contain rather specific instructions on exactly where to wear/place the strap on your chest: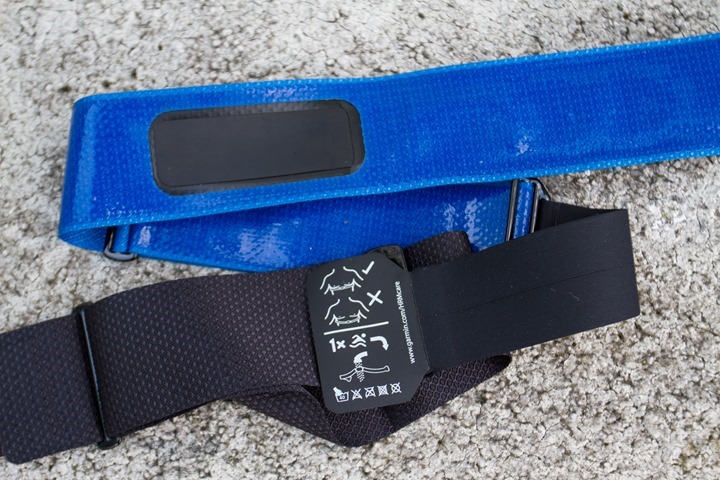 Now in my case I wasn't able to try out the strap in the water – so I can't attest to how well it stays put.  Though, in playing with the material a bit, I'd be rather surprised if it doesn't hold given the feel of it. It definitely 'grabs' onto the skin – rather than just being pressed onto it via force of tightening like other straps.
Additionally, when it comes to how the data looks in the pool, I can only show you a screenshot or two provided by Garmin.  Though you can see though that the HR data is overlaid onto the swim data graphs – pretty much just like any other workout with a HR strap.
Note that the strap must be worn in conjunction with an existing supported Garmin device (FR920XT, Fenix3, Epix) – and can't be worn just by itself and downloaded to your computer.  That said, the strap does transmit standard ANT+ for regular transmission, so in a pinch you could use it during other sport activities – but I'm not sure how comfortable that would really be long term (i.e. a long run).
HRM-TRI: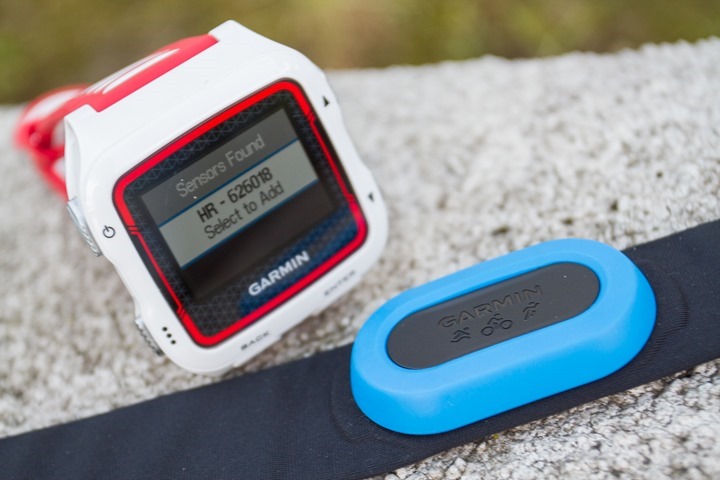 Next, we've got the HRM-TRI strap (it has the black strap with blue pod).  This is different than the Swim strap in that it lacks the oversized band.  It's really designed for the actual triathlete where the unit is worn beneath a triathlon suit.  Not necessarily a wetsuit, but just a normal tri top as 99% of athletes would wear.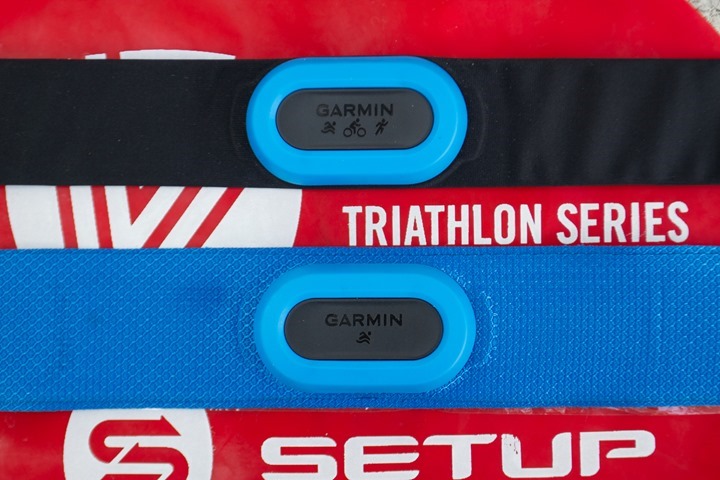 This means it's perfectly fine for openwater swims, which lack the strong water pressure associated with pushing off a wall at each end of a pool.
In this scenario it'll still capture your heart rate data underwater just like the HRM-SWIM.  You'll see that it still has a smaller patch of the sticky stuff around the sensor pads to try and add some grip – but otherwise it's very similar to a regular Garmin HR strap.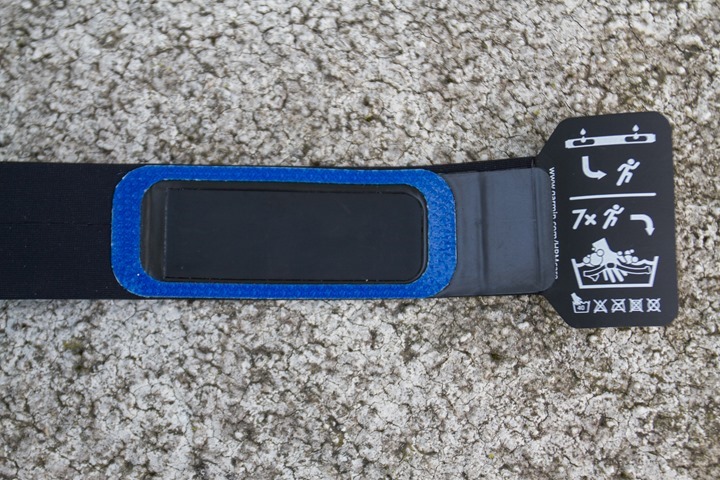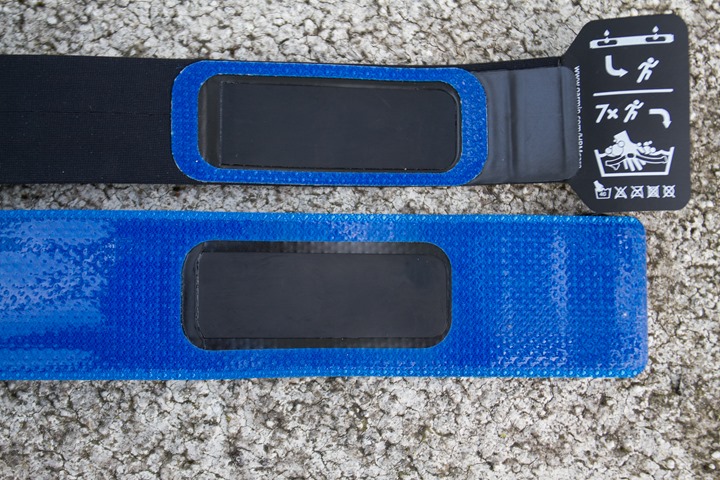 (HRM-TRI: Top / HRM-SWIM: Bottom)
The difference here is that this strap is then designed to be worn the rest of your day (triathlon day that is).  So it'll then act and feel like a normal heart rate strap while cycling or running.  Whereas the HRM-SWIM is sorta like the WWF (err….WWE?) belt.
You can see that size-wise compared to other heart rate swim capable straps it's roughly in line size-wise on the pod: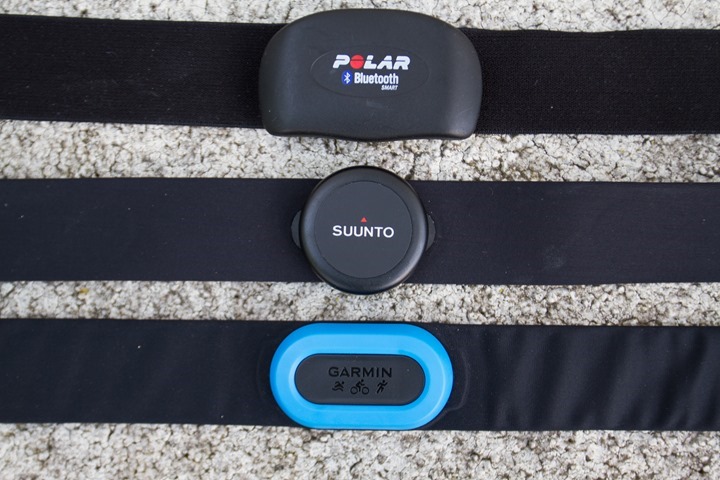 Here's the top-down view compared to the existing Garmin straps: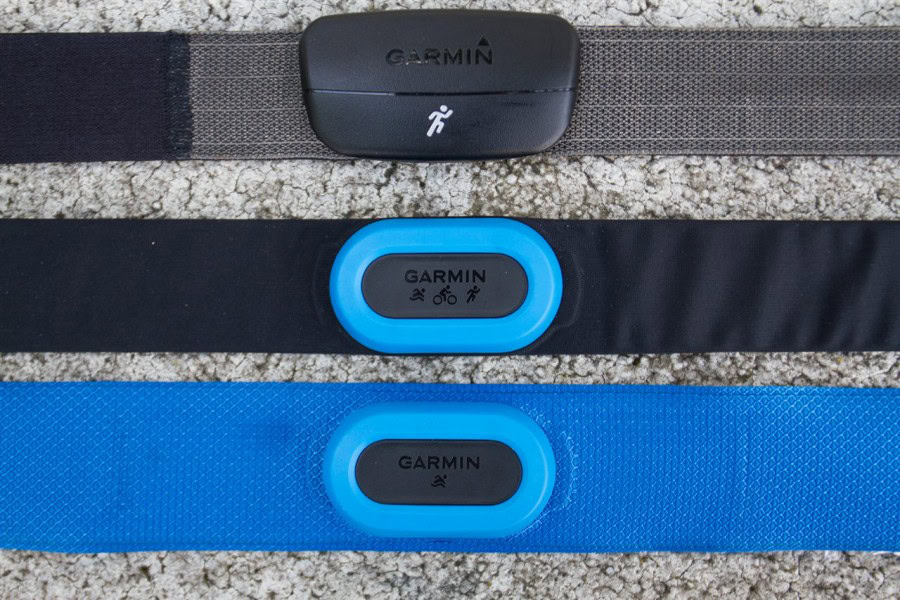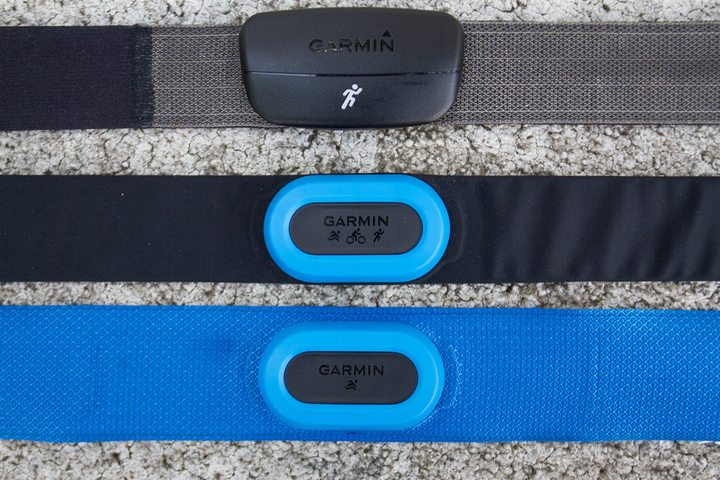 Same goes for thickness: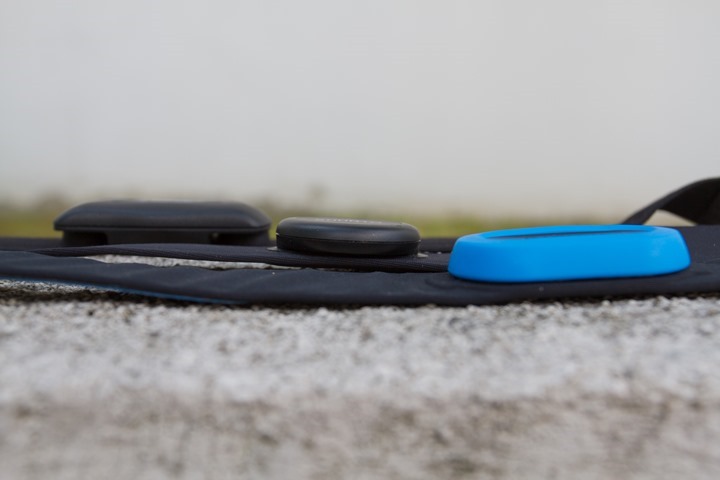 Speaking of which, here's a look at the back of the straps comparing all the major players here.  Top to bottom: Suunto Smart Sensor strap, Garmin HRM-RUN, Garmin HRM-TRI, Garmin HRM-SWIM (blue), Polar H7.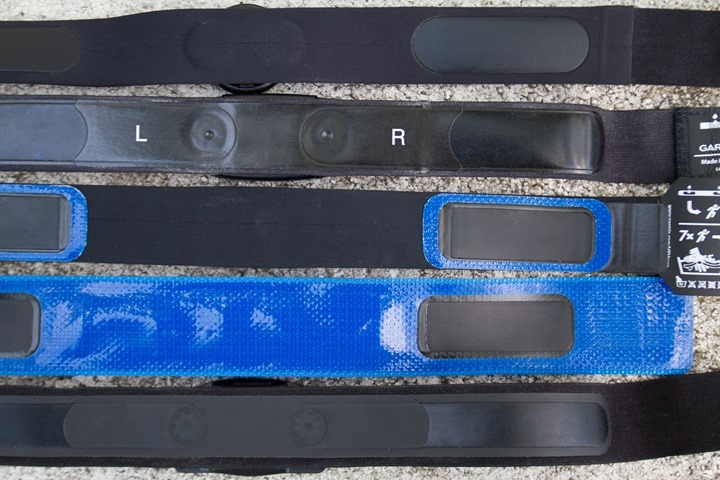 Now just like the HRM-SWIM strap this will capture heart rate during the swim which is synchronized when you exit the water.  And just like that strap, you can't wear it by itself without an associated Garmin watch.  And finally, also like that strap it will pair via standard ANT+ broadcast to any other 3rd party ANT+ devices for just regular HR strap capabilities.
New Garmin FR920XT Tri Bundle: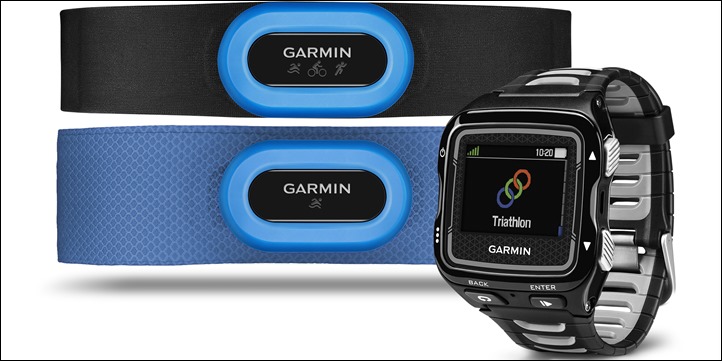 Just a quick note that in addition to the new straps, Garmin is finally releasing a 'triathlon bundle'.  They've had this on all past units, but took their sweet time in making one available for the FR920XT.  Essentially the triathlon bundle in the past allowed you to save a few bucks and get the watch, the quick release kit, and a heart rate strap for a slightly lower price.
In the case of the FR920XT however, they're tweaking things, here's the low-down:
– New black/grey FR920XT unit (previous FR920XT was blue/black, or red/white)
– BOTH the HRM-SWIM and HRM-TRI HR straps
– The FR920XT quick release kit
That whole kit will set you back some $599USD.  Purchased individually, it'd be totaled as $669 (HRM-SWIM/TRI: $199, FR920XT: $449, Quick Release: $21).  So a savings of $70.
Of course, whether or not one really needs all that gear is probably an entirely different discussion.  At this point it does NOT sound like the new grey/black FR920XT will be available without the bundle.
Frequently Asked Questions: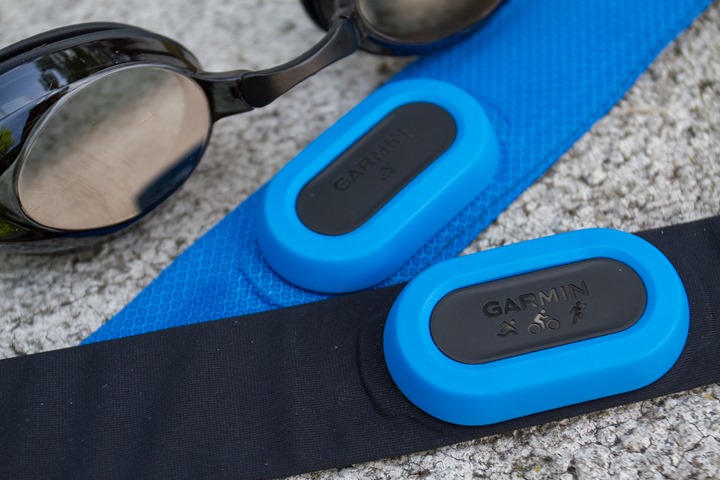 I've learned many years ago that anytime you mix heart rate and water, there tends to be a flood of questions.  Never quite sure why, sorta like the 'Tweet a picture you can't explain'.  So I've attempted to answer all these as best as possible below.
Does the HRM-Tri transmit Garmin Running Dynamics data?
Yes, to compatible watches (i.e. FR920XT, Fenix3, Epix, FR620), yes, it will.
Will the HRM-TRI & HRM-SWIM work with XYZ watch?
'Work' is a tricky word.  The HRM-TRI & HRM-SWIM straps are at their core ANT+ straps.  As such, they'll transmit ANT+ data above water to any ANT+ capable device (i.e. any Garmin watch).
However, they WILL NOT transmit saved swim data to other devices except those listed in the 'Compatibility' section. As a reminder, that would be ONLY the FR920XT, Fenix3, and Epix.
Will the HRM-TRI & HRM-SWIM record swim data for the FR910XT, Vivoactive, or Fenix2?
In short, no. Here's why Garmin isn't adding support for those models – in their own words:
"Garmin Swim: There is not enough memory to support Garmin swim capability
Vivoactive: The HRM Tri/Swim are viewed as being of interest to a more advanced user who would be purchasing a 920XT or fenix 3 (vs a vivoactive that offers basic features for swimming)
FR910XT & Fenix2: Since the fenix 2 and FR910XT are older models it was decided to have our internal resources focus on other products for compatibility and any potential troubleshooting. There is no planned software update that would add compatibility for fenix 2 or the 910″
Knowing that the Fenix3/Epix/FR920XT share much of the same code, it makese sense to enable all three of those at once.  Whereas the FR910XT (now nearly 4 years old), and the Fenix2 are quite different – I can see the logic there.
Now, for the Vivoactive, I don't entirely agree with their logic – especially since they currently lack an updated Garmin Swim (swimming only watch).  Thus, the cheapest modern watch with swimming capabilities someone could buy from them is basically the Vivoactive.
Can I use the HRM-SWIM when not in the water (or, in openwater)?
Yup, absolutely.  The only thing is that it's not just as comfortable out of the water because of the material being designed to stick to you, as well as the increased thickness.
Does this mean I can now use the Mio Link with my FR920XT/Fenix3/Epix to get HR data while swimming?
In short, yes. Here's the quote from Garmin:
"Yes, if the Mio Link (ANT+) sees the 920XT the whole time, then it will work with the 920XT same as ever. However, the HRM-Tri and Swim were made to work for the special case of swimming with a 920XT, so even though the Mio Link can store HR it wouldn't have the programming on its side to work with the 920XT for store-and-forward uses such as when you come up at the end of the interval or save the activity at the end of your swim (where the HRM-Swim/Tri will work with the 920XT to stitch all the data back in with your activity)."
Note however that backfill (when the device captures HR data during periods of non-connectivity), won't work with the Mio Link, or any other straps on the market today since they don't yet support that capability. In this cases, it would just show a dropout.
Can other companies communicate with the new straps?
Essentially, yes.  I asked whether the new storage-capable straps are done in a 'private' (private-ANT) or 'public' (ANT-FS) method:
"The public ANT-FS spec is used to download the stored HR data. Garmin has optimized the ANT-FS transfer using some manufacturer-specific information, but it is still possible for another device to access the ANT-FS directory and download the files."
The reason this matters to you as a consumer is that it means that someone else could develop a strap, or, in cases such as the Wahoo TICKR X, it could potentially be updated to work with the swim watches. Additionally, it also means other non-Garmin devices/watches could be updated to download information from the straps.
Can I use the Wahoo TICKR X instead of the HRM-TRI/HRM-SWIM?
(Updated): Not today, no.  The TICKR X doesn't know how to talk to the Garmin device via the previously noted ANT-FS.  Though, it could certainly be updated to do so.  Today however, you can still use the Wahoo TICKR X to record data outside of the water (run/bike), but within the water it won't sync up with the Garmin device through any Garmin-specific process (there are some 3rd party ways to combine the data from the TICKR X – but it's a bit messy).
Can I use the HRM-TRI/HRM-SWIM with the Suunto and Polar watches?
No.  The Suunto Ambit3 uses Bluetooth Smart, the Polar watches while underwater use an analog frequency.  And the older Suunto Ambit1/2 units wouldn't understand how to talk the data sync process over the ANT+ straps.
Can someone take just the HRM-SWIM to the pool (and leave their compatible watch in a swim locker), and then download the swim afterwards?
Sorta.  You can take the unit to the pool and swim with just the strap for HR data only.  But, you still need to start the timer on the watch first so that the watch can tie the HR data to something to eventually upload.
Must the watch and strap be connected prior to starting each activity?
No, assuming they've been paired at least once – and assuming there was an activity started for the watch to tie the HR data to.
How is the battery changed (and what type)?
Like all existing Garmin HR staps, the battery is a CR2032 and user replaceable with a small Phillips screwdriver.
If the strap itself wears, can that portion be changed?
The pod does not detach so it is not possible to replace just the strap portion. Garmin says: "This design enables a fully sealed connection between the electrodes and the processor, a requirement for reliable computation of heart rate underwater. It also enables a sleeker form factor for good stay-up performance."
Does the HRM-Swim also do Running Dynamics?
No, however, the HRM-Tri is designed for occasional pool use for this reason.
Is the new black/grey FR920XT available for standalone purchase?
No, not at this time.
Final Thoughts: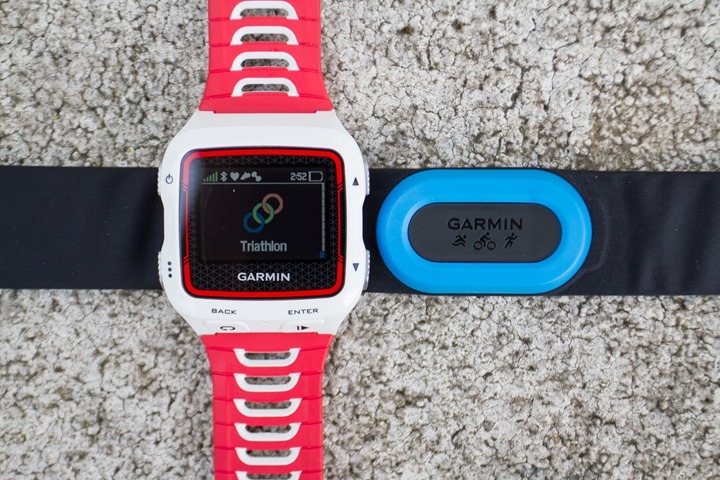 As one might expect, I think this is definitely good news for folks.  It fills in the gap for heart rate recording underwater that for Garmin users has been present for the better part of a decade.  At this point it enables all three major triathlon product companies (Suunto, Polar, Garmin), to have products that can record heart rate underwater.  Of course, they all have their pros and cons.
In the case of Garmin and Suunto, you won't be able to see heart rate from the device during the swim itself (mid-length anyway).  Whereas with Polar, you can indeed see your heart rate data live at any time.  On the flipside, with Polar and Suunto, for men, wearing the strap can be tricky in the pool because of the slippage problem.  In openwater swims, that's not an issue (nor for women).
It remains to be seen how well the sticky strap for the HRM-SWIM works in real life (since my time was limited to a non-pool setting), but just the feel of the strap has me pretty confident it won't go anywhere.  But, whether that stickiness lasts a season is also something I'm skeptical of.  But, we'll see soon.  The unit starts shipping here in Q3 (so sometime before the end of September 2015).
With that – thanks for reading, and feel free to drop any questions below.
—
Wanna support the site?
Found this review useful? Or just want to save 10%? Here's how:

Hopefully you found this review useful. At the end of the day, I'm an athlete just like you looking for the most detail possible on a new purchase – so my review is written from the standpoint of how I used the device. The reviews generally take a lot of hours to put together, so it's a fair bit of work (and labor of love). As you probably noticed by looking below, I also take time to answer all the questions posted in the comments – and there's quite a bit of detail in there as well.
I've partnered with Clever Training to offer all DC Rainmaker readers exclusive benefits on all products purchased. You can read more about the benefits of this partnership here. You can pick up the Garmin HRM Swim or HRM Tri through Clever Training using the links below. By doing so, you not only support the site (and all the work I do here) – but you also get to enjoy the significant partnership benefits that are just for DC Rainmaker readers. And, if your order ends up more than $49, you get free US shipping as well.
Garmin HRM Tri (US – Clever Training – Save 10% with DCR10BTF)
Garmin HRM Swim (US – Clever Training – Save 10% with DCR10BTF)
For European/Australian/New Zealand readers, you can also pickup the unit via Wiggle at the links below, which helps support the site too! With Wiggle new customers get 10GBP (or equivalent in other currencies) off their first order for anything over 50GBP by using code NEWGB at check-out after clicking the links below.
Garmin HRM Tri (EU/UK/AU/NZ – Wiggle)
Garmin HRM Swim (EU/UK/AU/NZ – Wiggle)
Additionally, you can also use Amazon to purchase the straps (though, no discount). Or, anything else you pickup on Amazon helps support the site as well (socks, laundry detergent, cowbells). If you're outside the US, I've got links to all of the major individual country Amazon stores on the sidebar towards the top.
Thanks for reading! And as always, feel free to post comments or questions in the comments section below, I'll be happy to try and answer them as quickly as possible.