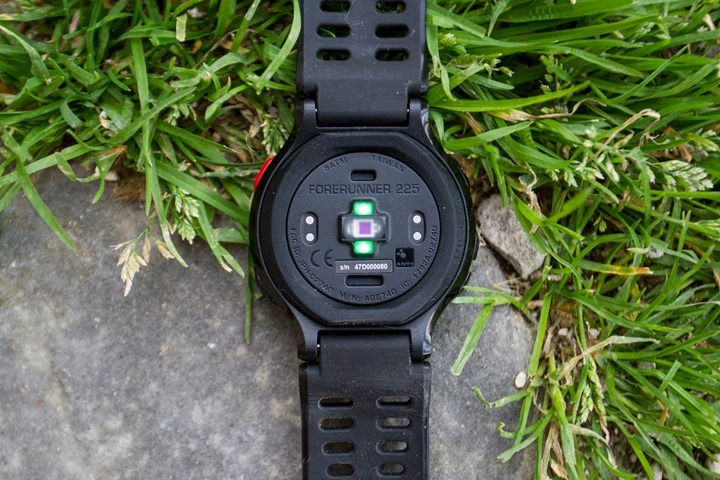 Update! I've just published my FR225 In-Depth Review, which can instead be found at this link.  It's got all the detail you'd expect after months of use.  Enjoy!
Today Garmin has released their first device with an optical heart rate sensor built into it, the new Forerunner 225.  In the simplest possible terms, the FR225 is basically a FR220 running watch with an optical HR sensor stuffed inside and then the Garmin Vivo lineup of activity tracking functionality (i.e. steps) added to it as well.
In doing so though, Garmin focuses on what is likely the widest possible segment of the market.  The mid-range GPS running watch is incredibly popular, and it also gives Garmin a bit of an easier proving ground than the higher end watches like a Fenix3 or FR920XT, which would expect optical HR across not just running, but other sports as well such as swimming.
Still, being the first of the three majors (Garmin, Suunto, and Polar), it'll no doubt kick off a bit of an arms race over the next 6-12 months for the three brands to incorporate what is now becoming commonplace in many other devices.  In the meantime, let's dive into the FR225.
New Features: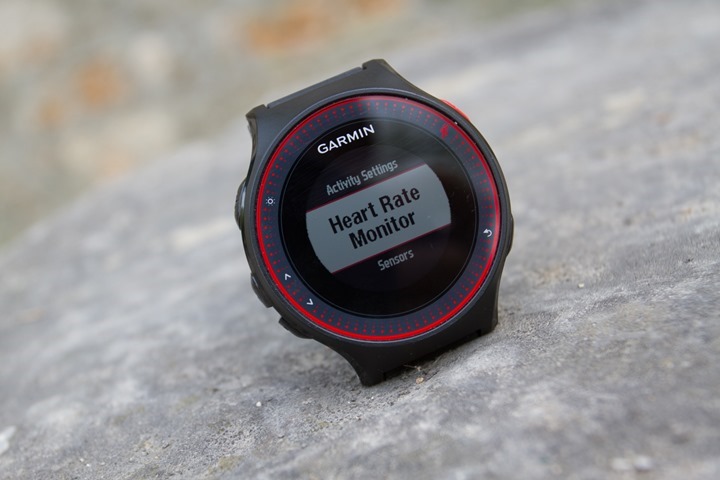 When it comes to new features, Garmin kept things pretty 'focused' on the FR225.  The entirety of these new features are three things:
1) Inclusion of an optical heart rate sensor (ok, that's a really big new thing)
2) Inclusion of activity tracking (steps/goal/etc…)
3) Addition of a heart rate 'gauge' page
And there ya have it…the FR225 in three easy steps.
Now, there are some minor other tweaks; for example – they had to change up the back of the unit thus resulting in a change to the charger.  Similarly, it got a bit more plump due to onboarding the optical sensor (see next section).  However, at its core, the FR225 is still the FR220.
Those however that were disappointed with the lack of activity tracking in the FR220 will no doubt be happy to see it included in the FR225.  However, at the same time it's a bit of a surprise that Garmin skipped smartphone notifications given that Polar has it in the M400 (for $120 less), and Garmin itself has it in the Vivoactive for $50 less.
To give you a bit of a walk-through of the unit I've put together this short video.  Note, I've got a second video later on in the post where I take it for a short run.
As you can see, the menus and functions are all virtually identical to the FR220 (plus activity tracking).  Whereas the size is where you see some slight changes.
Size & Weight Comparisons:
First, let's start off with how it compares to the FR220 directly.  Here's a full front shot, with the FR225 on the left: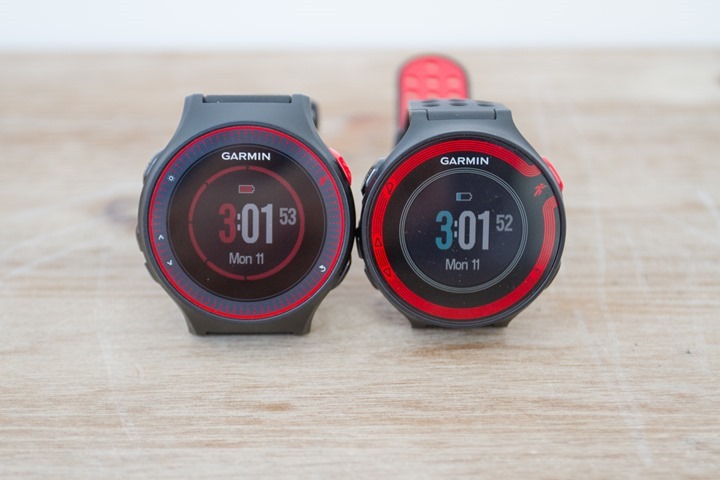 Next, the side profile shot: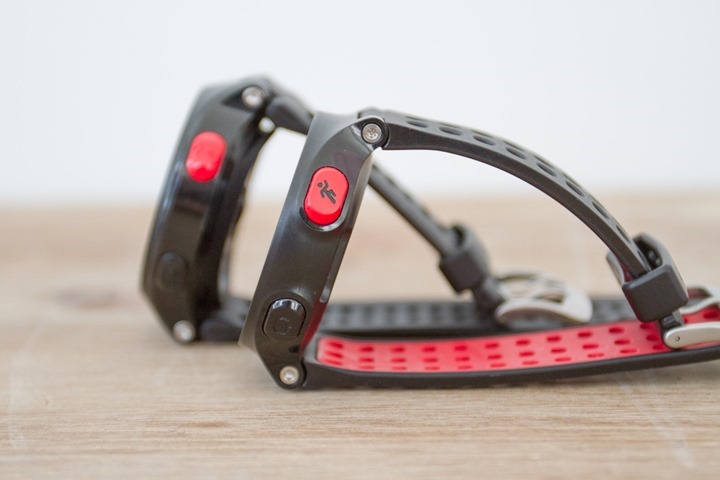 If you line it up next to a slew of different optical sensor capable GPS watches though, it's actually one of the smallest out there (look, I don't know why the purple GPS-enabled FR15 photo bombed the optical sensor party, it lacks optical HR):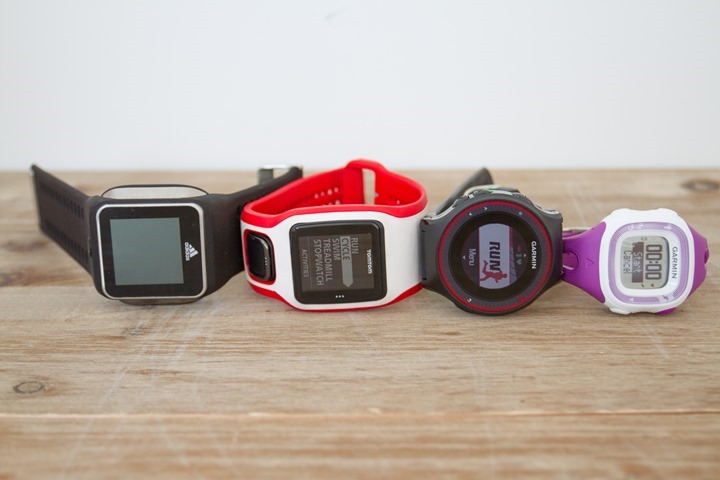 Next, looking at the weight, the optical sensor (and perhaps any extra battery added to assist with the additional drain), prompted a weight gain of 13g over the FR220, coming in at 54g.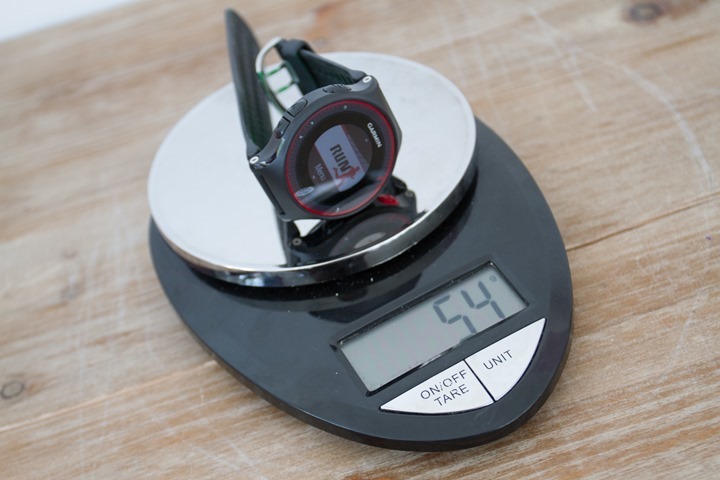 For comparison, here's a few other units per the same scale:
FR220: 41g
FR225: 54g
FR620: 44g
FR920XT: 62g
Fenix2: 86g
Fenix3 Grey: 82g (Sapphire is 175g)
Ambit3: 86g
Polar V800: 81g
Finally, how does it look on one's wrist?  Well, we'll start with The Girl, since she's prettier:
Since I know many will ask, she's 5'2" tall and has a wrist size of 14cm (or 5.5 inches).
And then, here's me (6'2" tall) with a wrist size of 17cm (or about 6.5 inches):
Of course, you'll see my wrists throughout the post and videos, so you'll likely get bored of them.
The Heart Rate Sensor: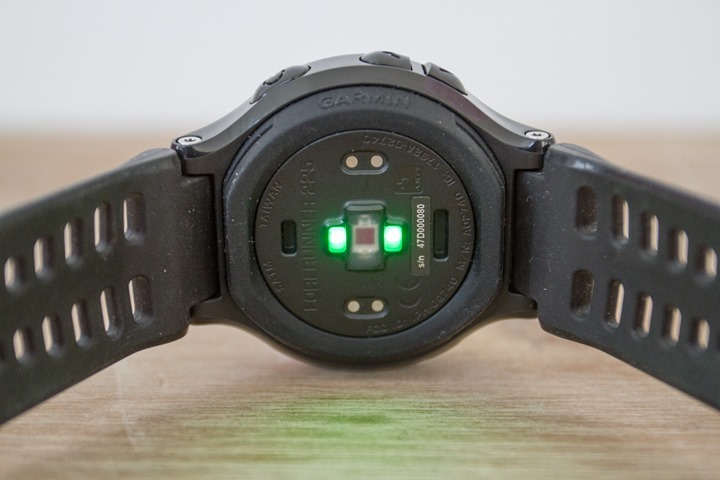 Without question the most important new feature (out of two new features) in the FR225 is the optical heart rate (HR) sensor.  This sensor works by shining an LED light into the blood capillaries at your wrist, which it then reads optically using the infrared sensor.
While inclusion of optical sensors in watches is all the rage these days, the inclusion of accurate optical sensors is much less prevalent.  One can point at a myriad of smart watch options that have garbage HR data from them when it comes to working out.
There are basically two major players in the sport-specific accurate-data realm: Mio and Valencell.  Mio's sensors come from a partnership with Philips, while Valencell's are developed in-house.  In addition, Epson also develops a highly accurate sport-specific sensor within their lineup of products. However, that sensor is not in any other 3rd party products at the time.
Whereas with Mio and Valencell they have a host of companies that have been using their sensors for years:
Mio: Mio's own Link/Fuse/Velo/Alpha units, TomTom's Cardio Runner/Multisport, and Adidas's Smart Run GPS & Fit Smart products.
Valencell: Scosche Rhythm+, Jabra Sport Pulse headphones, and the iRiver On.
Now, we can add Garmin to the list as well with the FR225.  Garmin went with the Mio sensor, which is definitely good news (versus developing their own).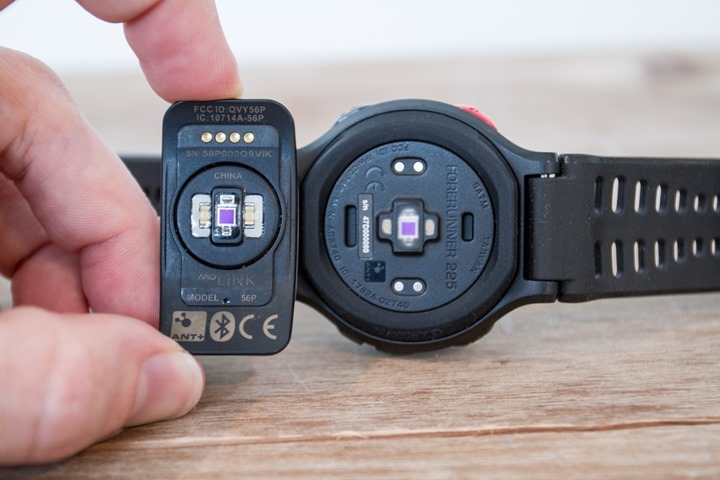 That's promising since the Mio sensor is a pretty well established 'known'.  The sensor used in the FR225 is a slightly newer iteration than those found in existing Mio products, with some minor electronic component changes.  You can see below the Mio sensor in other products, such as the Mio Link (grey) and the TomTom Cardio GPS (red)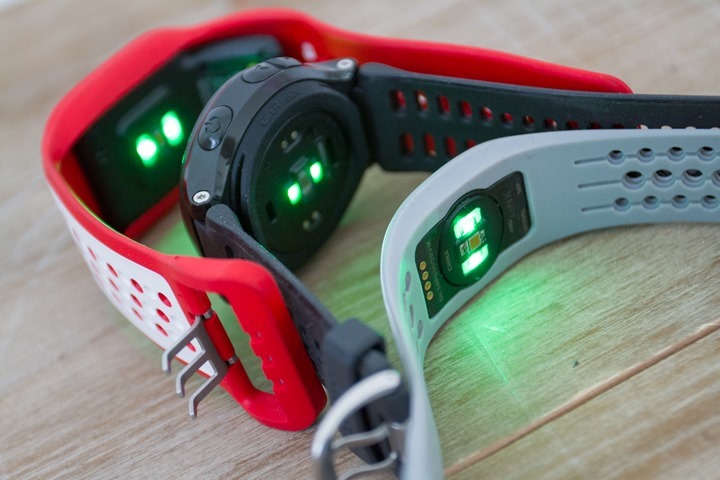 If we look at Mio's history with sensors (both in their own products and 3rd party ones), I'd say that on the optical HR portion it's relatively accurate.  Where Mio made one stumble with a product was in their Mio Link/Velo units in using an inferior ANT+ transmitter antenna design, which caused dropouts in connectivity for some users over longer distances.  Thankfully, that's not applicable here.
Now the one caveat to using an optical HR sensor can be that some folks may see issues with weight-lifting related workouts.  Or basically workouts where you tighten the wrist muscles enough that it causes the optical sensor to stumble.  It doesn't impact everyone, but it's something to be aware of.  And while tattoos and darker skin can be challenging for some sensors, I haven't seen too many folks with issues there in Mio's sensors either (but again, that'll vary person to person).
Garmin has added one provision to the FR225 in an attempt to minimize issues – which is to supplement the bottom of the watch with a rubber seal of sorts.  This little flexible seal reduces the amount of external light getting under the watch (external light is the arch-enemy of optical HR sensors).  Think of this like a window-shade: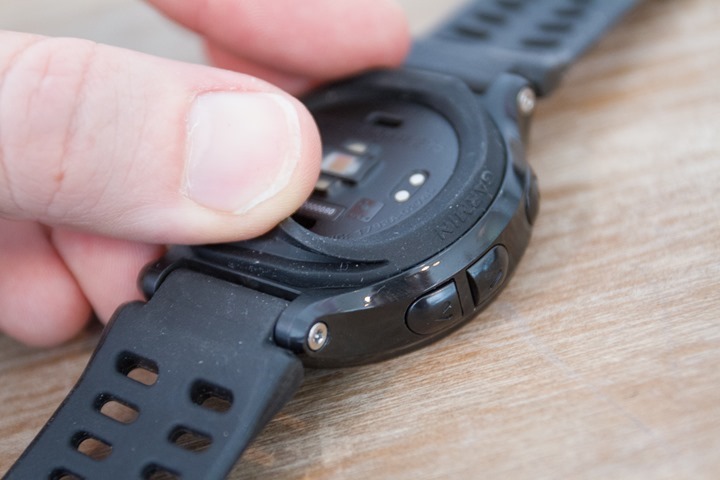 Interestingly, it's actually removable, which his kinda smart.  In the event this wears over time, replacing it would be trivial.  Looking at the materials, it looks durable enough to me – but it's hard to say how it'd stand up to daily pounding for 2-3 years. Replacement seals are just $5.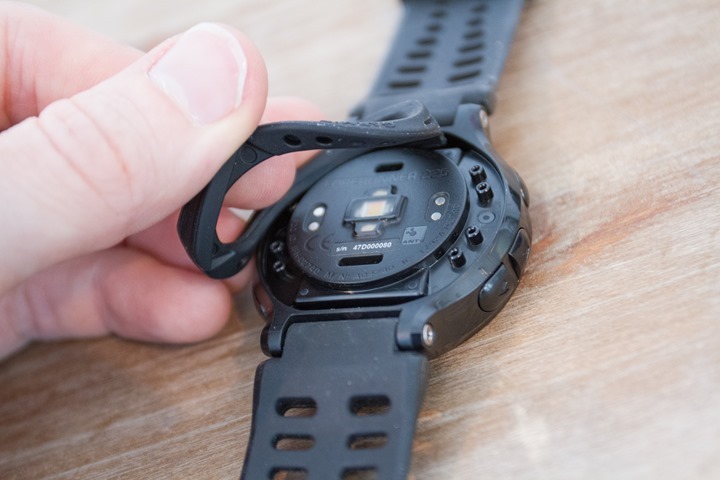 Next, Garmin also added a new data page to the unit, which has a graphical heart rate gauge.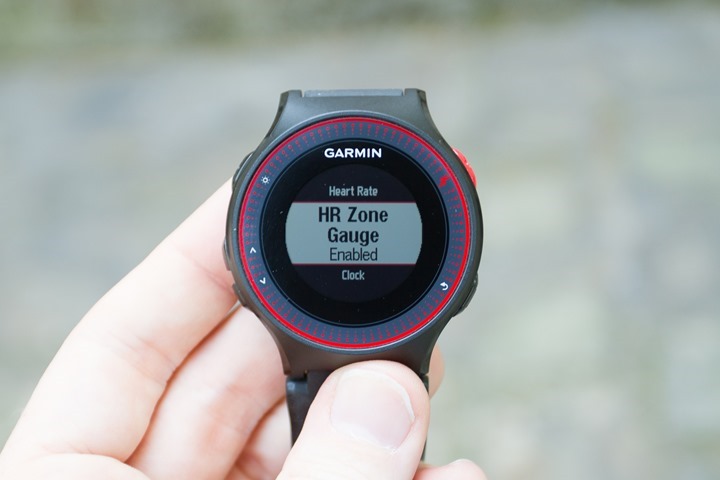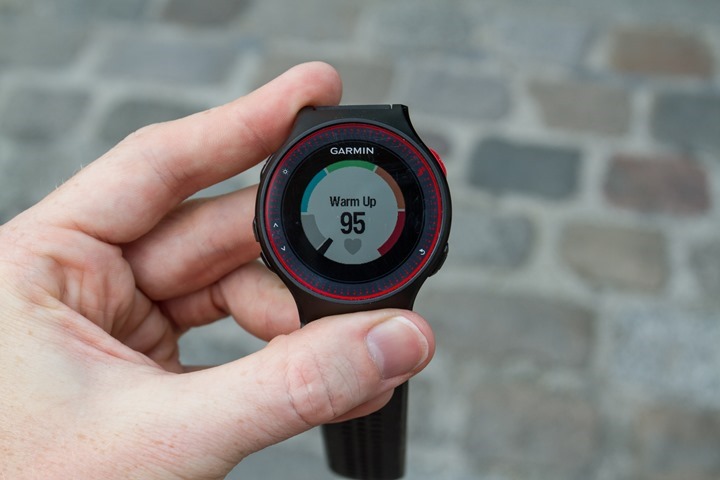 This gauge is tied to the heart rate zones that you setup within the watch (you can configure the ranges of five zones).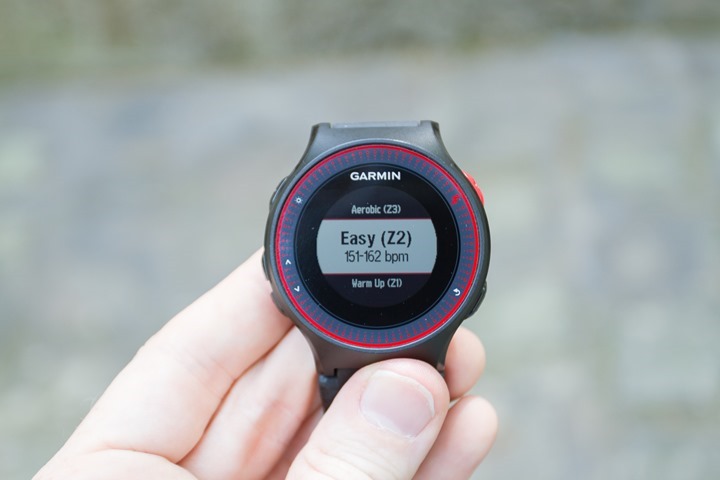 The gauge will also tell you your exact HR in BPM as well of course (it'd be silly to not include the exact BPM in a watch these days, yet some companies have tried it rather unsuccessfully).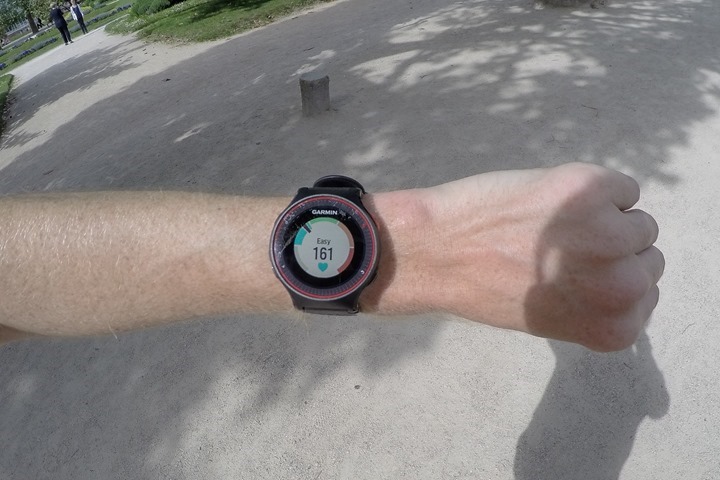 In addition, you also have the existing HR page showing your exact HR as well as your HR zone: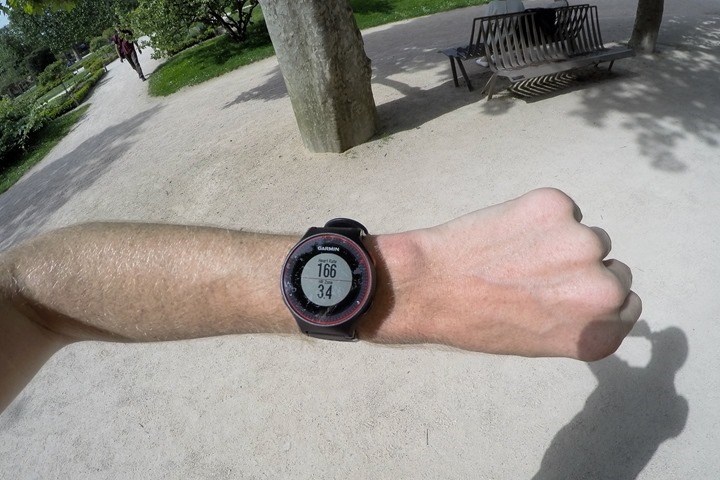 Finally, you'll maintain the same FR220 data page options that were previously available.  Which are:
Data Page 1: Three metrics of your choice
Data Page 2: Three metrics of your choice
HR Page: Exact BPM, Current Zone
HR Gauge: Exact BPM, Colorful Zone Gauge (New)
Clock Page: Shows the time and Vivofit related metrics
When it comes to which metrics you can select for the two data pages, your options are:
Metrics to select: Timer, Lap Time, Distance, Lap Distance, Pace, Average Pace, Lap Pace, Speed, Cadence, Calories, Heart Rate, Average Heart Rate, HR Zone, Elevation
These metrics all display just like on any other Garmin GPS watch: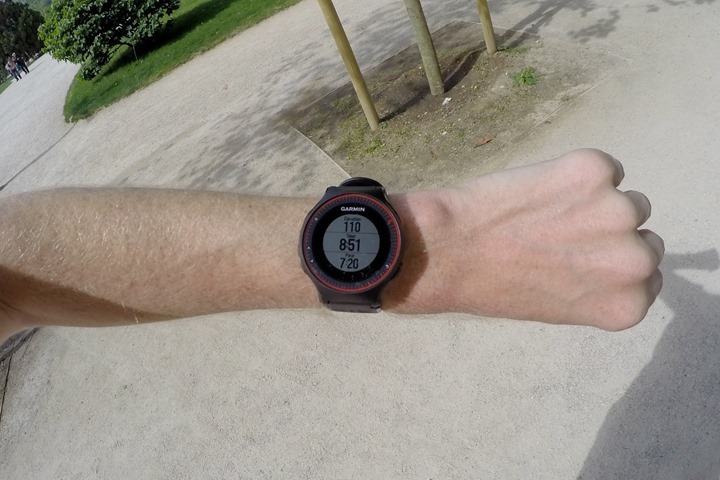 Note that there are no additional sports to configure – only the single running mode.  Like the previous FR220, you do get functions such as Auto Lap, Auto Pause, and Auto Scroll, as well as Run/Walk Mode and various alerts that you can configure.  Best I can tell, no features were removed from the FR220 – only added (and really only related to the HR piece and activity tracking).
Activity Tracking: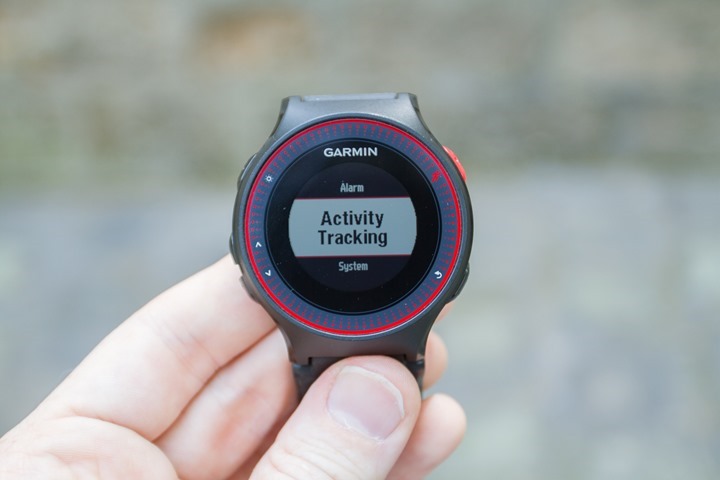 Moving along to new feature #2, Garmin has added activity tracking to the FR225.  Activity tracking on the FR225 includes the ability to track your steps throughout the day, and in doing so your progress towards a goal. Additionally, it'll track your distance walked and calories.
You can see this data below the time on the face of the watch.  By pressing the up/down buttons you can iterate through the different metrics (steps, calories, distance, steps to goal):
Additionally, you can also check your resting heart rate via the optical sensor at any time by pressing the up/down buttons on the front, which activates the optical sensor and displays it below the time of day: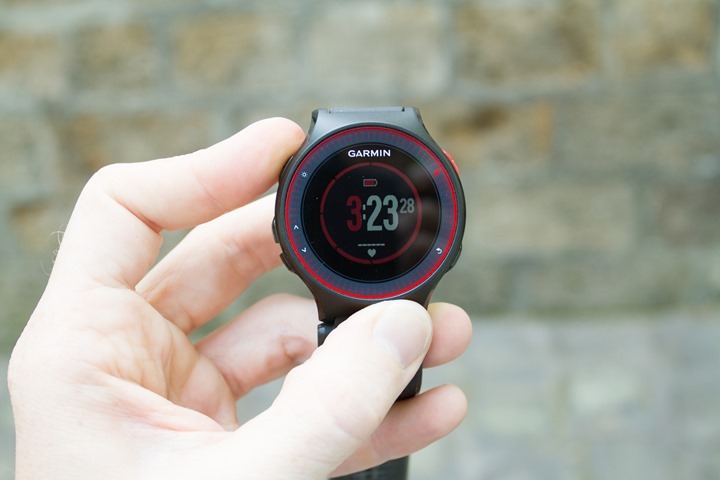 A couple seconds later, it'll show your current heart rate: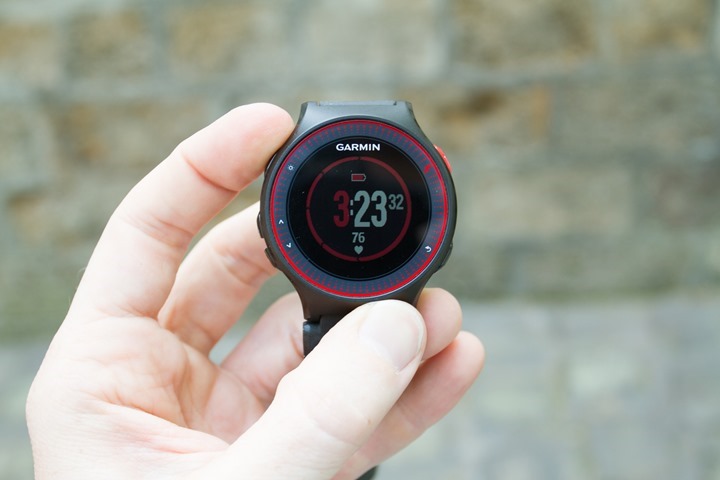 When it comes to your progress towards the goal for the day, that's displayed around the inside of the unit, you can see below it's all green, indicating that I've completed my goal: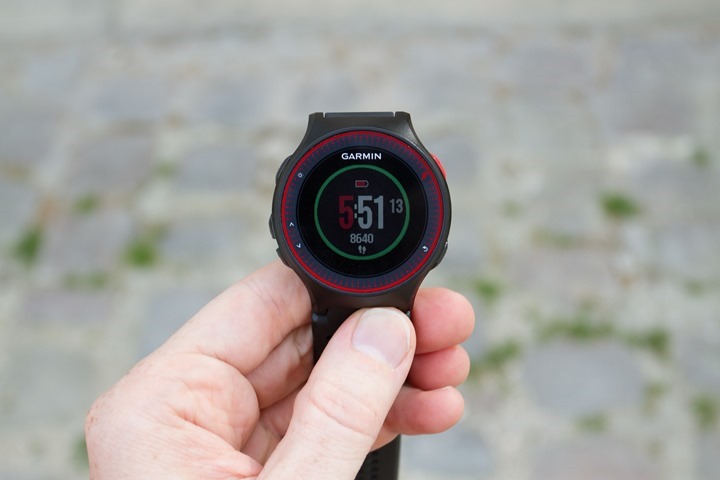 Next, like other Garmin activity trackers it has the inactivity bar, which will increase the longer you sit around watching YouTube videos.  Eventually it'll beep/buzz at you to stop watching the 12th consecutive showing of cat fan.
All of this data is uploaded wirelessly via your smart phone to the Garmin Connect Mobile app (iOS/Android) and then onwards to Garmin Connect, the web platform for your daily activity and workout data.
Finally, in the event none of this activity tracker business is of interest to you – you can go ahead and disable that within the options as well.
Accuracy Test Run: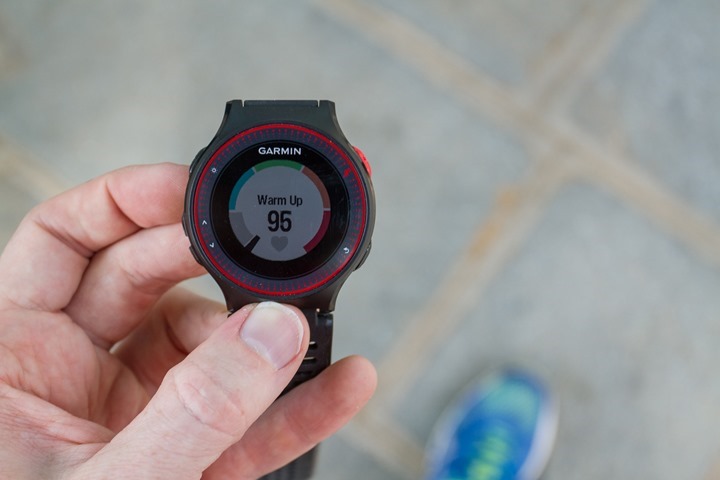 I got to very briefly steal a unit for a few hours so I decided to head out for a short run.  During the run, in order to compare HR accuracy I took along its sibling – the FR220 – paired to a traditional Garmin chest strap (HRM3).  Thus on the run I had:
A) Garmin FR220 with HR chest strap
B) Garmin FR225 with its internal optical HR sensor
The run was just a meandering flat course around some of the local parks here in Paris, nothing terribly complex.  The focus of it was mostly just on heart rate accuracy.  So I did a few surges and whatnot as I went along.  In order to explain things, I shot this short little video showing before/during/after the run, along with some analysis:
I thought it was both somewhat fitting and ironic that the traditional chest strap seemed to stumble briefly twice.  Go figure.
If we dive a bit deeper into heart rate side on some charts here, you'll see that things largely mirror each other for the majority of the run.  You do see a 1-2BPM discrepancy in some cases. Either via just a second or two of lag, or just differences in smoothing.  None of which would have made a difference in a workout however (coming from one that trains heavily with HR data).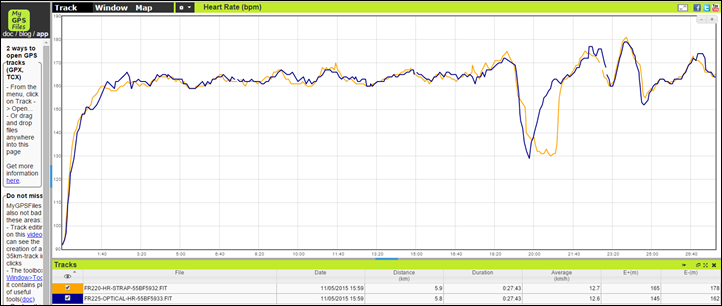 The one scenario that you see a difference though is around the 20-minute marker.  It's when I stopped at a crosswalk and the traditional HR strap just…well…crapped the bed.  No idea why.  You can see that when I started running again it was just sitting there at 130BPM pondering life.  Whereas the Mio sensor within the FR225 instantly picked up and kept chugging.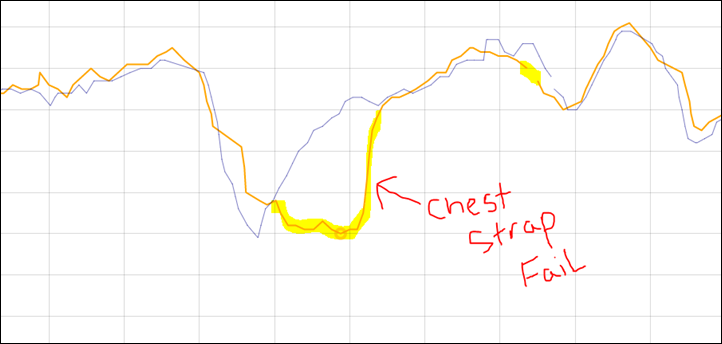 You also see an interesting few second gap in the HR strap again a few minutes later for a few seconds.  I noticed this on the screen as well.  Perhaps the battery is going in the strap – I just picked one at random out of the bin of straps (I've mostly stopped using chest straps and instead use the Scosche optical HR band unless I have to test something else).
Of course, this is just a single test on a single relatively short run.  So while I'd view the optical HR accuracy as quite acceptable/good here, it's possible that if I were to test the device for the next 2 months every other run could be bad.  Though, given Mio's history I suspect that's not terribly likely.
For those interested, the Garmin Connect activities are available here: The FR220 activity (chest strap) and the FR225 activity (optical sensor).
And for those that want to download the raw .FIT files themselves, they're available here. Note again, the watch I was using is a beta watch, thus things are subject to change.
Frequently Asked Questions: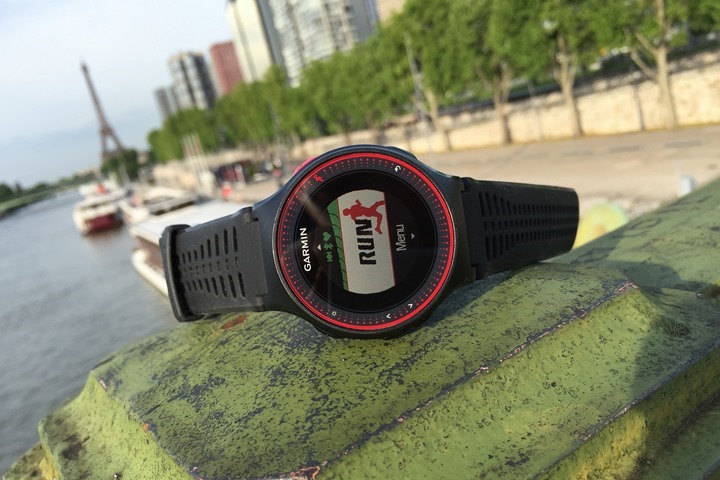 In an effort to stem the tide of questions, here's a list of what I suspect will be common questions.  Or, areas that I didn't otherwise touch on in the course of the review:
What are the colors, price and availability?
The FR225 is available only in black/red, and for $299USD. Availability is set for "Q2 2015", so basically it'll be out by the end of June 2015.
What is the battery life?
Garmin states 7-10 hours of GPS-on & HR-on.  Additionally, it has 4 weeks in watch-on mode (i.e. time of day/activity tracking).
Does the FR225 have Garmin Connect IQ?
No, it does not.
Does the FR225 track steps?
Yes, it does. Along with sleep as well (automatically).
Will the FR225 capture heart rate while underwater?
I wasn't able to test that yet, however many readers have been using the Mio Link successfully to transmit optical HR data underwater to another watch adjacent to it on their wrist (it has to be directly next to it due to water transmission limitations).  Outside of a few very short tests I did with that setup (which generally worked with the Mio Link for me), I haven't spent significant time testing that configuration.
As for the FR225, since it uses the same sensor family as the Mio Link, I suspect it probably would work. Just keep in mind that you wouldn't get any stroke/distance type data in the pool since the FR225 lacks a swimming mode.  Still, it's something I'll dig into in my in-depth review.
Does the FR225 have smartphone notifications?
No, it does not.  My guess is that they used 95% the same hardware from the FR220, which didn't quite have the right internals to do a low-power Bluetooth Smart mode needed for the smartphone notifications.
Does the FR225 continually monitor your HR 24×7?
No, only in workout mode. You can however quickly check your HR by pressing up/down, which enables the HR sensor temporarily to show you your current pulse. But it doesn't store this in any sort of 24×7 monitoring mode like the Fitbit Charge HR/Surge, or the Basis units.
Would you recommend the FR225 or an Apple Watch?
Well, one is a fair bit cheaper than the other.  I'm still working on my Apple Watch review.  At first glance, I'd say that the FR225 appears to have a more accurate HR sensor than the Apple Watch.  Meanwhile, the Apple Watch is far more versatile as a day to day smart watch, however it lacks GPS by itself (it needs a phone with it). It'll likely come down to what you're looking for.
How do you compare the FR225 to the TomTom Cardio lineup?
They're very similar – so much so that they use the same optical HR sensor.  However, they differ a bit under the covers.  For example, the FR225 has daily activity tracking, whereas the TomTom Cardio doesn't.  Inversely, the TomTom Cardio Multisport edition can be used for cycling and has a swimming mode – whereas the FR225 doesn't.
Garmin's site and app are significantly better than TomTom's website, however the TomTom Cardio is also $40 cheaper (and semi-frequently goes on sale).
How would you rate the Fitbit Surge to the Garmin FR225?
In general Fitbit makes better daily activity trackers than Garmin (from a web platform standpoint), however, when it comes to GPS watches right now the nod is definitely more towards Garmin.  If I look at the optical sensor though, the FR225 can't do continuous/all day long HR tracking like the Fitbit Surge can.  On the flip side, the Fitbit Surge isn't terribly accurate when it comes to HR while cycling (and is so-so accurate during running).
Would you buy the FR225 or the Polar M400+Scosche optical band?
Now that's a tricky one.  The FR225 would still be more expensive than the Polar/Scosche combo (about $50 more), but it would make for two things to deal with charging wise.  However, the M400 has multiple sport modes (the FR225 only has one), and it also has smartphone notifications coming up soon too via a firmware update. Thus, it's a bit of a tricky question.
Is the FR225 waterproof?
Yes, to 50-meters.  And no, I didn't put it in the waterproof chamber yet, simply because it was a beta unit and I didn't really want to kill it on them in the few hours I had with it.  Don't worry, as part of my in-depth review I will.
Can the FR225 pair to an existing HR strap?
Yes, it can pair to any ANT+ heart rate strap.
Can the FR225 pair to a running footpod?
Yes, it can pair to an ANT+ running footpod.
Does the FR225 re-transmit your heart rate over ANT+ to other devices?
No, super-disappointingly it does not. This would have been an ideal way for Garmin to potentially lure in Garmin Edge unit owners who might be casual runners, by giving them something they could use with their bike computer as well.  I wouldn't be surprised however if the lack of re-broadcasting/re-transmitting is due to some terms of the licensing agreement with Mio.
Additionally, it does not re-broadcast/re-transmit your HR over standard Bluetooth Smart to any device (i.e. a 3rd party phone app).
Just to be clear through, re-broadcasting does not meant that you can't view your HR on your phone after the activity is completed using Garmin Connect Mobile.  Additionally, you can also view the heart rate on the website in realtime when using Live Tracking with the FR225.  But you can't pair another device to this HR signal.
When will Garmin add optical HR into their FR620, FR920XT, or Fenix3 watchs?
I don't know, Garmin hasn't announced any product plans beyond the FR225. However, it would seem pretty obvious to me that eventually all Garmin GPS watches will have optical HR within them. That's pretty much the technology trend these days.  Just like it was to include activity tracking.  Nowadays, launching GPS watch without activity tracking would be akin to trying to sell sand in the desert.  Similarly, we'll see that same transition for optical HR over the next 6-12 months (it's already happening at the low-mid range, but will slowly creep up to higher end units).
Product Comparison Tool:
I've added the Garmin FR225 into the product comparison database.  This means you can mix and match it against any other product I've reviewed.  For the purposes of below, I've shown just the FR220, FR225, TomTom Cardio Runner, Epson Runsense SF-810, and Fitbit Surge – which seem to be to be the most applicable GPS-enabled competitors.
Remember again that you can mix and match any products you'd like within the product comparison tool.
My Initial Thoughts: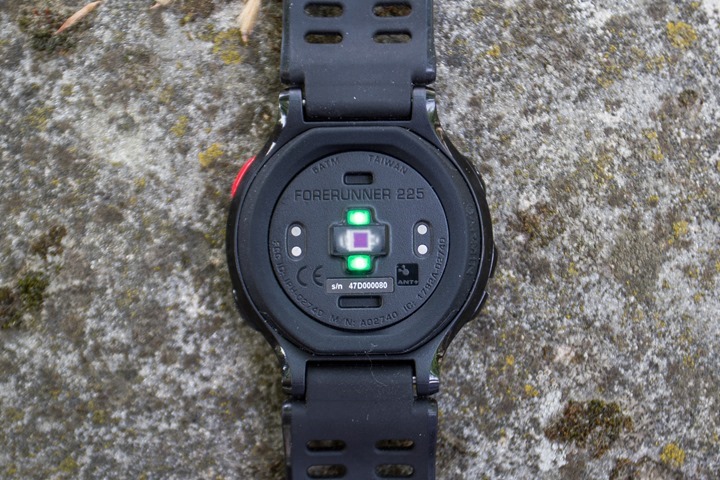 I'd first start out by noting that my time with the FR225 was extremely limited – just a few hours really.  And, it's also a pre-production device (both hardware and software).  So while it performed well, I'd caveat that this isn't an in-depth review (or really any review at all).
In the case of the FR225, by going with the generally proven Mio sensor and combining it with the also generally proven FR220, Garmin is likely able to minimize potential issues and get an optical unit quickly into the marketplace with the least risky device (compared to say trying to stuff it into the Fenix3 or FR920XT).  During my test run, I saw just that – it simply worked.  It acquired both GPS and heart rate quickly, and displayed/recorded that data accurately too.  Easy as pie.
I see the FR225 as really the starting point for what will likely be an influx of optical heart rate sensing watches by the three major GPS sport watch makers (Garmin/Suunto/Polar).  No doubt other companies have released very capable products in this space (TomTom, Epson, Adidas), but the volume of shipped units by those organizations just pales in comparison to what Garmin/Suunto/Polar do.  For example, in talking with Polar about optical HR earlier in the year – they were keenly aware of where the market is heading and noted that they weren't ignoring that trend (but also noted they had nothing to share publically at the time).
Regarding the FR225 specifically, overall it's a good mid-market offering.  The only challenge I think Garmin has is the pricing of the unit at $299. That's $50 more than the Fitbit Surge, which also has GPS and activity tracking (plus phone/text notifications), along with a cycling mode and some indoor modes (i.e. for yoga).  On the flip side, the Garmin device has far more running workout capability functions – be it interval & custom workouts, or customization of the data screens.  Additionally, based on my history with the Mio sensors, I suspect that the FR225 will work for cycling, whereas even with Fitbit's latest cycling update – I have approximately zero HR accuracy with the Fitbit Surge (GPS is fine).  Of course, I'd still have to validate that on the FR225 as part of my review process.
Speaking of that in-depth review – expect that likely in June sometime, once I've got a final production unit in my hands.
Thanks for reading!
—
Update: You can now pre-order the Garmin FR225 from Clever Training.  By doing so you help support the site, but also can save a bundle with the DCR/Clever Training VIP program (plus free 3-day shipping).