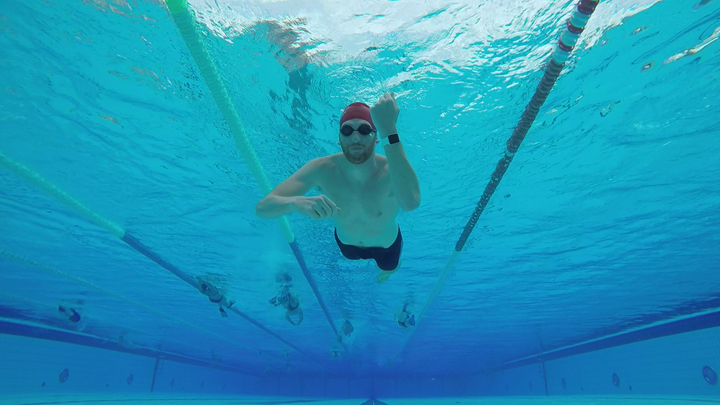 This past week I've been slowly plotting a series of tests to batter the Apple Watch and see exactly how well it'd hold up to a variety of aquatic adventures.  No doubt I've been showering with it twice-daily since it arrived…but that's kinda lame in the grand scheme of waterproof tests.
So while a few people have casually doggy-paddled around their backyard pool with the watch, I wanted to kick it up a notch…or, rather, a lot of notches.
Of course the reason any of this matters is that the Apple Watch isn't officially very well waterproofed.  It has an IPX7 rating, which is less than most $15 Walmart watches.  However, a few years ago that was actually commonplace for expensive GPS watches on the market.  You'll remember watches like the Garmin FR305 and Polar RC3 having only IPX7 waterproofing.  Nowadays though, virtually all GPS watches on the market have 50-meter deep or better waterproof ratings.
The Apple Watch manual gives you an explicit list of things not to do:
Submerging Apple Watch is not recommended….The following may affect the water resistance of Apple Watch and should be avoided:

• Dropping Apple Watch or subjecting it to other impacts.
• Submerging Apple Watch in water for long periods of time.
• Swimming or bathing with Apple Watch.
• Exposing Apple Watch to pressurized water or high velocity water, for example, showering,
water skiing, wake boarding, surfing, jet skiing, and so on.
• Wearing Apple Watch in the sauna or steam room.
Now while I lack a sauna – I was able to test basically everything else water-related from the list:
Submerging it for long periods of time: Check!
Swimming with it: Check!
Exposing Apple Watch to high velocity water: Check!
Plus of course, a few little surprise tests too. So to start on Saturday I ran the 10-miles off to the pool and began putting my plan into action.
The 1,000m Swim:
First up, was a swim.  Not a terribly fast swim, but a swim nonetheless.  I was actually most worried about this test, not from a watch perspective, but rather a logistics perspective.  I was hopeful the pool would be rather empty, and not teaming with folks potentially dorking with the camera.  Thankfully, it was reasonably quiet with only 5-6 people in my lane.  And with my setting up on the far side of the pool, nobody messed with anything.
As noted there's been a video or two posted by folks of people sauntering around their backyard pools, but nothing doing any actual lap swimming.  It's the wrist hitting the water that's so difficult for watch waterproofing due to the impact forces, so that's really the piece I was interested in testing.
I figured I'd do about 10-minutes worth.  But by time I got to the 10-minute marker, I was rather enjoying swimming on this nice sunny day, so just sorta kept on going.  Rather than duplicate in writing what I've already pieced together in video – here's the whole thing done cinematically (complete with dramatic music) in just over two minutes:
Pretty impressive…at least assuming impressive is that it survives just like any $15 watch should (let alone a $350 watch).  While the heart rate shown was more or less all over the place (and not at all viewable while underwater unless you managed to get lucky and have the wrist detection actually trigger underwater), the watch itself otherwise survived.
Note that the Apple Watch unfortunately doesn't take advantage of its internal accelerometers for any swimming metrics (i.e. lap distance/pace/stroke type/etc…).  So to that end it's really no different than a 1980's stopwatch when you're in the pool.  So given the lack of swim metrics (HR or distance), and the fact that I (just like Apple) still wouldn't recommend swimming with it – I'd probably just leave it in your locker for a safer experience.
The High Dive Platform: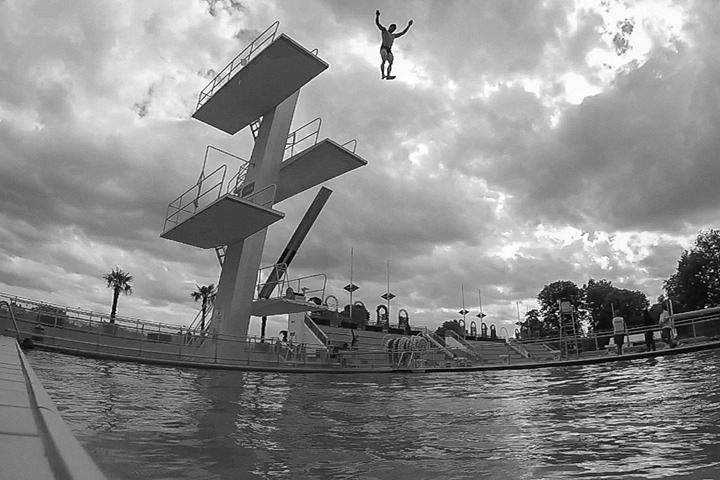 It wasn't until I was heading out of the pool after both completing the swim tests and shooting a bunch more video, that I noticed the high dive platforms.  And they only caught my attention due to a man going plummeting off the 10-meter high (32.8ft) platform.
I watched as he did it again.  And then watched as some kids went off the shorter 5-meter high platform (16.4ft).  As I stood there watching them, it occurred it might be a bit of an interesting test for the Apple Watch.  After all, that falls right into the 'high velocity' camp of things listed not to do.
So… I decided to give it a go. It's of course at this juncture that I realized the last time I was on any sort of official diving board/platform was probably two decades ago as a kid.  Visions of horribly wrong belly flops danced through my head.
Nonetheless, up the tiny ladders I went.
No, not to the 10-meter one.  I figured I'd start easy – at the 5m platform.  No reason to kill myself quite yet.  I'd save that for after completion of the 5m platform.  Plus, there's an 8m one in between anyway.  Which, is probably a good time to head to the video for the full story:
First off, once I got to the 8m platform…holy crap that's high up.  It's a bit hard to realize, but this is basically higher than the building next to it.  Hells no!  Thankfully, as you saw, I managed to recruit a volunteer to jump off the crazy structure on my behalf.  He seemed much better at it anyway.  Plus, he didn't die.
And neither did the Apple Watch.  It worked just fine after that – three dives in total!
The Waterproofing Test Chamber: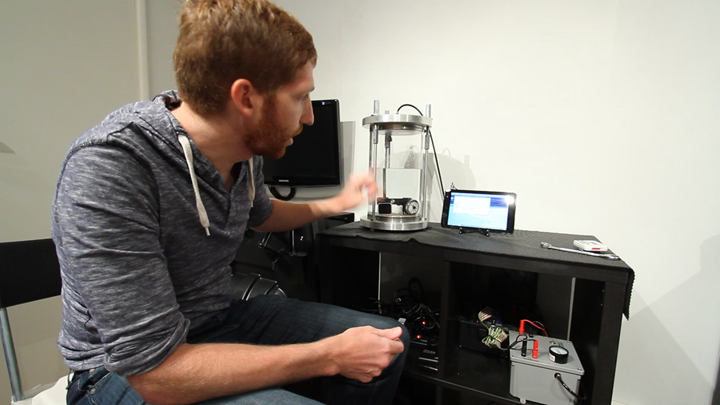 Finally, it was time to take the unit into the DCR Cave and run it through the dreaded waterproofing chamber.  I'd use the exact same automated test setup that I do for any other watches that I've tested (like the Fitbit Surge, the Garmin Fenix3, or the Garmin Vivoactive).  The only difference being those were all actually rated for 50m waterproofing.
As for the Apple Watch? A paltry 1 meter.  Yes, as in: One Meter.  No typo there.
Still, my automated test cycle calls for two separate step-dives down to 40-meters deep.  And changing that automation script to a lesser depth? Well, that would be a lot of work.  Like perhaps 30-40 seconds worth.  Time I could have spent eating part of a chocolate bar.  So instead, I just left it as-is and went to town.
So how did it hold up?  Well, let's go to the video for that:
I'm impressed, it's still chugging along after that – with not a single sign of any issues at all.  Clearly this is all more than adequate for any sort of casual sweat or showering.  Though I'll definitely be keeping an eye out over the next few weeks just in case.
Of course, the slightly awkward thing is that despite this battery of tests, the unit still isn't warrantied for any of this, including even a simple shower with soap.  Now whether or not an Apple Store employee would question a watch that arrives back dead probably remains to be seen.  On the flip side, it's also clear that it's probably quite a bit harder to kill the thing than Apple would have you believe.
With that – thanks for reading (and watching)!