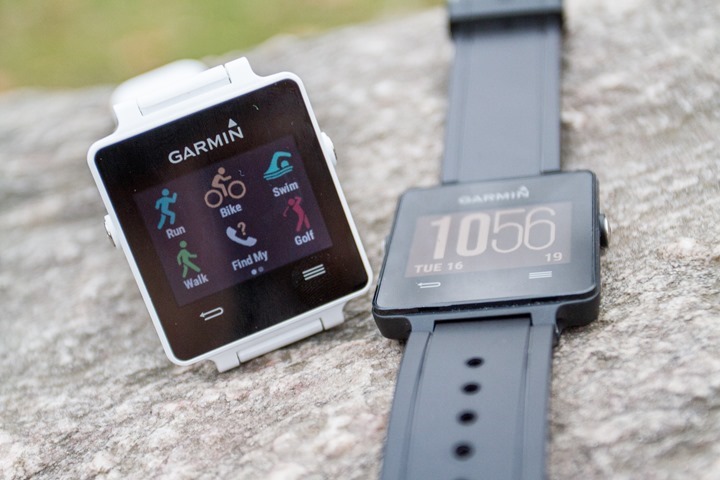 Garmin has announced a metric crapton of products today, but it's the Vivoactive that I'm probably most excited about.  Or, at least, it's the device I feel has the most potential and the widest possible appeal.  But, perhaps I'm getting ahead of you a bit.
The Vivoactive is Garmin's first true smartwatch – but unlike so many other entrants out there, this one will actually appeal to athletes.  To begin, it contains GPS.  And while that might sound obvious for athletic devices these days, it's actually not that common on smart watches.  Nor is the 50m waterproofing that's also found on the Vivoactive.  And in this case, they actually want you to swim with it – since it includes pool swim tracking.  Which is a derivative of the same swim tracking found in the Garmin Swim and other multisport GPS devices from Garmin.
But the Vivoactive isn't the only thing released in the Vivo lineup today.  They also made some minor updates to the Vivofit, revamping it with the next version: Vivofit2.  These tweaks include vibration alerts and a backlight, as well as a host of colorful bands.  There are now more colored bands to choose from than devices I could possibly wear on either of my arms concurrently.
And finally, Garmin is starting rollout of Connect IQ today.  This begins first with watch faces and data fields (today), but will soon be expanded to full blown apps (soonish).  I'll dive into this more a bit later in the week in a separate post.  But Connect IQ is targeted at the Garmin Epix GPS watch, Vivoactive GPS watch, Fenix3 GPS watch, and the previously announced FR920XT GPS watch.
(Note: Garmin has also announced other products today including the Garmin Epix watch and the Garmin Fenix3.)
The Vivoactive: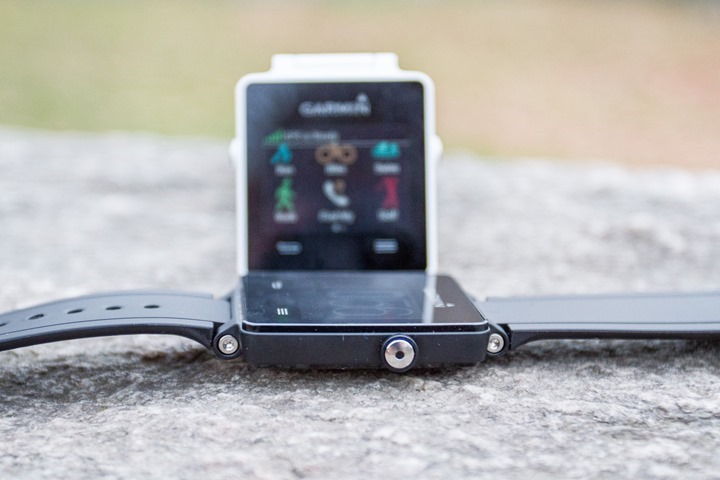 First up is the Vivoactive, this is Garmin's new ultra-slim smartwatch.  Think of it as part traditional smartwatch, part activity tracker, and part fitness GPS watch – all rolled into one.  Oh, with a side of golfing added in for good measure.
The watch contains a touch screen as well as one physical button on each side, with a further two dedicated touch-sensitive button-ish areas below the touch screen.
We'll start with Garmin's strongest area which is fitness tracking.  The Vivoactive contains three base sport modes – swimming, cycling, and running.  Within each of those modes it'll track your speed, distance, time and sensor data such as heart rate or cadence.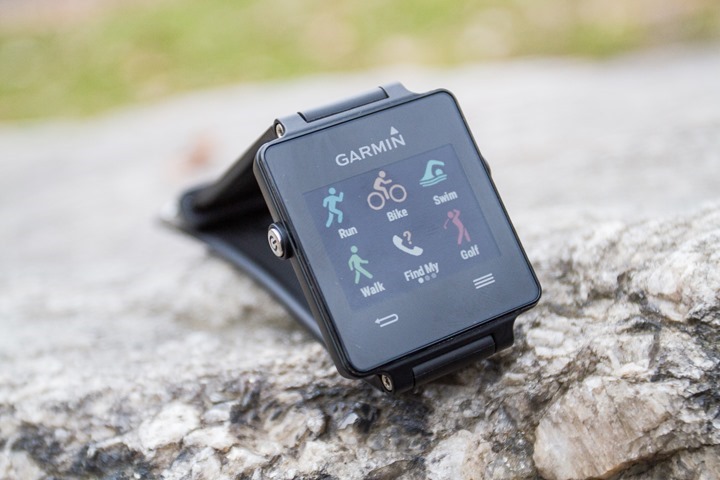 Of course my first thought when noticing the swim mode is that this might just make for a perfect replacement for my aging Garmin Swim watch.  And to a large degree, that's true.  It'll record swim metrics like laps, time, and lengths, as well as show you your current pace just like Garmin's other pool swim tracking watches.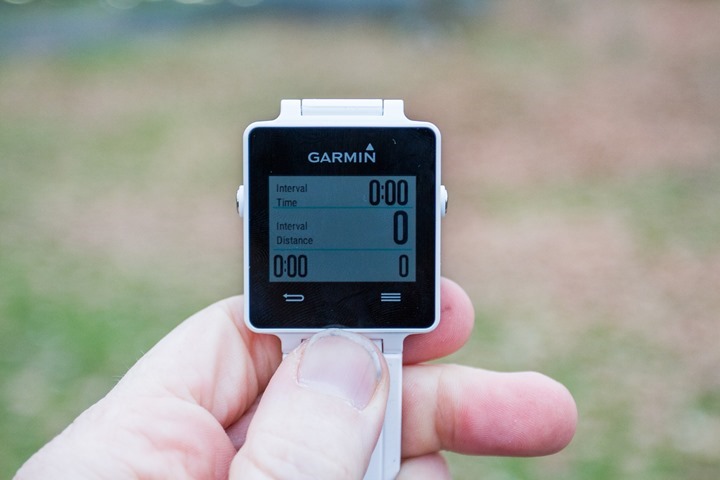 Where you see some slight differences though is in some of the more advanced swim capabilities like the interval rest timer and drill mode found on the other Garmin swim devices.  These functions aren't currently available on the Vivoactive, which I think is a bit of a mistake.  I suspect the addition of those functions would convert a lot of people that have the Garmin Swim still in their swim bags, especially with the Bluetooth Smart uploading of completed workouts via your phone straight to sites like Training Peaks and Sport Tracks that have detailed swim analysis modules.
Moving on from swimming to cycling, the unit will leverage the internal GPS chip to capture speed and distance data and display that within your data pages.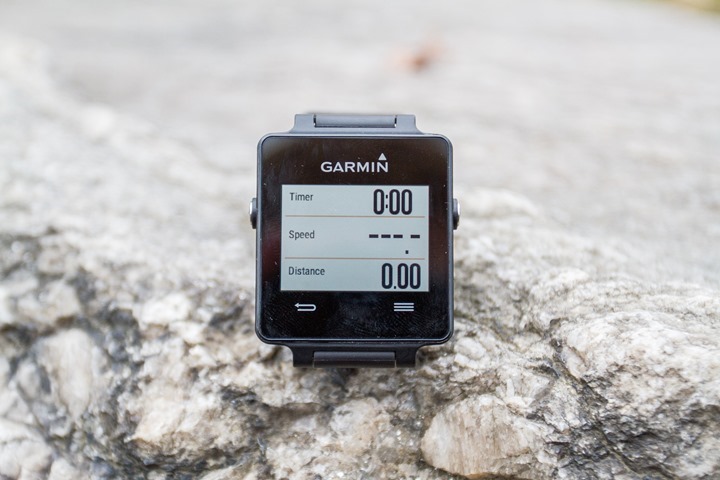 These data pages are fully customizable – another nice bump up from something like the budget Edge 200 or Forerunner 15 which have historically lacked much data page configuration.  Here you can tweak data pages and select any of the data metrics shown on each page as you want.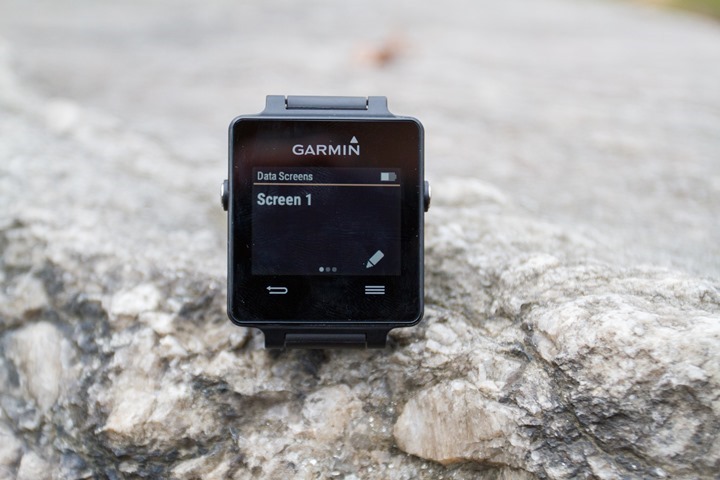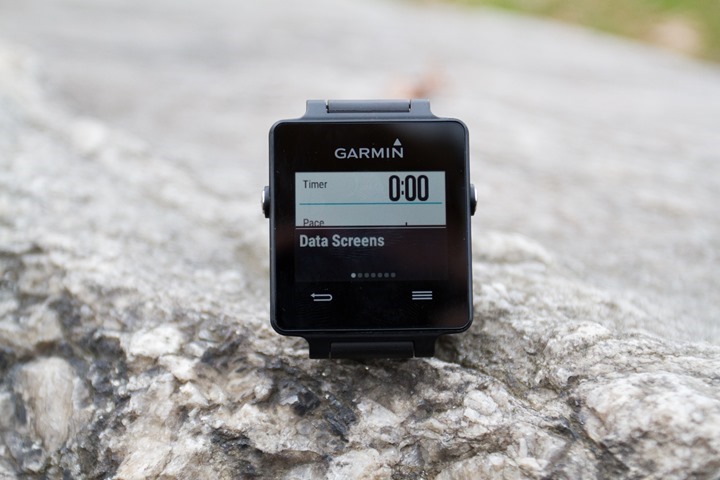 And remember that since it supports Connect IQ, you can add in basically any data field on this planet that a 3rd party company might make.
Before we leave cycling note that it supports the ANT+ speed and cadence sensors natively, but that with Connect IQ someone could relatively easily extend it to record power meter data too.
Next, if headed outside running it'll use the GPS chip there as well to track your run pace and distance just like any other Garmin GPS device.  Indoors it can go GPS-less by using the internal accelerometer to track pace and distance, such as if running on a treadmill.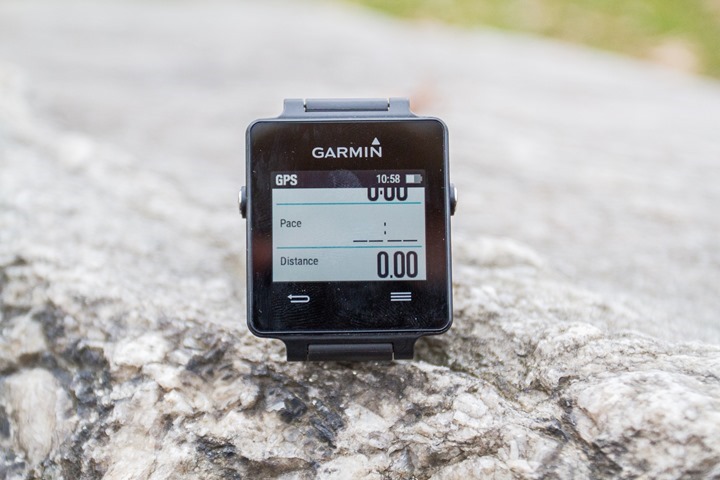 Like with most of Garmin's other running and fitness watches, you've got options like Auto Pause and Auto Lap included.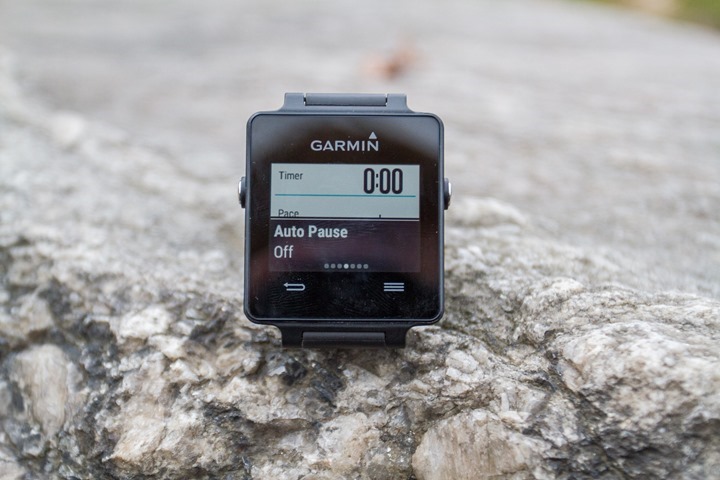 Moving away from swim/bike/run, the Vivoactive tracks your daily steps just like the rest of the Vivo line.  This includes steps/distance/calories and sleep, all against a daily step goal and the usual Garmin inactivity bar and vibration reminders.
The watch maintains connectivity to your smart phone via Bluetooth Smart, which allows it to also receive smartphone notifications from the notification centers on both iOS and Android.  So you can get text message or missed call notifications, or just Words with Friends updates.  Whatever floats your boat.
The same goes for workouts, which are uploaded automatically to Garmin Connect using Bluetooth Smart – and then can be configured to further automatically sync to services like Strava and MyFitnessPal.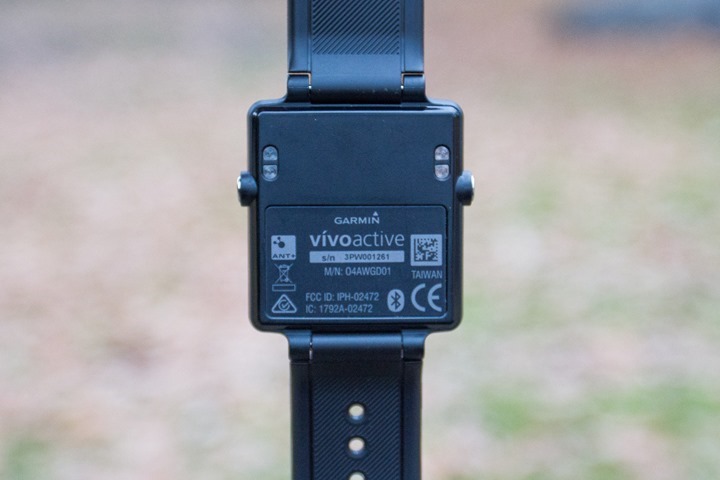 In addition to the smartphone notification functions, the watch can also trigger a 'Find my Phone' function, like the Vivosmart has.  This will help you find your phone deep in the couch cushions.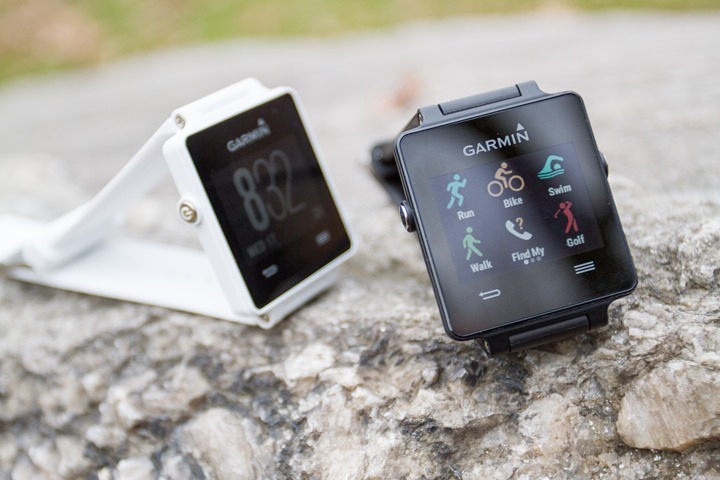 Now there's one last feature that hasn't been seen before on Garmin's fitness devices, which is golfing (for us endurance sports folks, it's apparently a sport played with some sort of metal stick and small white dimpled ball).  This feature set has always been separate in the Garmin Approach series of GPS devices.  Now however, the base functions are contained within the Vivoactive.
On the watch you can connect via your phone and download any of some 38,000 golf courses worldwide.  From there the Vivoactive will leverage its GPS capabities to tell you how far to the green (front/middle/back), as well as keep score for golfers.  Regrettably, it does not appear to cover my favorite miniature golf courses – nor provide guidance on the always challenging windmill hole.  Perhaps someday.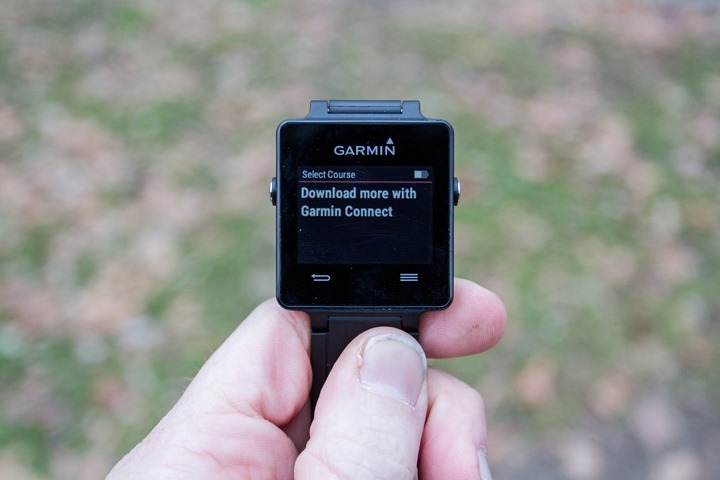 Finally, I'll dig into Connect IQ in a dedicated post later this week – but we're already starting to see some of the apps that both Garmin and 3rd parties have developed.  Below is one that Garmin has put together called Tempo that is focused on calendaring.  It can also let folks know when you're still completing those last few intervals out on a run and will be a few minutes late for that meeting.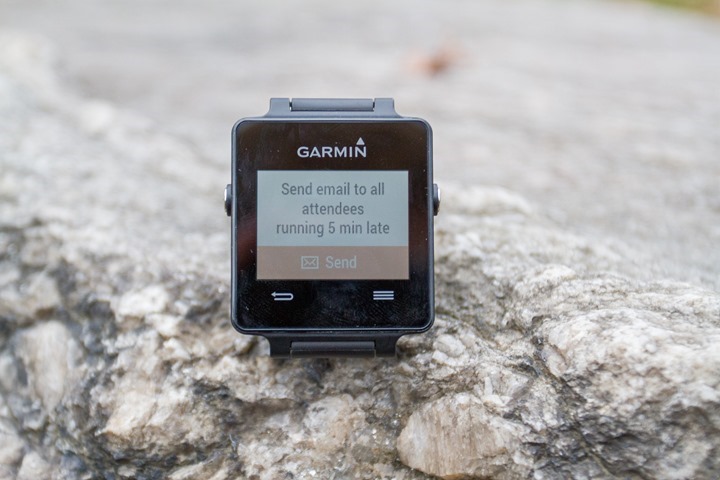 And Accuweather is working away on an app with weather and related information for cities both local and afar:
But again, we'll dive into that a bit later this week in my larger Connect IQ post.
Before we move onto the Vivofit2 though, here's a quick video walkthrough I shot showing how the watch works.  Keep in mind it's still at the beta stage – so there are still some unfinished aspects in there.
Note that the Vivoactive gets 10-hours of battery life with the GPS on, and 3 weeks with the unit in regular standby mode (GPS-off).  Of course, how much you use the backlight and apps will no doubt drain the battery faster.
With that – onto the Vivofit2!
The Vivofit2:
Next up is the Vivofit2.  Don't worry, this section will be much shorter than the Vivoactive section.
The Vivofit2 has received a handful of minor updates, mostly hardware related.  These manifest itself in the following ways:
1) Addition of backlight to display
2) Addition of audible alerts for the move bar
3) Addition of activity timer (no need for heart rate strap like previous)
4) Now does all day automatic sync (to your phone)
5) Addition of vibration alerts for your phone on behalf of the move bar
The first four are pretty self-explanatory, whereas the 5th one simply means that you can have the 'Move' alerts vibrate on your phone, as opposed to on the band itself.
But really the biggest changes in the Vivofit2 are on the outside.  It's here that the Vivofit2 has had the biggest overhaul.  First is that they've changed up the clasp on the band, which should improve its ability to stay shut.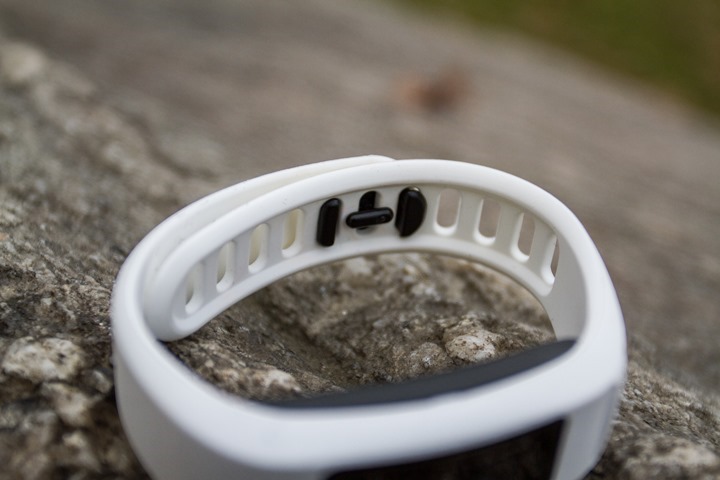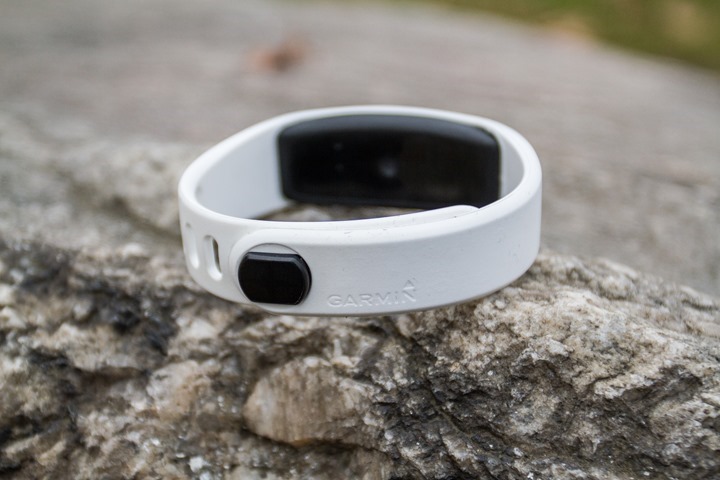 Next you'll see that when compared to the Vivofit1 (left) that the pod design is entirely different now.  The two pods are not compatible with each other's bands.  So bands and pods from Vivofit(1) shall not mate with bands and pods with Vivofit2.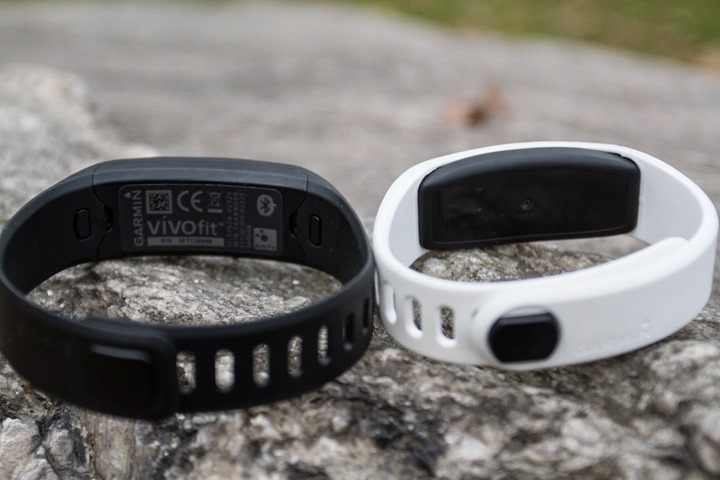 On the front side, the screens look nearly identical (of course the Vivofit2 has a backlight whereas the original doesn't).  But you do see a slight change in the button location and texture of the button.
Before we get into the wonderful and whacky world of bands, here's a quick comparison between the Vivosmart (top), the Vivofit2 (middle), and original Vivofit (bottom).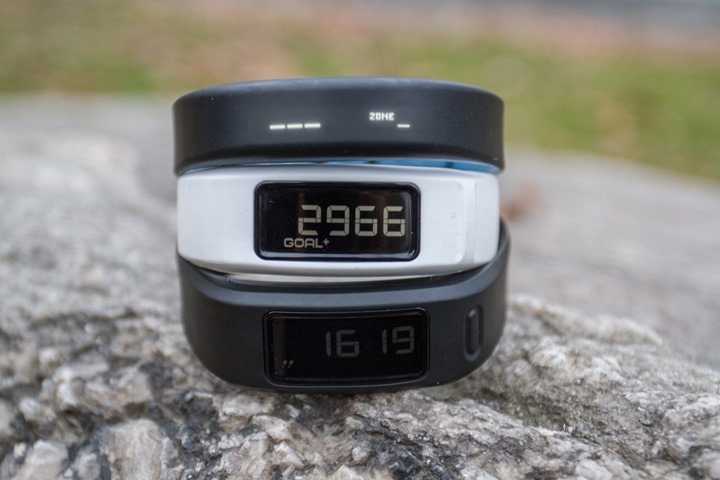 Now we'll go ahead and blingify.
First up is the Vivofit2 'Style Collection', which is a series of stainless steel and leather bands.  These come in a boatload of different styles as seen over the next three photos.  This is as close to fashion photography as you'll find on this blog (well, baring when it happens outside my house window).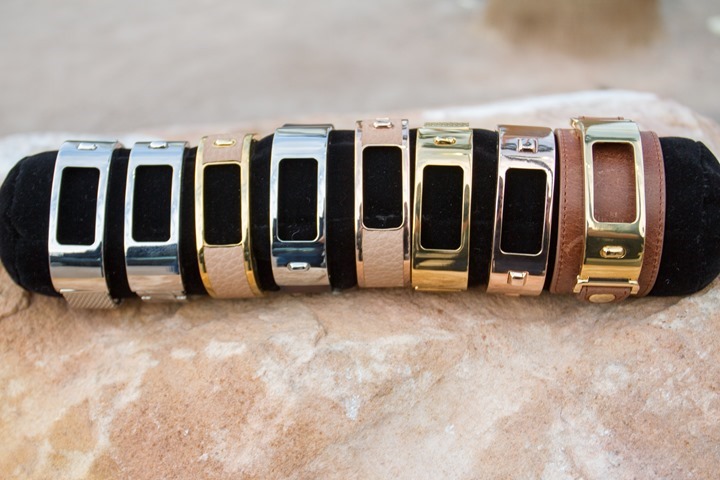 Here's a close look at the backs of these: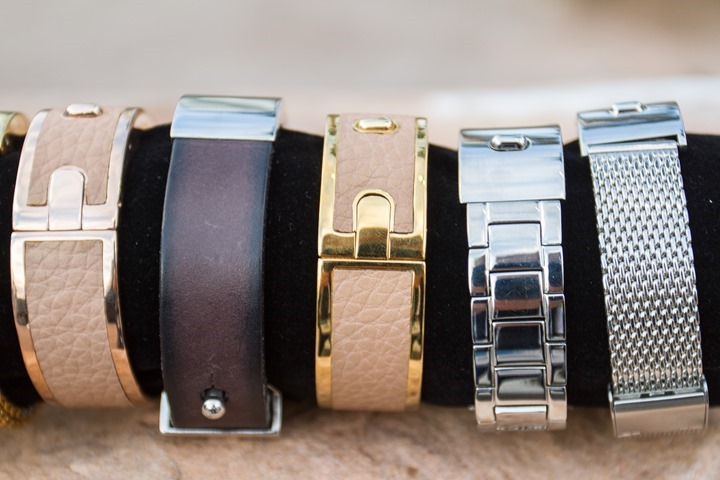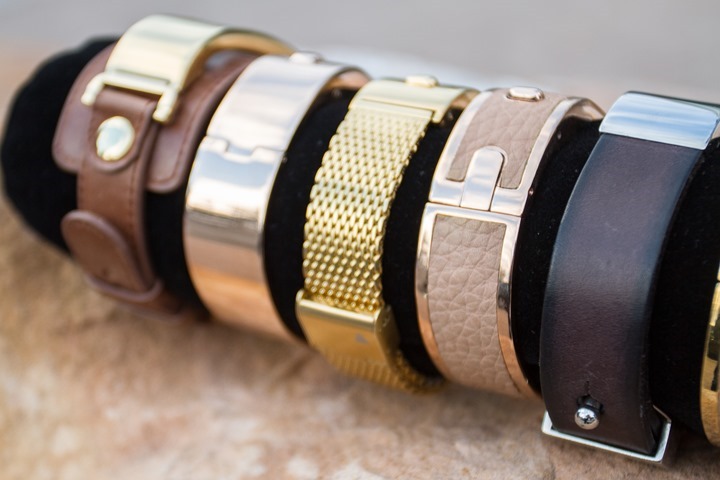 Then we've got the not-so-swanky but slightly more 'fun' Vivofit & Vivofit2 straps.  The below straps are part of partnership with designer Jonathan Adler.  According to Wikipedia he also makes pots.
Unlike the Style Collection above, the below bands will be available for both the Vivofit and Vivofit2.  Shown in my photos below are the Vivofit variants.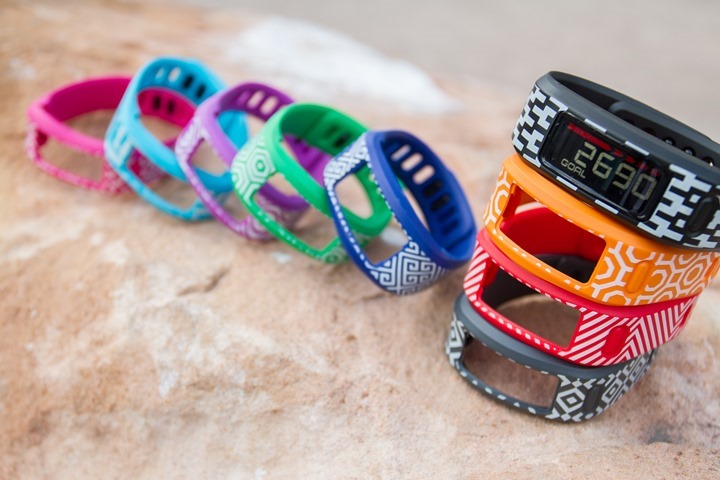 The Jonathan Adler designed straps will be sold in three-color packs for $40.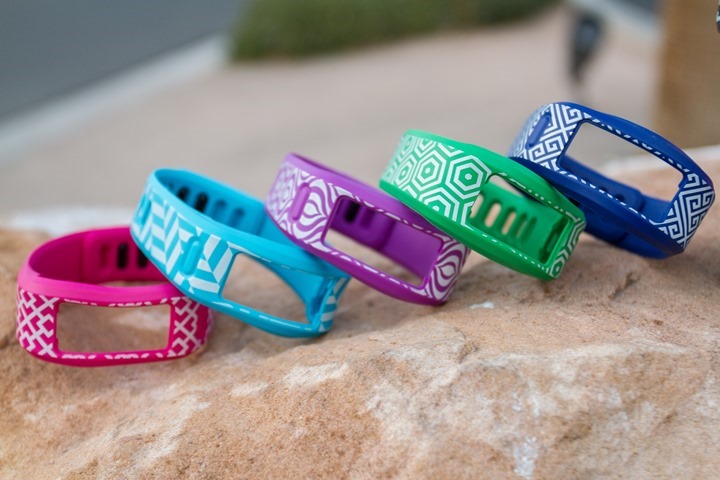 Finally, there are also a bunch of other Vivofit2 bands that Garmin is coming out with.  These are available for a three-pack for $25. The pre-defined colored blends are as follows:
'Neutral' pack: Black, slate, white
'Downtown' pack: Burgundy, slate, navy
'Active' pack: Red, blue, green
'Serenity' pack: Mint, cloud, lilac
'Energy' pack: Canary, pink, violet
And here's a shot from Garmin with all the colors in one gigantic group photo: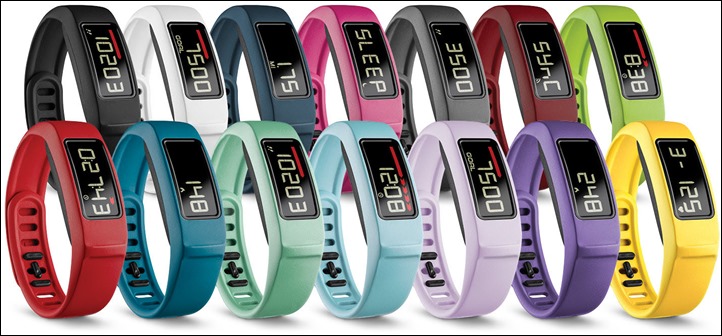 Ok…that's enough color and fashion for one blog post around these parts.
A few initial thoughts: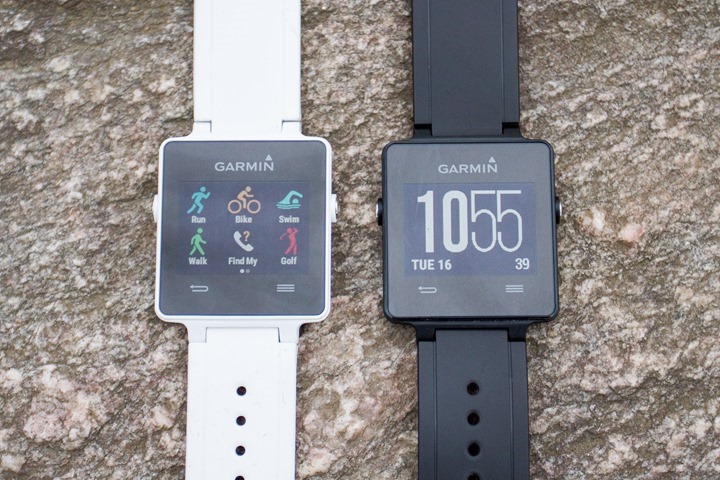 While the $249US Vivoactive is an astoundingly full featured watch as-is, it's the potential of expandability with Garmin Connect IQ that really takes the cake.  In the vast majority of cases, you're really not limited to what Garmin has decided to include within the watch since over the next little while you'll be able to just tap into the Connect IQ store to find an app that fills in the gaps for you.
On the Vivofit2 side, while the small feature adds are certainly welcomed, I do wonder how well Garmin will continue to do at the higher $129 (or $139 with a Jonathan Adler band) price point.  Over the last few months there have been more and more options out there, especially the Fitbit Charge HR for only $20 more (and that includes optical heart rate).  I would have expected to see a bit more on the software side from Garmin here to make up for that, such as improved calorie calculations (a pain point I hear from readers on often).  Still, I expect the new Vivofit2 hardware little tweaks may cover the gap for some of the hardware features people have been asking for.
As you might guess though – my excitement in the Vivo-related announcements mostly rests with Vivoactive.  Of course since my time with the Vivosmart has been somewhat limited, I don't know how it might perform when it comes to aspects like water on the screen or GPS tracking performance (it did find GPS reception quite quick in NYC though for me, which is good).  The same goes with the touch screen in scenarios such as the pool.  These are all areas I'll be tackling within my in-depth review once I have a final production unit and final software.
Pre-Orders:
Note: You can pre-order the Vivoactive and Vivofit2 through Clever Training today (all variants and models), as well as various accessory bands.  The units will ship as soon as Garmin starts shipping, which is currently slated for Q1 2015.
–
Welcome to CES 2015! Don't forget to check out all my CES 2015 coverage, as well as my continual updates throughout the day on Twitter.  It's gonna be a crazy busy week!