This past week post-marathon limping, The Girl and I have been down at the beach with friends, enjoying the sun.  The Girl and her family, as well as many family friends have long come down to the greater Tampa area to get away from the cold (remember, she grew up in Newfoundland, Canada – home to miserable winter weather).  So, this fell right in line with that tradition.
While most of our time has been spent in the sun and sand, we did break away briefly to go shopping at visit with the Clever Training (CT) folks.  Obviously, while I've got a great partnership with them that you guys all benefit from in the form of the DCR-reader 10% off everything coupon – it's good to get to see all the folks behind the scenes and how it works (including some of your orders).
Now many of you may not realize that CT isn't actually just an internet retailer.  Nope, they have a full-on retail store at the beach.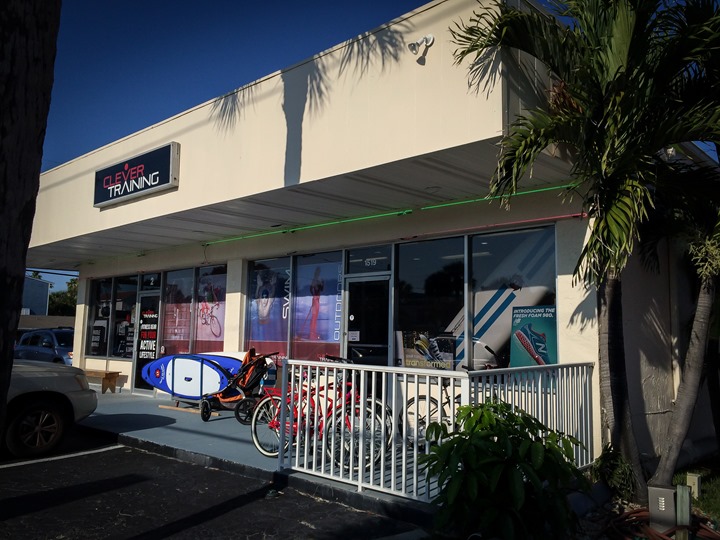 They've got Wednesday evening runs that attract about 40-50 folks  (unfortunately, I didn't realize it until post-dinner plans were made).  And, you can even rent stand-up paddleboards (my plan for tomorrow).  No, you're not allowed to watch me, it'll likely result in me spending a lot of time in the water since it's been years since the last time I tried.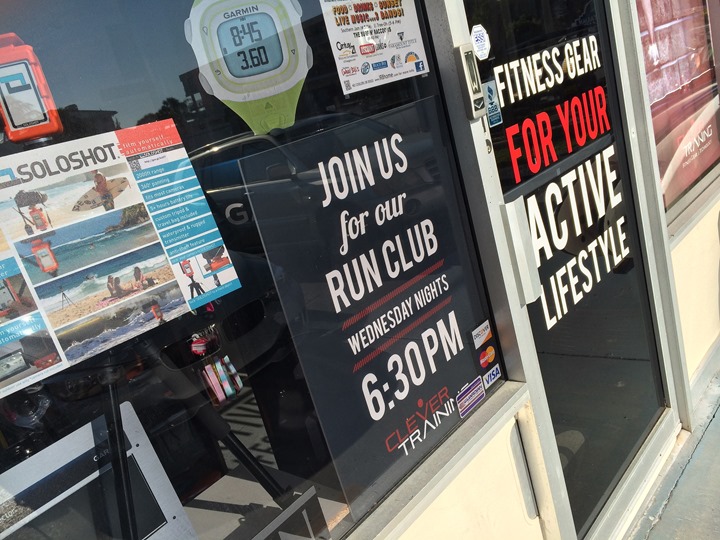 Roughly every 2-3 weeks, those runners fill up a bin of running shoes that go off to charity: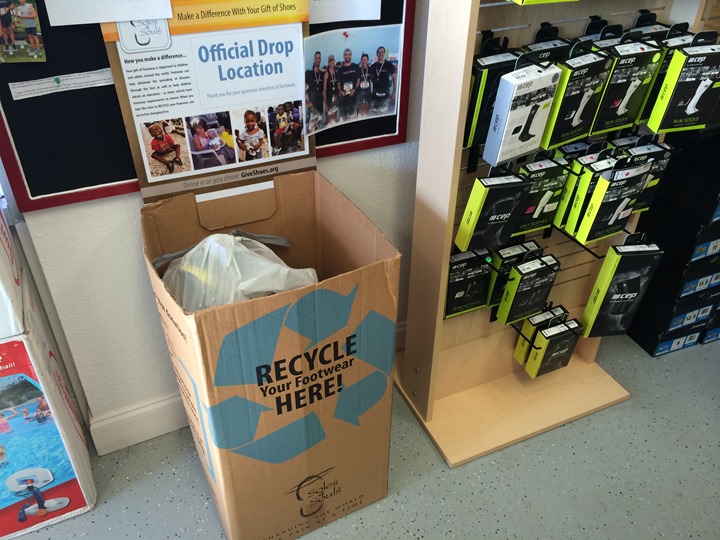 Of course, unless you live in the Tampa area, you're likely more familiar with the online side of things – which all happens in a large warehouse space.
First, products arrive from manufactures and distributors.  Hundreds of boxes per day of stuff.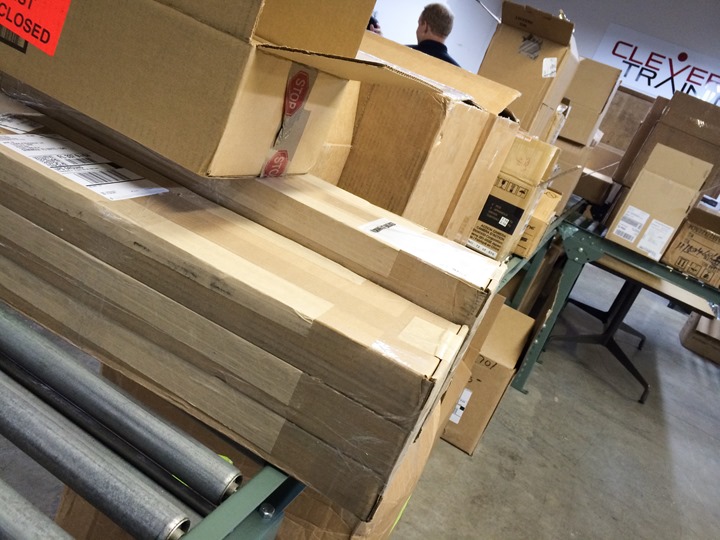 It was interesting looking at the random stuff that arrived today.  For example, 4iiii's Viiiiva straps: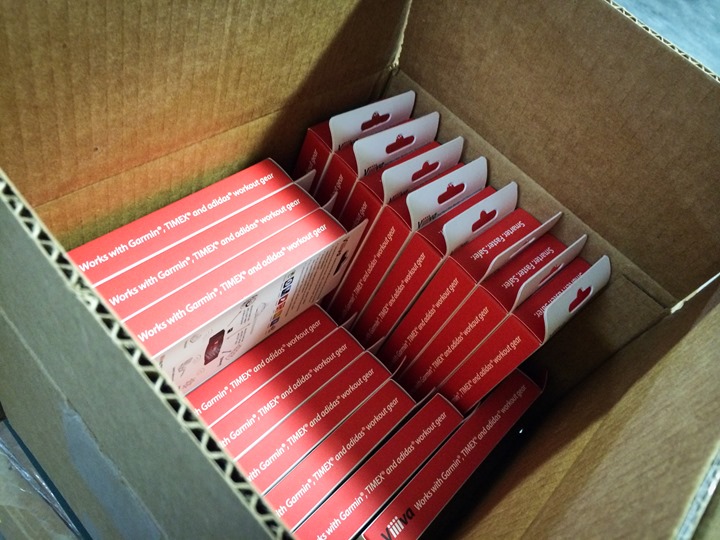 And then right down the row was New Balance activity monitors mixed with FitBit's, and then next to it Barfly's.  In between was nutrition.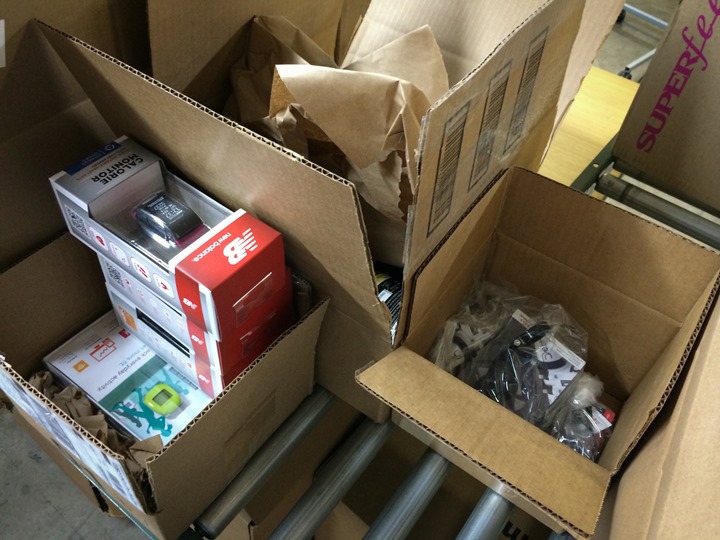 It's slightly weird looking at the pending boxes though, because everything comes in a totally different box.  No standardization since it's from all over the world, so it kinda looks like how you store Christmas decorations in the attic.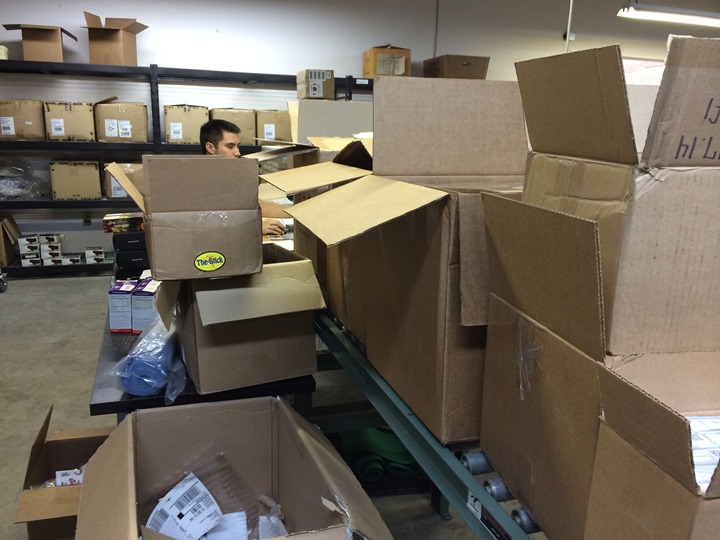 The Girl was super-excited at first thinking that the below just arrived boxes has Jelly Belly candy in it (and thus, the potential of getting candy at the shop).  Then she remembered it was just the running nutrition from the company.  While still good, not quite on the same level as the candy itself.  Don't feel too bad though, we've compensated with all sorta of only-available-in-America candy this week.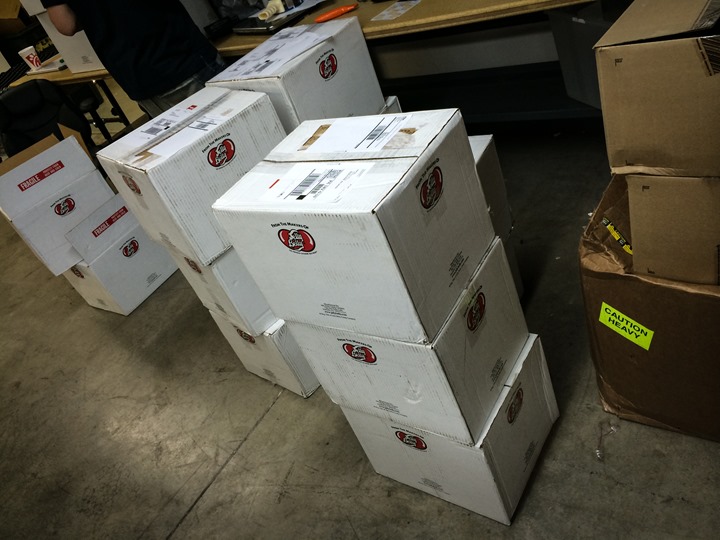 Once things are unboxed it goes into a number of different bays and racks.  For example, this bay is full of big bulky items like car racks and trainers.  Given we're coming out of the winter, there's far less trainers then there would be in the fall with potentially hundreds of trainers on deck at a time.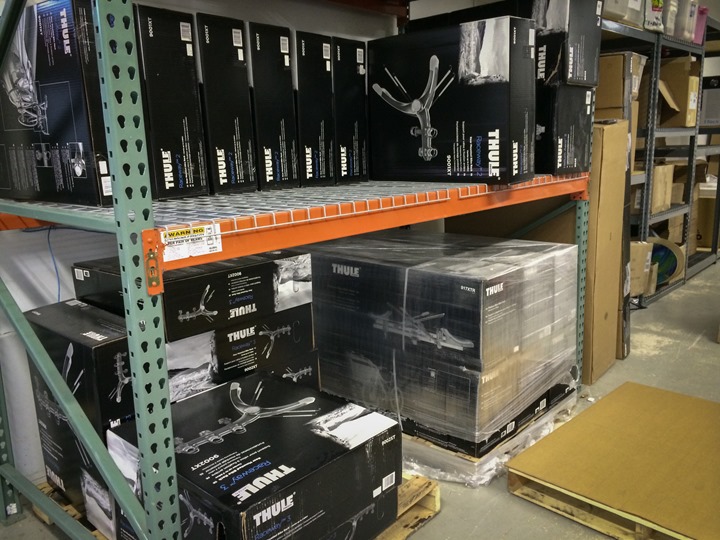 Next to that was one of a few rows of shoes.  All sorts of stuff from Newton's to Salomon: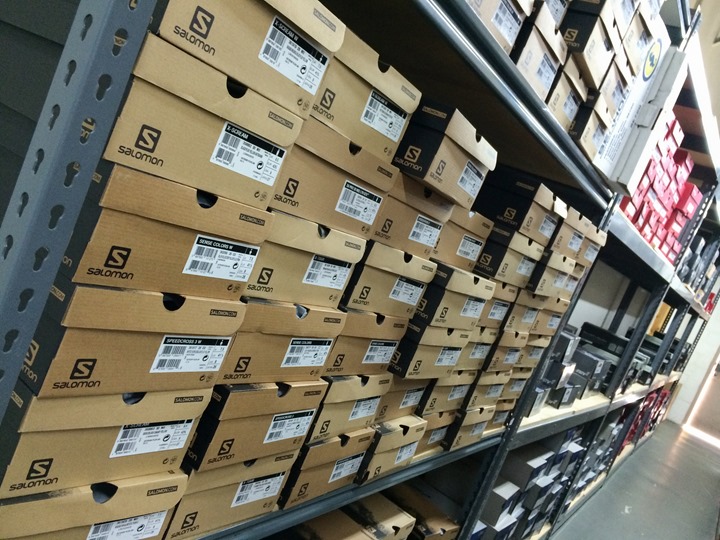 In general, things are organized by logical category grouping.  For example, a bunch of nutrition stuff together: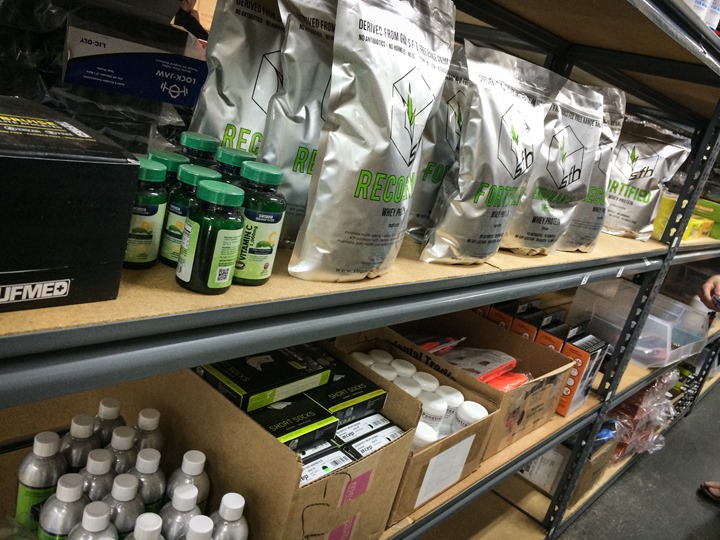 Or a gazillion socks together.  This, is where The Girl got distracted for some time with the Feetures she loves to wear: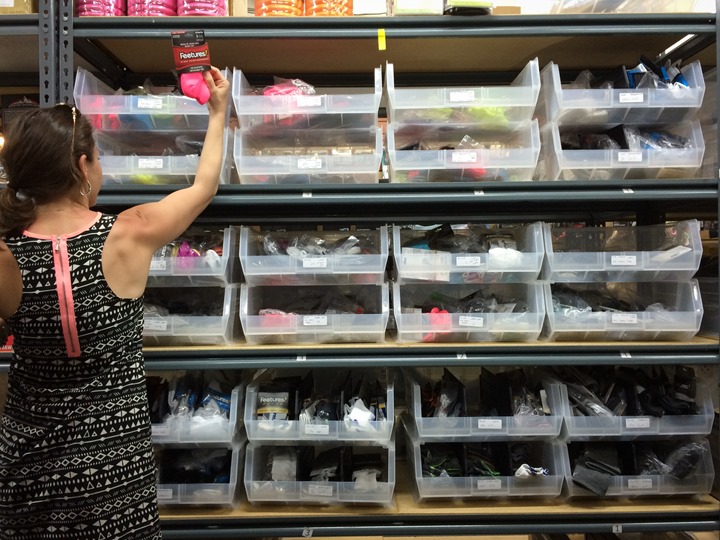 Also then she was likewise distracted in the Maui Jim sunglasses area: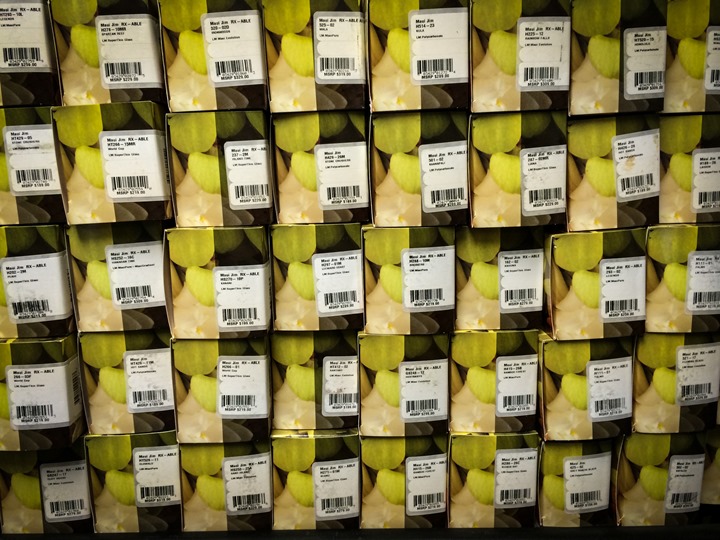 For some items where there may not be too many 'family friends', they get put into more of a general wall of sorta-like things. For example, the new Shimano Di2 shifting pod required for the new Garmin Edge 1000 and Mio Cyclo 505 shifting integration.  It was hanging out below some TomTom cycling sensors, and then to its left an iPhone camera lens.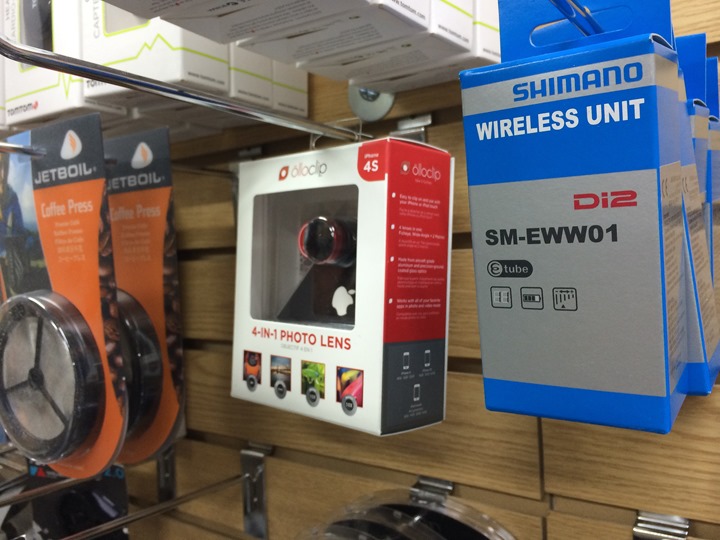 Eventually you make it into the good stuff, which is where most of the items I review are.   For example, ever need a GoPro mount?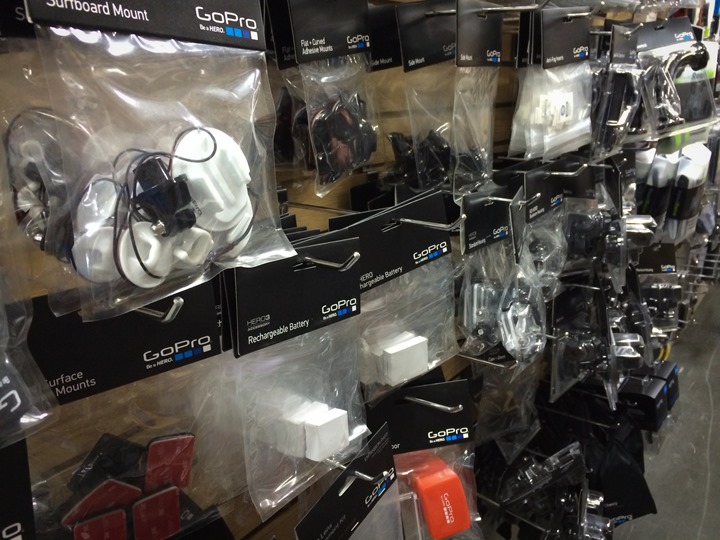 Or how about a Garmin accessory?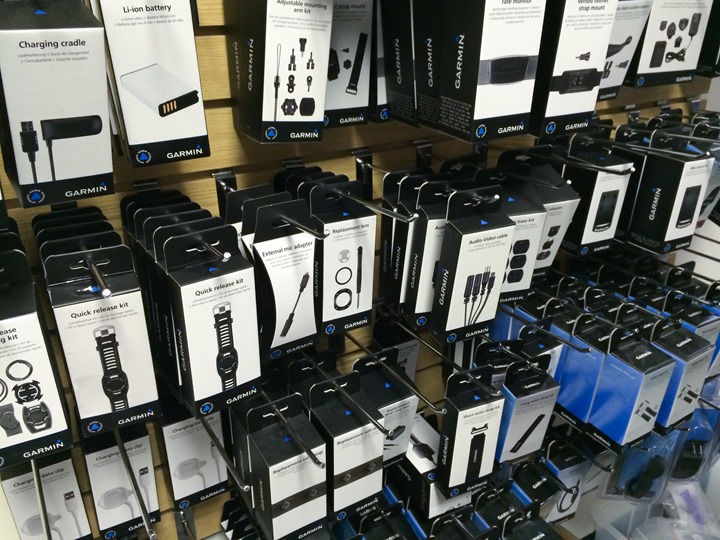 Honestly, it kinda reminds me of my stash.  Except, just way more organized.
Perhaps you needed a new TomTom, Garmin, or Polar unit.  Even the equestrian Polar stuff is in there (that's for horses, which is very different than 'Clydesdale' category participants):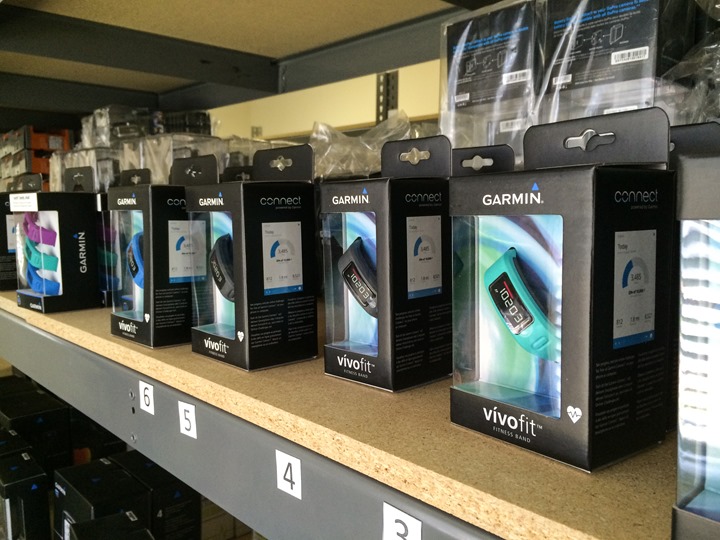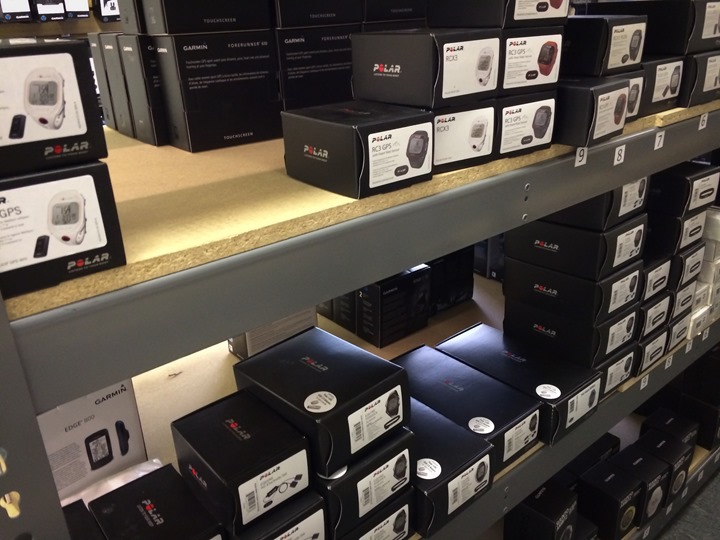 I even found things in there I'd never heard of.  Did you know that Timex at one point made a little clicky pedometer?  It's approaching antique status – but there's precisely one of them available left for one lucky person.  Complete with Indiglo!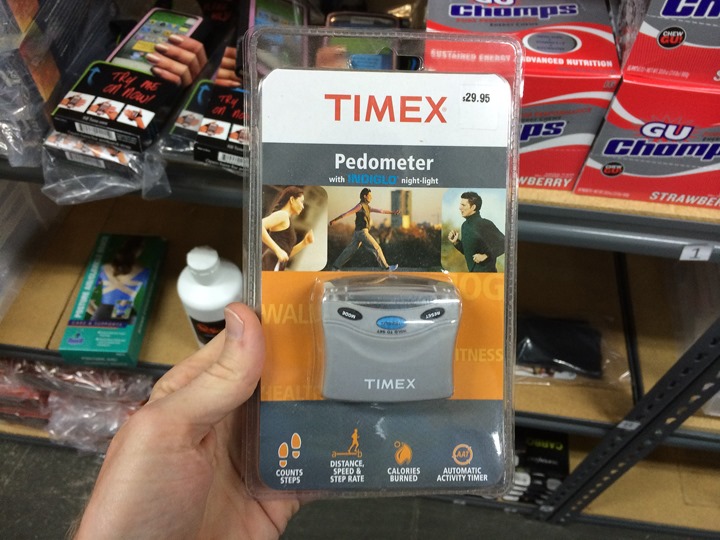 My 'take-home' for the day was the Sony AS-100V action cam. I've used the slightly older model, but haven't had a chance to play with this one, which was announced back in January and just recently hit shelves:
Of course – my favorite item was seeing the shelf for the swim buoys, specifically, the DCR branded one – with the DCR sticker you get right next to it.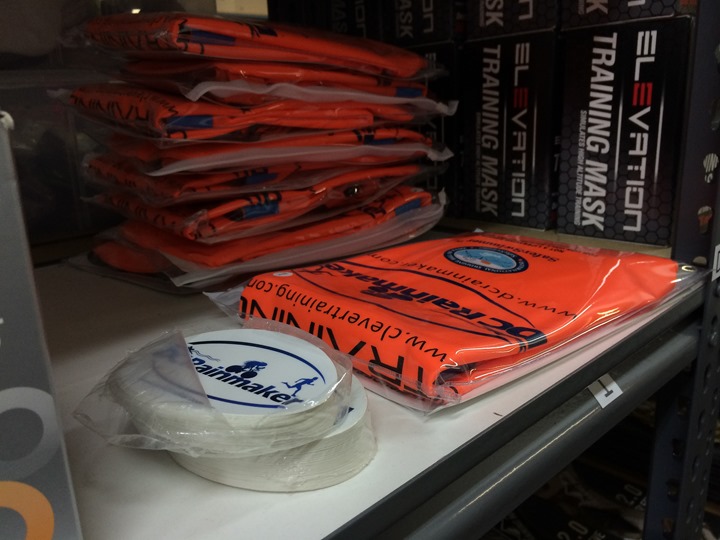 Which, brings me to the next piece.  Once an order is submitted, it gets a ticket printed out for it, and then warehouse staff run around with a cart like Mario Kart and add all the items to the cart for a bunch of orders.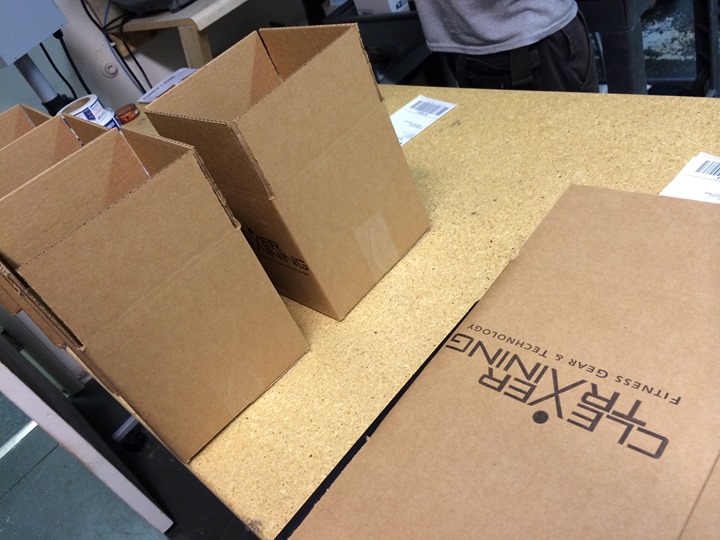 In this case, that actually happened to include the DCR swim buoy.  To the reader in Northridge, CA that ordered it and had your swim buoy shipped on Thursday – this is yours.  Yes, I touched it.  Sorry, that probably decreased its value significantly.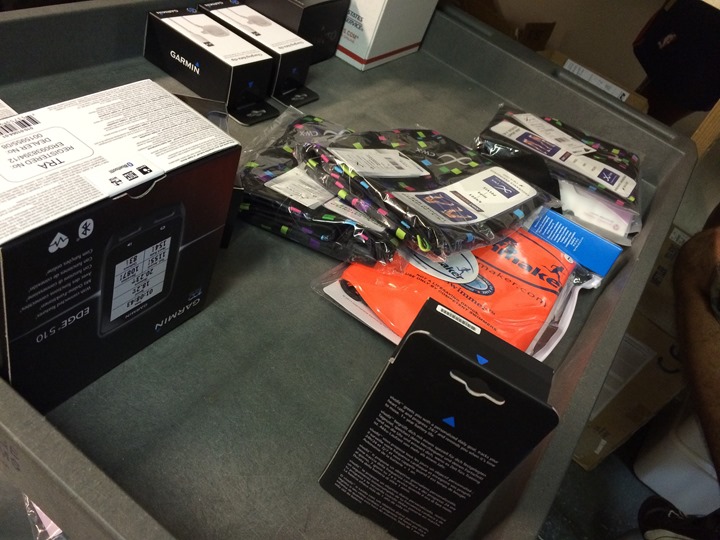 Once packaged up it goes out to a big bin of shipments waiting to be picked up by the various carriers.  For most orders, that's USPS.  USPS picks up 3 times a day from them, which is kinda impressive.  But if you ordered something with express shipping, they swing by a bunch of times as well.
But what happens if you have a question with your order?  Well, more than likely that'll go to Mariah.  At least, most DCR reader orders tend to anyway.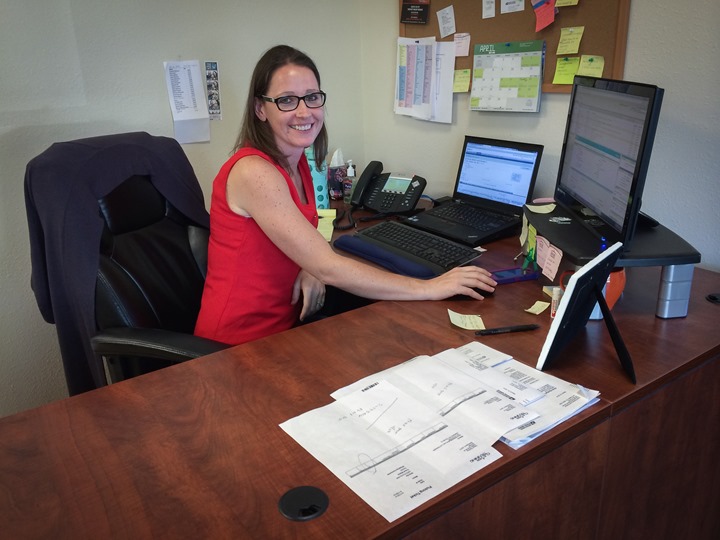 Like most of the staff at Clever Training, she competes in endurance sports.  She's racing in the St. Anthony's Triathlon this weekend – her first triathlon ever in fact.  A number of others are competing in the Tampa airport 5K this weekend as well (my registration attempt there was thwarted by a few hours of it filling up).
The walls throughout the office have large blown-up photos of other employees racing, mostly in endurance races: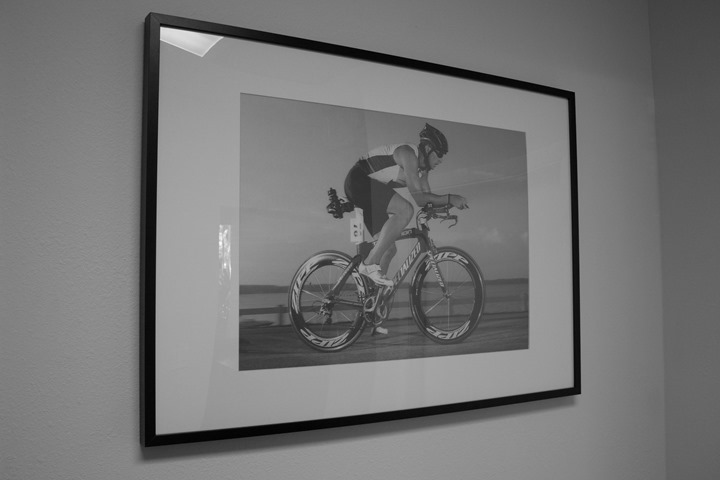 And, failing that, certificates of questionable achievements instead: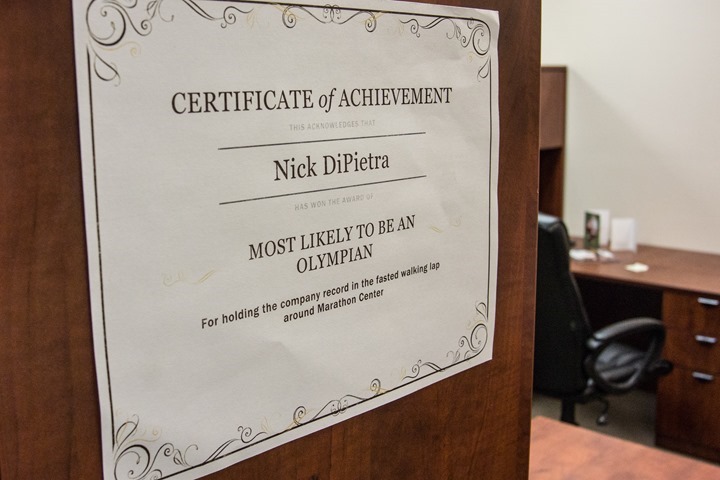 Overall, there are over 30 folks that work at Clever Training, here's a group pic from about a month ago.  Apparently they all accidentally wore the same thing to work that day: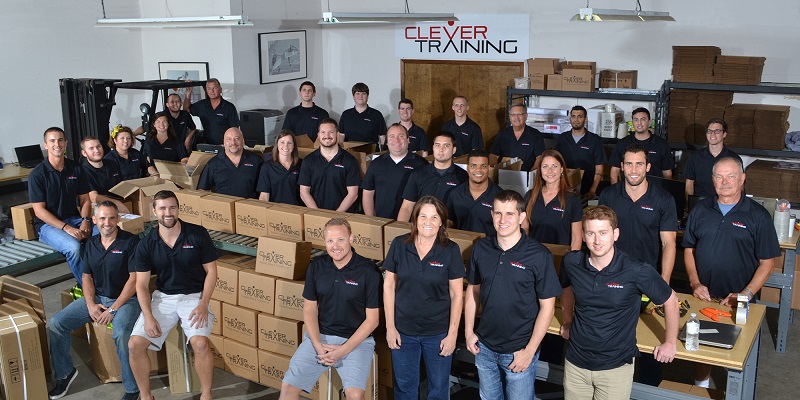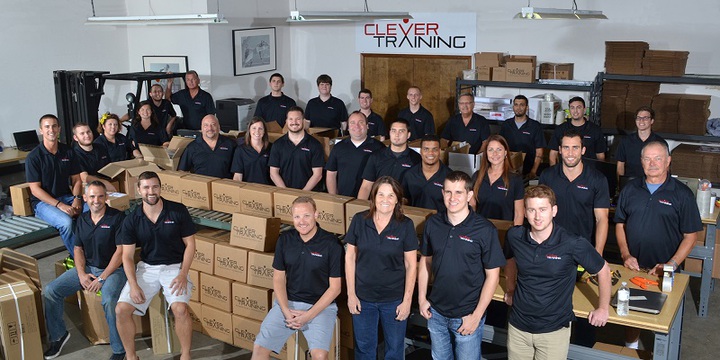 Like I said –  this was just aimed to give you a quick tour of things behind the scenes, and to put some faces to the names you may see.  Now…I need to get back to the sand: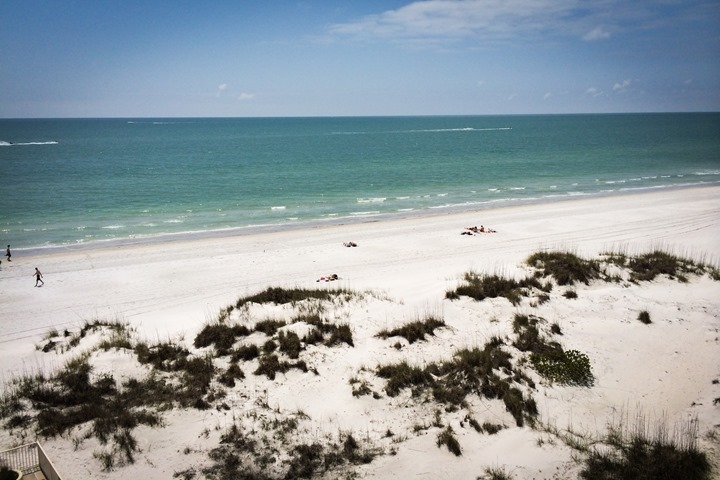 Have a great weekend all!  And if you're racing – good luck!