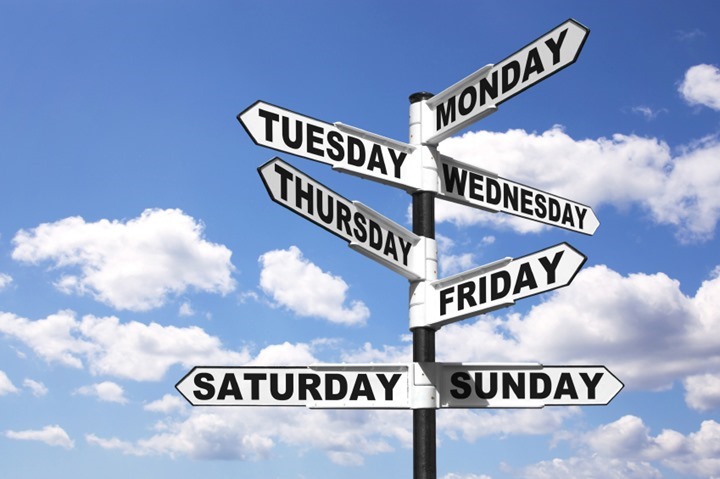 The Week in Review is a collection of both all the goodness I've written during the past week around the internet, as well as a small pile of links I found interesting – generally endurance sports related. I've often wondered what to do with all of the coolness that people write, and while I share a lot of it on Twitter, Facebook, and Google Plus, this is a better forum for sending it on to y'all. Most times these different streams don't overlap, so be on the lookout at all these places for good stuff!
So with that, let's get into the action!
DCRainmaker.com posts this past week:
Here's all the goodness that ended up on the main page of DCRainmaker.com this past week.
Sunday: Week in Review–April 20th, 2014
Monday: 5 Random Things I Did This Weekend
Tuesday: Spectating the 2014 Boston Marathon
Friday: A quick look behind the scenes at Clever Training
Price drops and notable deals
Garmin has allowed companies to drop the price of the VIRB action cameras pretty substantially, effectively immediately.  I don't expect to see new VIRB's this year (since they just hit market back in the Holiday 2013 timeframe), so I'd use whatever is on the market today as your decision point.  I'm looking at doing a roundup of all the major cameras in about three weeks (once I get through a high-volume travel period here for work) where I'll outline my recommendations similar to what I do for other gadgets.  Around that timeframe you'll also see me do an update on my general GPS/gadget recommendations.
Garmin VIRB Elite: $329 (from $399)
Garmin VIRB regular: $249 (from $299)
(In-depth product review here)
Note that I don't believe the recent GoPro leaks (see below) were directly related to this price drop, as the price drop news actually preceded the GoPro leaks.
Stuff that I found interesting around the interwebs:
Here's a not-so-small smattering of all the random things that I stumbled on while doing my civic duty to find the end of the Internet:
1) The Win Tunnel: The Effects of Drafting: People always ask about how big the actual impact of drafting is.  Check out this video from the Specialized folks.  Well worth the 2 minutes and 50 seconds. (via Mark Cote)
2) GoPro Hero4 specs leak out: I generally don't re-post rumors/leaks, however this was pretty widely circulated in major tech publications.  The big news here isn't actually the 4K video (at 30FPS), since that was very much expected.  But rather the shift to a potential summer (June) release schedule is of more note.  Historically GoPro has released in the fall-ish timeframe.
3) Team Sky vs Orica Greenedge….in darts: The competition continues between the two pro cycling teams, this time moving onwards into darts.
4) Breakdown of the Boston Marathon pro race: From all the splits on both the men's and the women's races, to how the different race tactics impacted the final resultant.
5) Woman breaks swimming world record (including the men's record): Pretty cool video showing the record attempt from the island of Lanai to Maui and back….including a small visit from sharks. (via Slowtwitch)
6) Motorola invests in Recon Instruments: It's unclear exactly how much cash Motorola dumped into Recon, but it's yet another sign that the major tech forefathers are looking to get into the wearables market.  Recon is of course developing the Recon Jet HUD for triathletes (and other sports), following their existing snow-sports goggle lineup that has very similar features.
7) State of the sport of triathlon: A good look at the business/commercial/popularity side of triathlon from a global perspective over the past 3+ decades…from someone who's been there since the beginning.
8) Hockey Olympian Meghan Duggan trolls Yankees' Pineda before first pitch: I love it when people publicly make fun of cheaters. This was an epically done example of that.
9) Doing the upcoming St. Croix 70.3 race? This handy little guide will talk you through all the pain you'll soon get walked through.
10) Wakeboarding with dolphins: Pretty crazy-awesome video.  And even though it's a few months old, I'd never seen it before. Thus, it's still cool.  Simple as that. (via Matt S.)
Crowd Funded Projects of Athletic Note:
Most of this content used to be found within the main section, but I figured I'd just call it out up here and make it easy to find. I regularly sift through Kickstarter and Indiegogo (plus a few others on occasion) looking for sports projects. Note that as always with crowd funded projects, assume the project will be late and will under-deliver on features. Thus far, on the numerous products I've helped 'fund' (except a leather bike handle), that's been the case.  And finally, me simply mentioning them below is definitely not an endorsement, it's just me mentioning they exist.
(I didn't really see anything of note in the sports tech world this week)
Sports Technology Software/Firmware Updates This Week:
Each week I quickly highlight some of the new firmware, app, software and website service updates that I see go out. If you're a sports technology company and release an update – shoot me a quick note (just one liners is perfect, or Tweet it at me is even better) and I'll make mention of it here. If I don't know about it, I won't be able to post about it. Sound good?
Site/Firmware Updates:
Leikr releases integration with MapMyRun: This adds direct upload support from the backend site. Cool stuff.

Suunto releases Ambit 2/2S/2R firmware update: Most applicable for the 2/2S users, as now you get all the cool new 2R features like the treadmill mode without a footpod.

Adidas rolls out support for tracking runs with only footpod: This is pretty cool. This allows you to go out for a run with only a footpod (no phone), and then have it upload afterwards. They previously offered this for other sports like soccer, but never just a simple run.

TrainingPeaks now allows you to edit data points: This helps to fix any wonky data points, added to the beta site.

Magellan Echo firmware update: Pretty significant update.  It has been updated to include a Stopwatch, Menu Screen, and completely overhauled user interface.
iPhone Updates:
iPad Updates: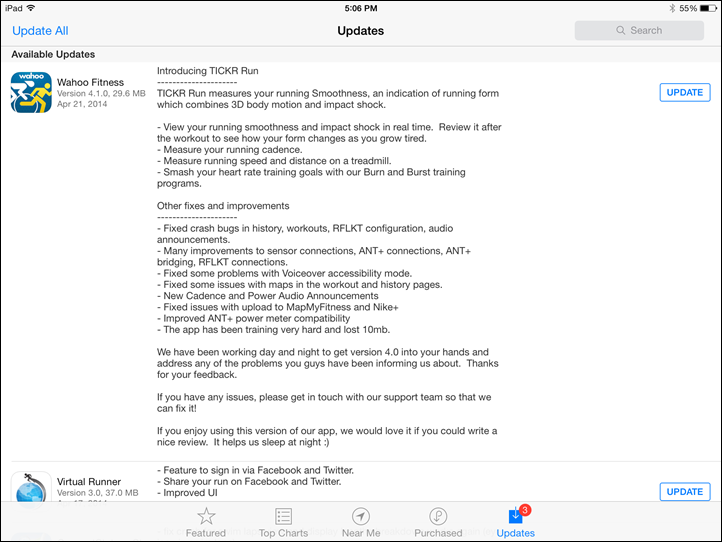 Android Updates: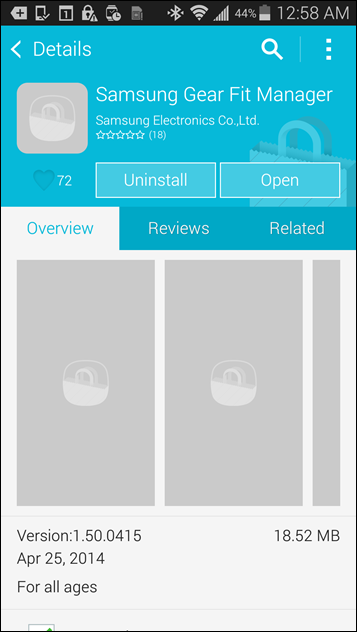 Windows Phone Updates:
(No Windows Phone updates this week for me)
—
Thanks for reading all!